Cars, Helicopters and Ice Cream Robots at IMTS 2016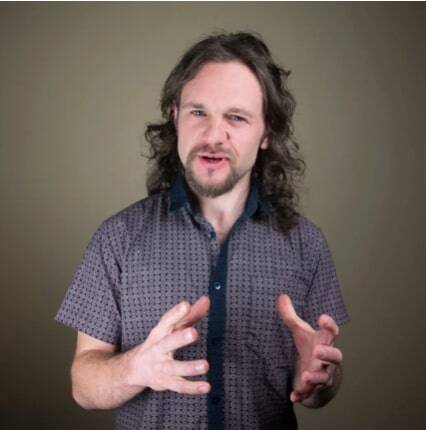 We're live at the International Manufacturing Technology Show! Here, exclusively on the Robotiq blog, we bring you right into the action at one of the largest industrial trade fairs in the world.
When we arrived here in Chicago on Monday, we were not expecting so many robots to be here at IMTS. To tell you the truth, we weren't planning on doing any live blogging coverage from this trade fair — like the coverage we did from Automatica 2016 back in June. IMTS covers the whole of the manufacturing industry, so we thought there would only be a few robots here and there.
But when we got here … wow. There are so many robots here!
Our first thought: We've want to show it to you, our blog reader.
What is IMTS 2016?
In case you haven't heard of it before, IMTS is the International Manufacturing Technology Show. It opened on Monday the 12th September and runs until Saturday 17th. Held in Chicago, USA, every two years it is one of the world's largest industrial trade fairs. This year, there are 2,417 exhibitors and an expected 114,000 delegates.
Let me just to put those numbers into perspective for you. When we attended Automatica 2016 in June, we were amazed by how huge the fair was — people were even using scooters to get around the massive exhibition hall. Automatica 2016 was attended by about 45,000 delegates and 839 exhibitors.
That means that IMTS has about 2.5 times more attendees and exhibitors than Automatica!
To be honest, it's impossible to get our heads around how big everything is here. Try not to think about it too much; just enjoy the hot air balloon ... wait, what?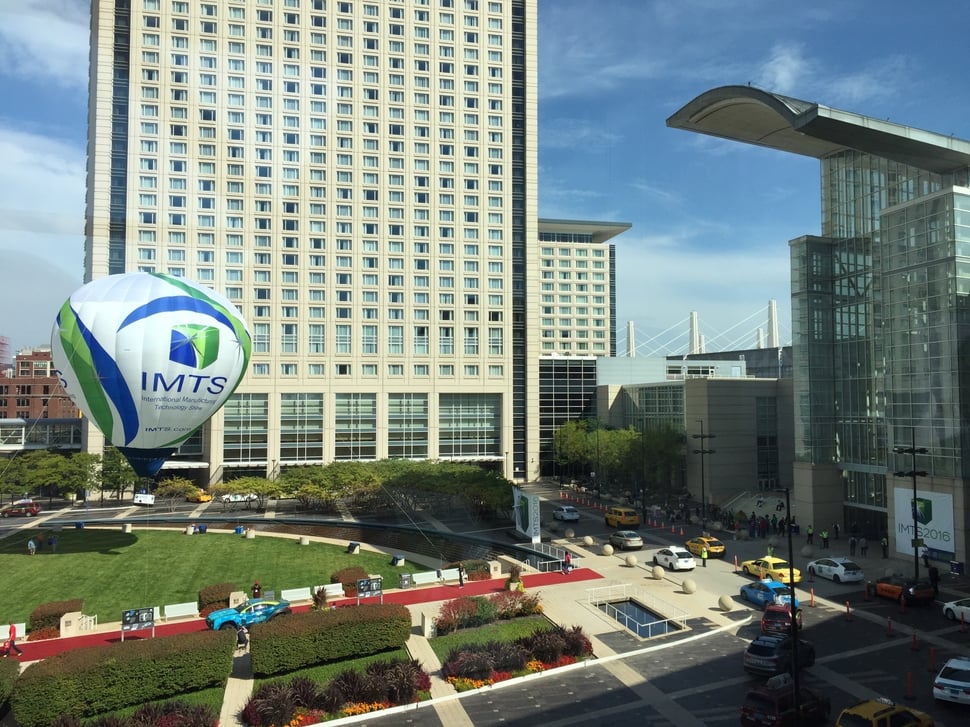 The show is located here in the IMTS building in McCormick Place, Chicago. This multi-floored building sits on the bank of Lake Michigan, and it's enormous. Seriously, the walkway bridges which connect its different buildings stretch across a national highway and it even has its own train station!
Just as we were starting to get our head around the size of it all, we walked into the West Building to see -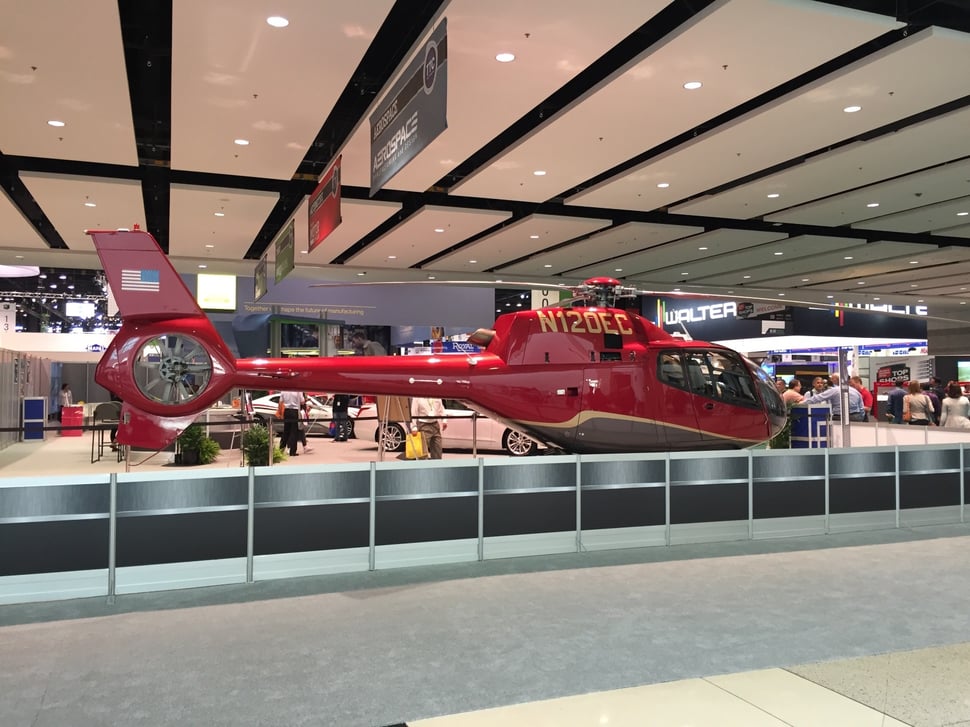 This helicopter right in the middle of the TTC booth (Booth W-20)!
Manufacturers are Looking for their First Robot
The atmosphere here is quite different to what we have experienced in Automatica and IREX 2015. A lot of people are looking to get into robotics for the first time, as opposed to at Automatica where people were already familiar with automation. There is interest from delegates on the lookout for their first robot.
The "Big Four" Robotics Manufacturers are all in attendance, but in a more modest way than at Automatica (where the FANUC booth was just so much yellow!). Here are the booths from the Big Four: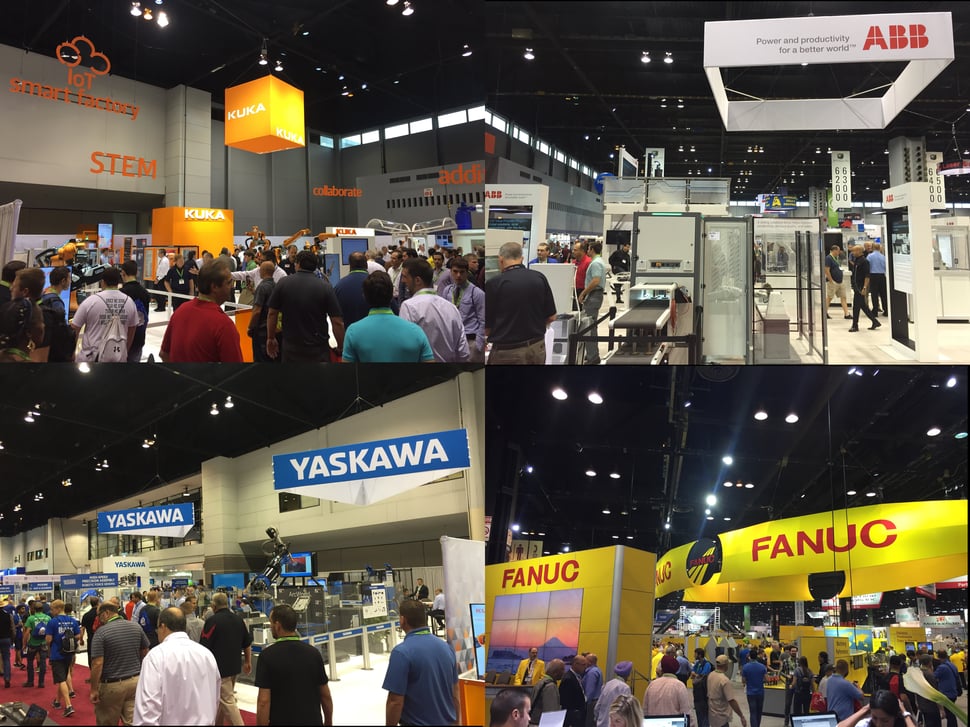 We liked the look of the FANUC booth the most (Booth S-8919), so we headed that way to check it out.
FANUC Gets Big with a Car Lifting Robot
The first thing we noticed were that there are quite a few FANUC CR-35iA and CR-7iA robots. We also saw these at Automatica, but there were only a couple of them. Here at IMTS, there are even more of these strikingly green collaborative robots. In the FANUC booth, they are part of a collaborative Multi-Station Part Assembly demo, incorporating the smaller CR-7iA robot with the FANUC FS-15iA Force Sensor and iRVision product.
It seems that these green collaborative robots have got quite popular since they were released. Earlier, when we were exploring the West Building, we found this CR-7iA sporting the brand new Schunk Co-act EGP gripper, which was pretty cool. The gripper is part of Schunk's brand new collaborative gripper range and is aimed at the automotive industry. It includes an integrated camera, touchscreen and tactile sensor systems, and is a designed with ergonomics in mind.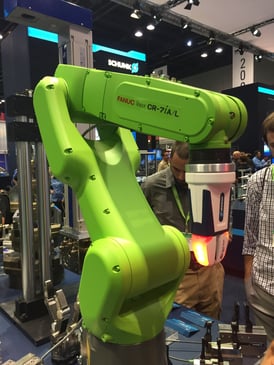 Even though their booth was smaller than at Automatica, FANUC didn't miss the opportunity to add some serious yellow to the show, with this giant demonstration of the M-2000iA lifting a car!
DMG MORI
Right next door to FANUC was the DMG MORI booth (Booth S-8900). Their demo included a CR-35iA fitted with the Robotiq 3-Finger Gripper.
The guys kindly agreed to explain the demo for you.
Check Out Our 3-in-1 Robotiq Demo
It was time to head back to the UR booth to present our own demo. We don't have a specific Robotiq booth here. Instead, we have joined forces with Universal Robots in Booth N-6865, in Hall B on the top floor of the North Building.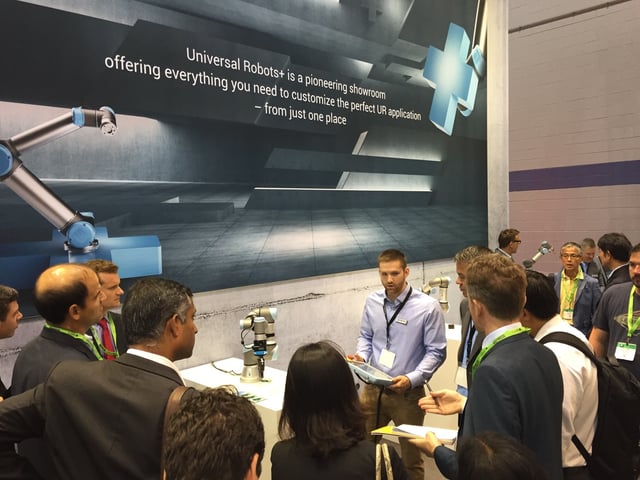 Meet Tyler Berryman. He's an application engineer who joined the Robotiq team in June. He's jumped in at the deep end here at IMTS, taking the lead to explain our 3-in-1 demo to an interested group of delegates. The demo incorporates our Force-Torque Sensor, Robotiq Camera and 2-Finger Gripper.
We're Served Ice Cream by a Kawasaki duAro
If you have read our coverage of Automatica 2016 back in June, you'll know that we have a thing for robots serving food. Well, we have not been disappointed here at IMTS.
Chicago is famous for it's food, like deep dish pizzas, wet sandwiches and Chicago-style hot dogs. In the Kawasaki booth, we were treated to an ice cream, served by their duAro robot. Delicious!
The duAro is an innovative new collaborative SCARA robot which we first saw in IREX 2015 back in December. However, it was only handling electronic boards there. We prefer the ice cream.
And Finally … a Show!?
We don't want you thinking that it's "all work and no play" here at IMTS 2016. The entertainment has been quite an experience too. What on earth is happening here!?

Make sure to come back here on Friday for our next post, live from the International Manufacturing Technology Show 2016.