Bringing Simplicity to R&D: Meet Nicolas Lauzier

by
Philip Fine
. Last updated on Aug 30, 2017 7:00 AM
Posted on Aug 30, 2017 7:00 AM. 6 min read time
Nicolas Lauzier helps turn customer queries into product improvements in an R&D department where he shares the philosophy that a perfect small tweak always wins over the big shiny idea.


Robotiq was founded after lab-mates Samuel Bouchard, Vincent Duchaîne and Jean-Philippe Jobin decided to commercialize some of the mechatronic work they and their professor Clément Gosselin had created at Laval University in Quebec City. That was in 2008.

Today, Robotiq counts more than 50 full-time staff, and our Grippers and sensors operate in 40 different countries. We felt it was time to start telling the stories of our team members.

A teenage Nicolas Lauzier was attending a college open house and saw a mechanical engineering student drawing 3-D machine parts on a computer. Nicolas always loved thinking about how to make machines work. And here was something that helped a person realize this on a computer, that device on which he learned to hack video games and, yes, play the stock market. "That's when I decided to go into mechanical engineering." He would eventually achieve a PhD in the discipline.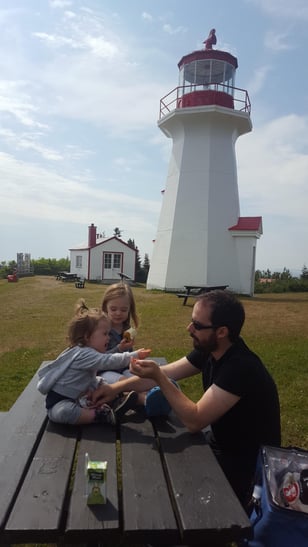 With a lifelong passion for problem solving and getting things to work, Nicolas has always been the person on a project who programs the machine: a computer programmer living inside the body of a trained mechanical engineer. That turned out to be a good fit with robotics, a field that brings together software, mechanics and electronics.
Those skills became vital to Robotiq's growth. Hired on when the company numbered only eight people, his first project had him writing software to control the three-finger Gripper. He was then tasked with changing the Gripper's programming, so that each finger could move independently. As Robotiq expanded, his responsibilities grew. He eventually helmed the research and development department.
While there are times when Nicolas and his team blue-sky some crazy new products, Robotiq's R&D, he says, is not about dreaming up ideas, it's about addressing customer needs.
If a typical problem for R&D can be compared to a stage script, then the person reading for the role of Robotiq user is Jean-Philippe Jobin, Robotiq's CTO. "He spends a lot of time talking to our customers to understand problems people encounter." JP will bring a typical problem to R&D, and the team then attempts to solve it. "That's really the way the process is done. It's not about thinking up solutions but starting off by finding the real problem."
Nicolas says R&D is also about designing a product so well that it can easily climb to the next rung of the manufacturing process. "The way we work in R&D is that we make a product, we make it work, we program it and, when it's ready, all the other departments work together to make it live," says Nicolas, who cautions that he's describing an ideal scenario. He knows that there are many ways for the R&D team to be called back, such as when glitches are discovered or questions come from clients that customer support can't address.
R&D types love improving a product, and while that's a good thing for diminishing risks, team members also have to know when to stop optimizing their design and adjusting their prototype, and just let it go onto the market.
Nicolas is well aware of the trade-offs required between a product that's perfect and one that's market-ready, and is always working closely with the project managers to give the baby bird still sitting in the nest that little push.


Meet Nicolas Lauzier: R&D Director at Robotiq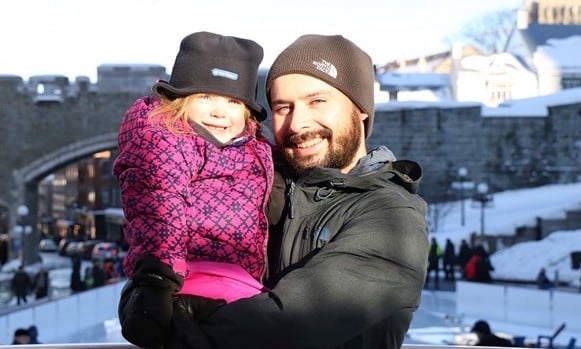 Nicolas' eventual profession would right a wrong, fate-wise. His late father had wanted to be an engineer. His family of 12 could not afford losing a salary to university studies, so he was forced into work at a young age. "If there was one thing he could have changed in his life, it would have been to stay in school for longer and do exactly the kind of job he would have liked," Nicolas said of his father who would end up working as an electrician in Rimouski, a city about six hours from Montreal, where the family lived.
Nicolas's father was "really good at everything," and made furniture, gardened, and traded stocks. "When I was 18, I invested the money from my first job in the stock market, thanks to him."
From a young age, Nicolas enjoyed challenges. In elementary school, he was happy to try and complete his older brother's homework, took computer programming courses and won math challenges.
His mother worked as a hospital lab technician until her retirement and shared with Nicolas a love for more intellectual pursuits such as Scrabble, chess and solving riddles. Both parents were encouraging of their son's choices. "They never tried to influence me to do specific jobs. They really trusted me to do what I liked."
In Cegep (Quebec's junior college) and university, Nicolas found his tribe, those students who also loved spending hours on a computer, building functional machines. "In college and university, it came back as a more natural part of my life. Many of my friends were really into engineering and technology. So were my roommates. We spent nights just messing around with computers, geeking out." His friends were also, like him, curious, and got into long discussions about politics, the economy, history and the arts.
His time at Laval University in Quebec City also included internships. During the first two years of his undergrad, he was a research assistant in thermal energy, a field very different from robotics. But the professor under whom he had been working was offered a position in another university and left Laval. Nicolas looked to other labs and was welcomed into the now-celebrated robotics lab run by Clément Gosselin. There, he worked with various PhD students on their projects, making prototypes and writing code.
As a graduate student, he interned at General Motors in Detroit and in a robotic prosthetics lab in Japan.
At GM, he worked for four months in their advanced research division, which focuses on electric cars and improved automobile materials. He researched new methods for manufacturing parts, much of it involving robotics. "It was a great opportunity," he said of the 2007 internship.
Experiencing how a large organization like GM runs its research arm was also an eye-opener. At seemingly every step, he had to call in a specialist, going through a senior mechanical engineer just to produce mechanical drawings that he could have done himself. "At Robotiq, if you're able to do something, like solder some electronics, you go ahead and do it."
But an internship is a great place for realizing your strengths. During his two months in Japan, he ran bench tests for a brake that helped stabilize the knee joint for a person who can't fully control their leg muscles. He was automating how test data was gathered. He saw that automating all that data – the gathering of it, its analysis and the experiments being done with it – was what he enjoyed most .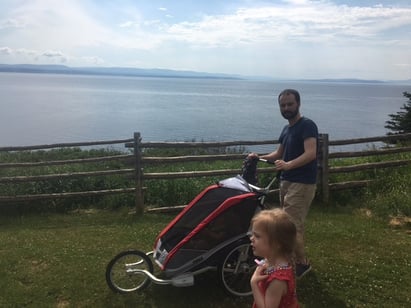 In fact, automation has been the theme of the 34-year-old's career thus far. "I really dislike repetitive tasks. Whenever I need to do them I just think about ways to automate them." That's very apropos for someone working in an automation industry. "Robotics is really well aligned with what I like to do."
Sam, JP and Vincent (Robotiq's CEO,CTO and Scientific Advisor, respectively), who had been following his work, were keen to hire him at Robotiq but had a dilemma: Louis-Alexis Allen Demers was also coming out of Laval with a PhD. That seemed like one too many new PhDs for such a small company at the time. Luckily, Louis-Alexis was more into mechanical design and Nicolas was on board with programming assignments. Both were hired, with Louis-Alexis taking a leading role in mechanical design and Nicolas putting much needed attention on programming.
His programming has turned to a focus on streamlining and simplifying the company's product line.
"At one point, we realized that the key to success was to make robotics a lot simpler so that anyone can automate. We don't need to add more functions to robots; we need to make them simpler to use," says Nicolas, giving the example of the two-finger Gripper being a simple tool that a majority of people can use and afford. "When we realized that, it was a turning point."
And that streamlining comes back to the user's needs. Nicolas brings up the camera software to illustrate this. The standard in the robotics industry required an expert to operate computer vision, but thanks to JP's vision, Robotiq's R&D was not about to accept the industry standard. "Someone without any training in vision should be able to use our product," says Nicolas. "That got us designing something not seen in the industry, where a camera was mounted on a robot wrist, automatically taking in an object by scanning it."
His father died when Nicolas was 27 and was not able to see his son graduate. But the university degrees did lead to the engineering job that had eluded his father.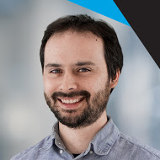 He is now a busy father himself, with two young daughters he raises with his girlfriend Diane, who works as a university professor at Laval, where they met. The family spends a lot of time together, from swimming to visiting museums and from cooking to traveling.
His R&D and his streamlining work continue. "Problems will come up and we'll see ways to solve them that are big and complex. But usually, the solution that's best is one that's super simple."
But what about those new devices and solutions that would come up when he and his R&D colleagues would blue-sky? Will those crazy ideas ever be used? Nicolas is keeping them on file.