Robotic Welding for Fabshop - Rapid-Line Case Study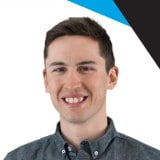 Fabshop are an important link in the manufacturing chain, working behind the scenes to build components for several objects that we use every day. They are challenged by having to manufacture a high mix of products and finding a skilled workforce to produce quality weldments. In this article, see how Rapid-Line, a Michigan Fabshop, is leveraging robotic welding and Kinetiq Teaching to address these challenges.
One of the biggest misconceptions in the welding world is to think that you need a very high volume of the same product to justify the purchase of a robot. As Mr. Lindquist from Rapid-Line points out, it is also a question of quality, repeatability and predictability. If the product you're producing has to be consistent and reliable, a highly skilled welder is needed, if you don't have such welder in your workshop, a robotic welder can be a good option.
''Our average lot size and lead time continue to go down. This forces us to have a lot of cross training and a lot of flexibility with our process. It forces us to have a lot of people that can step in and program a robot.'' - Mark Lindquist, President, Rapid-Line
With Kinetiq Teaching it's not a question of size anymore and the programming time is reduce from 20% to 50%. Once a part lot is done, it is easy to reprogram another welding path and keep going with the next project. Then, if the project is reappears later, you just have to reload the program in the robot controller and launch the program. So, high end programming skills are no longer needed.
Employees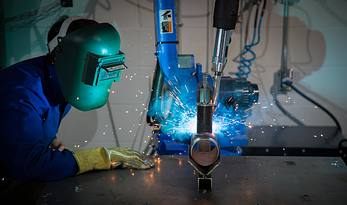 You're not the only one having difficulty in finding skilled welders. The average age of welders in the USA is well over 50. Making it difficult to find a good welder with experience that can do a wide variety of jobs. By using a tool such as Kinetiq Teaching, a less qualified employee, perhaps someone just out of school, can program the robot. Since the software is quite intuitive and easy to use (hand guiding) no major training is needed. As Mr. Lindquist related, it can cost a couple thousand dollars to train an employee either for welding of for programming. For a smaller investment you can have a robotic cell equipped with Kinetiq Teaching software.
Kinetiq Teaching is an add-on that will spread the robotic welding knowledge among more people in your shop, helping you to get more out of your robot, more quickly. Get your first robot and start learning how to use use it. It's just another tool that you need in your 21st century fabshop toolset.
Welding Robot Return on Investment (ROI)
Another aspect of Kinetiq Teaching is the fast ROI. First of all, the more welding time you get out of your robot, the faster your ROI accumulates. And if you can use your welding robot on many different projects you can use it more fully. Best of all, by saving on high end training, you can quickly get your people working on the shop floor with easy instructions and minimal downtime. Finally, this is a win-win situation as you can save money by having good production processes. As a company you don't want to sell unpredictable products of dubious quality. Good quality products are always good for the image of your company.
So, to get more information on the case study involving Rapid-Line or on Kinetiq Teaching you can download the complete case study below.