5 Great Industrial Robotics eBooks to Get for Holidays
by
Guillaume Robert
. Last updated on May 05, 2016 5:10 PM
Posted on Dec 16, 2013 3:02 PM. 2 min read time
Have you missed one of our eBook in 2013? Here is the top 5 eBooks of this year. You can now leave for your holidays with interesting books!
FLEXIBLE ROBOT GRIPPERS FOR INDUSTRIAL ROBOTICS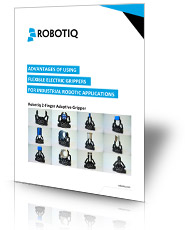 An essential of our 2013 eBook Collection. It gathers in one place the most frequently asked questions about using electric robot grippers.
LEARN HOW TO USE FLEXIBLE ROBOT GRIPPERS
COLLABORATIVE ROBOTS AND COMPARATIVE CHART
2013 has been the year for the emergence for these types of robots. Get this eBook which introduces 9 collaborative robots and compares their main specifications. A must!
COMPARE SPECIFICATIONS OF COLLABORATIVE ROBOTS

ROBOTIQ PACKAGE FOR UNIVERSAL ROBOTS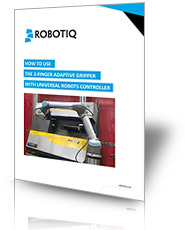 2013 has shown that our Adaptive Robot Grippers are a really good fit with Universal Robots. That is why we have designed a package for this collaborative robot, which includes software components and a tutorial to easily program our electric grippers.
ROBOTIQ PACKAGE FOR UR AVAILABLE HERE
ARC WELDING ROBOT COMPARATIVE CHART

Here is an updated comparative chart for all the welding robots with a payload of less than 20kgs from the major robot manufacturers, namely: ABB, FANUC, KUKA, YASKAWA and now KAWASAKI!
COMPARE WELDING ROBOTS SPECIFICATIONS
CHOOSE THE RIGHT END EFFECTOR FOR YOUR ROBOTIC APPLICATION
Choosing the right end effector is always a big challenge. That is why we put together this eBook to help you make the right choice for your robotics application.
CHOOSE THE RIGHT ROBOT GRIPPER FOR YOUR APPLICATION