Teaching Welding Robots by Demonstration at FABTECH 2013!
by
Guillaume Robert
. Last updated on May 05, 2016 4:28 PM
Posted on Nov 17, 2013 8:29 PM. 2 min read time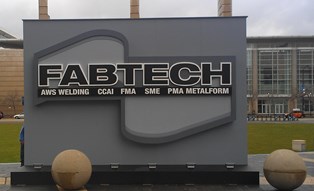 The idea of using intuitive industrial robots that don't require in-depth programming knowledgeis moving a step ahead. After the release of collaborative robots such as Universal Robots and Baxter from Rethink Robotics, Robotiq is releasing at FABTECH 2013, Kinetiq Teaching: an add-on solution to make teaching and programming welding robots intuitive and easy. Drop by our booth, N-1871, to try it out.
For a long time robotic welding has been a complex solution that only large companies could afford, because it needed to gather 4 key factors in order to be profitable:
a programming expert in-house to set the application,

the welding knowledge in-house to fine-tune robot welding settings,

a high volume of parts, and

a highly repetitive welding task.
But today - through the new Kinetiq Teaching application - small and medium sized companies can capture the benefits of automating welding processes.
As you can see in the following video, welders no longer need to have expertise in programming to move the robot and teach it a welding task. They simply have to put their hands on the robot and move it to the desired position, then add welding tasks by selecting options on a smart phone style touch-screen interface. With Kinetiq Teaching, robotic welding is passing from complex lines of programming to intuitive user-friendly teaching.
This new product is now available on Yaskawa Motoman and is also exhibited at their FABTECH Booth, N-818. Yaskawa is demonstrating the Kinetiq Teaching on a fully functional ARCWorld robotic welding cell. Attendees are invited to try it out and do their first robotic weld with Kinetiq Teaching at Yaskawa's booth (N-818). Following are pictures of the cell.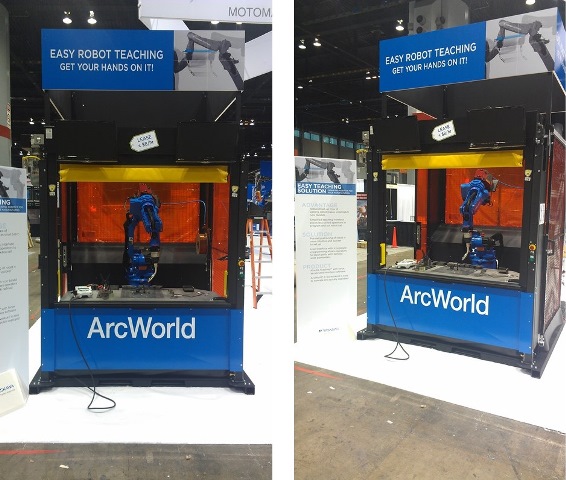 So drop by our booth (N-1871) or the Yaskawa booth (N-818) to see how you could:
Save on programming time for your robotic welding application.
Allow any welder to teach and program a welding robot.
Enable high-mix welding automation.