Collaborative Robot Series : Universal Robots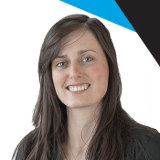 by
Catherine Bernier
. Last updated on May 05, 2016 4:26 PM
Posted on May 15, 2013 12:16 PM. 3 min read time
The next review for our Collaborative Robots Series is for Universal Robots. Introduction, key features and challenges are examined.
Universal Robots: An Introduction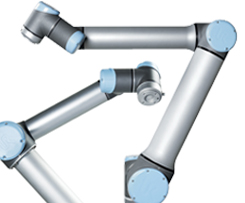 Universal Robots is a Danish company that entered the market with a new vision for robotics. When the industry is surrounded by big, heavy and expensive robots, they decided to provide low-cost, flexible and easy-to-use automation solutions for all kinds of companies. Whether you are a small company making small batches or a large company with a huge manufacturing process, robots from Universal could be a good fit for you.
Their robots consist of a six-axis arm that allows them great flexibility to do a variety of tasks. They offer three products: the UR3, UR5 and UR10 that can handle 3, 5 and 10 kilos respectively.
Universal Robots : Key Features
UR can be very precise (+\- 0.004 in) and can handle microscopically small parts.
The programming is simple. You just have to move the arm and record points for the trajectory. Then you use the touch-screen tablet (12'') to set different options. The software has a graphical interface that makes it easy to use. In fact, Robotiq has developped specific kits that provide everything you need for a quick installation from hardware to software components. Check it out here!
Also, their compact design and light weight give them good portability around the plant floor. So they can be assigned to other tasks easily and rapidly.

Universal Robots can be customized for the client's needs. In average, according to the company, the payback period is a relatively short 6 to 8 months.
Universal Robots : Challenges
New trend
Universal Robots provides a low cost and efficient solution for any company that wants to enter the robotic world. However, the industry has been dominated by big, fast and robust robots over the years. Even if there is a need for more flexibility and user friendliness in the robotic industry, education is also needed to develop this new market and make it sustainable. But the fast growth of this company, which started in 2003, maybe a part of the answer.

We, at Robotiq, also believe that robots should be more accessible to companies. This is why we offer Adaptive Robot Grippers that will enhance your experience with industrial automation.

For more related articles on collaborative robots:
Interested in related articles on collaborative robots read about:
Related article on Universal Robots: