What Blew Our Socks Off @ Automate 2017 Today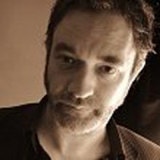 We've been impressed by some of the technology on display at Automate 2017, but here are 3 that really blew our socks off!
ABB Robotics' YuMi dual-arm cobot
Robotiq's Director of Marketing Karine SImard played with ABB's YuMi cobot this morning and was seriously impressed by how easy it is to program. It took less than five minutes to program the following simple pick, exchange and place operation:
Here's YuMi collaborating with a human on a 2-step assembly task (insertion of blocks on one arm, and assisted screwdriving on the other):


YuMi costs around USD40K for the basic version and around US60K for the full package. Both versions come with a nice tablet-based interface and a simple point-and-click process: move robot, open gripper, save position, and so on.
By the way, ABB has just acquired Austrian industrial automation integrator and components manufacturer B&R Automation for an undisclosed amount but estimated to be "close to $2 billion." Frank Tobe at Robohub has the details.


Precise Automation
One of the first things you notice about Precise Automation's robots is that they come with an easy-to use, web-based programming interface.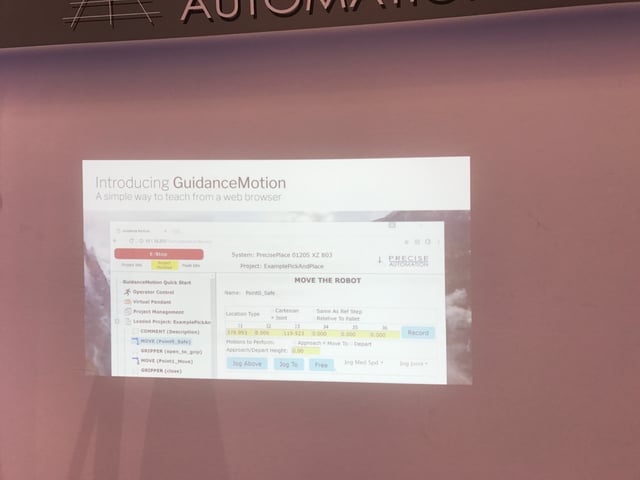 But there's more...
The firm's PF400 SCARA cobot can go rather fast and yet it can be stopped with a light touch of the finger. This is thanks to low gear ratio motors that enable the robot to move at 1.5m/sec and still remain under 150n for force. Impressive!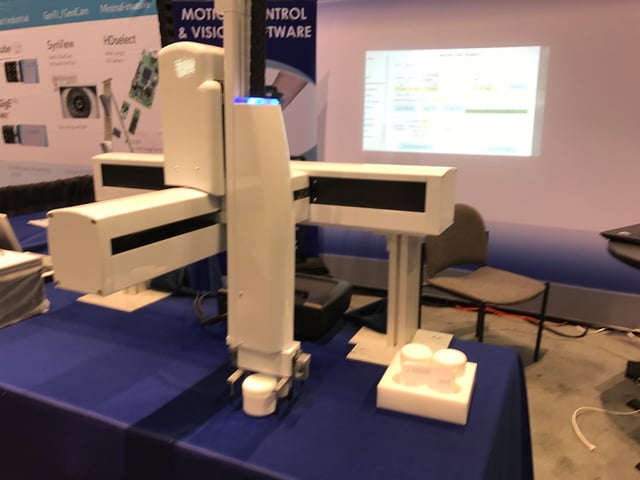 Caption: The Scara --a light touch will bring it to a stop.

Kawasaki's Ice Cream Robot
Sometimes you don't want a robot to pick up a single thing except an ice cream cone and then fill it for you.
Thankfully, Kawasaki's dual-arm DuAro cobot understands:
We've simply scratched the surface of the amazing tech on show at Automate 2017. Expect plenty more during the next couple of days.

Coming Next: Robotiq CEO, Samuel Bouchard was speaking at a cobots panel this afternoon with Douglas Peterson, General Manager, Americas Region, Universal Robots, and Brian Carlisle from Precise Automation. We were there and will have the key takeaways for you first thing in the morning.