What's New In Robotics? 31.05.2019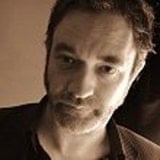 by
Emmet Cole
. Last updated on May 31, 2019 6:21 AM
Posted on May 31, 2019 6:06 AM. 8 min read time
Good morning. In this week's news mix: Cobo-Stack system sales exceed expectations, looking back on SYMBIOTIC and why cobots are a perfect fit for Indian SMEs. We also meet a moon bot with a laser, admire a sloth-inspired environment-monitoring robot, salivate at a raspberry-picking bot and much more!

Cobots & manufacturing
A cobot-based pallet stacking system that launched just two weeks ago in Germany has already sold 12 units, "far exceeding expectations" according to the company.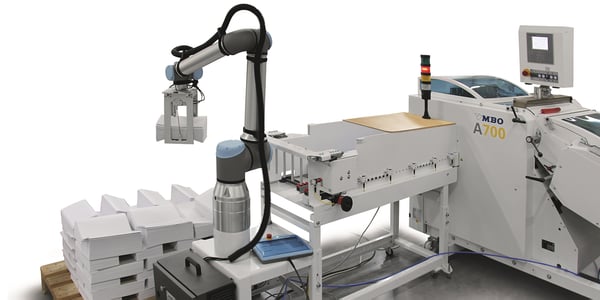 The system can handle up to 300 stacks per hour. Credit: MBO
Via Printing Impressions:
The CoBo-Stack means a huge reduction in the physical workload for the operator of the folding machine. The robot picks up stacks of folded signatures and deposits them on pallets. The pallets can be positioned on both sides of the folding machine delivery, allowing uninterrupted operation. While the MBO CoBo-Stack is filling one pallet, the operator can move the full pallet away and prepare the next empty pallet.
The European Union-funded SYMBIOTIC project has just completed four years of research into human-robot collaboration in industrial environments. Video released this week looks back on the work completed...
In 2018, the global collaborative robotics market was worth USD590 million. By the end of 2025, it is expected to reach USD12200 million with a CAGR of 46.1%, according to a cobot market report from Orian Research. (H/T OpenPR)
Cobot maker Universal Robots released video this week looking back at 'WeAreCobots,' the world's first collaborative robot congress, which was held May 8-9 in Madrid, Spain...
By 2021, 60% of the world's 2,000 largest companies will have deployed autonomous mobile robots, IDC research director John Santagate told Retail Info Systems this week:
"The worldwide market for commercial service robotics will continue to grow at a rate of 20% per year for the coming five years," he noted. "We expect to see growth driven by increased adoption of autonomous mobile robots and collaborative robots being deployed as a means to deliver improvements in capacity, productivity, and efficiency."
New video shows a gripper from Robotiq and a Universal Robots cobot working together on ball valve assembly...
Cobots are an "especially ideal solution for the Indian SME, where land is a limited and valuable asset, and a constrained shopfloor does not allow for bulky industrial robots and the space for safety fencing they require," Pradeep David, general manager, South Asia at Universal Robots told Entrepreneur this week:
Inter-dependent collaboration between robots and humans is particularly appealing to the Indian manufacturing industry because labour-intensive conditions, the scarcity of skilled labour, and the collaborative nature of these cobots can help the nation's market achieve the best of both worlds by making precise use of this distinctive, innovative and affordable technology.
Check out this TM cobot handling 4 products at a time with ease...
Meanwhile, in related reading...
How Cobots Enhance Supply Chain Operations (ThomasNet)
FANUC to Demonstrate its Easy to Use Cobots at Amazon's re:MARS Conference (Financial Post)
8 impressive developments in packaging automation (Packaging Digest)
When to Use Collaborative Robots for Manufacturing (Robotic Industries Association)
Intelligent robot for deburring, grinding & polishing work (ETMM)
Elsewhere...
Meet MOONRISE -- a European research collaboration to develop a mobile lunar robot that uses a laser beam to fight aliens transform moon dust into materials that can be used for 3D-printing and construction. If successful, the project will enable large-scale 3D-printing of a wide variety of objects on the lunar surface, including entire buildings.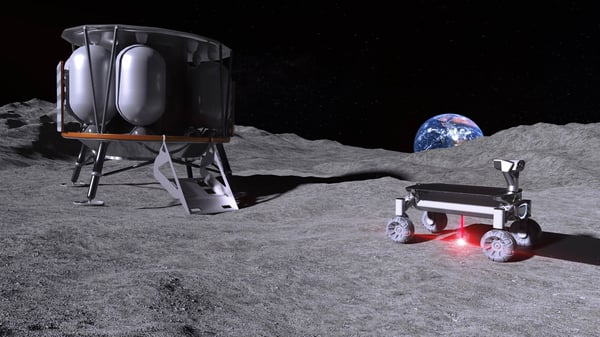 Lunar bot w/ laser. Credit: Laser Zentrum Hannover|MOONRISE
[Scientists] want to prove the following: A laser system that weighs no more than three kilograms and has the volume of a large juice package can melt down local raw materials on the moon and convert them into versatile structures later. The opportunity to fly their MOONRISE technology to the moon in 2021 with the first moon mission of the Berlin-based New-Space company PTScientists offers the researchers from Lower Saxony the unique opportunity to test their pioneering technology under real conditions.

An autonomous robot developed by Boston-based Square Robots successfully completed its first in-service inspection of an above-ground diesel storage tank, the company announced this week.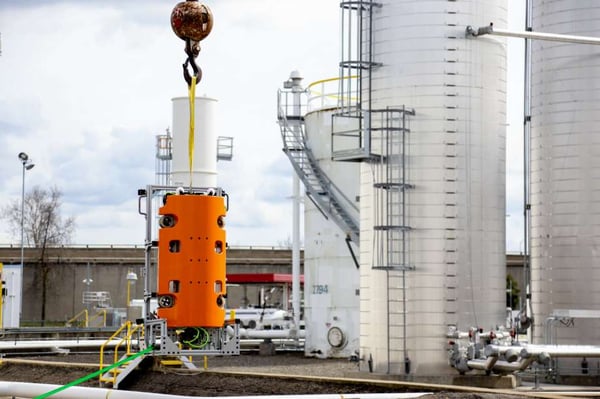 Square Robots' bot is prepares to inspect a Phillips 66 diesel storage tank. Credit: Square Robots
The new inspection bot is able to inspect petroleum product storage tank floors while the product remains inside the tank, saving companies significant amounts of time and money. (H/T Chron)
Engineers at Georgia Tech have created a prototype environmental monitoring robot. Inspired by the energy-efficiency of the slow-moving sloth, the team's 'SlothBot' moves along cables using solar-powered rubber wheels. The bot could end up being tested this year in the tree canopy at the Atlanta Botanical Garden.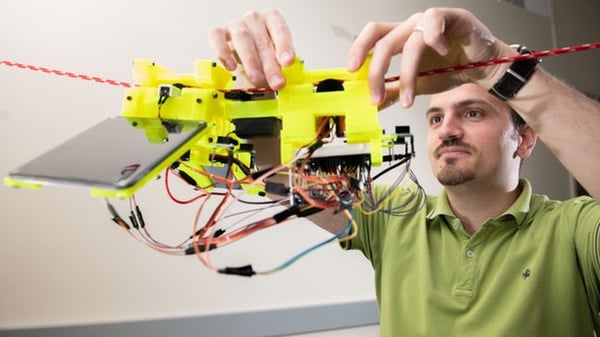 Credit: Allison Carter, Georgia Tech
Via New Atlas:
Such a network of cables could be strung across the treetops in a jungle, where the SlothBot would be used to observe wildlife or measure changes in the environment. It would reportedly be able to do so for months at a time, charging its batteries via built-in solar panels, and only moving along the cables when necessary.
And in other news...
Come back next week for more of the latest robotics news! Until then, please enjoy...
Five vids for Friday
1. Meet The Robotic Roadworks & Excavation System --a collaborative project between ULC Robotics and SGN to create a bot that improves worker safety, reduces the time, cost and carbon footprint associated with roadworks and prevents damage to buried infrastructure assets.

2. If social and service robots are to achieve widespread acceptance, human-robot interaction --an important area of research at Worcester Polytechnic Institute-- needs to be better understood.
3. Just in time for summer in the Northern Hemisphere, the "world's first raspberry-picking robot" has begin UK field trials. Currently a prototype, the final system "will be able to pick more than 25,000 raspberries a day, while human workers pick about 15,000 in an eight-hour working day." (The Guardian has the details.)

4. New video from CGTN this week shows how China is using robots to improve efficiency and safety during maintenance tasks on the country's high-speed train system.
5. The United States' Naval Research Laboratory and researchers at the University of Wisconsin-Madison are collaborating on an exciting system designed to endow two-armed robots with human-like dexterity. (TechCrunch has more.)