What's New In Robotics? 31.01.2020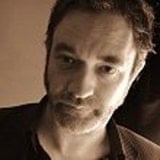 by
Emmet Cole
. Last updated on Jan 31, 2020 8:45 AM
Posted on Jan 31, 2020 7:00 AM. 9 min read time
Good morning. In this week's news mix: researchers reveal mobile pharma cobot, Cobots.ie launches its 'CoMig' cobot welding system and Miso Robotics unveils prototype cobot cooking setup. We meet a pair of bots battling 2019-nCoV, cheer on a prototype stair-climbing bot from Japan, get the chills with a deep sea submersible and much more!
Cobots & manufacturing
European researchers have unveiled an autonomous mobile cobot for use in the pharma sector. Video released on Wednesday shows the cobot in action. The team designed the system for pick and place sampling and for air and environmental surface sampling... (H/T Cleanroom Technology, which published a fascinating feature on the project this week.)
Meet CoMig, a new welding system for Universal Robots' cobots, which launched at Ireland's National Manufacturing & Supply Chain Exhibition this week.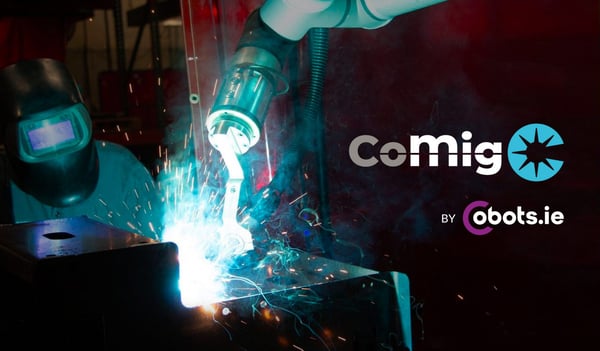 CoMig offers 4 Step weld control as standard. Credit: Cobots.ie
Via Cobots.ie:
This allows, with ease, Stringer(straight) welds, in addition to Cursive "E" and Cursive "V" welds. It will also have the ability to produce Vertical Up using the Christmas tree weave pattern [and the] Ability to control manipulators such as dynamic rotators, as well as extra linear axis to enable dual bench use.
Miso Robotics revealed a prototype restaurant concept ('Miso Robot on A Rail') this week that could see humans and robots working in close proximity on shared cooking tasks.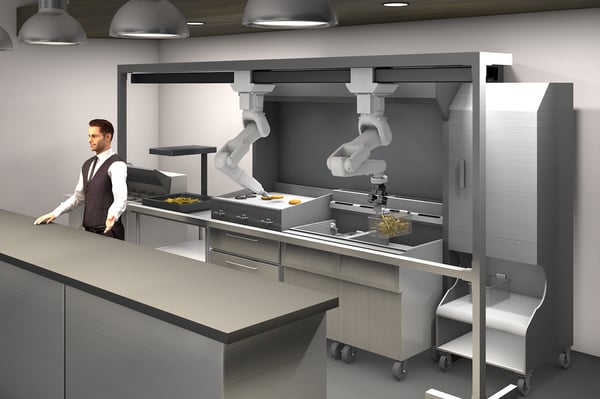 Credit: Miso Robotics
Forbes reports:
ROAR is intended to be installed under a standard kitchen hood and out of the path of kitchen workers [...] The second goal is a work in progress. Jordan said Miso Robotics plans to have ROAR commercially available by the end of the year and has launched a new crowdfunding round on SeedInvest to bring that goal to fruition.
Elsewhere...
With global concern about novel coronavirus (2019-nCoV) on the rise, robots have stepped in this week to help some hotels and medical facilities maintain quarantine conditions. For example, one infected patient in the United States received medical attention via Vici, a teleoperated, robotic medical assistant.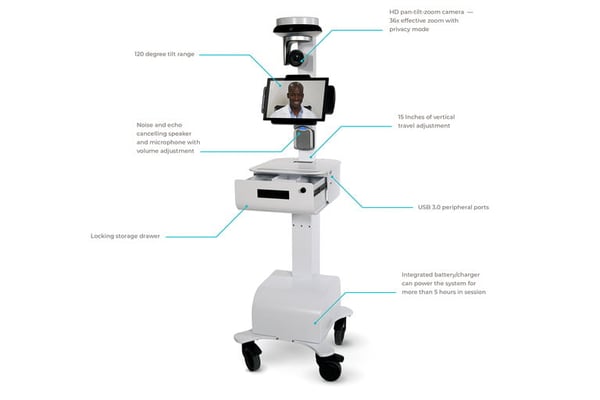 Credit: InTouch Health
Via Digital Trends:
"Telehealth devices like the 'robot' assist caregivers in performing basic diagnostic functions and allow them to communicate easily with the patient," [said] Rebecca Bartles, the executive director of system infection prevention at Providence St. Joseph Health [...] "This helps reduce the number of up-close interactions, which in turn minimizes the risk of exposure to caregivers."
And staff at a hotel in China have reportedly been relying on a fleet of 16 service robots to bring food and other supplies to quarantined hotel guests.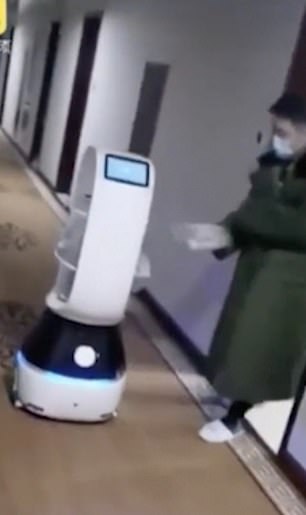 An image showing the service robot in action. Credit: Via Daily Mail
The Daily Mail reported:
New footage shows robots delivering food to people trapped in a quarantined hotel in China in efforts to stop the spread of coronavirus. The robots were programmed to stop by the room doors to deliver meals and sing to entertain the guests while they were in the quarantined zone to contain the deadly disease.
The New York Power Authority has successfully piloted a submersible robot that can navigate inside power transformers and perform routine inspections that pose health to risks human workers. Developed by ABB, the TXplore transformer inspection bot eliminates the need for a confined space rescue team.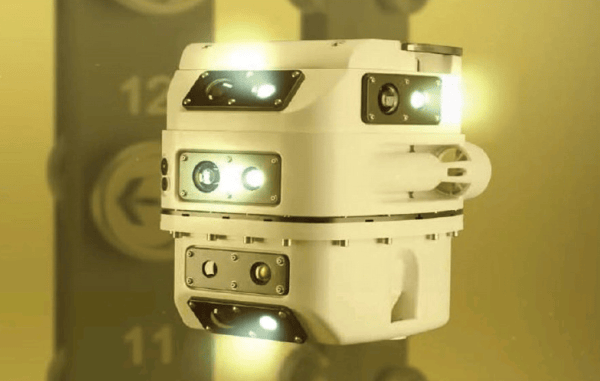 Credit: New York Power Authority|ABB
Vis Water Power & Dam Construction:
"Submersible robotic technology provides an unprecedented and time-saving opportunity to evaluate a transformer's ability to operate reliably and make an educated decision about whether a system needs repair," said Alan Ettlinger, NYPA's senior director of Research, Technology Development and Innovation. "This is a good example of responsible asset management that will increase efficiency and reduce costs by identifying any potential issues before they become a problem."
On Friday, Nippon.com reported on a prototype stair-climbing robot from Ameoba Energy that's currently being tested as an aid to Japanese seniors, many of whom live in apartment blocks without elevators. The bot was initially designed to assist seniors with garbage removal, but during recent tests seniors suggested that the bot could also be used for delivering vegetables from a nearby vegetable patch --a possibility the company is set to explore in future prototypes.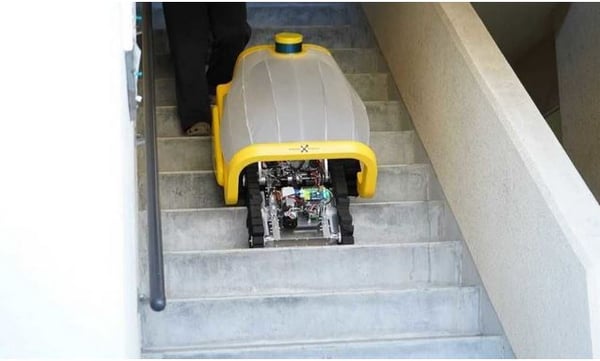 Credit: Ameoba Energy
Via Nippon.com:
The robot is 77 centimeters tall and can carry a maximum load of 6 kilograms at a maximum speed of 1 kilometer per hour. It is equipped with a pair of soft crawlers that give it the versatility to move up and down just about any conventional set of stairs, up to a maximum grade of 35 degrees, and a battery pack giving it around three hours of operation before recharging.
Come back next week for more of the latest robotics news! Until then, please enjoy...
Five vids for Friday
1. Brrr. Despite ocean temperatures below -30C (-22F), the hardy Icefin submersible robot recently made its way more than one kilometer (0.62 miles) along the base of Antarctica's Thwaites Glacier. Its mission: to find the exact location where the ginormous ice cube meets land. Kudos to the scientific team who helped Icefin on its way --over the course of 2 months they drilled a 700 meter (2,296.58 feet) deep hole through which the bot was lowered to begin its trek. (H/T Science)
2. On Monday, February 3, 2020, Maryland, U.S.A.'s newest bomb disposal robot --a brand new Telerob Telemax Pro, costing a cool USD400,000-- will begin service. New video shows the nippy bot in action... (H/T NottinghamMD)
3. With several companies developing satellite repair and refueling robots, The Verge explored some of the contenders, technologies and challenges involved.
4. Researchers at Cornell have created a robot hand with hydrogel-filled fingers that can regulate its temperature by releasing small quantities of the 50% water-based gel, akin to the way humans and other mammals sweat. The team hopes to use the technique to improve sliding robot designs and, more generally, to provide a temperature regulation strategy for bots operating in hot environments. (The Guardian has more | Paper)
5. Andra Keay is the charismatic managing director of Silicon Valley Robotics and a thought leader in the realm of socially responsible robotics. In a TedX talk released Thursday, Keay calls on the public to "embrace the possibility of leveraging Robots and AI in an upside down world to benefit all."