What's New In Robotics? 27.12.2019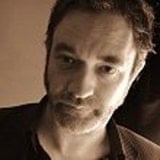 by
Emmet Cole
. Last updated on Dec 27, 2019 8:00 AM
Posted on Dec 27, 2019 7:00 AM. 9 min read time
Good morning. In this week's news mix: cobot grills hot dogs, Asian Robotics Review's 'cobots to watch' in 2020 and ABB's year in review. We also wonder what DJI is up to, marvel at a light-based nervous system for bots, watch WalkMan in action and much more!
Cobots & manufacturing
Researchers from Boston University in the United States have demonstrated a reinforcement learning system that they used to teach a cobot how to grill tasty hot dogs... (H/T Popular Mechanics)
FANUC's CRX, Jaka's Zu, and Flexiv's Rizon cobots could "challenge the status quo" within the cobot market in 2020, according to Asian Robotics Review:
They herald the coming world of next-gen cobots with capabilities necessary for smart factories and intelligent manufacturing. Also encouraging is to see that the challenges dogging cobots like payload, velocity, force limits, and ease of use are being addressed and solutions found. All of industrial robotics will need to take heed of what's going on in the cobotics world. These days, cobot technology is the tail wagging the dog.

Automation giant ABB had a busy year that included the launch of new cobots for use in medical environments. Video released this week takes you through the highlights month-by-month...
Meanwhile, Mechatronic Solutions showed off a nice pick & place set up (w/ color recognition) using a Techman cobot fitted with a Hand-E gripper from Robotiq...

Elsewhere...
Is drone maker DJI about the enter the terrestrial cinematography bot market? Eagle-eyed patent watchers discovered a Chinese patent this week describing a rover-type bot fitted with a camera and stabilizer.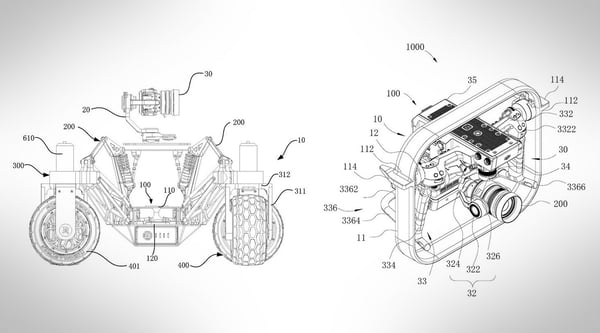 A complex suspension system helps keep the camera stable when the rover moves. Credit: CNIPA/DJI
Via engadget:
It might be a way for DJI to compete against Tero's ground-based Freefly camera platform. Unlike Freefly, the DJI vehicle seems to include its own camera and stabilizer, much like the Mavic and other drones. At the same time, the suspension seems to have a lot of travel that would allow it to operate smoothly on relatively rough terrain. That would no doubt make it simple to operate and relatively lightweight.
Meanwhile, researchers at the Istituto Italiano di Technologia (IIT) are working on a rehabilitation bot, dubbed 'Wristbot,' that they hope to bring to market in "the next couple of years." Combining a robotic device with a video game, the system guides patients through a series of exercises designed to improve wrist strength and has already proven successful in a series of clinical trials.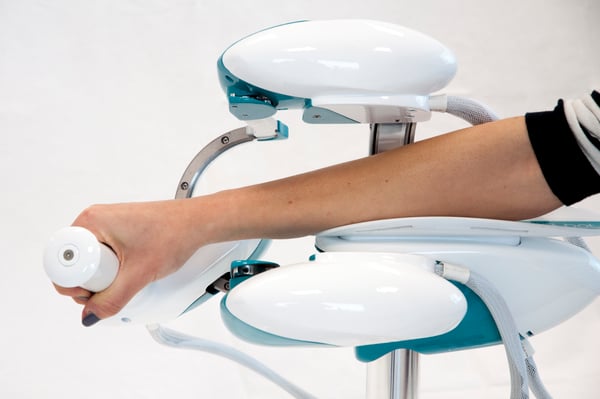 Grasping and moving the device aids in the rehabilitation process. Credit: IIT.
Via IIT:
Team Wristbot [is] convinced that the device they envisioned [...] could really be useful and successful on the market. "We also have several joint lab within health structures where we have been able to test our product on real patients. In order to sell it to these structures or other clinics, though, it needs a medical certification," [IIT researcher] Maddalena Mugnosso adds.
Engineers at Cornell University have created an artificial, light-based 'nervous system' that could be used to improve robots' spatial awareness.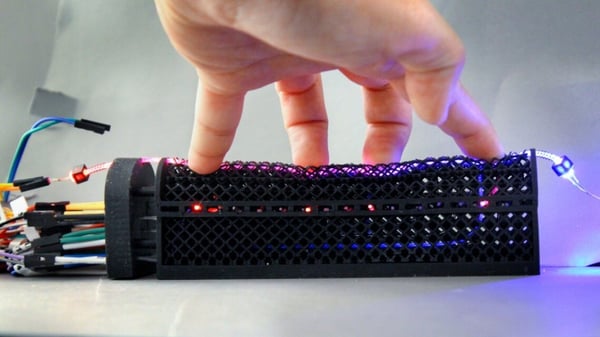 Singularity Hub reports:
Rather than mimicking the electric signals in our nervous system, [the] team turned to light. By embedding optical fibers inside a 3D printed stretchable material, the team engineered an "optical lace" that can detect changes in pressure less than a fraction of a pound, and pinpoint the location to a spot half the width of a tiny needle.

Come back next year for more of the latest robotics news! Until then, please enjoy...


Five vids for Friday
1. On Monday, researchers from Seoul National University released video showcasing an ingenious, remotely operated microrobot that could one day be used to assist surgeons during eye surgery.

2. Well, that sucks. A North Carolina couple were left slightly red-faced this week after they heard noises in a downstairs room, hid in a cupboard and called police to report an intruder, only for police to discover that the source of the noise was, in fact, a brand new robot vacuum cleaner. (This isn't the first time this year a robot vacuum cleaner has been mistaken for an intruder.)

3. New video emerged this week of Kawasaki Heavy Industries' 'WalkMan' robot (a humanoid designed for use in disaster relief scenarios) showing off its skills. By the way, if robot vacuum cleaners can be mistaken for intruders, what safety measures will be required in the future to ensure that humanoid robots are never mistaken for actual humans?

4. CNN Money reported on a Swiss school that is using a NAO bot to help kids that aren't able to attend school participate in lessons from home. "It's like if I was attending school for real," says a student who has been using the system since March of this year.
5. On Thursday, car giant Volkswagen released video outlining its mobile charging robot concept for electric vehicles, in which a mobile robot connects 25kWh energy storage devices to electric vehicles to enable charging. When the charging process is complete, the bot returns, collects the storage device and brings it back to the charging station. (H/T Jalopnik)