What's New In Robotics? 24.01.2020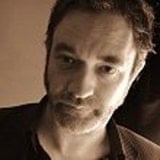 by
Emmet Cole
. Last updated on Jan 25, 2020 8:41 AM
Posted on Jan 24, 2020 7:00 AM. 9 min read time
Good morning. In this week's news mix: Yamaha to enter cobot market, a piano-playing cobot and ABB showcases 5G-enabled cobots at Davos. We also meet India's space-bound humanoid, admire the Origin self-driving car, cheer a 3D-printing system for houses and much more!
Cobots & manufacturing
Yamaha announced a 200 million yen (USD1.82m) investment in startup Tokyo Robotics Inc. on Tuesday with the aim of entering the global cobot market.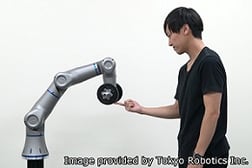 Via Yamaha: Tokyo Robotics Inc. has strengths in joint flexibility (force control) technology, which is essential for increasing the sophistication of cobots. Through its extensive manufacturing experience, Yamaha Motor has capabilities in achieving mass production which delivers high quality, low cost, and timely supply.

Robotics giant ABB teamed up telecoms specialists Ericsson and Swisscom at Davos this week to showcase how robots can be controlled over wide distances using the real-time, no latency communications capabilities of 5G...
Cobot maker Universal Robots, in collaboration with cobot distributor Cobots.ie, is set to launch Ireland's first cobot training center, based in Cork. Plans for the facility are expected to be unveiled at the National Manufacturing & Supply Chain Conference next week. (H/T Automation Update)
Meanwhile, a researcher at Switzerland's Idiap Research Institute has been exploring human-robot collaboration through piano playing...
The World Economic Forum has selected 44 factories to participate in its Global Lighthouse Network, showcasing facilities that are "showing leadership in applying technologies to drive financial and operational impact at scale." New video offers a quick overview of the project (which has been running since 2018)...
Elsewhere...
On Tuesday, Cruise unveiled its spacious Origin self-driving car. The result of a collaboration with GM and Honda, the Origin vehicle promises a lifespan of 1 million miles.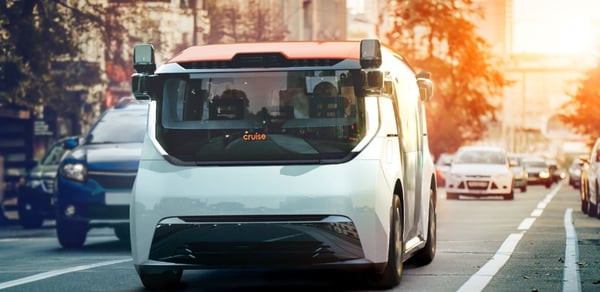 Origin on a city street. Credit: Cruise
Via The Robot Report:
By producing a vehicle at half the cost of a conventional sport-utility vehicle, extending its useful lifespan with modularity, and achieving higher utilization rates than cars that spend 95% of their time parked, Cruise should be able to reduce transportation costs, said [Cruise CEO Dan] Ammann. The key will be making ride sharing more appealing with an inviting design, safe autonomous transport, and constant hardware and software updates.
On Wednesday, The Indian Space Research Organization (ISRO) offered a first glimpse of a new humanoid robot intended for use on a space mission later this year. Dubbed 'Vyommitra,' the bot will be used to test systems before India sends its first humans into space in 2022.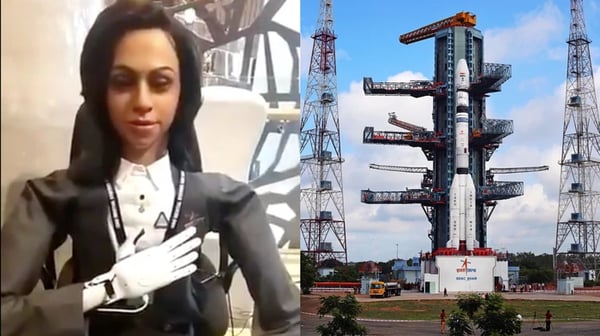 Credit: Via Vice
The Times of India reports:
"Many systems will need to be tested before the unmanned flight planned for this year and among them will be the air-drop tests on crew escape module and we will also begin the crew training," said [ISRO chairman K Sivan].
A busy week for AI regulatory news saw Google's CEO call for a "proportional response" to AI regulation, European researchers recommend that EU trade policy should "carve out space for the regulation of ethical and responsible artificial intelligence in future trade talks," Microsoft's CEO call for global AI rules and the World Economic Forum launch an AI toolkit for corporate boards.
Meanwhile, Amr Raafat (2019 AEC Innovator of the Year and Director of Virtual Design & Construction at Windover Construction) has collaborated with robotics software company RCML to create an autonomous laser scanning and layout planning robot for use on building sites.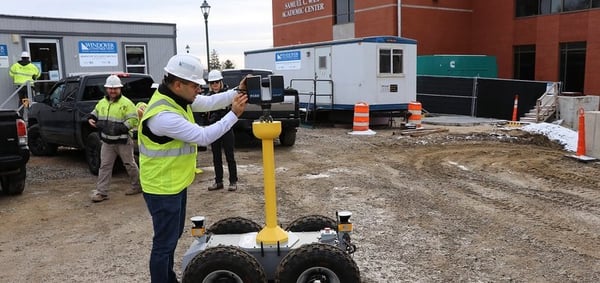 The new laser robot scanning at work. Credit: Windover Construction
Construction Dive reports:
The robot is able to move around on uneven surfaces to predetermined locations to scan indoor and outdoor spaces, as well as to measure and draw plans for walls and spaces that would need to be meticulously measured by a human, according to Raafat.
Come back next week for more of the latest robotics news! Until then, please enjoy...


Five vids for Friday
1. Drone maker Dynetics revealed this week that it successfully flew the X-61A Gremlins Air Vehicle for the first time at Dugway Proving Ground near Salt Lake City, Utah in November 2019. The flight lasted one hour and 41 minutes and while most of the test objectives were achieved, due to "a failure to extract the main chute, the drone was lost during the ground recovery sequence." (H/T AUVSI)

2. Apis Cor has released video showing off its amazing system for 3D-printing buildings.

3. In the latest installment of Lex Fridman's AI Podcast, Ayanna Howard (director of Human-Automation Systems lab at Georgia Tech in the United States) talks human-robot interaction, the ethics of safety-critical algorithms and a myriad of related topics.

4. Professor Gordon Cheng, founder of the Institute for Cognitive Systems at Technical University of Munich has developed robots with a sense of touch, making them safe to be around... and huggable.
5. A team led by Lionel Robert (see his interview as part of The Cobot Experience series on this blog) is using virtual reality to study that factors that influence trust of self-driving cars among pedestrians. (H/T The Michigan Engineer News Center)