What's New In Robotics? 17.01.2020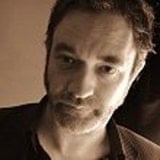 by
Emmet Cole
. Last updated on Jan 17, 2020 8:00 AM
Posted on Jan 17, 2020 7:00 AM. 9 min read time
Good morning. In this week's news mix: Universal Robots launches cobot leasing program, Bossa Nova's massive Walmart deal and DHL's cobot plans. We also applaud the arrival of xenobots, meet Stanford's PigeonBot, explore issues of trust with Antonio Chella and much more!
Cobots & manufacturing
On Monday, San Francisco-based Bossa Nova Robotics announced plans to bring its mobile, shelf-scanning inventory cobots to 1,000 Walmart stores in the United States. Once complete, the rollout will be the largest deployment of fully autonomous robots in the history of grocery retail.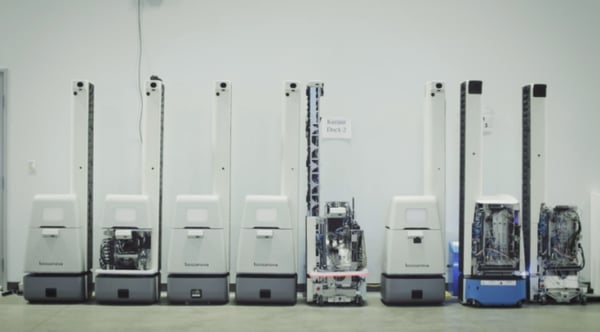 Cobots support human workers in inventory management. Credit: TechCrunch
Via TechCrunch:
It scans the shelves looking for missing items, sending that information back to a central computer. From there, employees can find the right product to replace on the shelf. Clearly the robots have been doing something right with such a large order this last time around.
Cobot maker Productive Robotics launched updated software for its range of OB7 cobots this week, bringing more than 50 features to end users, including the ability for OB7 to directly monitor and control machines it's working with and instant connectivity to machines with Rockwell Automation's Ethernet IP.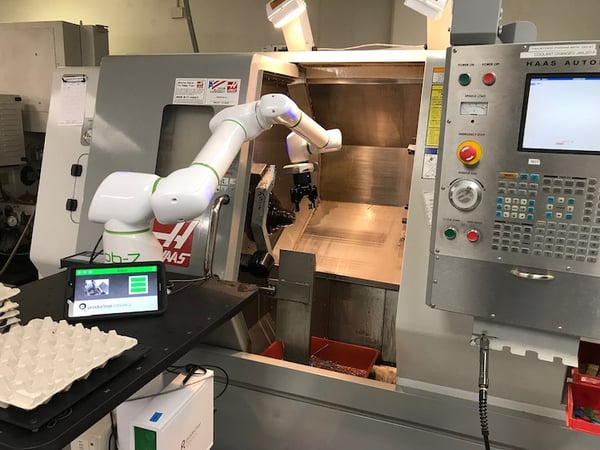 An OB7 cobot fitted with a Robotiq gripper at work on a machine tending task. Credit: Productive Robotics
Meanwhile, cobot giant Universal Robots launched a cobot leasing program in collaboration with global vendor finance company DLL this week. The partnership, Universal Robots explained, is "designed to enable all manufacturers, regardless of size or capital equipment budgets, to reap the benefits of automation without worrying about cash flow and seasonal fluctuations." (H/T Financial Buzz)
Walt Machine in Mississippi (doubled its throughput) and Toolcraft in Mississippi (43% production increase) are just two of the companies to benefit from using cobots for Haas CNC machine operations...

And Business Chief visited DHL's innovation center in Troisdorf, Germany where cobots are a key element in the delivery giant's plans to invest US$2.2bn into digitalisation and robotics between 2020 and 2025.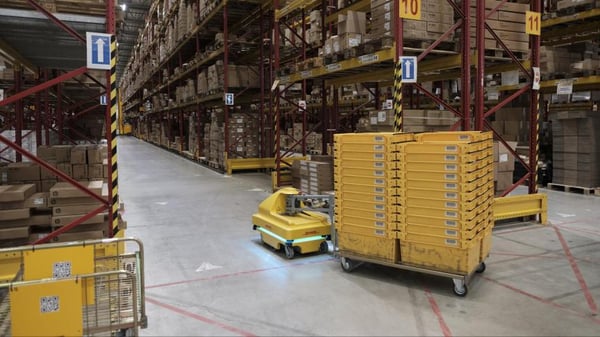 DHL has ambitious automation plans for the next five years, including mobile warehouse bots. Credit: DHL
Via Business Chief:
Markus Voss, CIO and COO of DHL Supply Chain [...] emphasises that the company has made great efforts to ensure its employees grow alongside its innovations, fostering a culture of working collaboratively with robotics and robotic process automation as opposed to being replaced by it. "To date, I have not seen a single site where we have introduced technology and had job losses. In fact, it is quite the contrary: workers are usually more satisfied and we attract more people," says Voss.
Elsewhere...
Two weeks into January and we've already seen landmark humanoid and retail robot deals on top of the wonders of CES. But as if all that wasn't exciting enough, on Monday researchers from Tufts and the University of Vermont unveiled a stunning series of 'living robots' composed of frog heart and skin cells. (PNAS paper | Project website)

Top row: computer generated design. Bottom row: matching xenobots. Credit: Douglas Blackiston
The resulting 'xenobots' --which were designed on a supercomputer tasked with finding the best form for the frog cells to take-- are able to move, carry objects and heal themselves when cut. The grain of sand-sized bots were supplied with enough food for seven days, but could potentially survive much longer in nutrient-rich environments. (Smithsonian explores some of the ethical issues involved.)

Via The University of Vermont:
"These are novel living machines," says Joshua Bongard, a computer scientist and robotics expert at the University of Vermont who co-led the new research. "They're neither a traditional robot nor a known species of animal. It's a new class of artifact: a living, programmable organism."
Meanwhile, a team from Stanford University has unveiled a robot with soft, morphing wings inspired by the humble pigeon. Dubbed 'PigeonBot,' the flying robot embodies 42 degrees of freedom to control the position of 40 feathers via 4 servo-actuated wrist and finger joints.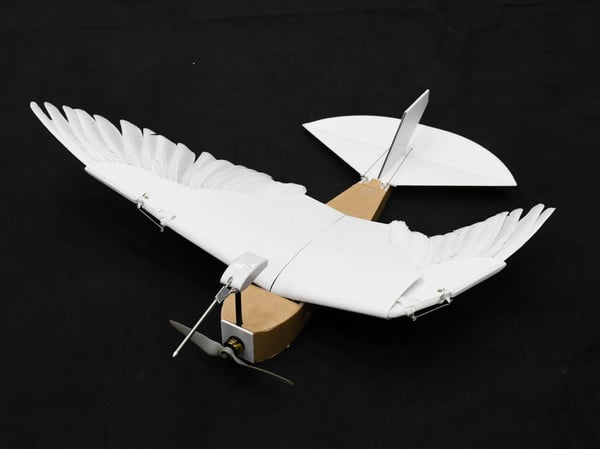 The bot incorporates a unique feather management system. Credit: Stanford
Via NPR:
It's worth noting that the PigeonBot doesn't incorporate something you might associate with birds' wings – flapping. The designers were focused on incorporating the more subtle wrist-and-finger motions of the wings, so the bot appears to be gliding through the air while it's in flight.
An automated inspection and maintenance system is being used for the first time to service bullet trains at Shanghai Hongqiao Railway Station in China.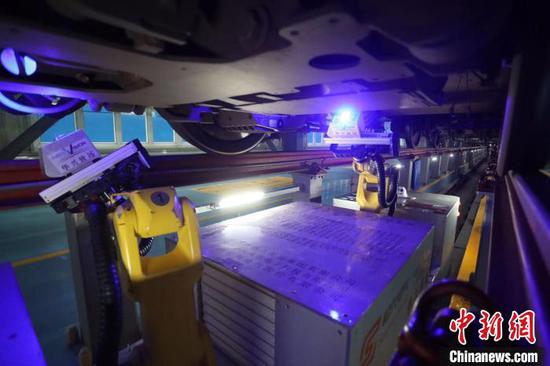 The automated inspection system at work beneath a bullet train. Credit: China News Service
Via ECNS:
It is composed of a dynamic inspection device, a robotic system and an information management platform, said Han Yu, vice director of the Shanghai Hongqiao Railway Station's service sector [...] Machinists can use tablet computers to check faults in bullet trains through high definition photos taken by the robot system. The man-machine alternation mode can basically cover any fault found by artificial maintenance.
Come back next week for more of the latest robotics news! Until then, please enjoy...
Five vids for Friday
1. The ground-breaking xenobots story has been featured on media around the world, including this interview on Sky News UK with one of the project leads, Josh Bongard.

2. 33-year-old Adam Gorlitsky broke the Guinness World Record for exoskeleton marathon-walking last weekend, when he completed the 2020 Charleston Marathon in a time of 33 hours, 16 minutes, and 28 seconds. (H/T Digital Trends)

3. Kaan Esendag, a student at the University of Leeds in the UK is developing a medical robot that helps with wrist rehabilitation following a stroke.

4. Matt Deaton explores Japanese researcher Minoru Asada's idea that in order to experience empathy and become capable of ethical thinking, robots will need to be embodied (i.e. not based in the cloud) and, from there, develop a sense of otherness and identity.

5. As human-robot interaction becomes more commonplace, Antonio Chella (Professor of Robotics at the University of Palermo, Italy) explores issues of trust.