What's New In Robotics? 14.02.2020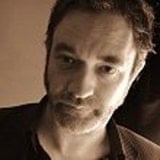 by
Emmet Cole
. Last updated on Feb 14, 2020 9:15 AM
Posted on Feb 14, 2020 7:00 AM. 9 min read time
Good morning. In this week's news mix: igus releases new cobot cable management kit, Nissan invests in cobots and 2019 North American robot sales increased by 1.8 per cent. We also view an exhibition of stunning robot paintings, admire a prototype blood drawing bot, catch up with Iran's new humanoid Surena VI and much more!
Cobots & manufacturing
Nissan Motor Corporation recently announced a series of investments to upgrade its production technologies and, as the company reaffirmed this week, cobots are a key element of the auto giant's human-friendly automation strategy.
Via Nissan:
Miyako Shiraishi, a production engineer at the Yokohama Plant, says there were several reasons for choosing cobots over conventional robots. "They can share the workspace with workers, we can build systems without needing safety fences, and we can move them around easily to adapt to changes in our production needs," Shiraishi explains.
Plastics component maker igus unveiled a new cobot cable management kit this week. Designed to manage cable clutter (and reduce associated safety issues), the kit uses ball-and-socket links that enable individual pieces of the system to be replaced if any get damaged.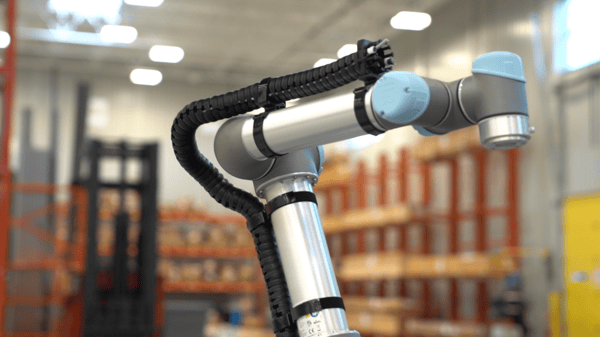 igus's new cable management kit on a cobot from Universal Robots. Credit: igus
Via igus:
The kit includes [...] more than 100 links of the company's innovative triflex R cable carrier, which offers superior cable protection compared to corrugated tubes [...] triflex R also has a defined bend radius to ensure that the minimum bend radius of cables won't be violated, a built-in torsion stop [...] and two chambers for cable separation, which help reduce excessive cable wear.
In 2019, North American robot unit orders rose 1.6% compared to 2018 to a total of 29,988 orders, according to figures released on Wednesday by the Robotics Industries Association (RIA). Order revenue for 2019 declined 1.3%, closing the year with a total value of USD1.681 billion. "While 2019 was a challenging year, and the outlook for growth in 2020 is murky, we're still seeing growing interest in automation technologies and solutions that will lead to continued future growth," said Jeff Burnstein, A3 & RIA President.
Meanwhile, one of Robotiq's adaptive 2-finger grippers was spotted helping to craft pizza this week in new video from Kickmaker and French robotics firm Pazzi...

And Kawasaki's dual-arm duAro cobot showed off its coffee making skills...
Elsewhere...
A remarkable exhibition of robot paintings opened in the prestigious Ben Brown Fine Arts gallery, London this week. The 'Dark Manufacturing' exhibit, created by pioneering digital artists Rob and Nick Carter, sees an industrial robot from KUKA programmed using RoboDK simulation software create fine art portraits of famous artists.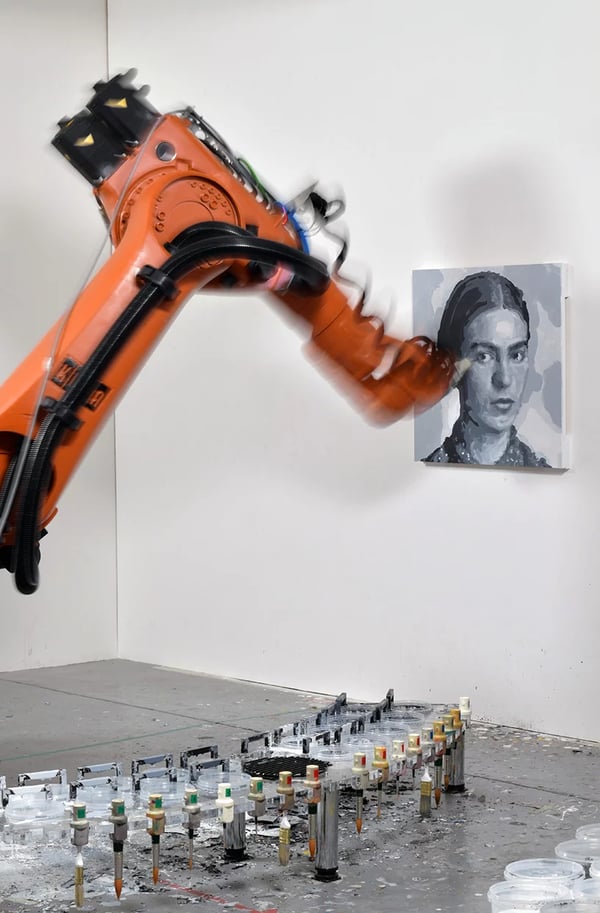 Frida Kahlo (In Progress) Credit: Rob and Nick Carter
Via GQ:
Art and tech, the Carters point out, have long had a complicated relationship: "Whether it's a camera obscura or an actual camera, some people have found those threatening," said Rob. But here they see robotics as an extension of artistic craft, a tool, in the same way as a film camera.
Researchers at Rutgers have unveiled a prototype blood-drawing robot with built-in ultrasound technology that allows it to easily locate veins. The system also includes a module to handle samples and a centrifuge-based blood analyzer.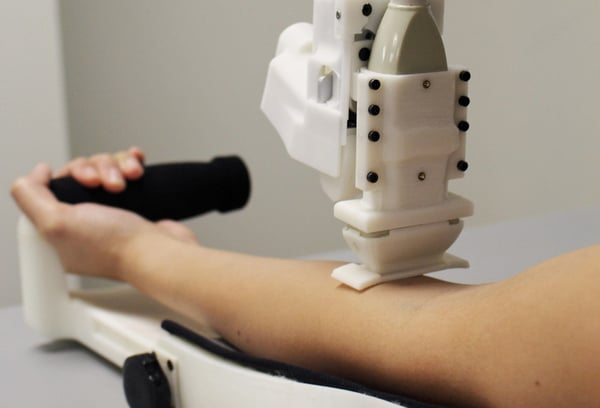 In some patients, the prototype system is significantly more
accurate than humans at locating veins. Credit: Rutgers
Via engadget:
With easy to access veins, the machine can successfully draw blood 97 percent of the time, and had an overall success rate of 87 percent for 31 participants, the researchers said. According to the report, clinicians fail between 27 and 60 percent of the time for patients with difficult-to-access veins, depending on the nature of the problem.
MIT researchers have developed kirigami-inspired soft sensors that enable soft robots to achieve awareness of the position and motion of its body.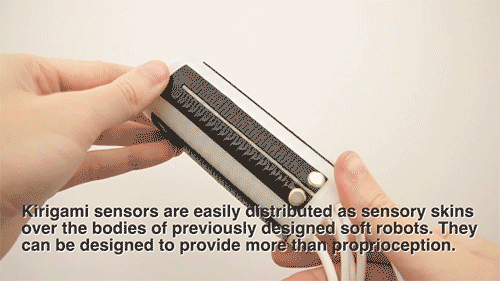 Credit: Rutgers
MIT News reports:
A novel deep-learning model [...] sifts through the noise and captures clear signals to estimate the robot's 3D configuration. The researchers validated their system on a soft robotic arm resembling an elephant trunk, that can predict its own position as it autonomously swings around and extends. The sensors can be fabricated using off-the-shelf materials, meaning any lab can develop their own systems, says Ryan Truby, a postdoc in the MIT Computer Science and Artificial Laboratory (CSAIL).
Come back next week for more of the latest robotics news! Until then, please enjoy...
Five vids for Friday
1. Remember 'Surena IV' -the Iranian humanoid robot that we reported on last December? Well, new video of the bot was released this week, along with a superb feature in IEEE Spectrum, which delves into the history of the impressive humanoid's development at the University of Tehran.

2. Over recent decades the city of Pittsburgh has transformed itself from waning industrial hub to become one of the world's leading locations for robotics and AI research. Arirang News visited recently to explore Pittsburgh's new role as a global robotics center.

3. "We need to grow robots, not assemble them," says Robert Shepard, a professor at Cornell University's Organic Robotics Lab, in a fascinating TedX talk released this week. Furthermore, says Shepard, organic and soft robots offer a better trade off between agility and endurance than robots assembled using traditional materials, making materials science "a doorway to better robots."

4. Researchers at the University of Delaware are using social robot Zenbo to teach kids how to be safe online. The bot does this by "reading children familiar stories, such as Little Red Riding Hood, that have been creatively adapted for the digital age by the research team."
5. Boston Dynamics' quadruped Spot bot was set the important task of transporting a human via rickshaw in a fun new video from Adam Savage, released Thursday.