What's New In Robotics? 06.12.2019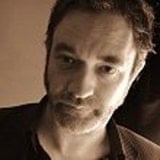 by
Emmet Cole
. Last updated on Dec 06, 2019 8:00 AM
Posted on Dec 06, 2019 7:00 AM. 9 min read time
Good morning. In this week's news mix: cobots to account for 30% of global robot sales by 2027, ARM announces cobot projects funding and ABB's cobots shine in New York. We also greet CIMON-2, enjoy a luxury car-towing robot, admire 'Pavlov's Soft Robot' and much more!

Cobots & manufacturing
Pittsburgh's Advanced Robotics for Manufacturing (ARM) Institute announced funding for four new projects from its fifth Technology Project Call this week, with human-robot collaboration (HRC) very much on the agenda.

Credit: ARM Institute
Auto giant Fiat Chrysler will lead a project in which researchers hope to enhance HRC for part quality inspection through the development of an easily programmable robotics 3D inspection system. Siemens will lead a separate project to develop a cobot welding system for precision brazing tasks. ARM is expected to provide more than USD1.6 million in funding for a total investment of USD5.3 million across the four projects. (H/T Robotics Business Review)
ABB has been showing off its talented cobots at Bloomingdale's in New York. Besides delighting visitors to the store, the IRB 1200 and dual-arm YuMI are being used to showcase the potential for cobots in visual merchandising applications... (H/T RIA)
The global cobot market is forecast to account for 30 per cent of the total overall robot market by 2027, according to a report released on Tuesday by Interact Analysis. In 2018, global cobot revenues exceeded USD550 million. Interact Analysis predicts that cobot revenues will reach USD5.6 billion in 2027, with smaller cobots (w/ payloads of <5kg (11.02lb) and 5-9kg (11.02-19.84lb)) accounting for the majority of collaborative robot sales by 2023.
Meanwhile, cobot maker Doosan Robotics has been showcasing how its cobots can be used in automotive tasks. (Robotics & Automation News has more.)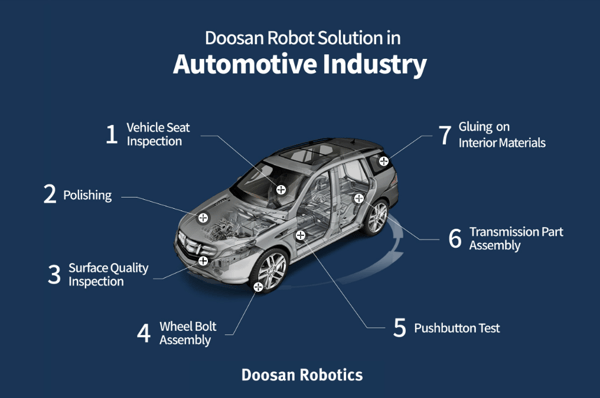 Cobots can be used in a wide range automotive manufacturing tasks. Credit: Doosan Robotics
Meet MOBOT --a mobile collaborative robot platform for intralogistics. Developed by WObit, MOBOT is designed for internal cargo transportation and can handle loads as large as 1800kg (3,968.32 lb)...

We've seen several new mobile cobots arrive in recent months. But with all these bots (many of which offer autonomous features) trundling around, it's important to consider your battery options, explained Ultralife Corporation's Michele Windsor in a piece for Robotics Tomorrow.
Elsewhere...
Tow Atlanta, a towing firm based in Georgia, U.S.A., recently purchased two robots specially engineered to lift luxury cars from tight spaces without creating any scratches, dents or other mishaps. General manager Syre Perkins collaborated on the design of the resulting robotic flatbed truck, with Drive Products, a Canadian truck equipment company and towing firm Miller Industry.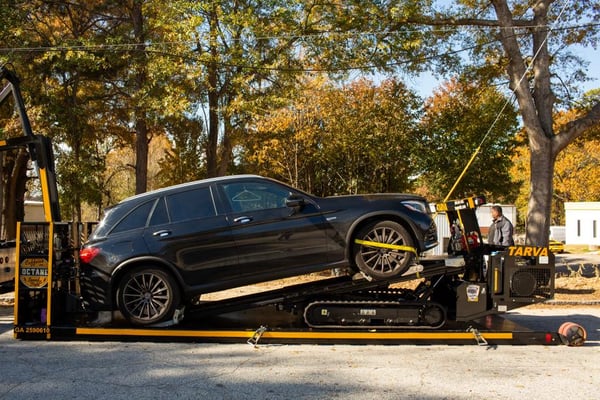 Credit: Rebecca Wright
Via The Atlanta Journal-Constitution:
The robot loads the pricey cars onto flatbeds by first picking up the front wheels and then going underneath the car to lift the rear wheels. A remote control is used to maneuver the car onto a flatbed truck. "That's the technology," [Perkins] said. "It's autonomous. It picks [the vehicle] up by all four wheels and you don't have the human error.

Meanwhile, Wimpole Farm, an 18th century National Trust estate in the U.K., is trialing one of three weed removal robots developed by Small Robot Company. Dubbed 'Tom,' the robot maps terrain and identifies unwanted plants. Eventually, the estate hopes to test 'Dick' and 'Harry' too --a pair of bots that zap weeds with electricity and assist with precision farming, respectively.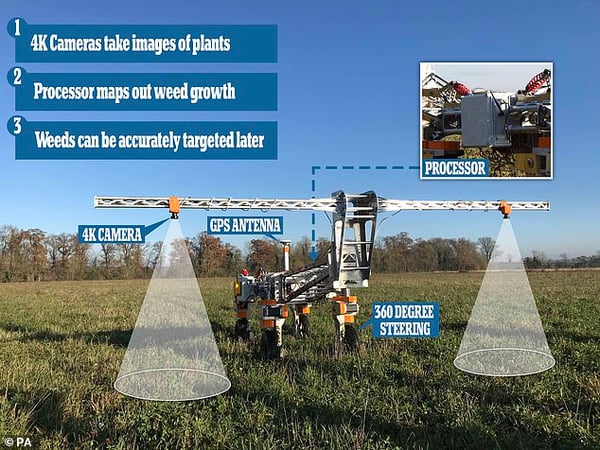 Tom identifying weeds for extermination by Dick. Credit: PA
The Daily Mail reports:
Rob Macklin, the National Trust's head of farming and soils, said: 'Technology needs to play a big part in solving many of the issues we currently face in farming - particularly improving soil health and carbon sequestration, reducing our reliance on fossil fuel power and fertilisers and avoiding the adverse impacts of synthetic chemicals on the environment.

Remember CIMON, the floating, shperical astronaut's assistant that flew on the International Space Station last year? Well, it's back with a new name (CIMON-2) and some extra features that enable it to recognize and respond to human emotions.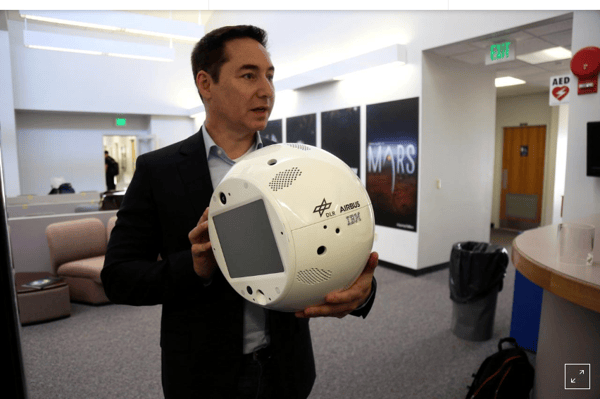 IBM's Bret Greenstein holds a clone of the original CIMON back in 2018. Credit: Reuters/Joey Roulette
Via Reuters:
While designed to help astronauts conduct scientific experiments, the English-speaking robot is also being trained to help mitigate groupthink — a behavioral phenomenon in which isolated groups of humans can be driven to make irrational decisions [...] one of CIMON's most important purposes would be to serve as "an objective outsider that you can talk to if you're alone, or could actually help let the group collaborate again."

Come back next week for more of the latest robotics news! Until then, please enjoy...
Five vids for Friday
1. Staffordshire University researcher Carl Strathearn has proposed an update to the classic Turing Test. Strathearn's Multi-Modal Turing Test is aimed at humanoid robots, with the idea being to evaluate factors such as appearance and speech processing alongside the AI evaluations that feature in the original Turing Test. (Note: the Turing Test comes with at least one major caveat; See also: Mark Twain)

2. Meet 'Pavlov's Soft Robot': a teachable liquid crystal polymer that can move and stick to an object of a given color. 'Conditioning can teach materials new tricks, such as recognizing colors or moving in conditions where they don't originally move,' says Professor Arri Priimägi from Tampere University, Finland. (H/T SciTechDaily)

3. Researchers at the University of Manchester are developing chemical sensors that can be mounted on worm-like robots and then used to assist in disaster scenarios.

4. In new video from the University of Surrey, Ryan Abbott, professor of law and health sciences argues that in certain scenarios the same legal standards such be applied to humans and artifical intelligence.

5. In the latest edition of his artificial intelligence podcast, Lex Fridman spoke with linguist Noam Chomsky about language, cognition and deep learning.