What's New In Robotics? 04.01.2018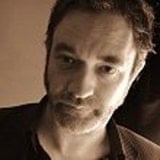 by
Emmet Cole
. Last updated on Jan 04, 2019 8:15 AM
Posted on Jan 04, 2019 7:00 AM. 8 min read time
-Baxter, Universal Robots, FANUC+
-OPEL's new cobot
-India's wall-painting bot
-Congratulations Chang'e!
-Bonus: Two Pink Floyd references
-Five vids for Friday
-And much more!

Manufacturing & Cobot News
Using a Baxter cobot, researchers at Yale have created a system that enables bots to "distinguish between tools that they own and tools that other people or robots own (or are temporarily using)." This capability could further enable robots to "respect ownership of objects."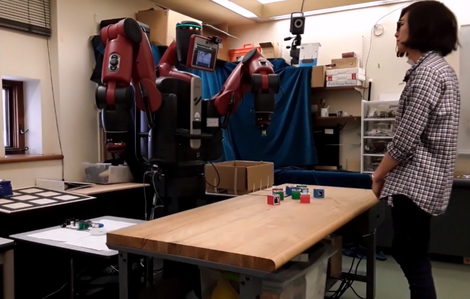 'That's Mine! Learning Ownership Relations and Norms for Robots'
arXiv:1812.02576 [cs.AI] Credit: Yale
Via ZDNet:
[...] researchers combined two different kinds of machine learning representation: one that uses explicit rules, and another that uses experiences to predict an object's likely owner. They used a technique called Bayesian inference, which [...] is a statistical technique that the robot uses to keep track of how certain it is about a particular fact or idea in such a way that it can update that certainty as more information becomes available.
Mobile Automation released video showing a pair of UR10 cobots from Universal Robots in a collaboration demo with a human in a bakery...
Can humans communicate effectively with robot co-workers using bi-directional clapping techniques such as the 'high-five'? Dr. Naomi T. Fitter, an expert in the emerging field of spHRI (social-physical Human-Robot Interaction), is aiming to find out.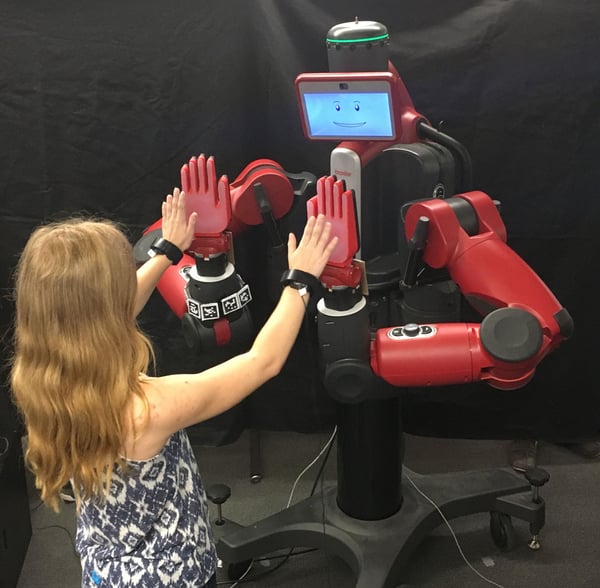 Cobot Baxter in another research study. Credit: USC
Via PC Mag:
In one study, we added in what we call "robot mischief," or robot errors, intentionally, where Baxter's visual display [screen face] would indicate "I'm not malfunctioning, but rather being playful." In that study we found that people usually preferred a non-mischievous robot, but a few participants strongly favored the playful mischievous robot, and robot mischief would make people pay more attention and think harder while playing with the robot.
In a fascinating interview, Professor Samia Nefti-Meziani from The University of Salford, UK (and a participant in the SMART-E project (Sustainable Manufacturing through Advanced Robotics Training in Europe)) spoke with Open Access Government about "the future of robotics science, research and training for the 4th Industrial Revolution."
CNC Media went behind the scenes at an OPEL factory where management recently implemented their first collaborative robot...
Exploring the disconnect that exists when there are high numbers of manufacturing jobs available and yet at the same time we find a high number of people looking for work, Asian Robotics Review reported on Universal Robots' UR Academy as a way to bridge the underlying skills gap:
With a half-million robot related jobs opening up every year, sites like the UR Academy are sorely needed for training or even just to offer direction for potential education and careers in robotics. Of course, the need far outstrips the UR Academy's ability to outreach to everyone, but it points the way to the potential of what online robotics education, free to all, could do if entire nations rallied to support similar efforts.
Meanwhile, in other industrial automation news...
Elsewhere...
Congratulations Chang'e! China's lunar lander touched down safely on the dark side of the moon this week, prompting Pink Floyd references and sending back its first images.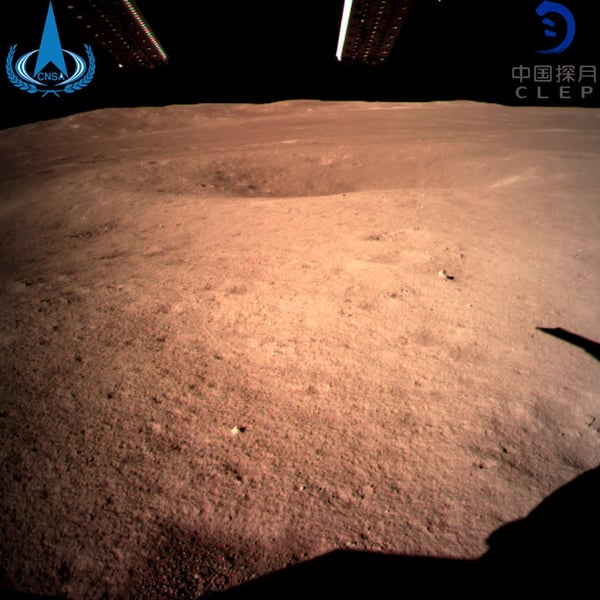 Chang'e's first image returned from the surface.
Credit: China National Space Administration/Xinhua News Agency
Via The New York Times:
The main lander will release a 300-pound rover that, barring mishap, will roam the crater. [...] The instruments aboard the lander and the rover include cameras, ground-penetrating radar and spectrometers to help identify the composition of the area, which was formed by a meteorite. Scientists hope the rocks and dirt in the area will add to the understanding of the moon's geology.
Endless Robotics, a startup based in Hyderabad, India is working on a robot for interior wall painting tasks. Dubbed 'The Walt' (a nod from the company founders to the Pink Floyd album 'The Wall'), the bot boasts some impressive stats (see screenshot pic below). One 'Walt 2.0' unit has already been sold to construction firm Larsen & Toubro. (H/T The Times of India)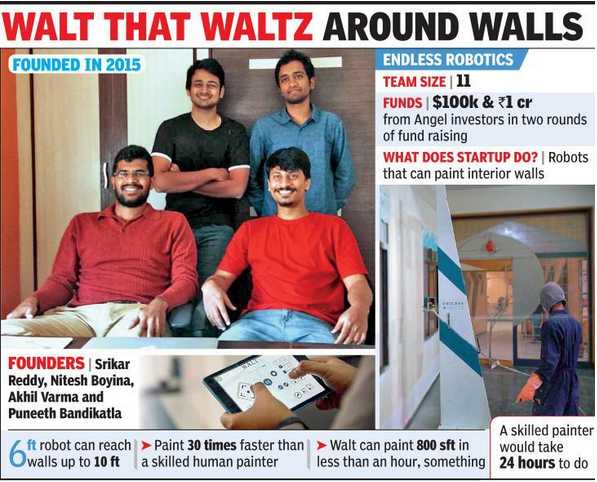 Credit: The Times of India
The UK government is set to invest US$9.1 million in a project to create 1-cm long robots for underground pipe inspection and repair. With disruption from roadworks costing the country's economy an estimated US$6.3 billion every year, it is hoped that the tiny bots could make such disruptions a thing of the past. (H/T Daily Mail)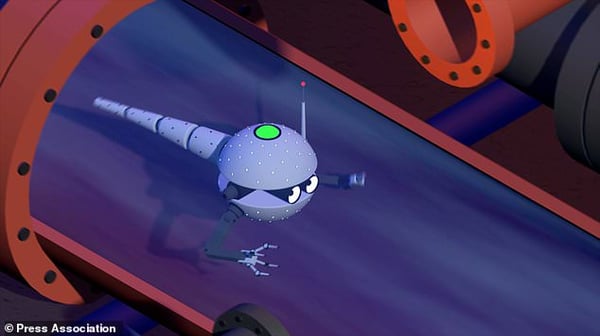 Credit: University of Sheffield/BEIS/Innovate UK/PA
Prepare for an avalanche of automation news in the media over the next week as the Consumer Electronics Show (CES) 2019 runs Jan 08-11 in Las Vegas, USA. We can look forward to a mix of service, social and consumer robots alongside showcases involving robotic technologies for use in manufacturing and industrial environments.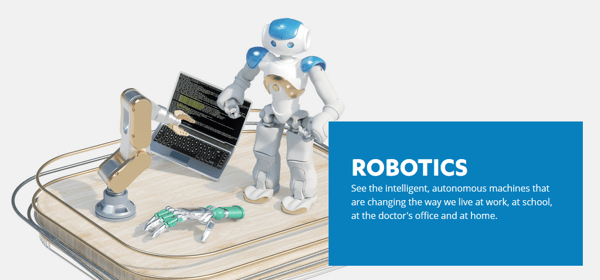 Credit: CES 2019
The bots of CES 2019 "will be smarter, cuter and cooler than ever," says c|net.
If it takes some courage to make predictions, there's an extraordinary amount of valor on display this week: designboom predicted a rise in ethical debates around AI and robotics (and more besides), TheNextWeb shared "what AI experts think will happen in 2019", Qrius made four predictions for humanoid robots in the year ahead, and the BBC returned to Isaac Asimov's predictions for 2019 (first written back in 1983).
Hard to beat this prediction though, from Julian Jagtenberg, co-founder of robotic sleep pillow company Somnox, via Forbes:
"I believe that robots are just like animals and that a new species is starting to enter our world: the electroids," said Jagtenberg. "Just like homo sapiens, the electroids will co-exist with other animals and us. They will be stronger (electric muscle), more intelligent (connected to the internet and processing power), and are telepathic (radio-contact)."
And in other news...
I predict that I will return next week with more of the latest robotics news from cobots to the bots of CES and beyond. Hope you can join! Until then, please enjoy...
Five vids for Friday
1. At a recent event The University of Waterloo's Jesse Hoey spoke about his work "on building intelligent computational agents that parsimoniously integrate both emotion and cognition."





2. Dario Gil, COO and VP of Quantum and AI at IBM Research spoke with Fox 4 about AI breakthroughs and what's to come in the year ahead.

3. Airborne Unmanned (in collaboration with AUVSI) released a video roundup of the latest drone news.



4. USA Today reported on Snackbot "the first snack-delivering robot in the U.S. to be backed by a major food and beverage company" (Pepsi).






5. Meet Pediatric HAL --a medical training bot that mimics crying, bleeding and other human behaviors. (H/T TechInsider)