What Knocked Our Socks Off @ Automate Today + The Robotiq Happy Hour!!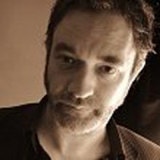 You know what? It's just as well that Automate 2017 is just four days long, because we're starting to run out of socks with all this cool technology blowing them off our feet every day!
Here are some of our favorite sights from Day 3.
(Plus: The Robotiq Happy Hour.)
First up, is the Kawasaki DuAro (Booth #1429) dual-arm cobot.
You might recognise this cobot from one of yesterday's posts as (in a different configuration) it was the ice cream robot that melted our hearts.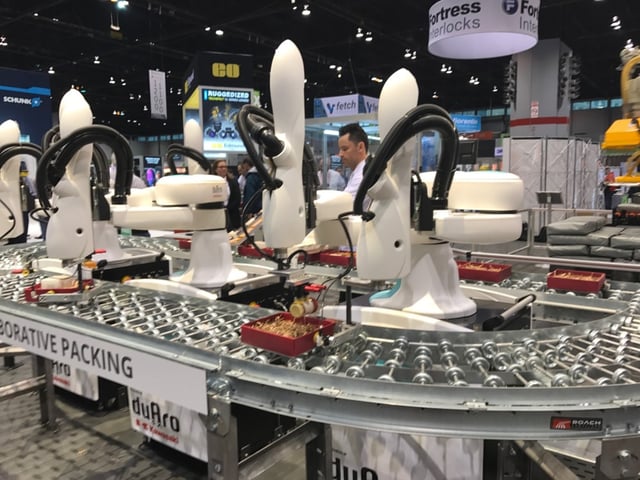 The cobot has a 4kg payload and is designed for electronics and other assembly tasks. It's especially adept at conveyor-based assembly as you can see here:


The pricepoint is US32K for the basic model. The DuAro can be fitted with additional safety sensors that slow the robot down when people get close. Otherwise, it employs basic protective stops whenever an impact occurs. We especially liked the way the cobot can use one arm to hold a part in place while the other arm assembles.
Next up is Nachi Robotics Systems' (Booth #1645) cute, dual-arm humanoid robot.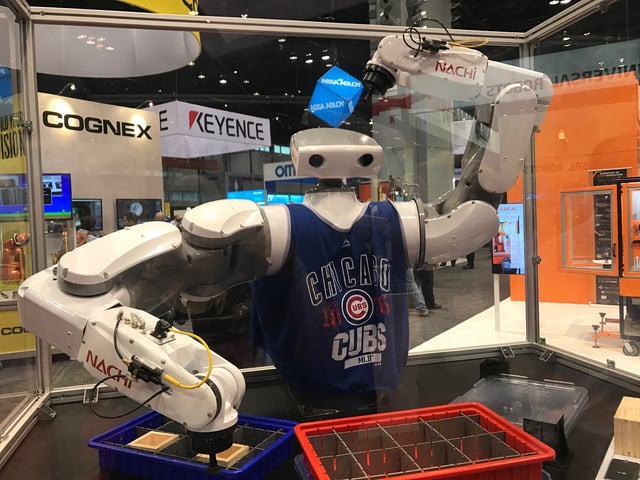 Caption: Nachi's humanoid cobot getting into the mood at Automate 2017.
Next is Fanuc's cute, green CR-7iA/L industrial cobot.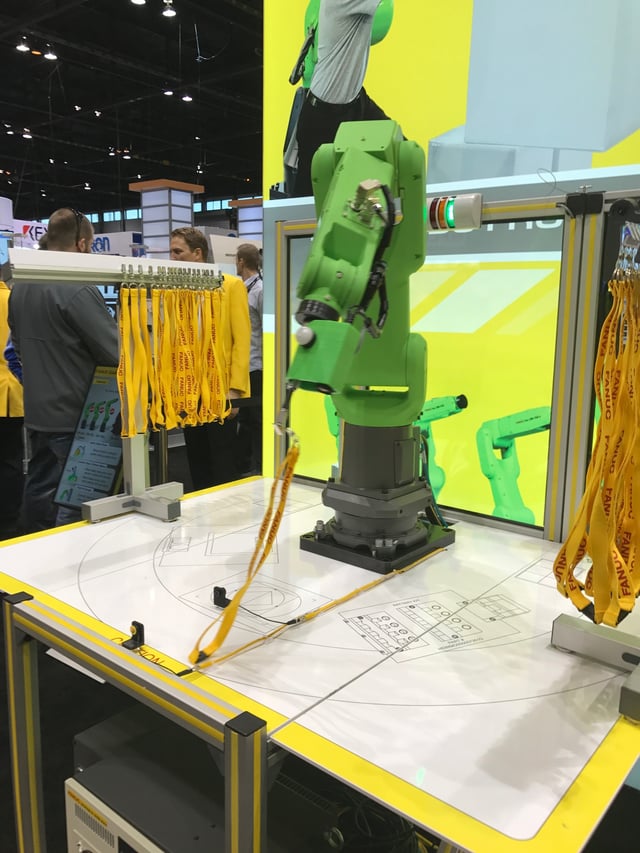 Caption: Fanuc's CR-7iA/L cobot.
It's just one from a range of cobots offered by Fanuc.
The CR-35iA (the largest of the bunch) has a pricepoint of US87K, while the other cobots are in the US40K range.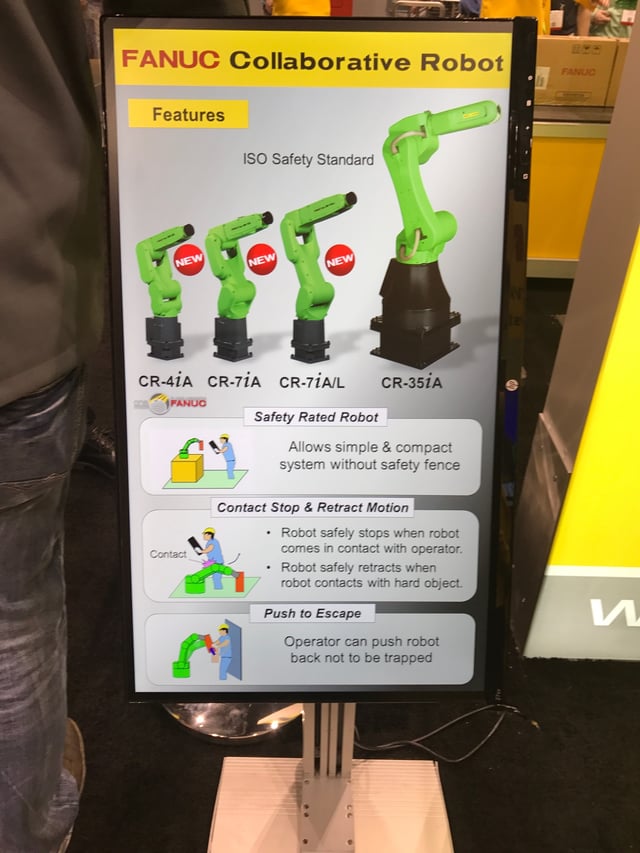 Caption: Fanuc's range of industrial cobots.
Any Bond villains reading this blog post will, we think, be thrilled by this insect-inspired robot from the folks at Hebi Robotics:
The Robotiq Happy Hour
We really enjoyed Happy Hour at our Booth (#1053) this evening. It's great to catch up with old friends and make new connections.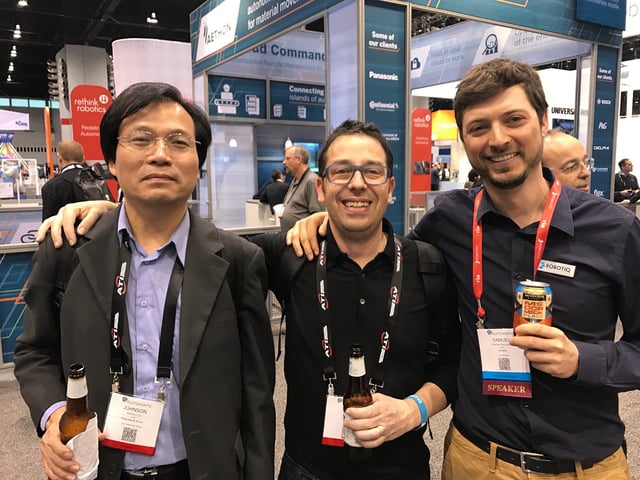 Caption: (From L-R) Johnson Liu (A3 Robotics), Enric Villa (Vicosystems), and Samuel Bouchard (Robotiq) at the Robotiq Happy Hour.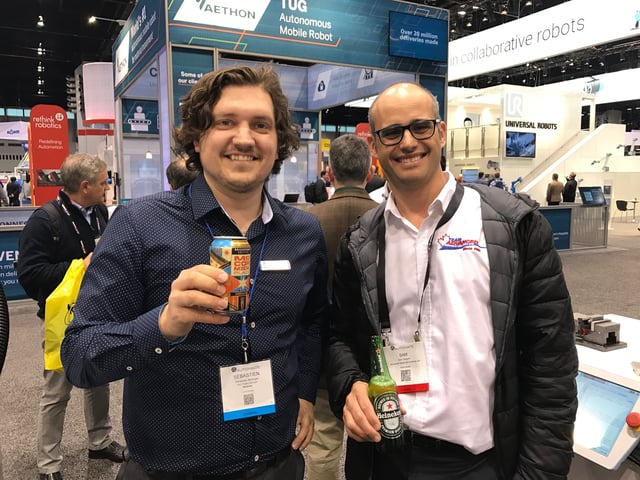 Caption: (From L-R) Sebastien Belanger (Robotiq) and Sam Gerges (AMC) at the Robotiq Happy Hour.
Even one of our grippers joined in: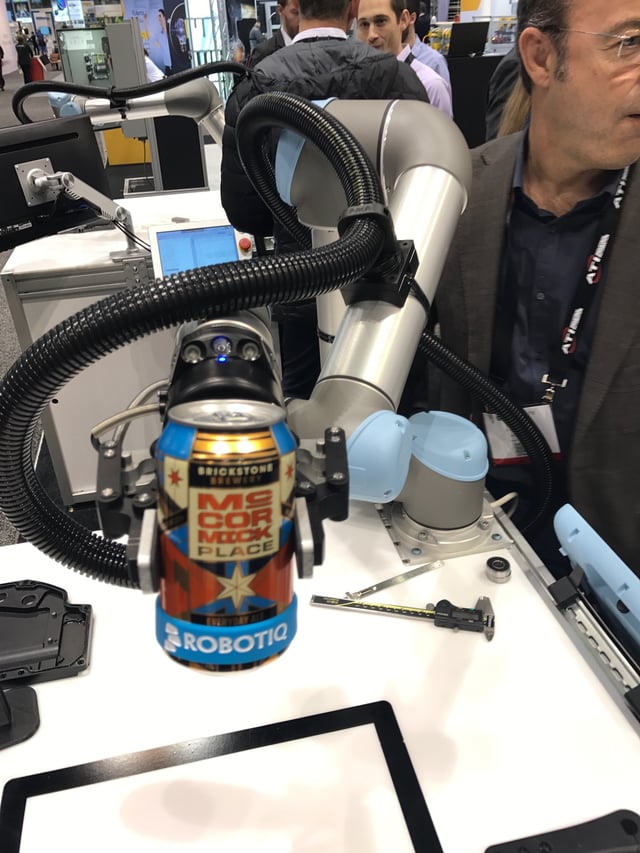 Caption: The Robotiq camera lens is the small blue light above the beer can.
Thanks to everyone who came. What a great way to finish Day 3!