Sales of Parallel Robots Surged in 2013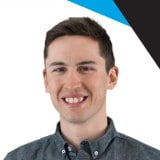 According to the latest Word Robotics report published by the International Federation of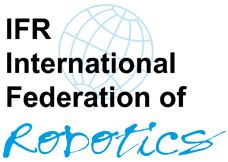 Robotics, sales of parallel robots were up 39% from 1,632 units in 2012 to 2,943 units in 2013. This increased demand comes mainly from the United States where sales of parallel robots surged 88% from 306 units in 2012 to 1,104 units in 2013. The reason for this increase was a considerable number of orders for Delta robots and the like from the food and beverage industry, as well as from the pharmaceutical and cosmetic industries. Indeed, the main applications for parallel robots are pick and place, packaging, and material handling.
Currently, dozens of manufacturers produce parallel robots, mainly Delta robots. The list includes ABB with their FlexPicker, FANUC Robotics with their M-1iA mini Deltas, Kawasaki Robotics, Yaskawa/Motoman, Adept Technology, HIWIN, and many others. But where do most parallel robots come from?
Parallel Robots

Parallel Robots consists of three arms connected to universal joints at the base. The key design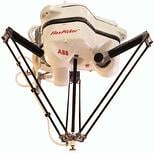 feature is the use of parallelograms in the arms, which maintain the orientation of the end effector. Delta robots have popular usage in picking and packaging in factories, because they can be quite fast, some executing up to 300 picks per minute.
In 2013, 41% of parallel robots were manufactured in Japan. Since ABB and Adept Technology are the only major non-Japanese robot suppliers, this probably means that there are plenty of opportunities for small parallel robot manufacturers such as Penta Robotics and Codian Robotics.
Sales of parallel robots may have surged in 2013, but SCARA robots are still more popular and often much cheaper. In comparison, 18,100 SCARA robots were sold in 2013, or six times more than parallel robots. Some 13,299 SCARA robots were manufactured in Japan, which means that Japan continues to supply the vast majority of SCARA robots. Indeed, there are only a handful of non-Japanese suppliers of SCARA robots: KUKA, Stäubli and Adept Technology.
SCARA Robots

The term SCARA is an acronym that stands for Selective Compliant Assembly Robot Arm. The SCARA robot is based on a 4-axis design. It is ideal for high-speed assembly, kitting, packaging, and other material-handling applications. The main axes are X and Y, which makes this kind of robot really rigid in the Z direction. This kind of robot is ideal for pick and place on an assembly line since it is usually picking and carrying objects on the same level and dropping them on a given level.
The figures below show the number of parallel robots (in blue) and SCARA robots (in red) sold in 2013. Only countries with at least 30 parallel robots installed are shown. It is interesting to note that most countries that have installed large quantities of SCARA robots have likewise installed many parallel robots. One major exception is Singapore which installed 1,016 SCARA robots in 2013, but only 8 parallel robots. Another bizarre exception is Canada, which bought 88 parallel robots, but only 12 SCARAs.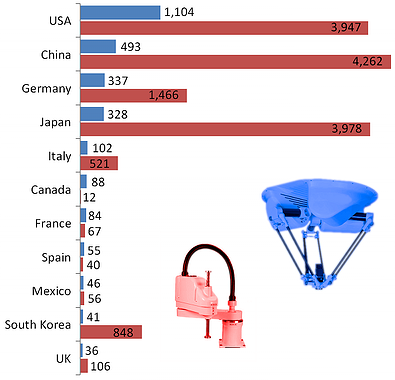 It is great to see the increase of robots on the world stage with the overall increase in robot sales of 12% to 178,132 units globally which is by far the highest level ever recorded for one year according to the statistics found in the World Robotics report. This can give us an idea of where the most likely markets reside for the upcoming sales of robots into the next year. But it is always important to remember that the past does not necessarily represent the future, though we can always hope that with the rise of collaborative (SCARA) robots this surge might easily become a tidal wave.