Automatica 2018 Day 3: Death Defying Feats and Easy Programming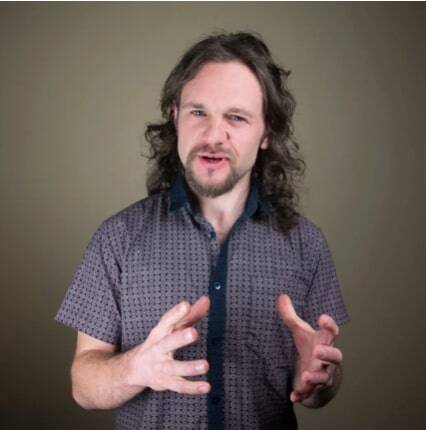 by
Alex Owen-Hill
. Last updated on Jun 21, 2018 10:35 AM
Posted on Jun 21, 2018 10:35 AM. 5 min read time
We discover new methods for easy robot programming and our tech support specialist escapes with his life on Day 3 of Automatica 2018.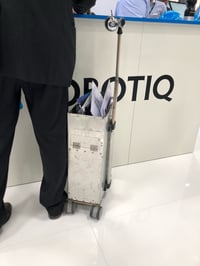 The third day of Automatica 2018 is well underway. It's starting to feel a bit like we live here.
So far today, we've been exploring, filming and looking out for strange and wonderful demos which look good but don't really do much.
Our feet are now somewhat healed after yesterday's effort of standing for hours and carrying around large, heavy piles of flyers. Perhaps we should learn from this delegate who has come up with an ingenious way to transport his many flyers around in a trolley.
For version 2.0 of this trolley, I think he should turn it into an AGV which can follow him around autonomously. After all, this is Automatica 2018. If something can be a robot, it really should be a robot.
Robot programming gets easier every day
Let's face it. In the past, programming robots was a pain in the neck. Not these days! All over Automatica we're seeing new ways to improve the programming experience. Anything that makes life easier for programmers is good thing in our book!
In the Fraunhofer booth (Hall A4 Booth 421), drag and bot was displaying their award-winning graphical programming system.
As its name suggests, drag and bot is a drag-and-drop programming system for robots. It won 3rd place at the Robotics Award 2018 at Hannover Messe back in May. The 1st prize for that award went to Heinz Berger Maschinenfabrik, who specialize in grinding and polishing tools — they make the sort of tools that are suited more to mass production than the SME-friendly cobot polishing that is made possible by our new FT 300 update.
We saw another intuitive programming demo from Bayerische Patentallianz in Hall A4. The poster explained that this system allows you to program multi-robot collaboration using an interactive diagram in their GUI. The programmer can program the actions for each robot using a teach mode, then copy and paste parts of the program simply by copying parts of the diagram.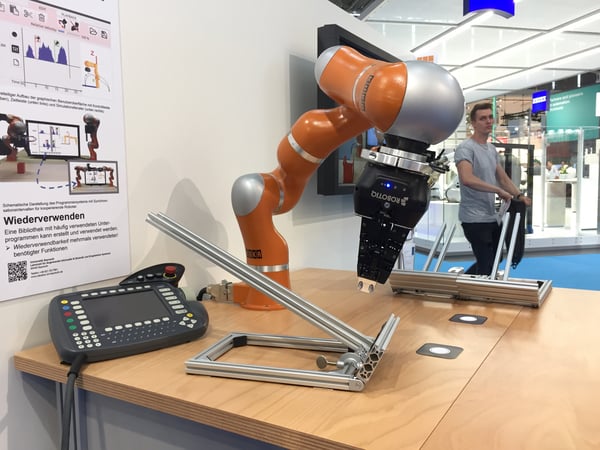 Of course, we were first attracted to this demo because we saw that they're using our 3-Finger Gripper. It's always nice to see a familiar face… or perhaps I should say familiar fingers.
Mike and Mike 1 improve programming speed by 50%
Easy programming seems to be the hot topic of the day because we were also talking about it earlier when we visited the Mannesmann booth (Hall B4 Booth 511).
You know, we're not just recording quick videos here at Automatica 2018. We've also been taking the opportunity to make some nice professional looking videos, like this one we shot today with Mike Kulossa.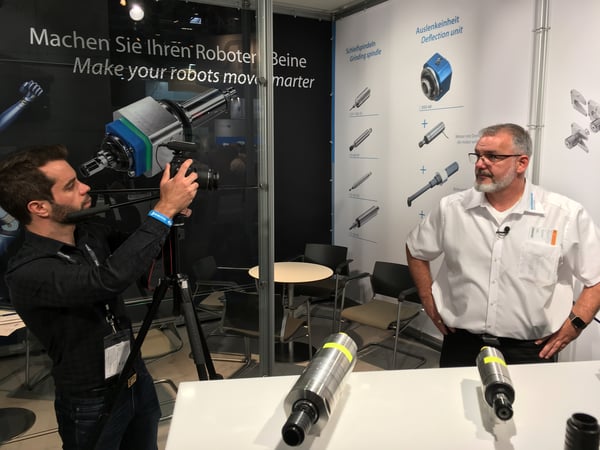 Mike was telling us how he uses the path recording feature of our FT 300 force torque sensor to quickly program demos for his customers. He says he can now program up to 50% faster!
We particularly like how his robot is called Mike 1. But, it seems a bit of a strange name to me. Surely Mike Kulossa himself should be Mike 1? And the robot should be Mike 2? Perhaps it's named like that because the robot is really in charge.
David escapes with his life… just
We had a scary moment this morning when our technical support specialist David Levasseur tried to walk through this door at the Assa Abloy booth (Hall A5 Booth 506).
The man who controls that door has such a fun job! He gets to see everyone's scared face as the door falls towards them.
But, Assa Abloy, we ask you this: Is it really wise to try to chop members of the Robotiq team in half with a door? Especially when we wrote such a nice case study about you!
The demo is really a way to show off their machine protection doors, which come with a whole host of safety features, including an electrical contact edge, a safety gear box, and the door line photocell which detected David just in time. The doors allow you to actively close off hazardous areas during operations and allow for cycle times of up to 5 cycles per minute.
Now you can watch TV while you play doubles tennis!
These days, people watch television while they are doing all sorts of things, don't they?
You can watch TV while you're on the running machines in the gym. You can watch TV on your smartphone while you are washing the dishes. You can even watch TV on your journey to work.
But, do you know which activity has so far been impossible to do while watching TV? Playing a game of doubles tennis.
Now it's possible! With this demo from Güdel (Hall A4 Booth 502) you and your doubles partner can now watch your favorite shows at the same as you hit tennis balls over the net.
Isn't that progress!?
You know, we've seen quite a few demos like this today. Demos which look good but aren't exactly productive.
For example, I'll leave you with this video of a robot playing lovely tune.
Can you imagine using this application in your manufacturing business?
Maybe if you wanted to send your employees to sleep.