What's New In Robotics This Week? 26.10.2018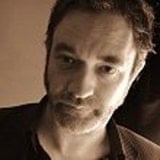 by
Emmet Cole
. Last updated on Oct 26, 2018 7:15 AM
Posted on Oct 26, 2018 7:00 AM. 8 min read time
-Manufacturing & Cobot Roundup
-Google's Cloud Robotics
-Hahn Group acquires Rethink Robotics patents+
-Heavy-lifting micro-drones
-Global self-driving car survey
-Five vids for Friday
-And much more!
Manufacturing & cobot roundup
Google has announced that its cloud robotics platform will be available to developers in 2019. The platform combines robotics, AI, big data, crowdsourcing and cloud computing and is expected to provide developers with an "open ecosystem" of automation solutions.
Via The Robot Report:
With the Google Cloud Robotics Platform, developers will have access to all of Google's data management and AI capabilities, from Cloud Bigtable to Cloud AutoML, which at press time included beta versions of AutoML Translation, Natural Language, and Vision. The Google Cloud Robotics Platform will also use Google Cartographer, which provides real-time simultaneous localization and mapping (SLAM) in 2D and 3D.
Small-to-medium size businesses in Germany's Baden-Württemberg region have been applying to receive a free expert risk assessment of their human-robot workplaces before a final deadline this week. It's all part of the Roboshield project, which is focused on both human-robot safety and developing techniques to prevent and counter cyberhacking of industrial robot systems.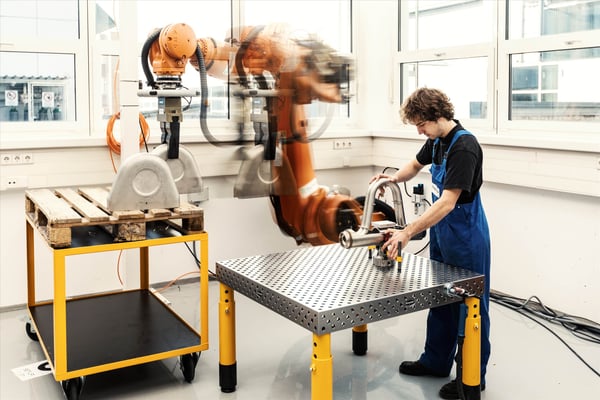 Roboshield could make it safer for humans to collaborate with large industrial robots. Credit: Fraunhofer IPA
Via Alphagalileo:
"Digitization and interconnection cause the requirements to be met by modern production facilities to increase constantly," says Dr. Christoph Ledermann, KIT. "With Roboshield, we want to help small enterprises to switch to Industry 4.0. First of all, the focus will be on preventing the components of the facility, such as robots, from injuring people."
Omron released video showing how easy it is to set up a pick and place application using an Omron cobot fitted with Robotiq's gripper and vision technology...
There was exciting news for Rethink Robotics this week as reports emerged that German automation integration company The Hahn Group has acquired all the firm's patents and trademarks and the INTERA5 software platform. The Hahn Group also plans to provide continuing support and development for Rethink Robotics' cobots. (H/T Robotics Business Review)
A new dumpling making bot was unveiled at a Japanese trade show...
Texas-based automation company Sisu has developed a new industrial robot programming system controlled via joystick. Designed so that it can be used by people with no prior robotic programming experience, the 'Vudu' system "dramatically decreases the complexity of programming and opens the door for thousands of new automation applications," according to company co-founder and CEO, Russ Aldridge.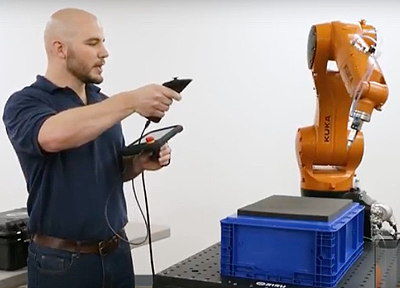 Vudu is expected to be commercially available in 2019. Credit: Sisu
Via Drives & Controls:
Sisu's patent-pending technology allows you to move a robot arm with six degrees of freedom rapidly and intuitively, says the company. You can also write programs visually via the touchscreen pendant, using an intuitive tree structure with point-to-point moves, path moves, I/O operations, and logic structures.
A collaboration between 3M, Eagle Manufacturing Solutions and ECKHART has produced a unique cobot cell for automated taping processes...
In other reading:
Elsewhere...
Engineers at Stanford and EPFL have developed a new type of mini drone that can latch onto a surface and once attached, releases a cable that enables the drone to reel in objects up to 40 times its own weight.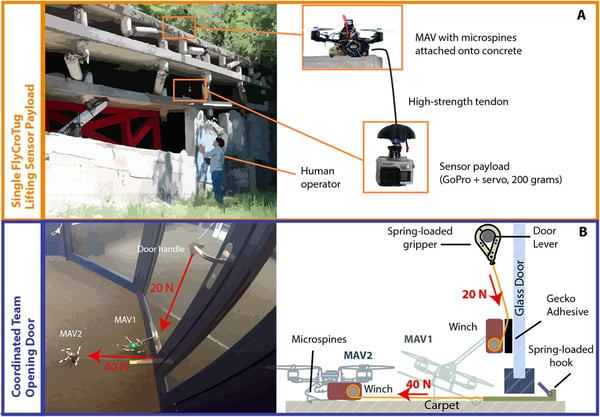 This versatile drone has unique capabilities, including the ability to open doors. Credit: Stanford/Science Robotics
Via ScienceNews:
Each 100-gram quadcopter is equipped with either gecko-inspired adhesive or microspines, which resemble tiny fishhooks, that help it cling to various surfaces. After attaching a cable to an object, the drone flies to its destination, anchors itself to its landing spot and uses a mechanical winch to pull in its cargo. This sequence of events allows the drone to transport objects that would be too heavy to carry while flying.
The World Robot Summit in Japan featured an extraordinary range of robots, from devices designed to sniff your feet to androids based on real celebrities. (H/T CBS News; Business Insider has more.)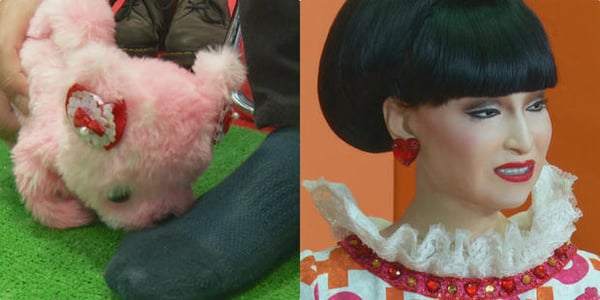 Credit: CBS News
The results of a two-year long, global Internet-based survey designed to help experts better understand peoples' attitudes towards ethical issues around self-driving cars were released this week.
Via Scientific American:
[Respondents] strongly preferred to save humans over pets, groups over lone people, kids over seniors, law-abiding pedestrians over jaywalkers and people carrying briefcases over hunched figures wearing tattered coats. They also had milder preferences for women over men, pedestrians over car passengers and joggers over heavyset people. Drivers were as likely to swerve as to let the car continue on its present course—they had no bias toward inaction.
In other reading:
Come back next week for more of the latest robotics news as we track the exciting new technologies designed to improve manufacturing, save lives, entertain and more besides!
Until then...

Five vids for Friday
1. Cargill has developed robotic cattle driver. Designed to improve animal welfare and employee safety, the bots can move cattle from pens to the harvest area, reducing stress to the animals by minimizing their proximity to human activity. (H/T Feedstuffs)
2. A team of engineers at MIT has developed a novel method to mass-produce tiny robots, no bigger than a cell, quickly and accurately with little to no external stimulus. Find out more about 'syncells' (short for 'synthetic cells') at MIT News.
3. Establishing an AI code of ethics will be a challenge, with some legal scholars arguing that ethics are too subjective to guide the development of AI. Experts discussed this and related topics at the recent AI Now 2018 Symposium. (H/T MIT Technology Review)
4. Scientists from China and Australia are working on a liquid-metal based actuation system that enables wheeled robots to be driven by metal droplets. When a voltage is applied, the robot's center of gravity is altered opening up shape-shifting possibilities for robots that use the design. (CCTV+ has more.)
5. BepiColombo is a brave robotic spacecraft that set off for the planet Mercury this week. Why is it making this epic journey? Euronews has the lowdown.