Our Top Three Takeaways from IMTS 2016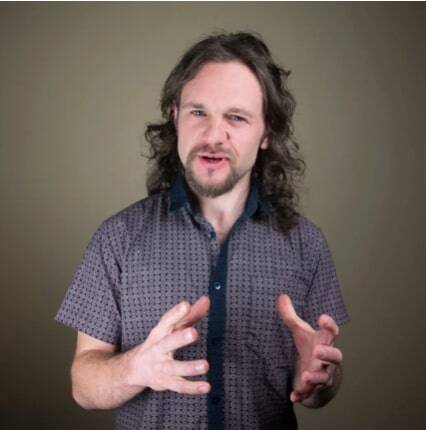 We saw a lot of exciting manufacturing tech in Chicago last week at IMTS 2016. In this final blog post about our week, we consider the top three takeaways from the show.
Last week we attended the International Manufacturing Technology Show in Chicago. You can read all about it in the live blog posts we published, first on Wednesday and then on Friday.
As we have been traveling back to Robotiq HQ this weekend, we have been thinking over our impressions of the show.
Saturday Was a Quiet Day at IMTS
The final day of IMTS 2016 was relatively quiet compared to the rest of the week. How do we know that? Because we didn't have to queue for very long to get another ice cream from Kawasaki's duAro cobot.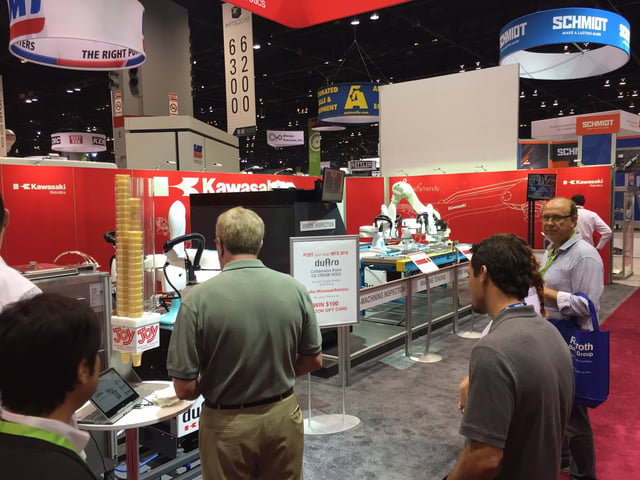 Fun fact: duAuro made 4,200 ice cream cones last week!
Top Three Takeaways from IMTS 2016
We learned a lot at the show and we'll probably think of more takeaways once there has been enough time for it all to sink in. However, for now, here are our top three takeaways of our experience last week.
Takeaway 1. More Collaborative Robots Than We Expected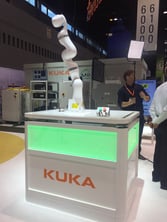 The first thing we noticed when we arrived last Monday was there were far more collaborative robots than we expected. It looks like cobots are becoming established in most areas of manufacturing, which is great! We've seen them in booths for the aerospace, automotive, machine shop and even medical industries (like this Kuka IWWA demo).
A lot of the new robots were familiar to us, as we had seen them at Automatica 2016 in June. However, they were performing different tasks to suit the intended industries, such as ABB's YuMi which was set up for this delicate automotive demo.
Takeaway 2. People Are Keen to Get Their First Robot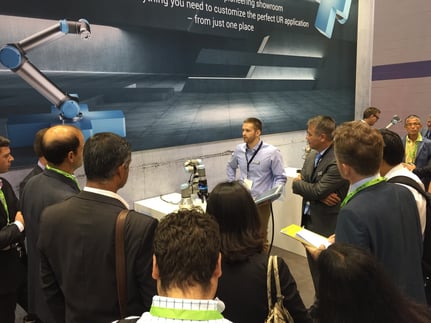 Most noticeable this year was the fact that so many delegates were interested in automating their processes … and I mean a lot! Many of the visitors to our demo, in the UR booth, were machine shop owners who wanted to know how they could automate their CNC machining.
What we found most interesting — and really encouraging — was that some of these people had not even bought their first CNC machine yet. This is great! It means that people are thinking about how they can use automation to get their business up and running. This suggests that robotics is starting to become an integral part of manufacturing businesses, not just a future addition for when you want to scale up or remain competitive.
We also heard a lot of comments about using vision for machine tending. It seems that shop owners want to move away from using tool pallets and racks. They are looking for more flexible ways to present parts to the robot for machine tending. It looks like our Robotiq Camera arrived at just the right time!
Takeaway 3. Robotic Metrology is On the Rise
One trend we noticed was the rising number of robots being used for inspection and metrology. We wrote a blog post recently which examines how robotic metrology can seriously reduce "the inspection bottleneck" and improve manufacturing output. From what we have seen at IMTS, it seems that robotics is making a strong impression in this area of manufacturing.
For example, this demo from FARO Technologies used a Kuka robot to orient two of their Cobalt Array Imagers.
The FANUC CR-35iA, which we saw lots of on Wednesday, also showed up in an inspection demo. Zeiss are perhaps most famous for their camera lenses, which are considered to be some of the world's best optical lenses. However, they also specialize in industrial metrology. This demo shows their robotic metrology solution in an automotive application.
Robots are a logical way to operate metrology scanners, so it's not surprising that we are seeing more of them used in this way. Handheld scanning takes a long time, even with recent advances in the technology. Robots are a good way to free up the operator, allowing them to do more important tasks like analyzing the scans themselves. We saw this demo of the new Creaform Metrascan 3D being operated by a FANUC LR Mate 200iD in the booth of Metrolog X4. The scanner is designed to be used handheld or with a robot.
That's all for IMTS 2016, but we're looking forward to the next one...
Should You Visit IMTS 2018?
The next International Manufacturing Technology Show will be held in 2018. Are you thinking of coming?
We think that IMTS could be a good show for you if you want to see a whole range of different manufacturing technologies, not just automation. Automatica (which we visited in June) was mostly attended by people who were already familiar with robotics and automation. Here, there have been a lot of manufacturers who are just starting to consider robotics for the first time. We really enjoyed talking to people in this situation, as we are passionate about helping people get started with collaborative robots.
If you're in the market for any sort of manufacturing technology, IMTS is well worth a visit. There were 2,417 exhibitors this year, including the some of the biggest names in their respective industries. For example, the booths from Haas and Mazak — two giants in the industry of precision CNC tooling — were right next to each other.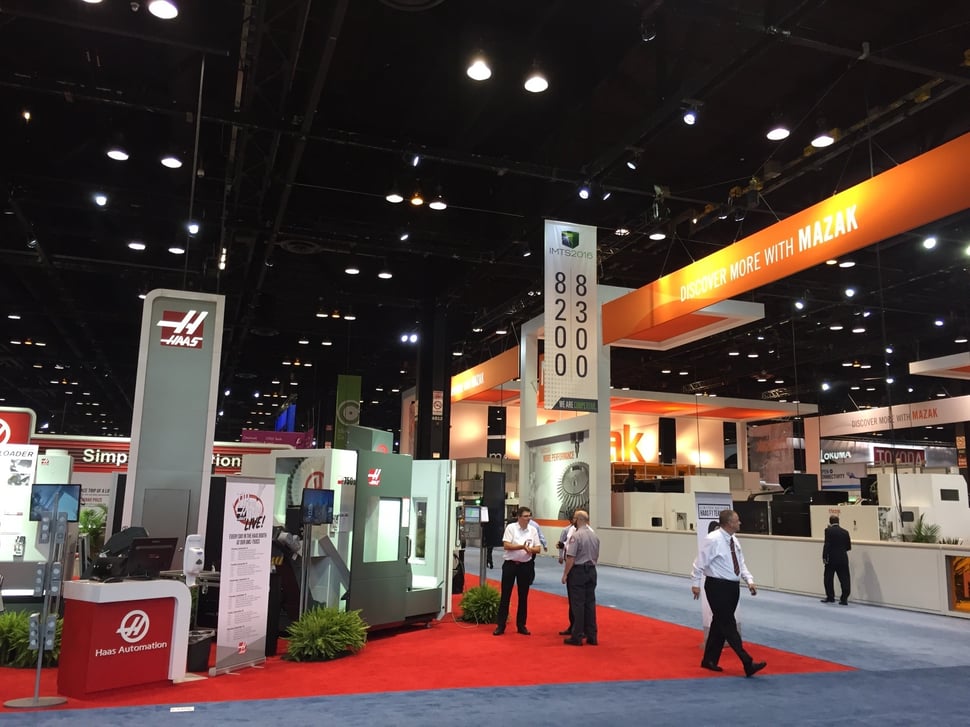 Mazak was demonstrating their Internet of Things concepts, which we saw a lot of at Automatica 2016. However, although IoT is "the technology of the year," we have to say that the Haas booth really won us over. Why? Because they gave us a sneak peak of Monaco F1 Grand Prix 2017 with this Formula-1 car.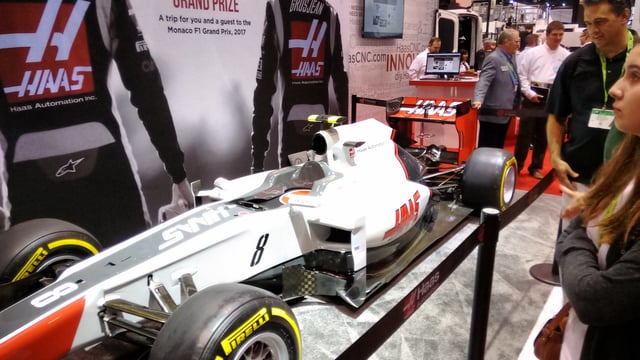 IMTS is also the perfect show to see how the latest manufacturing trends are developing. Before we arrived, we knew that 3D printing technology has improved a lot in the past few years. But, I don't think any of us expected you can 3D print a motorbike!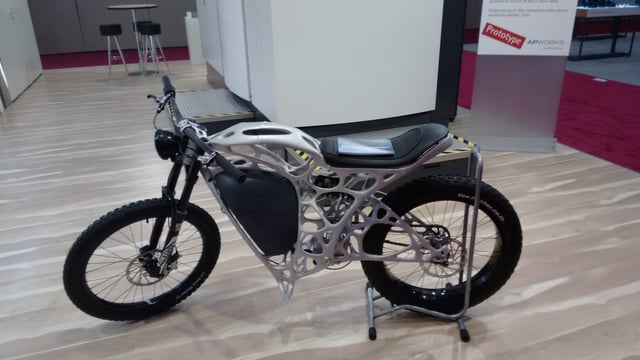 May the Force Be With IMTS 2016
For now though, IMTS is over for another year. We have arrived back to Robotiq HQ and are looking forward to discussing IMTS with you and the rest of the Robotiq community on DoF.
We'll take inspiration for our final words on the show from this cool statue in the booth of Promess (who make force-controlled servo presses, hence the joke):
May the force be with you, IMTS 2016.