What's New in Robotics This Week - Sept 22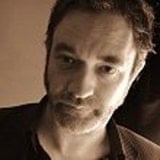 by
Emmet Cole
. Last updated on Sep 22, 2017 7:26 AM
Posted on Sep 22, 2017 7:11 AM. 13 min read time
-Manufacturing & Cobot Roundup
-Disaster Robots Shine Amid Tragedy
-Bio-Inspired Robot Skin, Muscle & Femora
-Molecular Robot Makes Debut
..and much more!
Manufacturing & Cobot Roundup
Industrial robot giant ABB has announced plans to double robot production capacity in China as part of the bid to become the biggest provider worldwide of industrial automation equipment.
From Bloomberg:
The blueprint includes doubling the number of robotics research employees in China, where a close rival Kuka AG -- backed by Chinese appliances-maker Midea Group Co. -- is seeking to unseat ABB's lead in the $11 billion industry in the nation. ABB also plans to seize on a growing industry in China for electric vehicles by supplying more charging facilities, [Chief Executive Officer Ulrich] Spiesshofer said.
RUC 2017 came to an end last week. Catch up with all the details here and check out our roundup video...



Robotiq CEO, Samuel Bouchard spoke about Lean Robotics with Engineering.Com...


Humatics, a spinout from MIT, is working on an indoor radar system that could give robots and other industrial systems the ability to precisely track people's movements. If it proves effective, the system will bring increased safety and enhanced worker tracking capabilities.
Emerging safety systems allow people to work in closer proximity to powerful robots, but they shut these systems down completely if a person moves too close. By tracking a person's motions very precisely, the new system could make it possible for a powerful robot to work in concert with a person, perhaps handing something to a human coworker. "You could get rid of the cages around big robots," Mindell says.
Cobot firm Rethink Robotics showed off a customer success story...
Skills and education are "the real robot battleground," according to Chris Middleton, writing in Diginomica this week:
With the rise of the robots apparently now a foregone conclusion, the global market – estimated to be worth up to $4 trillion over the next decade, including software and AI – will belong to those countries that have the following pieces in play:

-the foresight and funding to hothouse the domestic development of these technologies
-the flexibility and imagination to disrupt existing business models, sooner rather than later
-the determination to invest centrally in skills, education, and training at globally competitive levels.
Cobots stole the show at RobotWorld 2017 in Korea...

Doosan Robotics showed off its new cobot...


Teaming humans with 'robotic AI' is going to transform manufacturing, according to Engadget:
"You need to have smart machines before even thinking about having a smart manufacturing system. These machines collect and produce data that are needed for AI," Vibhu Bhutani, Chief Strategy Officer, Softweb Solutions, said during a recent panel discussion hosted by the Industrial Design & Engineering Show. "The next building block is to have a platform that these smart machines can connect with and that enables data collecting into cloud services."
The Telegraph asked "Can robots coexist with humans?," French researchers have created a robot that can determine your gender (with a 75% success rate) just by shaking hands with you, and Jim Lawton at Forbes took a look at China's investment in automated manufacturing.
Disaster Robots Shine Amid Tragedy
The unusually intense hurricane season and earthquake activity that has been pounding Mexico, the Caribbean and the Southeastern U.S. over recent months has brought heartbreak and tragedy to these regions.
It has however, provided those developing robots for disaster monitoring and relief with an opportunity to contribute to rescue efforts, help save lives, and support reconstruction efforts.
Wired reports: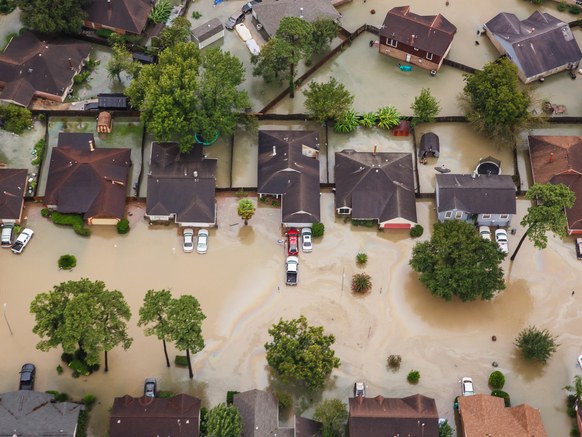 Caption: Residential neighborhoods in the wake of Hurricane Harvey on August 29, 2017 in Houston, TX. Credit: Marcus Yam/Los Angeles Times
Responding to the disaster provides a major test—and opportunity—for the country's fast-growing network of professional UAV operators, almost exactly one year after the Federal Aviation Administration began to hand out licenses for commercial drone operation. (There are at least 2,000 licensed pilots in the Houston area alone, and some 20,300 nationwide.)
The FAA issued at least 43 unmanned aircraft system authorizations for groups involved in response and recovery efforts.
"This is the one of the first big disasters where we can show how valuable drones can be," says Brandon Stark, who directs the Center of Excellence on Unmanned Aircraft System Safety at the University of California, Merced. In the coming weeks and months, they'll help locals assess damage to homes, roads, bridges, power lines, oil and gas facilities, and office buildings—and determine whether it's safe to go back.
As the mission moves from rescue to damage assessment and reconstruction, robots can also play a part.
In the Gulf of Mexico, an unmanned 'Wave Glider' surface vehicle (developed by Texas A&M in partnership with Liquid Robotics) is collecting critically needed post-Hurricane Harvey water quality data, R&D reported: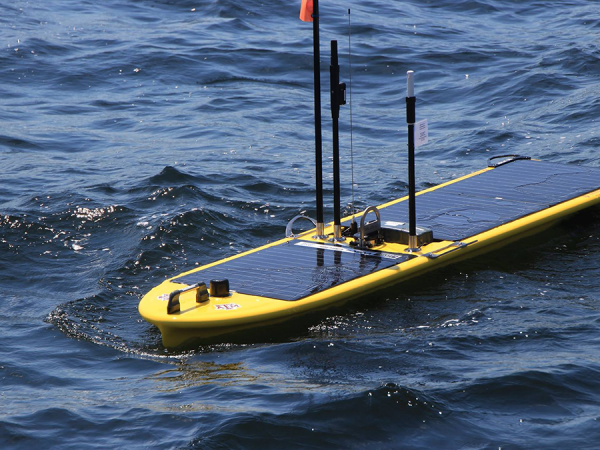 Caption: Monitoring conditions in The Gulf of Mexico
Researchers will use the glider's real-time data to examine how Harvey's record-breaking rainfall now flowing into the Gulf will affect water quality, coral reefs and ecosystems.
ERL Emergency Grand Challenge (one of the world's leading disaster robot competitions) has been running in Italy over the past two weeks. Inspired by the 2011 Fukushima disaster, the challenge can only be overcome when land, underwater and flying robots successfully cooperate.
Molecular Bot Makes Its Debut
Robot arms have been shrinking in size over recent decades to the point where desktop robot arms are not uncommon.
But prepare for the ultimate in miniaturization --a 'molecular robot arm' a millionth of a millimeter in size developed by researchers at the University of Manchester.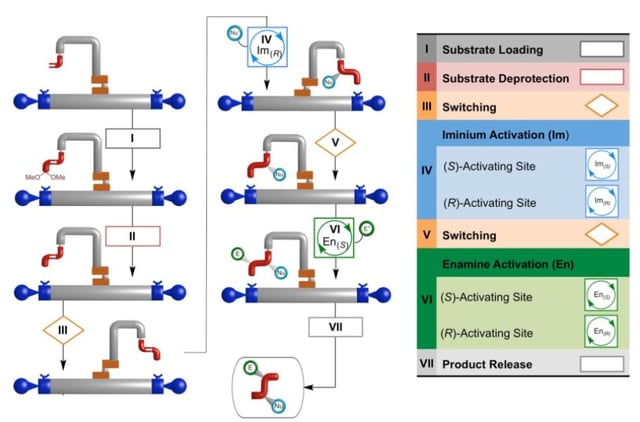 Credit: Image courtesy of University of Manchester.
The tiny robot arms can be programmed to move and build molecular cargo,
Science Daily
reported:
Each individual robot is capable of manipulating a single molecule and is made up of just 150 carbon, hydrogen, oxygen and nitrogen atoms. To put that size into context, a billion billion of these robots piled on top of each other would still only be the same size as a single grain of salt.

The robots operate by carrying out chemical reactions in special solutions which can then be controlled and programmed by scientists to perform the basic tasks.
Bio-Inspired Robot Skin, Muscle & Femora
Researchers at the University of Houston have built an artificial skin that allows robotic hands to sense the difference between heat and cold. The researchers claim to be the first to create a semiconductor with a rubber composite, which would allow it to work even when stretched.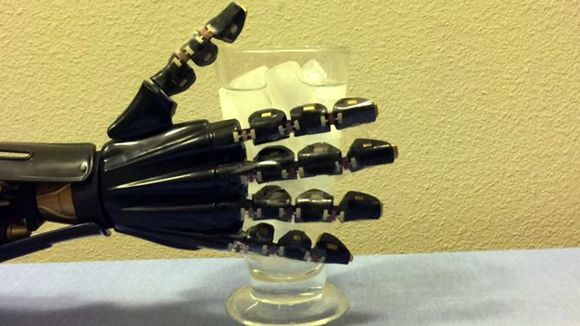 Caption: A robot hand with artificial skin reaches for a glass of ice water. (Photo: University of Houston)
From USA Today:
'When the stretchable electronic skin was applied to a robotic hand, it could tell the difference between hot and cold water. The skin also allowed the hand to interpret computer signals and recreate them in sign language.

"Our strategy has advantages for simple fabrication, scalable manufacturing, high-density integration, large strain tolerance and low cost," Yu [assistant professor of mechanical engineering at the University of Houston and the lead author for the paper] said in a statement.'
From Futurism:
The artificial skin is just one way to use the material. As work on the stretchable electronic progresses, its expected to be able to positively impact the development of other wearable electronics, eventually leading to more sophisticated health monitors, surgical gloves, medical implants, and human-machine interfaces.
The research was published in Science Advances.
Elsewhere, a team at Beihang University in China has created a bio-inspired robotic femora, designed to adhere to a wide variety of surfaces while underwater.
Meanwhile, a team at at Columbia Engineering has developed a 3D-printed synthetic tissue that can act as active muscle, Engagdet reported: "The material, which can push, pull, bend, and twist (thanks to its use of silicone rubber and ethanol-dispensing micro-bubbles) is also capable of carrying 1,000 times its own weight."


Before I go, spare a thought for the interplanetary Cassini robot, which evaporated in Saturn's upper atmosphere this week.
After 13 years exploring Saturn, during which it sent back some stunning images, Cassini was running low on fuel so NASA decided to guide it into the main body of Saturn and let gravity, friction, and heat take care of the rest.
Cassini, we salute you!

Assuming I am not thrown into the upper atmosphere of Saturn (or any other planet for that matter) anytime soon, I'll be back next week with more news from the world of robotics.
Until then, please enjoy these videos and links!


Prepping for Alien Oceans, NASA Goes Deep (Scientific American)
Lockheed Martin invests in autonomous vehicle developer (The Robot Report)
Study suggests risks vary widely in drone-human impacts (PhysOrg)
Brace for the coming robot arms race (Japan Times)
Pittsburgh's self-driving car boom means $200,000 pay packages for robotics grads (CNBC)
UC San Diego to test self-driving cars on campus roads (San Diego Union-Tribune)
Roomie Bot is the first Spanish speaking robot for home usage (PVDN)
Meet the megabots – how scientists turned robots into a swarm (New Statesman)
Madeline Gannon, a.k.a. 'the robot tamer,' wants you to think of machines as animals (Post Gazzette)
A New Law of Robotics: No Unauthorized Communications Access (AFCEA)
Who Won the MassTLC Leadership Awards? (MassTLC)