What's New in Robotics This Week - Sep 01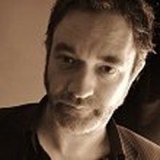 -Manufacturing & Cobot Roundup
-Meet Domestic Bot TEMI
-Micro- & Nanoscale Cancer-Busting Bots
-Two New Bio-Inspired Bots...and much more.
We hope that the news we have selected will interest and amuse you. Enjoy!
Manufacturing & Cobot Roundup
New cobots at Atria Scandinavia have enabled the Swedish food firm to decrease changeover time from six hours to 20 minutes and made new packaging applications possible, Packaging World reported.
Through the use of the cobots, Atria has also optimized material use in its packaging department, reducing carton waste by 25%. The payback time for the investment was just 12 months.

Following the success of the project, management at Atria has decided to replace a traditional, shielded industrial robot and a bulky packaging machine that occupied half the space on the packaging floor with cobots. Says Johnny Jansson, Atria's Technical Manager, "We actually want to get rid of all our carton machines and use only robots on each line to achieve much more reliable and flexible production."
Bloomberg reported that in the past month, Nike has begun using Grabits' assembly bots, which can work at 20 times the speed of the average human worker. Here's earlier video of Grabit's technology in action:
Despite its name, Grabit's innovation isn't based on having robots mimic the human-style grabbing motion. Instead, the company implements flat pads of electrodes that, when charged correctly, create an electric field that adheres to nearly any surface. This makes Grabit able to do things robot-hand companies are unlikely ever to conquer, says Greg Miller, Grabit's chief executive officer. "The things we're getting pulled into, we're getting pulled into because they can't be done another way," he said.
The Financial Times explored some of the ways in which bots are transforming the logistics industry...
Doosan Group announced plans to enter the cobot market.
In a fascinating article, Engineering.com asked "What Does Industry 4.0 look ike in China?"
CTimes reported on the massive growth of robotics in China, based on new figures:
In 2017 the scope of the global robot market is expected to reach US$23.2 billion, with an average yearly growth rate of 17% from 2012 to 2017. [The] industrial robot market is expected to experience great prosperity. It has been predicted that this year sales of industrial robots will exceed 110,000 units with a market scope of US$4.22 billion, and by 2020 the market scope in Mainland China is expected to expand to US$58.9 billion.
German robotics research cluster DLRRMC showcased a system that uses an airbag when performing human-robot collaborative tasks:


The Cobot is mounted on a linear axis to enable the Cobot moving between worker, stock and tool cabinet within an extended workspace. In this task, the Robotic Airbag enables the Cobot to exploit its full capabilities while ensuring safe and efficient co-existence of humans and Cobots in same work cells.
Asian Robotics Review asked whether it's time for "lemon laws" for cobots, in an article that also featured Robotiq's Getting Started With Collaborative Robots:
Eliminating errors, including a bad buy of a cobot, worries every SME, as it should. And once again Robotiq offers a solution on how to hunt for, window shop, and kick the tires on any cobot out there, specifically, but not limited to, the 34 represented in Robotiq's Buyers Guide.

It's a very interesting site where potential buyers can download really good professional information on every aspect of cobots, all presented in an easy-to-read, understandable way. There's no tech speak, no flim-flam, just good info simply put.
San Francisco is considering a tax on robots. Some voices urge caution.
Toledo's position as the city with the highest concentration of robots relative to the size of its workforce in the US, was explored by the Toledo Blade.
Associated Press put together this video about the World Robotics Conference, which was held last week in Beijing.
Humanoid robots were at the forefront...
There were some giant jellyfish-inspired robots there too...
A Chopin-playing robot with 53 fingers stole most of the headlines...
Romania may lag behind its European counterparts when it comes to robotics adoption, but nevertheless, the country's manufacturing future lies in Industry 4.0, according to Business Review:
Regardless of the sector, only 16 percent of local companies are keeping up with digitalization whilst turning results from this process, according to The Barometer of Digitalization in Romania 2017, a study by Valoria, a consultancy firm.
Meet Domestic Bot TEMI
A US$1,500, three-feet-tall, 20-pound domestic bot with a 10-inch screen, microphones, speakers, and 60 sensors called TEMI has been hogging headlines this week.
As Wired reported, the device's creator baulks slightly at calling it a robot:
Yossi Wolf, the CEO of robot-maker Roboteam, almost didn't want to call his newest product a robot. When people think of robots, he says, they expect the stuff of science fiction—machines with faces and personalities indistinguishable from humans. Temi, the rolling robot Wolf hopes you'll soon have in your home, looks more like a tablet on wheels.
Digital Trends has more.
Micro- & Nanoscale Cancer-Busting Bots
A team of scientists led by Longqiu Li at the Harbin Institute of Technology, China, and Joseph Wang at the University of California San Diego, US, has created a 5-µm spherical micromotor that can autonomously navigate its way through micro-traffic in a micro-maze.
Via PhysOrg:
"We have embedded artificial intelligence into a micro/nanorobot," Li told Phys.org. "We introduce a smart microvehicle for precise autonomous navigation in complicated and dynamically changing environments through optimal path planning. Similar to their large vehicle counterparts, the autonomous navigation of microvehicles entails collision-free movement in dynamic environments."
The researchers want to use the device in biomedical applications and, eventually for nanoscale manipulation.
Speaking of navigation, MIT experts have revealed a system that enables bots to navigate through crowded using "socially aware navigation" (i.e. navigation based the unspoken social cues that humans use in crowded spaces)...
Meanwhile, working on the nanoscale, researchers have created UV-light powered machines designed to drill holes in cancer cells.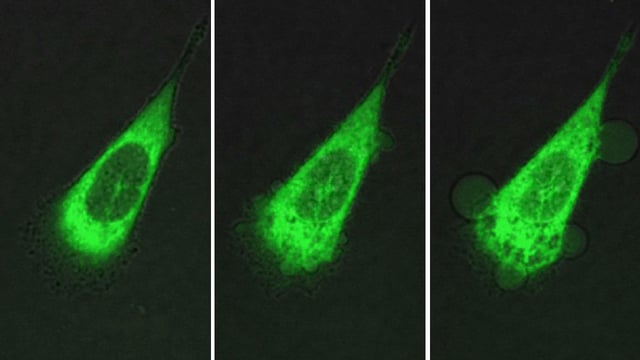 Credit: Robert Pal/Durham University
Via Science:
A stationary stator holds the machine in place while a moving rotor spins and drills across the cell membrane. The paddlelike rotor, a series of three rings of carbon atoms, begins rotating 2 million to 3 million times per second when hit by ultraviolet light. On either side of the stator are arms of carbon, nitrogen, and oxygen that stretch out and grip the surface of the cell. When scientists unleashed the nanomachines on human kidney cells in a dish, holes formed in the cells within a minute, and death soon followed.
The team has plans to test the device on microorganisms and fish.


Two New Bioinspired Bots
The typical development of bio-inspired robots involves closely studying a biological entity and then using that knowledge to build a bot that mimics biology's capabilities.
Sometimes that process is turned around somewhat. Instead of biology informing robotics development, robotics development increases our understanding of biology.

This is the case with scientists at Southampton University that have shed new light on prehistoric marine reptiles using a robot with 3D-printed flippers to mimic their movements.
Via Daily Echo:
The team discovered that swirling movements created in the water by the front flippers made the back ones more efficient, suggesting that plesiosaurs used all four to propel themselves through the water.

Luke Muscutt said: "Fossils by themselves don't tell us much about how plesiosaurs actually moved.

"Short of genetically engineering a plesiosaur, our best available option was to create a robot to show how it might have happened.
Scientists in the US have created pair of earthworm-inspired crawling robots ('Peri and Poly') "out of little more than a sheet of paper, a few 3D printed parts, and a handful of screws," Thomas Net reported.
Poly is 51 mm wide and uses a pair of origami towers that expand and contract when twisted to make the worm robot crawl forward. The robot has directional feet made of hard plastic and rubber. The 3D-printed toes allow the robot to slide forward while the rubber heal stops it from backsliding. This particular example of bio-mimicry was inspired by the setae on earthworms.
Whether I have to crawl, swim, or leap like a frog, I'll be back next week with more news from the world of robotics. Until then, I hope you enjoy these videos and links!
Battelle Proves Collision Avoidance Software in High Stakes Demo with Aerobotix (Business Wire)
Adoption of robotics into a hospital's daily operations requires broad cooperation (AlphaGalileo)
The need for robotics standards (Robohub)
Collaborative Robotic Arms + Autonomous Vehicles = A new kind of animal (Robotics & Automation News)
Want a Robot To Walk Like You? Don't Expect It To Look Human (Wired)
This vacuum-activated modular robot is equally nasty and neat (TechCrunch)
Robot airbags could help industrial bots play nice with humans (The Verge)
MIT researchers are teaching robots to obey our commands through Alexa (Quartz)
Your sushi is probably made by a robot (Bloomberg)
Why American Eagle brought a robot to its Cranberry store (The Incline)