What's New in Robotics This Week - Nov 17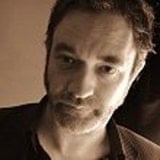 by
Emmet Cole
. Last updated on Nov 17, 2017 8:15 AM
Posted on Nov 17, 2017 7:00 AM. 12 min read time
What's new this week in robotics?
-Manufacturing & Cobot Roundup
-Watch Out, Wonky Vegetables!
-Bill Gates Defends AI & Robotics
-SpotMini Loses Head, Gains Agility
...and much more!
Manufacturing & Cobot Roundup
Hanwa Techwin has been demonstrating its new HCR-5 cobots, which represent the firm's first step towards "full-fledged operation in robotics," Robotics & Automation News reported:
Hanwha says the HCR-5 only requires one control box and one teach pendant to control two robots. This reduces the operating cost to about 30 percent less than with other industrial robots. Hanwah claims the HCR-5 has a reach radius of 91.5cm – the farthest reach among robots in the same class, and has a repeatability of 0.1 mm, making it "ideal for precision work".

And the HCR-5 robot weighs 20kg, so it can be easily moved without a forklift or any other special transporting equipment.
Michigan-based automotive supplier Gentex Corp. is one of many companies in the state using automation "to do more" and "enlarge the funnel of growth" for the company, not reduce headcount.
MiBiz reports: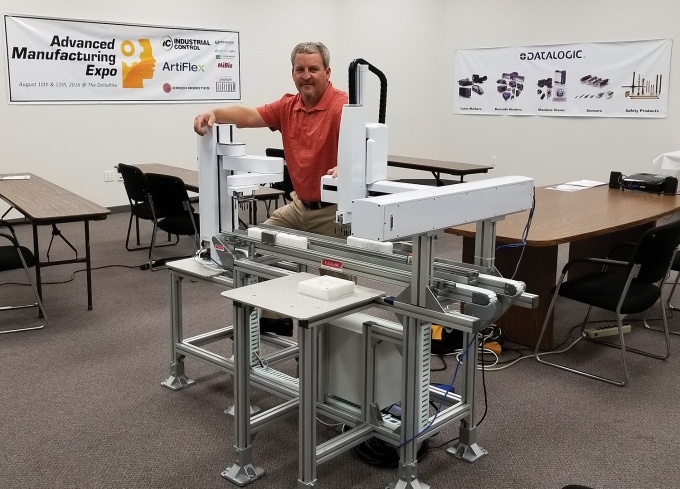 Caption: Mark Ermatinger, vice president of sales at Industrial Control, shows off one of the company's collaborative robots, or cobots, at its Zeeland headquarters.
"If you can automate and become cost effective and globally competitive out of the North American operational footprint, then the advantage of that and what it offers for us is the ability to have people move from very manual production efforts to more computer maintenance, to line management, to kind of higher-end skill sets and job performance," he said. "How you equate that and how you make those numbers work is obviously driven by our growth of the business," [said Gentex Corp. CFO Steve Downing].
Syrian robotics researcher Mohammad Safeea, who specializes in robot dynamics, control and safety for collaborative robots, spoke about the role of cobots in the fourth industrial revolution....
The global industrial robots market will grow at a CAGR of 9.54% from 2017 to 2024, according to a new report, while another report projects that the global industrial robot cell market will grow at a CAGR of 10.35% from 2017-2021.
Driven by the low price of cobots and high return on investment rates, the global cobots market is set to expand at a CAGR of 57.4% to reach USD 4.4 billion by 2023, according to a report from Energias Market Research.
Darl Kolb, Professor of Connectivity at the University of Auckland, spoke about the benefits of co-evolving with machines...



Cobots are helping to usher in a new era of manufacturing, according to The Manufacturer:
One major development is the field of so-called 'collaborative robots': robotic systems designed to safely work alongside their human coworkers.

Enabled not just by advances in machine vision, computing power and forcing sensing, collaborative robots also make heavy use of new and more powerful software.
"What humans do, cobots can too," says The Hindu: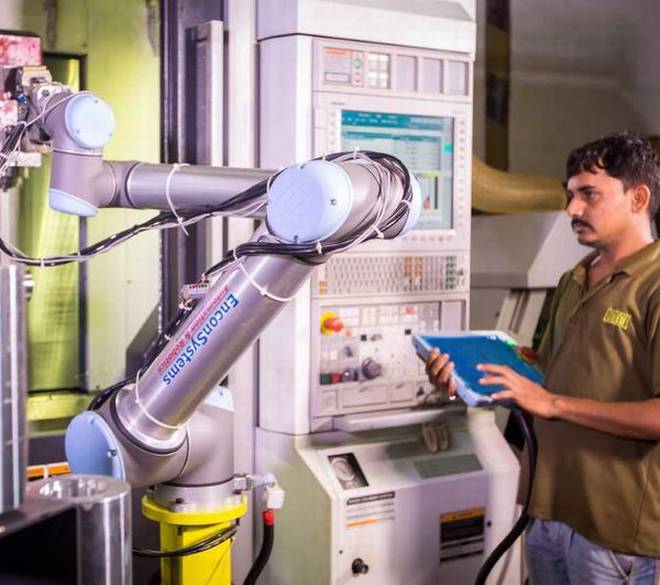 Aurolab's is a case in point. The Madurai-based company makes intraocular lenses. Earlier. the lenses were made by women staff, above the age of 18. They helped make 150 lenses a day but today, using cobots, the firm makes 10,000 lenses a day. Now, the company exports to 150 countries. Headcount has also risen from 15 to 700.
The rise of robots won't mean the end of jobs, says Vox...
Also on Vox, a six-part video series about "the future of work" launched this week...

Meanwhile, Scientific American's Calestous Juma argued that "jobs are not created or lost because of a single technology, but because of the business models designed to leverage the power of the technology." Richard Li asked "Is Africa Ready For The March Of The Robots?", The Wall Street Journal laid out "how the robot revolution could create 21 million jobs," and MIT Technology Review observed that 'Tech Illiteracy Will Get You Fired Long Before Automation Does.'
Experts from the University of Mannheim, Germany are building a framework for simplified engineering of reusable self-adaptive software as part of the FESAS project:
One use case are the collaborative industry robots. It aims at constructing an intermediate product, using two coordinated self-adaptive industry robots. Raw materials in form of different colored LEGO bricks serve as an input to the robots. The output of the robots' construction process is a two dimensional assembly of LEGO bricks, i.e. a "wall".
Proco Machinery Inc. showed off its case packing cobot solution at the Society of Plastics Engineers' Annual Blow Molding Conference recently, Plastics News reported: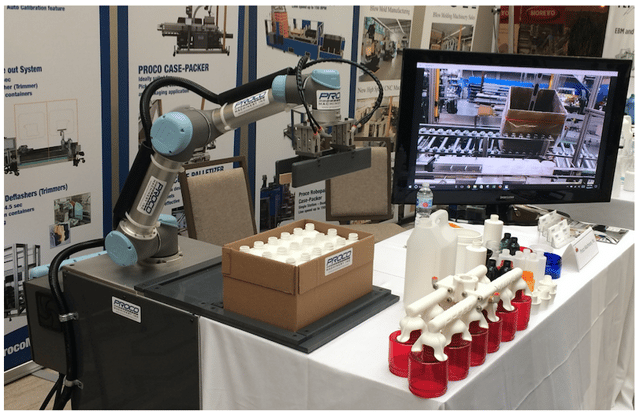 Caption: Proco's case packing cobot solution incorporates a cobot from Universal Robots.
An official of FPE Automation, a distributor of automation components, demonstrated the one-armed Universal brand of collaborative robots, which work side by side with human employees. The robot can do part removal or be programmed to press buttons for operating the machine, said Jomy Vadakumpadam, automation controls manager.

A blow molder at the presentation asked if the Universal robot works OK with mounted on a machine that has movement, like a blow molding press. "They've been deployed successfully in a variety of molds and presses," Vadakumpadam said.
At Thales Alenia Space's Italian plant, the firm is using a "new multi-purpose collaborative robot" dubbed CRATOS (Collaborative Robot Addressed To Operative Solutions), for electronics assembly, among other tasks.


EIN reports:
CRATOS (derived from Kratos, the god of power in Greek mythology) is the first collaborative robot used to integrate electronic equipment, it can operate alongside employees, in the same area without any physical barriers. CRATOS is a highly versatile cobot capable of assembling and bonding components and parts, as well as checking these operations. Thanks to its flexible architecture, all operations are carried out in sequence, to considerably reduce assembly time.
Watch Out, Wonky Vegetables!
With up to 60% of UK crops being thrown away because they are "wonky" or "inedible," finding a way to harvest individual vegetables could save farmers billions every year.
With this in mind, experts from the UK's Harper Adams University and the National Centre For Precision Farming are developing a 'robot farmer' that can autonomously plant seeds, weed, water, spray, and harvest.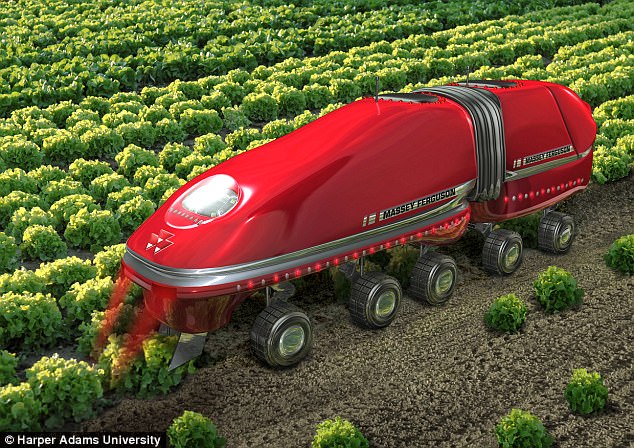 Caption: Artist's impression of the proposed robot farmer.
Via The Telegraph:
Professor Simon Blackmore, director of the National Centre for Precision Farming, said he wanted to see robots in the fields as early as 2020.

"We are developing laser weeding, droplet application where only 100 per cent of the chemical goes onto the target leaf, selective harvesting where we can grade the product at the point of harvest," [he told a briefing in London.]
Bill Gates Defends AI & Robotics
Philanthropist and technologist Bill Gates has defended AI and robotics technologies while speaking at the Misk Global Forum in Saudi Arabia.
The Express reports:
Gates [...] told an audience at the Misk Global Forum that advancements in robotics and AI will help improve efficiency in a range of industries.

Speaking at the forum in Riyadh, Saudi Arabia, Mr Gates said: "We are in a world of shortage, but these advances will help us take on all of the top problems. "We need to solve these infectious diseases ... We need to help health care workers do their job."
SpotMini Loses Head, Gains Agility
"Keep your head when all about you are losing theirs," advised Rudyard Kipling in his famous poem "If."
Wise words indeed, but Mr. Kipling clearly didn't have quadruped-inspired robots in mind, since in at least one case --that of Boston Dynamic's SpotMini-- losing a head seems to have resulted in improved overall agility.

As CNN reported, Boston Dynamics released a teaser video for their latest creation, Monday...


Via The Verge:
The new SpotMini looks much more polished and less grotesque, like a real-life cross between a Pixar animation and a robot out of a Neill Blomkamp vision of the future, thanks in part to series of bright yellow plates covering its legs and body. The new bot's movement also looks incredibly fluid. It shows just how much progress Boston Dynamics is making on its goal of life-like, animal-inspired robots that can move and respond to the forces in the real world.
Want to keep your head in the world of robotics? Check in next week for another roundup of robotics news. Until then, please enjoy these videos and links!

Three ways robots can save lives in war (PhysOrg)
High-jumping beetle inspires agile robots (Nature)
Singapore Robo Expo Highlights Trends in Automated Manufacturing (Engineering.com)
Made in China, by robots (ECNS)
Demand for Automated Labor Growing in Industrial Sector (ReBusiness Online)
Tencent Leads $400M Round In Chinese Robot Maker Ubtech At $4B Valuation (China Money Network)
Miniature robots could cut pesticide use on farms in future (The Guardian)
A picture of an android just won a place at the UK's National Portrait Gallery (Quartz)
Do we need humanoid robots that look and move like us? (BBC)
Rod Sims: You Can't Blame A Robot (Financial Review)