What's New in Robotics This Week - Nov 04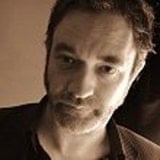 by
Emmet Cole
. Last updated on Nov 04, 2016 7:00 AM
Posted on Nov 04, 2016 7:00 AM. 10 min read time
Mobile cobots; needle positioning robot; drones, drones everywhere; the Robot Launch Shortlist; new sanitary standard; America's 'driverless' future; and much more! Find out what's happening in our robotics universe this week. We hope that the news we have selected will interest and amuse you. Enjoy!
Interesting article from Modern Machine Shop (MMS) about the work being done by firms like Otto Motors, Yaskawa America and Mobile Industrial Robots to add autonomous mobility to cobots.
MMS reports:
Intended to carry palletized loads, these robotic vehicles can autonomously map their surroundings for safe, intelligent pathfinding through a facility. Basically, these robots adapt technology similar to the kind seen in Google's self-driving cars, but for indoor, industrial applications. In fact, Director of Industrial Solutions Simon Drexler says that Otto Motors "is on trend to have more autonomous miles driven than the Google driverless car." Early adoption of the Otto concept by customers like GE and John Deere is expected to put more self-driving vehicles (SDVs) in manufacturing and distribution facilities by the end of 2016 than Google will have on outdoor roads.
It is worth noting that cobot solutions such as a Universal Robot arm with a Robotiq gripper are already pretty easy to move around. They can easily be set up on an office desk or on the factory floor for operations, demos, and safety training. Furthermore, with their small footprint, these cobots can easily be moved from one manufacturing cell to another.
However, autonomous mobility opens up an entirely new range of possibilities for industrial cobots and factory automation, so this is an exciting development and definitely one to keep an eye on over the next year and beyond.
Speaking of cobots, Engineering.com recently published "A History of Collaborative Robots: From Intelligent Lift Assists to Cobots," which is well worth checking out.


Robots Help Position Interventional Needles (PhysOrg)
Researchers from the Fraunhofer Institute in Germany have created a robotic system that can precisely position the interventional needles doctors use when performing biopsies. This system is intended to increase accuracy and reduce the amount of time doctors spend on finding the ideal location to insert the needle (which is then used to extract samples for analysis).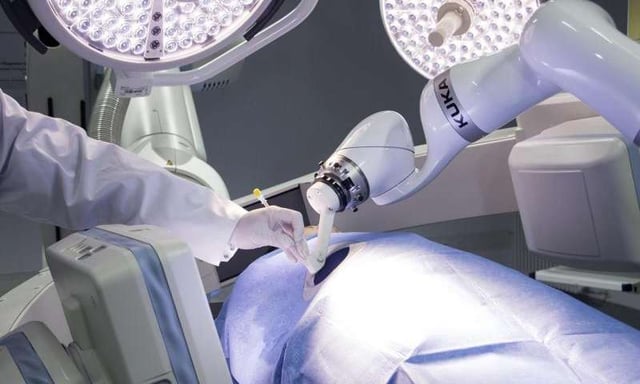 "Whereas humans struggle to position this sort of needle, it's hard to beat a robot designed for the purpose," says Andreas Rothfuss, a researcher at [Fraunhofer]. "Our system removes burdens for doctors while leaving them in control." In other words, the robot does what it does best – locating the right path and positioning the needle guide so that there is no risk of hitting or injuring either doctor or patient. Thereafter, the doctor again takes command and inserts the needle into the tissue. "A human needs 30 minutes to position the needle, but with robot assistance this is cut down to five minutes at most," says Rothfuss.


Announcing the Robot Launch Shortlist (Robohub)
Intended to showcase a wide range of robotics and AI startups, the Robot Launch Shortlist offers you a chance to vote for your favorite startup idea based on a brief video pitch. The most popular startup overall will be awarded the "Robohub Readers Choice" award and receive all sorts of prizes from an incubation award to networking group access.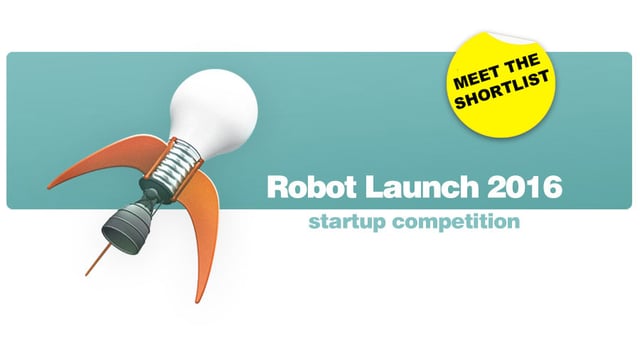 The Shortlist startups range from agricultural to humanoid, from consumer to industrial and from hardware to robotics software. Some are so new they don't have names yet. But in alphabetical order "The Shortlist" is: Aatonomy, Acro, AirZaar, bridgeOS, Choitek, Cubit, Emobie Labs, FoldiMate, Franklin Robotics, Halodi, Industrial robots with 3D vision, Internet of Robots, Kamigami Robots, LabsCubed, Materials that make robots smart, Modular Science, Mothership Aeronautics, MOTI, Parihug, Robolink, Robotics platform for EDU and DIY, SD3D, Semio, Bioprint startup, Tactile Robots, The Virtual Robotics Toolkit, Track mounted mobile robots, UniExo, UnNamed and ViDi Systems.
I never thought I would see it again in my lifetime, readers; the opportunity to vote in a process where all the candidates are great.
So, be thankful, and don't forget to get out [your computer] and vote for your favorite idea when the time comes!


First Sanitary Standard for Food Industry Robots Goes Into Effect (Powder Bulk Solids)
The first industry standard for industrial robot system design, materials, and fabrication/installation to meet minimum sanitary (hygienic) requirements was issued by 3-A Sanitary Standards went into effect in October.
The new standard, 3-A Sanitary Standard for Robot-based Automation Systems, Number 103-00, will apply to hygienic applications of Robot-based automation systems (RBAS) in food processing, preparation, and other industries where process equipment cleaning and sanitation is necessary, according to the not-for-profit organization, which develops product safety standards for the food, beverage, and pharmaceutical industries.

"The standard addresses the robot and ancillary robotic system equipment, including the robot base, end-of-arm tooling (EOAT), tool changers, and robot dressing. Specifically, the standard includes materials and fabrication requirements as well as special requirements unique to robot systems, including zone considerations, programming requirements, controller requirements, wiring/robot dressing requirements and tooling, and installation," the organization's release explained, noting that the standard does not apply to milking systems on dairy farms.
As the Robotic Industries Association put it, "Robots Help Feed The World."

The Future Of America Is Driverless (The Verge)
U.S. Secretary of Transportation, Anthony Foxx, sat down with The Verge recently for a wide-ranging interview about the future of transportation.
An extract:
"It's November, 2021: what does the world look like?

By 2021, we will see autonomous vehicles in operation across the country in ways that we [only] imagine today… Families will be able to walk out of their homes and call a vehicle, and that vehicle will take them to work or to school. We're going to see transit systems sharing services with some of these companies. It's not just autonomy in the vehicles. You're going to see trucks running more closely together, which result in fuel savings and positive climate impact. You'll see companies that will start to use unmanned aircraft to deliver products to us. My daughter, who will be 16 in 2021, won't have her driver's license. She will be using a service."
(Video available here.)
Flirtey Drones Deliver Socks From the Sky (TechCrunch)
Australian drone delivery start-up Flirtey showcased its system this week with the delivery of some socks to a luxury hotel during investment firm Menlo Ventures' annual limited partner meeting.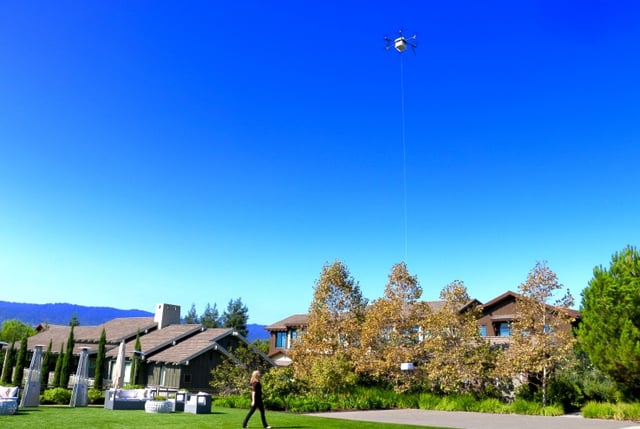 TechCrunch reported that the drone was "operated with oversight by a Flirtey employee from the luxury hotel's parking lot. Although Flirtey's unmanned aerial vehicles can fly autonomously, hotel liability concerns and local regulations would not allow it without a licensed operator's involvement."
Menlo Ventures has invested in Flirtey. Managing Director Mark A. Siegel told TechCrunch, "The Rosewood demo was a little gimmicky and everyone took it in good humor. However, there was a serious angle to it. We wanted investors to get excited about a new cutting edge area in which we are making some bold bets."
In 2015, Flirtey made history with the first drone delivery in the US, delivering 24 packages of urgent medical supplies:
Amazon Obtains Patent for Mini Police Drones (PoliceOne)
While I'm on the topic of drones, Amazon has obtained a patent for an "unmanned aerial vehicle assistant" designed to assist police officers.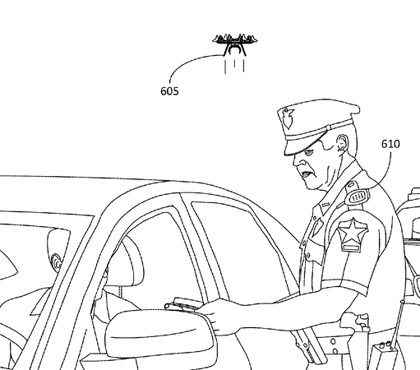 PoliceOne reports (via KOMO):
The miniature shoulder drones are voice activated and can detect "distress" commands, aiding the officer in traffic stops or signaling for help when the officer is down.

"Many situations arise in which a user may wish to review the situation from afar," the patent filing reads. "It would be especially convenient if the (drone) were small enough to be carried on a person."

The size of the drone is possible because the device's processor is installed on its shoulder docking station, rather than on the device itself.
Before I sign off for this week, here's some coverage from the World Robotics Conference which was held in Beijing recently: The Robots That Think (Daily Mail); Humans Little Helpers: Most Incredible Robots (Sputnik); Advanced Robot Can Understand How Humans Think (Mirror); WRC 2016 Reveals AI That Can Mimic Human Brains (iTechPost).
Next week we'll take a look at the latest road map for robotics, which was released by the White House Oct. 31st. The road map calls for increased regulations, education and research and underlines the importance of robotics to the U.S. and global economies.
Until then, enjoy these links!


And Finally...
Advanced Robotic Systems: The Manufacturing Labor Force of Tomorrow (Machine Design)
North American Robotics Market Sets New Records for First Nine Months of 2016 (Robotic Industries Association)
For robots, artificial intelligence gets physical (Science News)
Korea to nurture artificial intelligence, robot as new cash cow (Korea Times)
Robotics industry booms in China (China Daily)
New Collaborative Robot App Store Helps Users Find Solutions to Automation Problems (Advanced Manufacturing)
Four tips for founders and investors powering autonomous mobility startups (Medium)
A Japanese Billionaire's Robot Dreams Are on Hold (Bloomberg)
AI and robots aren't gunning for your job, White House economist says (InfoWorld)
Plobot | Physical Coding for ages 4 and up (Kickstarter)
Automated Ships and Kongsberg Maritime Developing Unmanned Vessel for Offshore Operations (AUVSI)
Robots at your Service: Over 700 events expected during European Robotics Week 2016 (eu Robotics)
Microsoft's beautiful Surface Studio ad was shot with an industrial robot and Xbox (The Verge)