What's New In Robotics This Week - Dec 30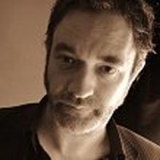 Giant, manned robot; mining w/ robots; bots brave hurricanes; IBM's elder care robot; human-robot marriage by 2050?; connected asparagus, and much more.
Avatar-style S. Korean manned robot takes first baby steps (PhysOrg)
This new four-metre-tall (13-foot), 1.5 ton manned robot from South Korea is a sight to behold.
Dubbed "Method-2," the robot was designed to work in environments that are normally too hazardous for humans.
A pilot sitting inside the robot's torso makes limb movements which are mimicked by Method-2, whose metal arms each weigh 130 kilograms (286 pounds).

The robot, more than twice the size of a tall man, is so heavy that it shakes the ground when it takes a step with a loud whirring of motors.
If you want to pick one of these up anytime soon, you better start saving immediately. The robot is expected to go on sale at the end of 2017 with a pricetag of approximately USD8.3m.


Mining company Rio Tinto operates 73 autonomous vehicles (each the size of a small two-story house) on four Australian mines to haul iron ore 24 hours a day. Meanwhile, BHP Billiton, the world's largest mining company also uses autonomous vehicles and robotic drillers to streamline its operations. Canadian oil firm Suncor, is testing driverless trucks in Alberta.
"In the last couple of years we can just do so much more in terms of the sophistication of automation," says Herman Herman, director of the National Robotics Engineering Center at Carnegie Mellon University, in Pittsburgh. The center helped Caterpillar develop its autonomous haul truck.

Herman at CMU expects all large mining companies to widen their use of automation in the coming years as robotics continues to improve. The recent, sizeable investments by auto and tech companies in driverless cars will help accelerate improvements in the price and performance of the sensors, software, and other technologies needed.
Swarms of robots may soon be deployed to the center of hurricanes (Digital Trends)
Researchers at the University of California, San Diego are working on swarms of robotic weather balloons for use during hurricanes.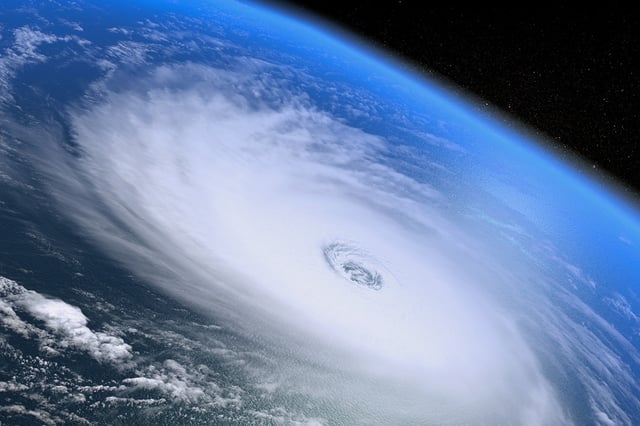 The 6.5lb (approx.) robots can operate for weeks at a time and are loaded with with GPS and cellphone-grade technologies that enable the balloons to report from inside active cyclones, where they can float around, coordinate movements, and beam back data about environmental conditions.
The advantage of these balloons over traditional forecasting methods involves two technological advances. For one, progress in electronics manufacturing has enabled cheaper, smaller, lighter machines to be produced and deployed in large volumes. Meanwhile, algorithms are now sophisticated and robust enough to tackle the troves of data that come back from such surveys.

Connected asparagus: Bosch outlines vision of a future with connected factories and robotic farmers (Robotics & Automation News)
Bosch, one of the world's largest engineering companies, shared its views on the coming wave of smart factories with Robotics & Automation News this week.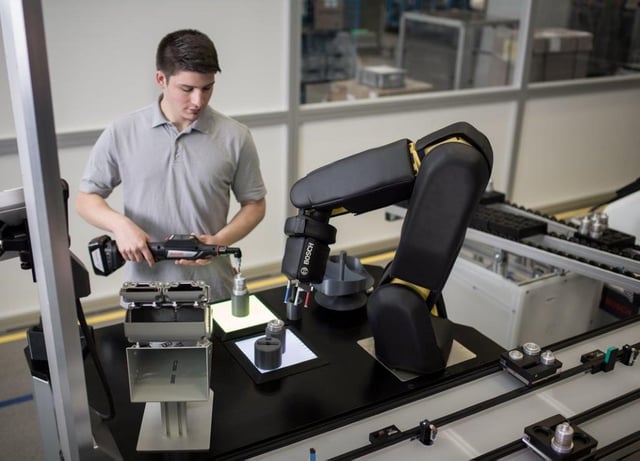 The "intelligently connected workstation" combines a work surface, a collaborative robotic arm, and a monitor that displays work instructions.

Bosch says that because of its "sensitive sensor skin", the robotic arm immediately stops whenever people get too close. "People and machines can therefore work together without a protective barrier," it says, adding: "As a result, the system creates new possibilities for teamwork between machines and associates."
IBM is working on a robot that takes care of elderly people who live alone (Business Insider)
Experts at Rice University and IBM are developing sensors for use in elder care robots.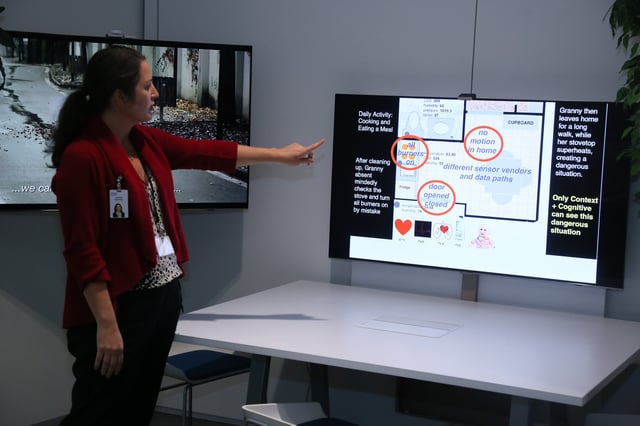 The prototype robot for this solution is the IBM Multi-Purpose Eldercare Robot Assistant (IBM MERA), which the company has been testing at its "Aging in Place" lab based in Austin, Texas. The lab was designed to mimic experiences seniors have in their own home.

Sensors can detect when the stove's burners are on, or when a person has fallen down. Even in its prototype stage, MERA is equipped with cameras to read facial expressions, sensors to capture vital signs, and Watson-powered speech recognition to know when to call for help.

Reports
A flurry of reports and predictions in recent weeks paint an increasingly positive picture for cobots and robotics in general. According to Stratistics MRC, for example, the global cobots market (which accounted for $101 million in 2015) is expected to reach $2502 million by 2022, growing at a CAGR of 58.2%.
The latest market study from Technavio predicts that the global robotics end-of-arm tooling (EOAT) market will reach USD 9.2 billion by 2020, growing at a CAGR of almost 9%.
Elsewhere, the global industrial robotics market is expected to grow at a rate of 5.4% over the next three years to reach $41 billion annually, according to research from Allied Market Research.


Experts predict human-robot marriage will be legal by 2050 (Quartz)
At the recent "Love and Sex with Robots" conference at Goldsmith University in London, David Levy, author of a book on human-robot love, predicted that human-robot marriages would be legal by 2050. But others are not convinced.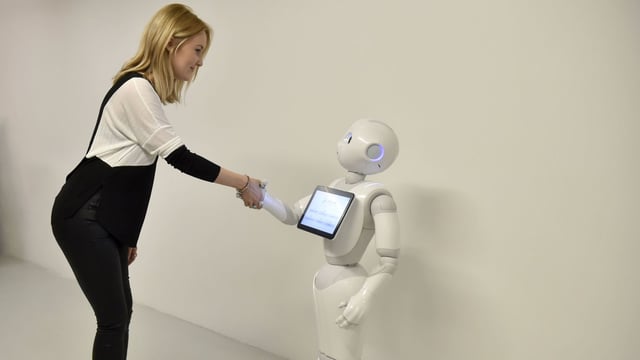 Oliver Bendel, professor at University of Applied Sciences and Arts in Switzerland, with a focus on machine ethics, says he does not believe sex or love robots will have moral standing. "Marriage is a form of contract between human beings to regulate mutual rights and obligations including the care and the welfare of children. Perhaps one day robots can have real duties and rights, though I don't really believe it," he says. However, he acknowledges that human-robot marriage could become legal by 2050 simply in response to public pressure.
Of course, fictional robots have been marrying fictional humans for decades now, as this list of human-robot marriages from io9 shows. And in 2015, two robots tied the knot in Japan.
Where will it all end? In human-robot divorce, of course.
I'll be back next week with another roundup.

Until then, hope you enjoy these videos and links!
And Finally...
Amazon files patent for flying warehouse (BBC)
Is Hollywood to blame for irrational 'Robophobia'? (Access AI)
The rise of China's medical robotics sector (Robohub)
Do Robots Need 28 Degrees of Freedom to Rescue the World? (Engineering.Com)
UN opens formal discussions on AI-powered autonomous weapons, could ban 'killer robots' (TechRepublic)
Moving Robots With Just a Thought (Wall Street Journal)
Alexa a witness to murder? Prosecutors seek Amazon Echo data (PhysOrg)
How Robots, Automation Will Impact Employment in the U.S. (GovTech)
Second key step for eye robot trial at the John Radcliffe Hospital (Oxford Mail)
Hon Hai looking to full automation in China (The China Post)
Check out NASA's asteroid-catching robot arms (Fox News)