What's New In Robotics This Week - Dec 01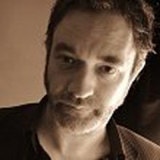 -Manufacturing & Cobot Roundup
-Soft Robot Lifts 1,000 Times Its Own Weight
-Mitra Meets Modi
-Fish Bot Detects Underground Pipe Leaks
...and much more!
Manufacturing & Cobot Roundup
ABB unveiled the newest member of its YuMi cobot family at the International Robotics Exhibition (iREX) 2017 in Tokyo this week. The new, single arm cobot has a payload of 500g.
Separately, ABB and Kawasaki announced plans to collaborate on cobot technology, effective immediately. The firms plan to work together on "the creation of industry approaches to safety, programming and communications."
Via ABB's press release:
The global cooperation will become effective immediately. Under the new cooperation, which is the world's first to focus on 'cobots,' both robot makers will continue independently manufacturing and marketing their own offerings while working together on joint technical and awareness opportunities. This includes educating policy makers, NGOs and the general public about the benefits of collaborative automation, and creating common industry approaches to safety, programming and communications.
Also at iREX, Epson unveiled its dual-armed WorkSense W-01 industrial robot...
Via Manufacturing Global:
The needs of manufacturers continue to evolve and become more complex. Industrial robots are conventionally installed in a fixed location on a line to perform a specific task, but the WorkSense W-01 was developed for easy mobility meaning it can be wheeled where necessary to perform assembly, transport, and other tasks.
Check out this pair of FANUC cobots working together. The first cobot collects and transfers parts to a second cobot which loads and unloads a drill part...
New Zealand's Science for Technological Innovation National Science Challenge Board has provided NZ$2m in funding for a two-year interdisciplinary research programme to "examine how next-generation robots can work with humans in a safe and flexible manner."
The cobot project will brings together academic experts and an industry advisory group that includes robot manufacturers, representatives of food and manufacturing industries, Māori businesses and government funding agencies.

Via ComputerWorld (NZ):
The board said the programme would lay the groundwork for follow-up projects over the next few years that would focus on making New Zealand a competitive country for the production and use of robots in small-scale, flexible manufacturing businesses and challenging environments such as those found in agriculture and forestry.
SnapWeld is an integrated MIG welding system for cobots...


Plastics Technology profiled a new cobot bottle palletizer developed by Canadian firm Proco Machnery Corp: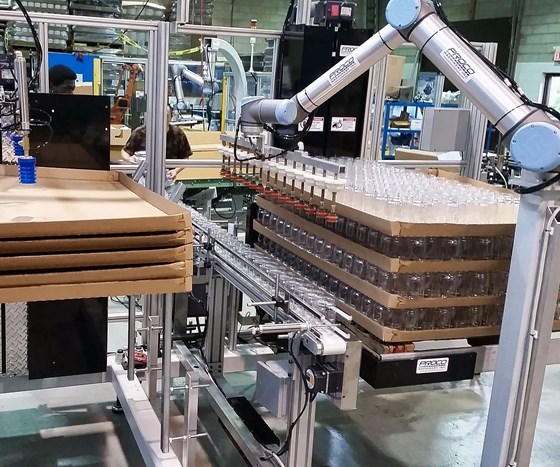 Caption: The new Proco cobot bottle palletizer.
The system automatically palletizes blow molded containers with minimal operator involvement. It is said to cost half as much as conventional automation solutions. The key to the system is a collaborative robot arm, which enables operation without safety guards, though Proco offers guard packages as an option.
A.I. firm Brain Corp. announced the first in a series of collaborative projects with SoftBank Robotics. MarketWired reports:
The joint project between Brain Corp and SoftBank Robotics will leverage BrainOS® -- Brain Corp's award-winning A.I. platform -- to develop an autonomous navigation system for a line of robotic products with multi-industry applications. This partnership reinforces the strategic vision of both organizations to empower businesses and people alike by seamlessly integrating collaborative robotics into everyday activities.
The projected decline in manufacturing jobs doesn't change the need for higher skill levels, according to Arthur Thomas, writing in BizTimes:
If manufacturers are going to increase their output with fewer employees, it will require more advanced technology, including automation, robotics, sensors, connected equipment and data. Many of the positions associated with those technologies require higher levels of skill, which [Mike Shiels, dean of applied technologies at Waukesha County Technical College] suggested can make them more dynamic, challenging and rewarding.
Universal Robots showcased some maintenance free cobots that can operate continuously in harsh environments...

Elsewhere, The Robotic Industries Association looked at 7 common robotic welding processes; Energid Technologies announced that Han's Robot has licensed Energid's Actin control software for its new line of Elfin cobots; Wired took a fascinating, in-depth look behind the scenes at Adidas' robot-powered sneaker factory; Embedded solution services provider, Hancom MDS Inc. announced that it has secured 58.07 percent stake in robotics firm CoreBell System Inc. (financial terms were not disclosed) and congratulations to FANUC, which marked the production of its 500,000th robot this week.


Soft Robot Lifts 1,000 Times Its Own Weight
Scientists from MIT CSAIL and Harvard's Wyss Institute have developed origami-inspired, soft robot 'muscles' that could be used to give soft bots greater strength.
The Verge reports:
Each muscle consists of a sealed bag filled with air or fluid, containing a folding origami structure that functions as the skeleton. When the pressure inside the bag is reduced using an electric pump, the whole structure collapses and contracts, just like the muscles in your arm or leg.
The team's design could eventually find its way into manufacturing facilities, in the form of soft grippers. Meanwhile, the researchers are already working on their next creation --a soft, elephant trunk-inspired bot, which they hope will prove to be as flexible and powerful as the real thing.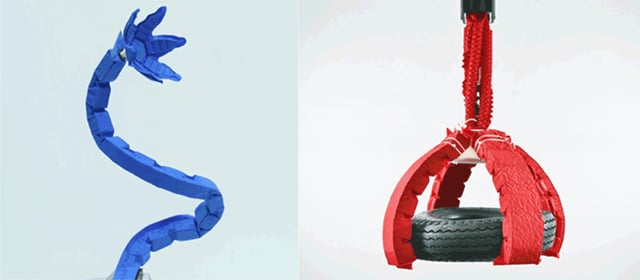 Caption: According to the team, the soft bot muscles "can be made in under 10 minutes for less than $1 - and using materials that can be found in your mattress." (CSAIL)
CSAIL has more. Read the full Proceedings of the National Academy of Sciences paper ("Fluid-driven origami-inspired artificial muscles") here.
Mitra Meets Modi
Prime Minister of India, Narendra Modi, and guest Ivanka Trump were welcomed to a technology event in Hyderabad this week by Mitra, a 5' tall humanoid service robot developed by Bengaluru-based Invento Robotics.


Via Economic Times:
Invento Robotics came into existence last year in October 2016 after the founders pivoted from their educational startup named Invento Makerspaces. "We wanted to change education with a maker-centric approach, but it turned out to be harder than we had anticipated," shares Balaji Vishwanathan.


Designed primarily for use in retail outlets, offices, airports, and hotels, Mitra boasts facial recognition capabilities, autonomous navigation skills, and can communicate in several languages.
L.A. Fish Bot Detects Underground Pipe Leaks
Researchers from USC's Information Sciences Institute revealed a new robot fish that can detect leaks in Los Angeles' aging water system.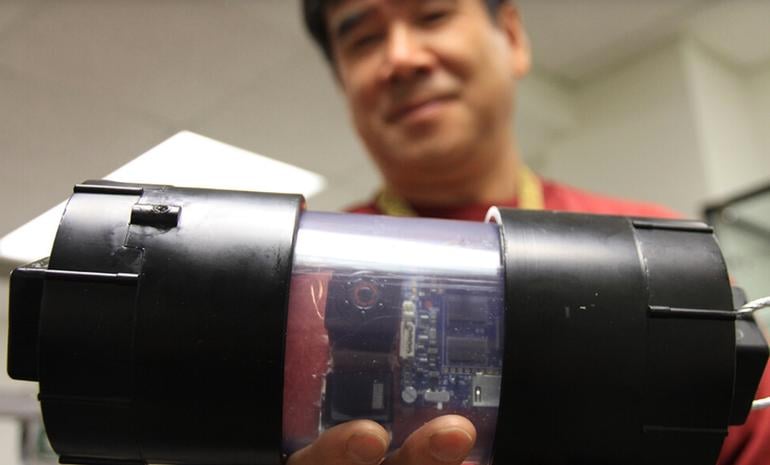 Caption: The 'PipeFish' team collaborated with the Los Angeles Department of Water and Power to test and refine the robot
Credit: Caitlin Dawson | USC Viterbi
Via ZD Net:
The PipeFish is sent through pipes by way of existing fire hydrants. As the robot swims along, it captures real-time video of the state of the water system, and sensors provide additional information on pipe quality and the robot's position as it travels.

The robot will move together with water flows, while an onboard computer will control lights, sensors, and a 360-degree camera. Other sensors can also be utilized to collect information on flow rate, gas space, and detect illegally dumped chemicals.
Robots for inspection are used everywhere from oil pipelines and nuclear facilities.to jet engines.
Also in the headlines this week, for example, is a drone and unmanned vehicle duo that perform security and inspection functions at a Chinese electricity substation.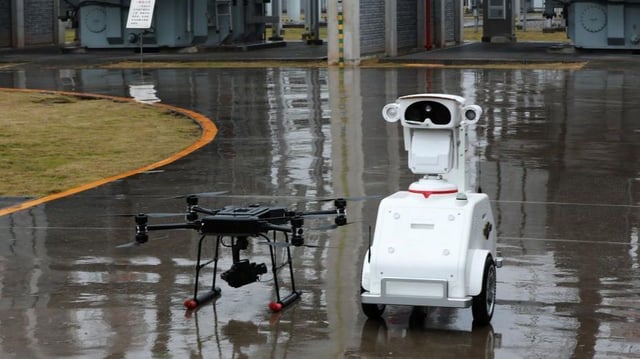 Caption: This cute pair inspect equipment and provide updates and alerts to human coworkers. (Credit: China News Service.)
GB Times reports:
The smart pair, designated by the Chongqing Electric Power Company of State Grid, will survey everything at ground level, as well as conducting surveillance of raised electricity equipment and power lines at the Yuping conversion station, Chongqing Daily reports.
I'll be back next week with more news from the world of robotics. Until then, please enjoy these videos and links!

Forget Killer Robots, These Ones Mop Your Floors (Bloomberg)
We need robots that can improvise, but it's not easy to teach them right from wrong (PhysOrg)
With 'material robotics,' intelligent products won't even look like robots (Oregon State University)
Lyft Receives Permit To Test Autonomous Vehicles in California (AUVSI)
Mercedes Plans More Drone Deliveries After 100 Perfect Flights (Bloomberg)
With 'material robotics,' intelligent products won't even look like robots (EurekAlert!)
Technical Safety BC partners with Generation R to deliver an ethics roadmap for Artificial Intelligence and data analytics initiative (Technical Safety BC)
Robot automation will 'take 800 million jobs by 2030' - report (BBC)
This is the smartest robotics company in the world (ZDNet)
Humanoid Robot: Tireless Companions (CIO Review)