What's New in Robotics This Week - Aug 25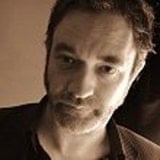 by
Emmet Cole
. Last updated on Aug 25, 2017 7:00 AM
Posted on Aug 25, 2017 7:00 AM. 11 min read time
- Manufacturing & cobot roundup
- Experts call for robot weapons ban
- Pepper champions robot rites
- On being rude to robots.. and much more.
We hope that the news we have selected will interest and amuse you. Enjoy!
Manufacturing & Cobot Roundup
Two European Union-funded projects designed to improve human-robot collaboration in industrial scenarios were profiled in Horizon this week. The An.Dy Project is examining ways that cobots can anticipate their human colleagues' actions: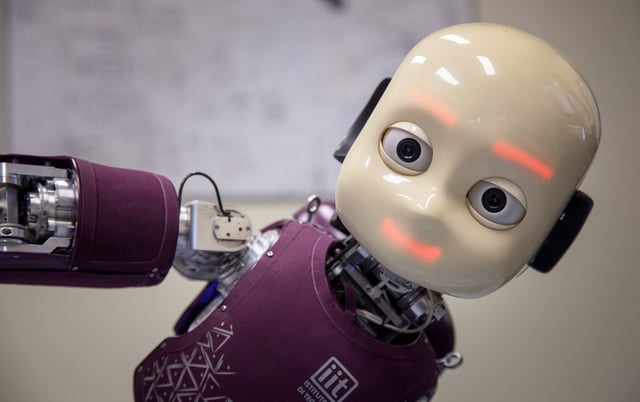 Caption: Robot co-workers could help out with repetitive jobs and heavy lifting by reacting to human actions. Image credit - Italian Institute of Technology
'Ideally robots should be able to sense interactional forces, like carrying a table with someone,' said Francesco Nori, who coordinates the EU-funded An.Dy project which aims to advance human-robot collaboration. '(Robots) need to know what the human is about to do and what they can do to help.'
The second project, called SecondHands and led by the UK's Ocado Technology, is designed support the work of human support technicians:
Duncan Russell, research coordinator at Ocado Technology explained: 'Parts need to be cleaned and parts need replacing. The robot system is being designed to help the technicians with those tasks.' [...]

'The robot will understand instructions in regular language – it will be cleverer than you might expect,' said Russell. 'Ask it to pass the screw driver, and it will respond asking whether you meant the one on the table or in the toolbox.'
Dallas News highlighted the robotics training gap in a piece showing that manufacturing jobs are indeed available, but workers lack the skills to fill these positions:
American manufacturers have actually added nearly a million jobs in the past seven years. Labor statistics show nearly 390,000 such jobs open.

The problem? Many of these are not the same jobs that sustained the working class for decades. More and more factory jobs now demand education, technical know-how or specialized skills. And many of the workers set adrift from low-tech factories lack such qualifications.
With similar training issues in mind, Tom Green at Asian Robotics Review asks whether it is time to attract young people in Thailand and other countries into robotics training using the magic of K-pop:
I'm at a Thai technical school surrounded by students in their late teens and early twenties who are themselves in a crowd surrounding and leaning in very close to and ogling their newest object of fascination: a UR5 cobot from Universal Robots.

The students tell me that they do not want anything to do with formal college or university education; they love things mechanical and want to train just enough to work alongside machines to get jobs done.
Japan wants to use automation, not immigration in response the problem of its aging demographics, says Bloomberg. South Korea is now the country with the highest robot density.
Hogan Manufacturing showed off its welding robot...


The Manufacturer explored the "three main misconceptions about cobots":
1. Cobots are the only collaborative robots
2. Cobots can always work without safety caging
3. Cobots operate faster and are more productive than human workers
The People's Daily profiled an unmanned factory in northern China that prepares, makes, and packages dumplings...
Oliver Giertz product manager for Robotics, Servo and Motion at Mitsubishi Electric Europe suggested in Control Engineering that it's time to explore "cooperative robotics."
The University of Birmingham showed off a new "human-robot collaborative disassembly system" for water pumps...


ROBO, the Exchange Traded Fund that tracks the ROBO Global Robotics & Automation Index, has surpassed $1 billion in assets under management in less than 4 years since its launch.
Argentinian security researchers demonstrated attacks against industrial and personal robots that can enable hackers to transform them into surveillance devices.



Via Wired:
[The researchers claim] that they can hack those machines to either change critical safety settings or, in the case of the two smaller bots, send them whatever commands they choose, turning them into surveillance devices that silently transmit audio and video to a remote spy.
Plastic injection molding company, Tennplasco, solved its labor shortage issues and achieved RoI just three and a half months after installing a Sawyer cobot from Rethink Robotics...


Safran Landing Systems, a landing gear systems manufacturer, has partnered with Sifco Applied Surface Concepts to create a specialist automated plating solution: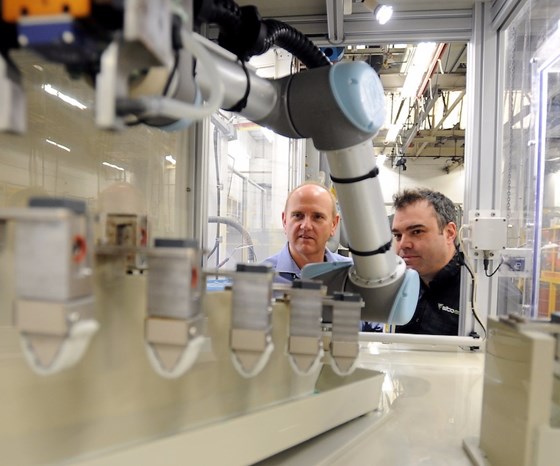 The robot, now fully operational at Safran's facility, provides the company with a precise and highly traceable, repeatable and accurate process, well-suited to the high-tech facility in which it sits. The integrated computer logs all relevant information, including parameters plated, batch numbers for the solution, current densities and solution levels. The fully automated system also adheres to the company's health and safety policy, as it minimizes human contact with harmful chemicals.
The World Robotics Conference is being held this week in Beijing. I'll have more next week, but in the meantime...
Experts Call For Robot Weapons Ban
Elon Musk and other experts from the world of robotics and AI have called on the UN to preemptively ban lethal autonomous robots.

Philip Ball in The Guardian argues that it is already too late for such a ban:
By all means let's try to curb our worst impulses to beat ploughshares into swords, but telling an international arms trade that they can't make killer robots is like telling soft-drinks manufacturers that they can't make orangeade.
Lt. Col. Ralph Peters (Ret.) made a similar point on Fox News...



The UK government responded quickly by saying it will not support the proposed ban.


Pepper Champions Robot Rites
No. That's not a typo.

Thanks to some third-party mods, the cute humanoid robot Pepper is now able to perform Buddhist funeral rites.


According to TechCrunch, however, it shouldn't.


On Being Rude To Robots
Tom Cheshire, Technology Correspondent at Sky News pondered the following question this week: "Is it OK to be rude to robots?"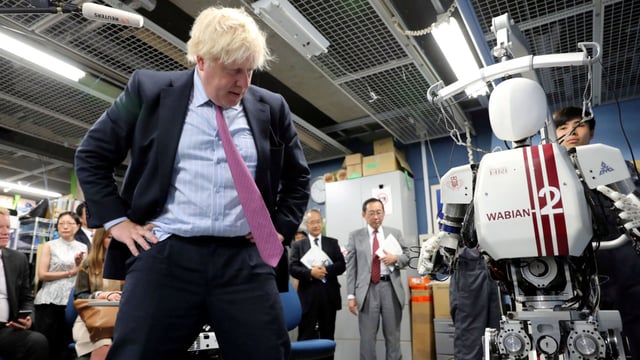 Caption: British politican Boris Johnson not being rude to a robot. (Source: Sky News)
Personally, I'd like my human-like robots and AIs to be rude to me, because it keeps me on my toes, but in answer to Cheshire's question:
Yes. It is fine to be rude to a robot, but only in moderation. Robots cannot suffer. Better be rude to a robot than a colleague. Best not be rude at all.
However, I suspect that future research will show that just as poor treatment of animals has been linked to psychopathy, the overall pattern of how an individual treats robots and AIs (particularly of the humanoid type) will be shown to be a strong indicator of underlying personality features and, as such, will not be easily separated out from interactions with other entities, including humans.

In short: in the future it will be possible to derive useful insights into an individual's personality by examining their style of human-robot/AI interaction.

I'll be back next week with more news from the world of robotics. (It would be rude of me not to.)
Until then, I hope you enjoy these videos and links!
Artificial intelligence predicts dementia before onset of symptoms (AlphaGalileo)
Robot in Islamabad leaves your car spick and span (Saama TV)
CDOT Showcases Autonomous Vehicle Designed to ProtectRoadway Maintenance Crews (AUVSI)
Latest robots designed to work alongside human workers (The Australian)
China's Robot Revolution May Affect the Global Economy (Bloomberg)
SprayPrinter's latest graffiti robot hits new heights (New Atlas)
Automated safety systems are preventing car crashes (PhysOrg)
Effort to marry robotics, AI will ramp up to aid manufacturing (China Daily)
Amazon Has Developed an AI Fashion Designer (MIT Technology Review)
Cambridge Medical Robotics Forms World's Smallest Surgical Robot (Talk Investor)