What's New in Robotics This Week - Aug 18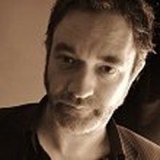 Manufacturing & cobot roundup, super self-healing soft bots, time to replace pets with bots?, A.I. set to reshape music and art, and much more... We hope that the news we have selected will interest and amuse you. Enjoy!
Manufacturing & Cobot Roundup
The Brookings Institute released a report that shows the penetration of robots into American industries and U.S. metropolitan areas.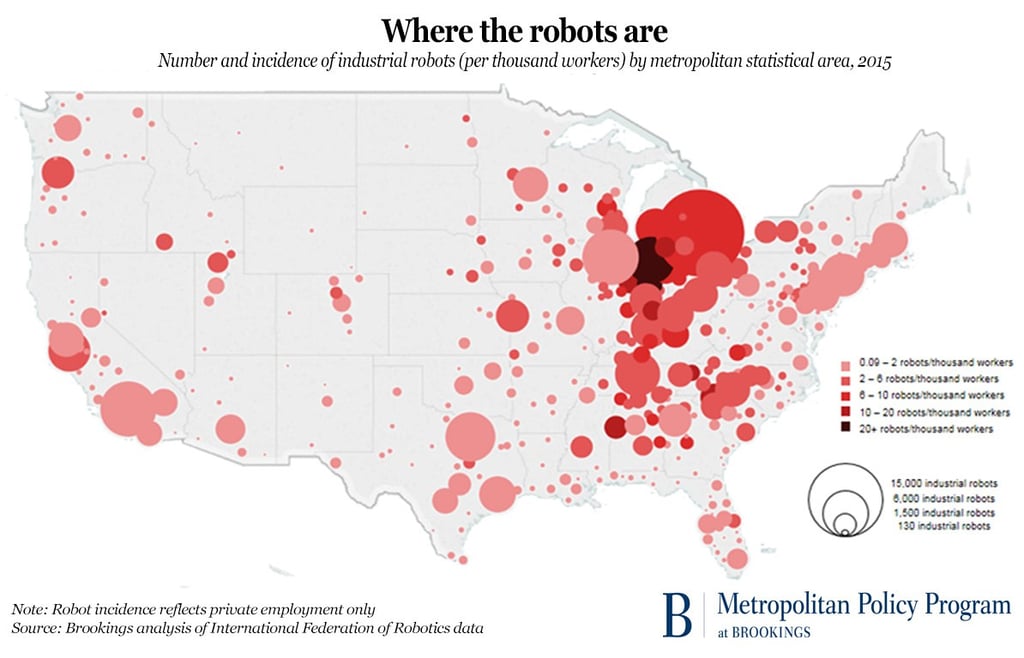 The "Where The Robots Are"report shows that industrial robots are "clustered heavily" in a handful of Midwestern and Southern manufacturing states, especially the upper Midwest:
This clustering follows logically from the fact that the auto industry—highly concentrated in the Midwest and upper South—currently employs nearly half of all industrial robots in use. (Lesser but significant users are the electronics and rubber and plastics industries).
The Verge has more.
Researchers at IRT - Leibniz Universität Hannover have proposed a "framework for task allocation in human-robot collaborative assembly planning"...
Matrix Design announced that it will demo a new modular robotic Deburr Demo Cell at Gear Expo 2017 in October: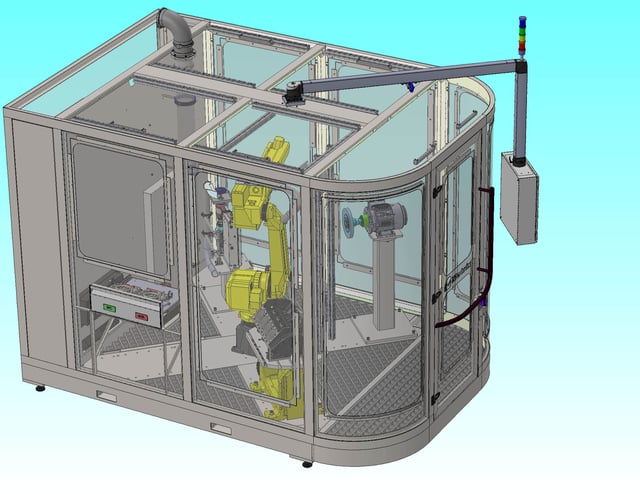 This modular-designed automation system includes four interchangeable stations arranged in a quadrant formation around a single M-20iA35M FANUC robot, each featuring various deburring solutions that address the unique challenges associated with deburring.
Car maker Audi is using cobots to help assemble its RS 5 Coupe. At the firm's plant in Ingolstadt, Germany, the bot (dubbed 'KLARA') is used to apply adhesive to the car's roof.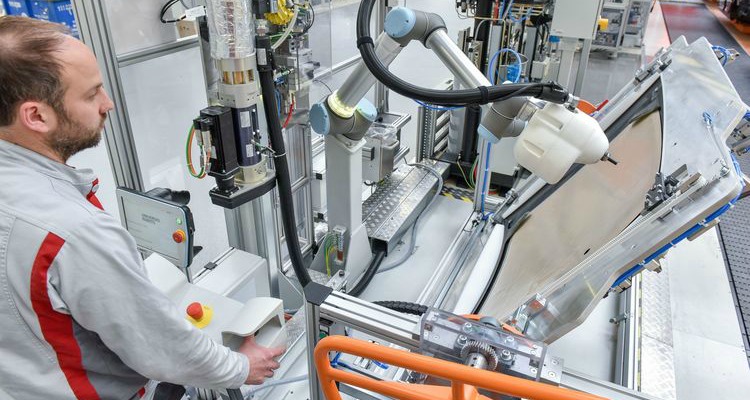 Caption: Human-robot collaboration at Audi.
The human-robot collaboration on each roof is a multi-step process that begins with a human employee placing the CFRP roof on a rotary table and tilts it. The application of adhesive is triggered by pressing and holding a button. An illuminated ring indicates when KLARA has precisely applied adhesive over a length of more than five meters. The robot then signals that the roof is ready for installation. The employee takes the roof with the aid of a handling device and installs it in the car.
The system comes with sensors designed to recognize when it is too close to a human and contact has been made (events that lead to an immediate stop). It also indicates danger using an illuminated ring that turns red when there are any disturbances in its vicinity.

South Korean robotics company Robot Plus unveiled an unmanned barista this week as part of the celebrations around the opening of the firm's new manufacturing plant: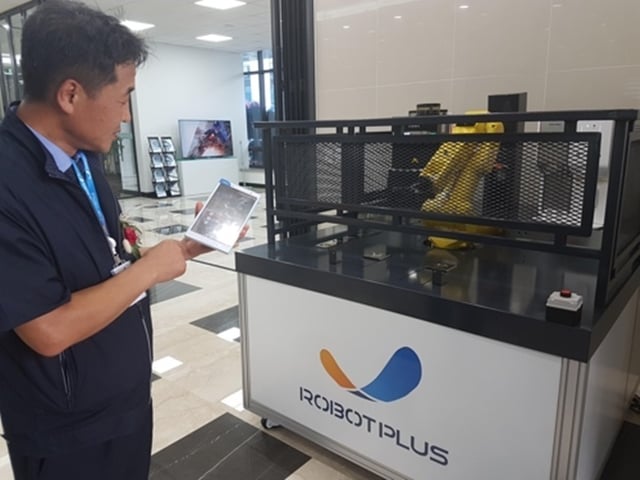 Caption: A customer sends the bot an order for coffee (Image: Yonhap)
Hong Sang-gon, the CEO of Robot Plus, said, "It's the first time robotics technology was applied to the field of baristas in South Korea, which as a result could save labor costs and help businesses promote themselves.

"To better incorporate the barista robots with humans, we'll continue our efforts to improve their design and movement."
Kostal UK is using cobots from Universal Robots to increase productivity and reduce costs...

Greg Buehl, senior engineer of collaborative robots at FANUC, discussed how machine operators can operator can do more value-added work with the help of a cobot.
USC Viterbi showed off a system designed to augment "human-robot collaborative work cells" using sensor feedback...
Automation World published a useful advice piece for those trying to choose between a traditional industrial robot and a cobot:
Cobot Pros:
* Can typically share a workspace with employees;
* If no safety cell is required, initial cost of integration and production floor disruption are reduced;
* Relatively simple to program and integrate; and
* Return on investment can typically be achieved in less than a year.
Elsewhere, KUKA Toledo Production Operations celebrated the completion of its two-millionth Jeep Wrangler body-in-white for both two-door and four-door models'; a fund focused on robots and AI is "crushing it"; and Global Manufacturing took a look at energy-efficient industrial robots.
Super Self-Healing Soft Bots
Soft robots that can repair themselves are now a reality thanks to the work of researchers at Researchers at the Vrije Universiteit Brussel, Belgium.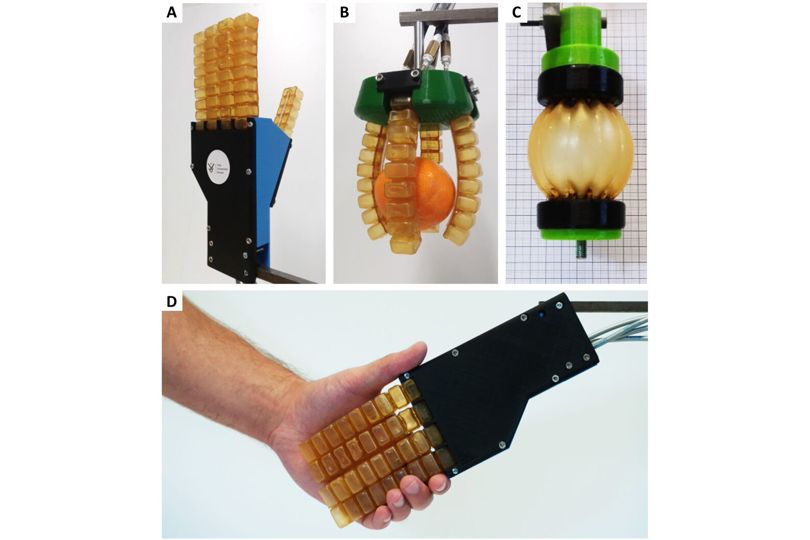 Caption: Soft robotic components used in the research. (Credit: Bram Vanderborght)
Via Wired:
During their experiments, the team built soft robots made entirely from rubbery polymers. When damaged, these materials first recovered their original shape and then healed completely.

Once a soft robot is damaged, the material is able to heal after being heated for 40 minutes at 80°C. After 24 hours at 25°C, the damaged robot's strength and flexibility would also be restored.
The team's article was published in Science Robotics.
New Scientist has more.
Time To Replace Pets With Bots?
Questions about whether it is ethical to keep animals as pets have been around for centuries. But with pet-like robots becoming more and more advanced, that question becomes: is it ethical to keep animals as pets when there are robotic alternatives available?
The New Zealand Herald tackled the topic in a thoughtful piece:
Companion animals, when treated empathetically, are good for our heads and hearts.

[Philip Armstrong, co-director at the New Zealand Center for Human Animal Studies] is not convinced a robot can fill the void.

"Until robots have consciousness and can suffer, you can't really have empathy with them, and therefore they can't help you develop empathy."
What I want to know is whether robot pets should have rights?
A.I. Set to Reshape Music and Art
Artificial intelligence is constructing the building blocks of new art forms and genres, according to a fascinating feature in the New York Times: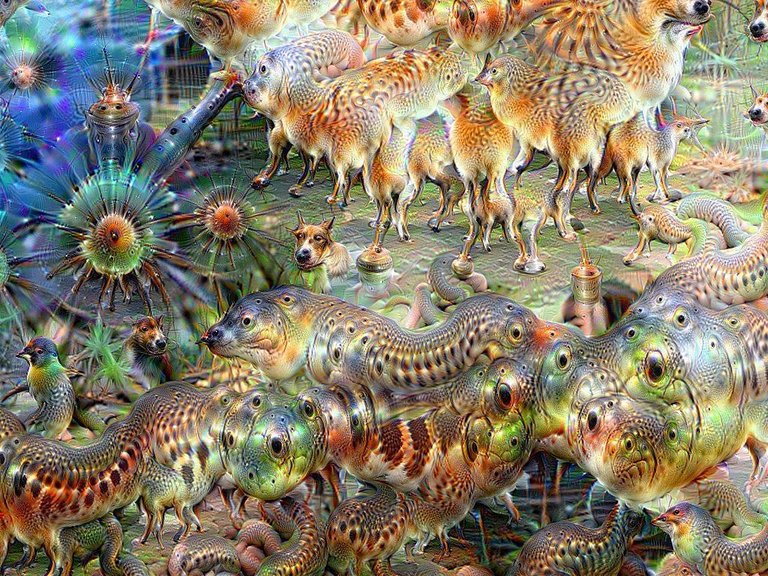 Caption: An image created by artificial intelligence. (Was the AI influenced by Bosch and Dali?)
The project is part of a growing effort to generate art through a set of A.I. techniques that have only recently come of age. Called deep neural networks, these complex mathematical systems allow machines to learn specific behavior by analyzing vast amounts of data.
Meanwhile, Quartz asked "If an AI creates a work of art, who owns the rights to it?"
Eran Kahana, an intellectual-property lawyer at Maslon LLP and a fellow at Stanford Law School, doesn't believe we should award authorship to AIs. He explains that the reason IP laws exist is to "prevent others from using it and enabling the owner to generate a benefit. An AI doesn't have any of those needs. AI is a tool to generate those kinds of content."
Elsewhere in this week's AI reading, The Telegraph asked "What does AI mean for the future of manufacturing?," MIT Technology Review investigated the "the Increasingly complex algorithms that get packages to your door," and Space News took a look at how AI is "changing space systems."
Several experts predict that most journalists will be out of a job within 10-15 years.
I am sure an exception will be made for robotics journalists.
Regardless, I'll be around until next week, at the very least, with more news from the world of robotics. Until then, I hope you enjoy these video and links!

The Whys and Hows of Becoming a Robotics Engineer (Machine Design)
10 Things Robots Can't Do Better Than Humans (Forbes)
Scanning a Jet Wing in Under Four Minutes (Engineering.Com)
New robots to help dementia sufferers (Sky News Australia)
Introducing AURA, the room service robot (CNN)
Smarter robot vacuum cleaners for automated office cleaning (PhysOrg)
Ulcer-fighting Robots Swim Through Stomachs to Deliver a Cure (Discover Magazine)
How Much Would You Pay to Drive a Jumping Robot on the Moon? (IEEE Spectrum)
NSF grant bolsters OSU's efforts in robotics, artificial intelligence, marine studies (Oregon State)
Artificial Intelligence is the engine of the fourth industrial revolution (The Hindu)