What's New in Robotics This Week - Aug 11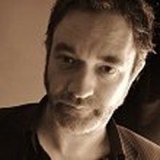 Manufacturing & Cobot Roundup; South Korea Ponders 'Robot Tax'; JPL's Clockwork Venus Rover; People Prefer Bots That Make Mistakes... and much more. We hope that the news we have selected will interest and amuse you. Enjoy!
Manufacturing & Cobot Roundup
Bentos --small portions of rice, vegetables, and other snacks packed in a box-- are a growing business in Japan.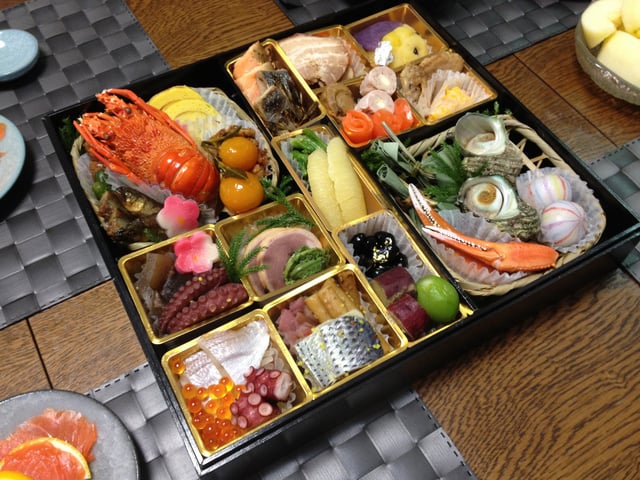 Caption: A selection of bentos. (Via Pinterest.)
According to the Financial Times, Yaskawa has set its sights on creating a robot that can pack all these items efficiently:
"The thing we at Yaskawa Electric are wrestling with now is the convenience store lunch," explains Akira Kumagae, head of motion control at Japan's number two maker of factory robots, with a market capitalization of $7bn. "We think maybe this is our next business chance."
Fanuc showed off Esys Automation's cobot setup being used to apply urethane to automotive glass...
Smart Industry took a look at Rethink Robotics' cobots:
"Millennials don't want manufacturing jobs," [Lawton] posits. "There are too many other cool things to do." Likewise, competition demands that businesses get on board. "Humans are—relatively speaking—imprecise," he says. "If I have a factory full of robots and you don't, my robots are going to win."
India's TAL manufacturing solutions has launched a new welding robot.
The cylindrical robot market is expected to grow from US38.11billion in 2016 to US71.72billion by 2023, at a CAGR of 9.60%, according to a new report. A separate new report predicts that the global packaging robot market will reach $5 billion by 2024 up from $2 billion in 2016, growing at a CAGR of 14.6%.
Rethink Robotics asked "How are collaborative robots trained?"


Too many scare stories about job losses are masking the potential benefits of automation to society, says The National. Meanwhile, CNBC reported that next-gen robots are "the latest victims of workplace abuse."
A Robotiq gripper was spotted being used in a Universal Robots demo set up by MSI Tec...


Asian Robotics Review took a fascinating look at the proposed Kra canal and the potential impact such a project might have on automation in Thailand and neighboring countries.
This custom weld system uses ABB's IRB 7600 and IRB 2600 robots...


Luo Jun, CEO of industry think tank the International Robotics and Intelligent Equipment Industry Alliance, spoke with Global Times about China's place in manufacturing and robotics:
China has struggled to keep pace with Western countries in developing and researching robots, and the techniques behind core components of industrial robots, such as electrical machinery and controllers, are monopolized by Japan and Germany, according to Luo.

China has invested 600 million yuan in 42 robotics programs this year as part of the country's massive "Belt and Road" initiative. In other China news, some Chinese warehouse robots have tripled efficiency, according to Sino.co.uk, and Xinhuanet previewed the forthcoming World Robotics Conference in Beijing.


Back in North America, researchers at the University of Texas have been awarded a US$999,638 grant by the National Science Foundation to develop a robot-based system that "assesses workers' physical, cognitive and collaborative skills while they perform simulated manufacturing tasks" --all with the aim of improving human-robot collaboration in manufacturing environments.
South Korea Ponders 'Robot Tax'
The South Korean government has proposed a 'robot tax' that would will limit tax incentives for investments in automated machines as part of a newly proposed revision of the country's tax laws.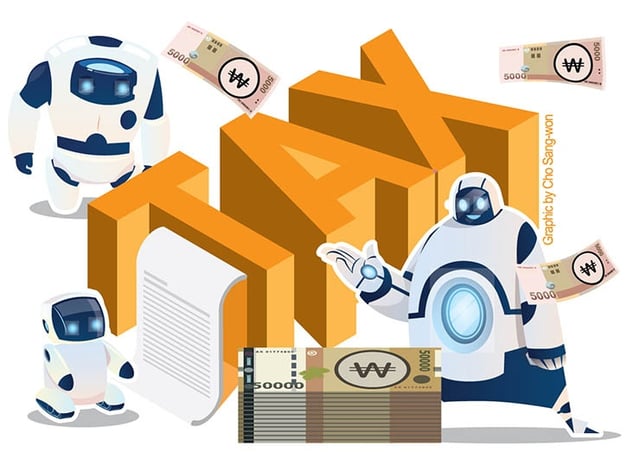 Caption: Via South China Morning Post
The Korea Times reports:
The original definition of a robot tax is to levy tax on the use of robots for industrial automation. With more advanced and high-powered robots introduced at workplaces, human workers will naturally lose their jobs. In the meantime, the government will need more funds for welfare programs amid the rising unemployment rate. The notion of a robot tax has been made to make up for the decreasing tax revenue on such a backdrop.
ZDNet has more.
JPL's Clockwork Venus Rover
Experts at NASA's Jet Propulsion Lab have unveiled a proposal for a 'clockwork rover' specially designed to handle the extremely difficult conditions on the surface of Venus.
How difficult? Check this out...


Via IEEE Spectrum:
With funding from the NASA Innovative Advanced Concepts (NIAC) program, the JPL team wants to see whether it might be possible to build a Venus exploration rover without conventional sensors, computers, or power systems. The Automaton Rover for Extreme Environments (AREE) would use clockwork gears and springs and other mechanisms to provide the majority of the rover's functionality, including power generation, power storage, sensing, locomotion, and even communication: no electronics required. Bring on the heat.
People Prefer Bots That Make Mistakes
Researchers comparing how people react to robots that exhibit faulty behavior versus perfectly performing counterparts found that participants took a significantly stronger liking to the faulty bots.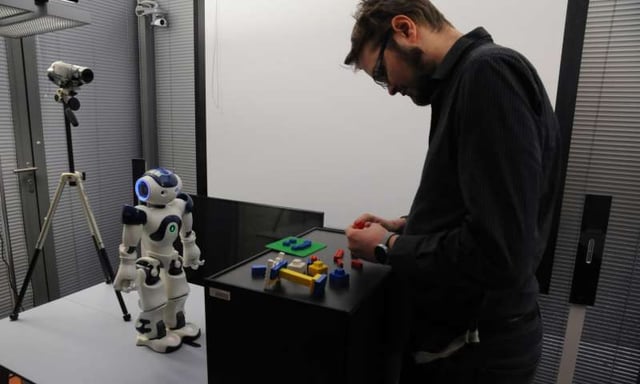 Caption: A study participant interacting with a NAO robot during the experiment. Credit: Center for Human-Computer Interaction
Via PhysOrg:
Through interviews and user ratings, the research team found that somewhat surprisingly, erroneous robots were not perceived as significantly less intelligent or anthropomorphic compared to perfectly performing robots. Instead, although the humans recognized the faulty robot's mistakes, they actually rated it as more likeable than its perfectly performing counterpart.
This study confirms some previous research.
Back in 2015, a team of UK researchers found that people reported feeling "more intimate with the robots when the robots made mistakes and showed imperfect activities during interactions."
Separate studies have shown that humans will lie to robots in order to protect robots' 'feelings.'
How could people lie to the cute Keepon robot shown in the video below?



Via Business Insider:
It's hard for people to empathize with others who are intimidating, emotionless, and never wrong, the researchers argue — so it might be just as difficult to get along with cold, expressionless, perfect robots.
Put these two findings together and it's interesting to wonder about the implications for humanoid robot and AI design.

It turns out that not only are we primed to regard some humanoid robot designs as more competent than they are simply because of appearances, but we are also primed to feel attraction towards bots that are slightly error-prone AND on top of all that we tend to make allowances for bots that make errors in any case.




With all that in mind, how sophisticated, competent, and human-like will humanoid robots and human-like AIs need to be in order to be good enough to convince most of us?

Perhaps they won't need to be as advanced as we think...

Speaking of mistakes, even the most sophisticated robots can have their moments (especially when under remote control on stage), as Boston Dynamic's outstanding humanoid Atlas demonstrated in a video released this week.

The action and adventure begins at 4m in.




Assuming that I don't tumble off stage anytime soon, I'll be back next week with more news from the world of robotics.



Until then, hope you enjoy these videos and links!
















What is a Robot under EU Law? (The National Law Review)
The New Retirement Income Plan: Hire A Robot To Work For You (Forbes)
Why Asimov's Laws won't save us from bad robots (SXSW Panel Picker)
That Guy Dressed Up As A Car Seat To Solve A Robocar Riddle (Wired)
Auris Surgical Robotics raises another $280 million (Robohub)
When Robots Help with Shopping (Karlsruhe Institute of Technology)
3M partnership will use drones for wind turbine maintenance (Digital Journal)
The Essential Interview: Gurvinder S. Virk, Robot Standards Expert (Robotics Business Review)
UC Davis underwater robot measures Lake Tahoe climate change (KCRA)
Martian-Inspired Tripod Walking Robot Generates Its Own Gaits (IEEE Spectrum)