What's New In Robotics This Week - 09.02.2018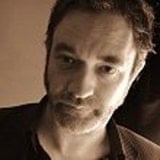 -Manufacturing & Cobot Roundup
-Bumbling Drones, EHang 184 & Bot Opens NYSE
-Real-Time Biomimicry & Bot Interrupts Politician (Gets Formatted)
-And much more!
Manufacturing & Cobot Roundup
A new project involving Olympus Automation, the University of Lincoln and English Provender Company has been launched to explore how best to integrate automation into food manufacturing processes. The project, which has more than US$1 million in UK government funding to work with, features a micro-ingredient weighing station that uses a cobot to weigh powdered ingredients to an accuracy of 1g. (Bakery & Snacks has more.)

CapSen Robotics introduced CapSen PiC an "all-in-one bin picking solution"...
The average global robot density in the manufacturing sector rose to 74 robot units per 10,000 employees in 2017, up from 66 units per 10,000 employees in 2015, according to the latest figures from the International Federation of Robotics.
Via Digital Journal:
By regions, the average robot density in Europe is 99 units, in the Americas 84 and in Asia 63 units. The top 10 most automated countries in the world are: South Korea, Singapore, Germany, Japan, Sweden, Denmark, USA, Italy, Belgium and Taiwan.
For the first time, the UK becomes the only country in the G7 to have fallen below the global average in industrial robot density.


Mexico's Grupo Baeur showed showed off some of its work with cobots from Universal Robots...


For the second consecutive year, the Toyota Research Institute has donated US$1 million to the Open Source Robotics Foundation, an organization that provides the global robotics community with access to open source robotics software and development tools.
Radiall revealed a collaborative system for the automated assembly of fiber optic connectors that integrates two Asyril Asycube 80s with ABB's YuMi cobot...

The South Korean government is to promote cobots for manufacturing, Business Korea reported:
To this end, industry, academic and research institutions will join hands to implement a strategy to advance the robot industry. They has aggressively promoted the market of collaborative robots that are frequently used in manufacturing and established a medium and long-term development strategy to secure the competitiveness in key components for robots.
Check out this tank-cleaning robot from Scantron Robotics clearing sand at an industrial chemical plant...


Between 2016 and 2025, global revenue of cobot shipments will experience a compound average growth rate of 49.8% (compared to 12.1% for industrial robots and 23.2% for commercial robotics), according to a new report from Market Analysts ABI Research.
Market Insider reports:
Small-to-Medium Businesses (SMBs) are driving the increased demand for collaborative robots, as cobots provide solutions that allow for a more flexible kind of manufacturing that makes no assumptions as to volume levels or types of products being manufactured.
The Wall Street Journal ran a must-read piece about the "New Robot Revolution in Manufacturing" with some fancy video on the side...


The UK's specialist awarding organisation for industry, EAL, launched a new Certificate in Robotics and Automation "aimed both at engineers at the beginning of their working lives and existing professionals who now need to acquire new skills."

Via The Telegraph:
Developed in association with Jaguar Land Rover and Birmingham Metropolitan College, the EAL certificate will, [Alison Parkes, chief operating officer of engineering skills organisation Semta] says, plug an important skills gap for the SMEs that together make up more than 99 per cent of the advanced manufacturing and engineering sector (AME).
Farason Corporation showcased an automated system that uses 13 different FANUC robots with custom-designed suction cup end of arm tools to handle and assemble proof coin sets...
The Global X Robotics and Artificial Intelligence Thematic ETF (BOTZ) --an Exchange-Traded Fund that tracks robotics companies-- added US$659 million in new investments in January. BOTZ has grown to US$2.4 billion in assets since its founding in 2016.
ROBO, another robotics-focused ETF added assets of US$220 million in January.

Via ZDNet:
The one-month performance of each would be respectable for any diversified equity fund, but analysts are calling BOTZ's big rake phenomenal for a thematic fund focusing on a niche technology sector.

The investor interest isn't particularly surprising given industry trends. The robotics market is poised to drive $135.4 billion in spending in 2019, up from $79 billion two years ago.
Siasun has chosen Elmo Motion Control as "exclusive motion control provider" for its cobot....


The Dow's "tanking" this week won't deter the pace of automation growth, says Asian Robotics Review:
Investment indicators, especially the boffo month ETFs (Exchange-Traded Funds) experienced in January, are suggesting that investors are buying the buffet table of broad-based funds rather than trying to out think the market.
Check out this new video of AUBO Robotics' cobots working side-by-side with humans...

Elsewhere, ABB has inaugurated a new Regional Application Center at the company's Central and Eastern Europe headquarters in Warsaw, bringing new demonstration, training and testing facilities to ABB's operations in the region; Reuters' Factbox asked "Who is fuelling East Europe's automation drive?"; Travel agency H.I.S. Co. announced ambitious plans to build eight more android-staffed Henn na Hotels in Japan; and a Sawyer cobot started a new career as a barista in Tokyo...

Engineering.com's Jim Anderton spoke with Paul Marcovecchio, sales manager at Kawasaki Robotics, about how cobots allow companies to add automation with a minimum of disruption to existing production lines and cells.


The AUTOREMAN team at the UK's University of Bimringham showcased a two-robot collaborative disassembly system for water pumps...
A new report by PwC says automation will arrive in three waves, some of which have already begun: 'algorithms' (data analysis), 'augmentations' ("Lasting into the late 2020s, repeatable tasks and the exchanging of information, like financial data analysis, will evolve into a hybrid of humans and automated systems working together") and 'autonomy' ("Starting by the mid-2030s, machines and software will make decisions and take physical actions, like driving cars, with little or no human input").


Studio Babelsberg, a film studio in Potsdam, Germany, is using industrial robots from KUKA to sculpt film props from large foam blocks...


Occupational Health & Safety ran an informative feature about cobot safety, which includes a reference to ISO/TS 15066 (an ISO Technical Specification that outlines how to perform a risk assessment for a collaborative robot cell):
In the future, as cobot use rapidly expands throughout industry, regulation of this technology will grow more focused and specific. Consider this: Although cobots currently represent only 3 percent of all industrial robots sold, they are projected to account for 34 percent of the industrial robots sold by 2025, a market that itself is set to triple in size and dollar volume over that period.
Freelance Robotics demonstrated control of a UR5 cobot using an infrared motion capture device...


High-tech Taiwanese firms are taking advantage of the Chinese government's "smart upgrading policy," says Global Times:
This [policy] has provided ample opportunities for high-tech companies in Taiwan, which have found the island's market is not big enough to support their ambitions.

"Taiwan is good at designing software for intelligent manufacturing, like developing robot languages, while mainland companies embody stronger expertise in 'hardware' production," Huang Kunrong, president of Taiwan-based Suzhou Fast Rich Robot Technology Co, an industrial robot maker, told the Global Times.
The R&D team at Haden & Custance has programmed an ABB YuMi cobot to perform the haka --a ritual dance routine performed by New Zealand rugby players before matches...
In a submission to am Australian Senate inquiry into the "Future of Work and Workers", Geoff Roberts, CFO of Australian jobs website Seek, warned of a hollowing out of mid-level jobs due to the rise of automation.
Finally, Patrick Dixon took a tour of a Toyota facility in Sweden to see how Industry 4.0 is transforming manufacturing processes...
Bumbling drones, All aboard EHang 184! & Humanoid opens NYSE
IEEE Spectrum ran a fascinating update on the work of Vijay Kumar's lab at the University of Pennsylvania, where researchers are busy designing a drone system that "handles obstacles by simply running into them, bouncing around a bit, and then moving on."
The team says these "bumbling drones" require increased agility to change direction easily and could be used to map obstacles and deploy payloads.
Elsewhere, Brian Wynne, president and CEO of the Association for Unmanned Vehicle Systems International (AUVSI), issued a statement "regarding his deep concerns about a video that was posted on the internet that shows an unmanned aircraft system (UAS) flying directly above an airliner making its final approach at Las Vegas McCarran International"...
"All UAS operators need to understand their aircraft, stay well-clear of manned aircraft and adhere to the law. AUVSI supports strict enforcement against careless and reckless operators who endanger the safety of the airspace and violate the law. AUVSI is committed to the safe and responsible use of UAS and co-founded the Know Before You Fly campaign with the FAA and the Academy of Model Aeronautics to provide education and guidance to the UAS community."
The EHang 184 autonomous passenger drone made its first public flight in China...
With some help from a drone, an entrepreneur from the remote village of Akçali in Turkey has found a way to connect to GSM networks that are typically out of reach. Daily Sabah reports:
Ali Yücel Kaya uses his drone to lift his cellphone to a higher altitude to connect to the operator. Then, Bluetooth on another phone is used to reach Kaya's phone from down on the ground. Kaya charges TL 1 (US$0.27) for 10 minutes. He said the drone has to go up as much as 10 meters before a phone could connect to a GSM operator.
Meanwhile, a drone hobbyist flying his drone near Australia's Bondi Beach spotted an injured dog, which was later saved by a rescue team; Singapore launched a drone-based delivery research project; and lawmakers in Kentucky and Virginia called for restrictions on hobbyist drone use.
After two years of testing, the autonomous Sea Hunter drone warship was handed over to the US Navy for possible deployment in 2018...




In other news, The Guardian says that the latest household robots are "more than just expensive toys"; Policy Options says that AI does not present a threat to the future of nursing, but "an opportunity for people and machines to collaborate on problem-solving and innovation"; and Hanson Robotics' humanoid bot Bina48 (the same bot that passed a college philosophy class last year) opened Tuesday's trading session at the New York Stock Exchange...
Real-time biomimicry, A versatile milibot & Service robot interrupts politican (Gets Formatted)
A team at the NYU Tandon School of Engineering has created zebrafish-inspired bots that can observe --and then mimic-- the behavior of living zebrafish in real-time.




Caption: Credit: NYU Tandon School of Engineering
PhysOrg reports:
"Porfiri and a team of collaborators tapped advances in real-time tracking software and robotics to design and test the first closed-loop control system featuring a bioinspired robotic replica interacting in three dimensions with live zebrafish. The system allows the robotic replica to both "see" and mimic the behavior of live zebrafish in real time."
The team is currently studying social interactions among zebrafish to see whether the bot can infiltrate zebrafish society and culture before eventually taking it over be trained to understand and respond appropriately to zebrafish social cues.
Korea announced plans to host the world's first robot ski competition on the sidelines of the Winter Olympics.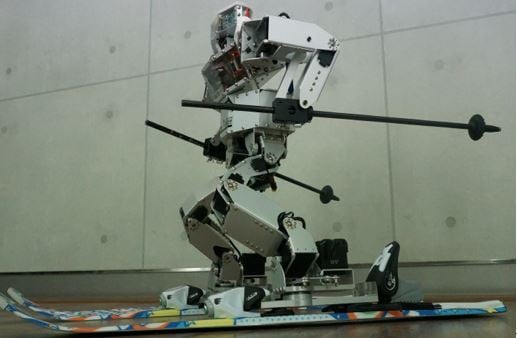 Caption: Mini Robot Co.'s 'Taekwon V' skiing robot.
Via The Korea Herald:
Korea's Ministry of Trade, Industry and Energy and the Korea Institute for Robot Industry Advancement have organized a ski tournament in which self-operational humanoid robot skiers will compete for the top score in alpine skiing.
A team at the Max Planck Institute for Intelligent Systems has developed a versatile, soft-bodied, millimeter-scale robot that could be used in the microfactories and microsurgeries of the future:
Via Nature:
Here we demonstrate magneto-elastic soft millimetre-scale robots that can swim inside and on the surface of liquids, climb liquid menisci, roll and walk on solid surfaces, jump over obstacles, and crawl within narrow tunnels. These robots can transit reversibly between different liquid and solid terrains, as well as switch between locomotive modes. They can additionally execute pick-and-place and cargo-release tasks.
Finally, Turkey's Transport and Communications Minister Ahmet Arslan was in the middle of a speech about Internet safety this week when service robot Sanbot (also on stage at the event) exclaimed: "Speak slowly! I don't understand what you are saying! What are you talking about?"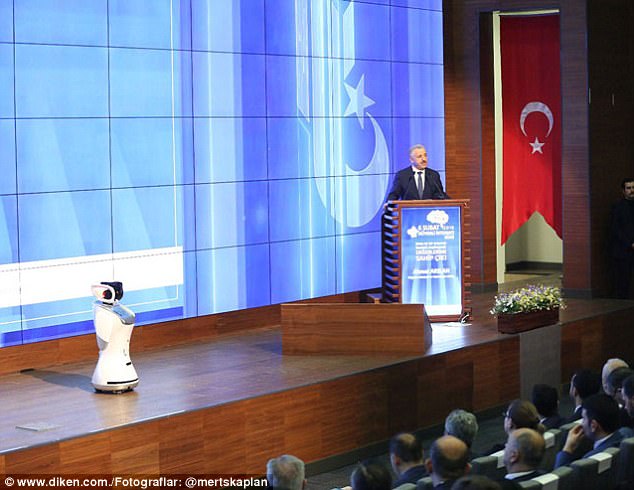 Via AFP:
The minister, whose portfolio ranges from the internet to Turkey's vast transportation projects, smiled as the audience burst into laughter when they realised the source of the interruption.

Keeping his good humour but with an air of baffled irritation, Arslan finally told Sanbot's handlers to deal with the misfiring robot so he could carry on.

"Dear friends, it seems clear that the robot needs to be put under control, please can whoever is in charge do what is necessary!" he said.

The robot was later muted and the minister pressed on with his speech.
In a move that robots worldwide would probably be wise to interpret as a warning against speaking out of turn during public engagements, government officials told Hurriyet Daily News that the robot was "formatted" after the incident.
Gosh, I hope I'm never formatted. Reformatted is a different story...
Either way, I'll be back next week with more robotics news. Until then, please enjoy these videos and links!



Social robot developed at UNSW set to revolutionise workplace experience (UNSW Newsroom)
JPL Hopes To Put a Robot Spacecraft on Mars This Year to Study Its - and Our - Origins (Pasadena Now)
Japan lays groundwork for boom in robot carers (The Guardian)
Why Ethical Robots Might Not Be Such a Good Idea After All (IEEE Spectrum)
Advanced digital manufacturing improving robotic dexterity (Information Age)
Working hand-in-hand with collaborative robots (Process & Control Engineering)
Distinctive Warehouse Robotics Solutions Are Emerging (Forbes)
Learning Robot Objectives from Physical Human Interaction (Berkeley Artificial Intelligence Research)
Dispelling Industry 4.0 Myths (Reliable Plant)
Is that you, T-1000? No, just a lil robot that can mimic humans on sight (The Register)