What's New In Robotics This Week - 02.02.2018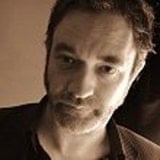 by
Emmet Cole
. Last updated on Feb 02, 2018 8:15 AM
Posted on Feb 02, 2018 7:00 AM. 20 min read time
-Manufacturing & Cobot Roundup
-Waymo, Nuro & Bots of The Winter Olympics
-DNA Bot Swarms, Diligent Robotics & Robot To Replace TV Newsreader?!
-and much more!


Manufacturing & Cobot Roundup
Hitachi, Fanuc and AI-startup Preferred Networks announced the creation of a new venture to develop manufacturing systems that combine artificial intelligence and edge computing technologies:
MENAFN reports:
The new company will develop these Intelligent Edge Systems by combining FANUC's technologies and expertise in machine tools and robots, Hitachi's knowledge of control technologies and other aspects of OT and IT in the front lines of manufacturing, and PFN's deep learning and distributed computing technologies. After establishing a joint venture company, the three companies will test business potential and create business plans, and then undertake actual system development and expand application fields.

Reeco Automation showcased the successful integratation of one of KUKA's cobots into the production line at a UK automotive facility...


Industrial robot manufacturing giant Fanuc upgraded its full-year net profit outlook for the third time this fiscal year. The firm's original forecast of 29% year-on-year profit growth was raised to 41% (USD1.64 billion), with the upward trajectory driven by strong Chinese sales.
Via Nikkei Asian Review:
"Business with China is particularly strong," Chairman Yoshiharu Inaba said in an earnings call.

Sales in China -- which Fanuc now reports separately from the rest of Asia -- grew 140% year-on-year to 54.9 billion yen for the October-December quarter, far outpacing the company's overall sales growth of 41% for that period.

Researchers at the University of Twente are working on a "safety and energy aware impedance controller" for cobots...


The governor of China's Guangdong province, Ma Xingrui, announced plans to add 20,000 industrial robots to the province in 2018.
Via ECNS:
"We will intensify our efforts to digitize manufacturing and make our industry smarter and greener," Ma said.

In 2016, Guangdong had more than 60,000 industrial robots, a fifth of the country's total. The provincial IT commission expects there to be five times that number by 2020.
SIASUN showcased its "hybrid autonomous collaborative robot"...

In Part 2 of its series on cobots, Asian Robotics Review asks whether "the cobot revolution" is set for disruption due to the rise of a new wave of cobot makers? The piece also explores the role ecommerce could play in the future development of the global cobot market:
The online potential is very intriguing. Maybe the future will see an Alibaba direct purchase "package" with SME-friendly terms and low interest rates through Alibaba's Ant Financial.
Alliance Automation has developed a robotic waterjet cutting system using a single Yaskawa Motoman MH50-20 long reach robot on an inverted mount with a custom robot suit...



A few months into deploying robotic coworkers, Walmart reports employees love them and customers ignore them, says MIT Technology Review.
PBA Systems has created a prototype cobot system that can be used to automate the process of run-in testing of steam irons...


Writing in The Engineer, Prasad Satyavolu, Chief Digital Officer – Manufacturing and Logistics at Cognizant offered some advice on how to successfully integrate robot colleagues into your workforce:
Re-think workflows: Introducing autonomous units that can think and interact with a wider ecosystem requires a re-evaluation of workplace structure. Manufacturers should conduct ergonomic studies to envision how experienced, skilled humans could work on a task with smart robots, such as cleaning oil from a part before assembly.
What skill sets will manufacturing workers will need for Industry 4.0? An expert panel discusses...


Meanwhile, Robotics & Automation reported that The Japan Robot Association expects industrial robot sales to increase by 34% this year; the Budapest Business Journal reported that the number of industrial robots in operation in Hungary saw a 18% increase from 2011-2016 (with that rate of growth expected to continue over the coming years); and The New Zealand Herald reported that inspection robot maker Invert Robotics has raised more than NZD6 million from private investors.
In Tech Talks with Roland Busch, George Lo, from Siemens' robotics lab in China talked about his research on ways to simplify the robot programming process...



Writing in EBN Online, Ed Mullen , Vice President, Sales, Americas, Mobile Industrial Robots, outlined "5 Applications for Collaborative, Automated Mobile Robots." The applications include shelf units, conveyor band/belts, automated pallet forks, robot arms, and safety units.
Watch the firm's MiR200 in action below...



Euronews' "Future of Work" series continued with a look at the efforts of researchers at Genoa's Italian Institute of Technologies to create a humanoid cobot system that is able to predict the behaviour of its human coworkers.
It's all part of The AnDy Project (Advancing Anticipatory Behaviors in Dyadic Human-Robot Collaboration), which additionally aims to design meaningful facial expressions for cobots and develop technology that will enable cobots to learn new objects through simple verbal commands...


An NJIT research project on cobot training that incorporates machine learning, teleoperation, and human-machine collaboration using an AUBO-i5 cobot has been accepted to ICRA 2018.
Elsewhere, the UK's University of Surrey announced that it will open a new multimillion nano-manufacturing facility to produce "electronics for future smart consumer and industrial products" and UC Magazine profiled some of the fascinating work on cobots and human-robot interaction currently underway at the University of Cincinnati.
Robotics Online unveiled a really nice infographic that provides an overview of the global industrial robotics market.
The FAB Series Blister Sealing Machine system is capable of 20 cycles per minute and incorporates a dual-arm cobot from ABB...


If you haven't already, check out The World Economic Forum's "Shaping the Fourth Industrial Revolution" series of articles and podcasts. Episode 4 features education technology experts discussing how best to educate kids for Industry 4.0.


Fitz-Thors Engineering, Inc. showcased a cobot solution it put together for an automotive supplier using a UR10 cobot. The supplier wanted to integrate a solution "into their injection molding process to reliably pick and place the part on a conveyor, pick and place fire-retardant material into the part, and ultrasonically weld components together"...
Waymo, Nuro & Bots of The Winter Olympics
Waymo still holds a "huge lead" in the race to develop autonomous vehicles, according to new numbers from the California Department of Motor Vehicles.
The Atlantic reports:
In California, they drove 352,545 autonomous miles with 63 total disengagements, for a yearly average of 5,595 miles per disengagement. In the company's best month, November 2017, they did 30,516 miles with a single disengagement. The only surprise in Waymo's numbers is that their disengagement rate did not decline much from last year's numbers. They also reported that they've been testing far more extensively, racking up 2 million total miles last year in 20 different cities.
Separately, Waymo announced plans to add "thousands" more Chrysler Pacifica Hybrids to its fleet, to add to the 600 Chrysler vehicles aleady outfitted with Waymo's software, computers and sensors. Forbes reported that the new batch of Chrysler minivans start arriving in late 2018.


Meanwhile, two ex-Google engineers unveiled the 'Nuro' --a self-driving car designed to transport packages rather than people...


Via Bloomberg:
As every major automaker and dozens of tech companies race to replace drivers in Uber cars and taxi fleets, Nuro is ignoring humans altogether and steering for Amazon.com Inc., United Parcel Service Inc. and any retailer looking to build its e-commerce business. "We realized we could make it possible to deliver anything, anytime, anywhere," said co-founder Dave Ferguson. "We like to call it a local teleportation service."
Nuro has also raised USD92 million in Series A funding rounds led by Chinese venture firm Banyan Capital and Silicon Valley's Greylock Partners.
Elsewhere, Defense News delved into the Pentagon's recent call for university-industry teams to collaborate on the development of "bio-inspired highly maneuverable autonomous UAVs"; the real "revolution in self-driving vehicles" is not happening on our roads but in our warehouses and manufacturing facilities, says ZDNet; Amazon looks set to enter the delivery vehicle development fray, according to recently published patents; and Forbes profiled The Leaf, an autonomous vehicle developed through a NASA-Nissan collaboration.


Robot vehicles are being used to map an underwater volcano...

The Winter Olympics 2018 runs February 9-25 in PyeongChang, South Korea, and sports fans, athletes, media, and locals can expect to find robots throughout the city. The Korea Herald profiled some of the robots due to make an appearance, including Hubo the Humanoid robot, LG's assistant robots, and the Soohorang guide bot:
"The Olympics are an excellent opportunity to promote Korea's robotics technology to the world," said Oh, chief of the robot support team for the PyeongChang Olympics, during an Olympics tech forum in Seoul last week.
Hubo The Humanoid already has some Olympic experience, having participated in the Olympic Torch Relay in late 2017...



DNA Bot Swarms, Diligent Robotics & 'Humanoid To Replace TV Newsreader?!'
Last week we featured a dizzying DNA bot that could be used in future nanomanufacturing facilities.
Well, how about swarms of DNA bots working together as part of a nanomachine?
That may one day be possible thanks to a research team at Hokkaido University that's working on DNA-assisted molecular robots that can autonomously swarm in response to chemical and physical signals. Their work was published this week in Nature Communications.
Via ScienceDaily:
[The team] built a molecular system that is composed of the three essential components of a robot: sensors, information processors and actuators. They used cellular proteins called microtubules and kinesins as the actuator, and DNA as the information processor.

"This is the first evidence showing that swarming behavior of molecular robots can be programmed by DNA computing. The system acts as a basic computer by executing simple mathematical operations, such as AND or OR operations, leading to various structures and complex motions. It is expected that such a system contributes in developing artificial muscles and gene diagnoses, as well as building nano-machines in the future," [Akira Kakugo of the research team at Hokkaido University] commented.
Meanwhile, NASA's JPL released new video of the Curiosity rover's view in Gale Crater...


Elsewhere, AI thought leader Andrew Ng announced the launch of the AI Fund --a USD175 million fund designed to help early stage AI startups find a path to commercial success; Five projects have been awarded up to STG1.5 million to develop prototype robots that can help tackle some of the UK's most radioactive hotspots; Forbes looked over December 2017's major funding successes for AI startups; and ZDNet reported on a successful collaboration that brought AI to the oil and gas industry.
German railway firm Deutsche Bahn hosted an evaluation and testing session for cleaning robots as part of the DB Automated Cleaning Challenge.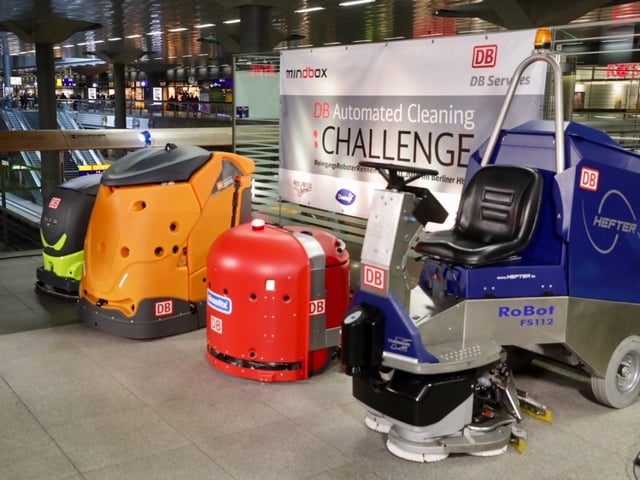 Caption: Four cleaning robots lined up and ready to face off in the DB Cleaning Robot Challenge.
Diligent Robotics is successfully "bringing autonomous mobile manipulation to hospitals," says IEEE Spectrum: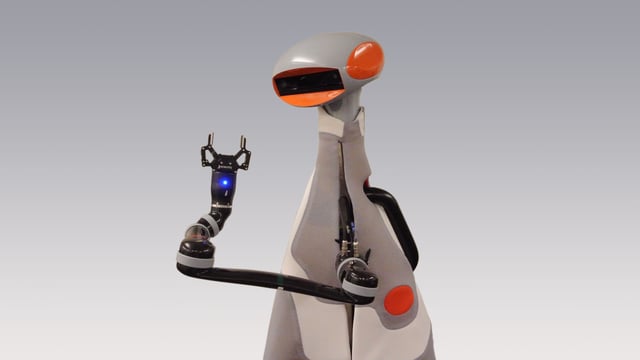 Caption: Diligent Robotics' service robot for medical facilities. (Photo: Carla Diana)
"The core focus of our company is on getting mobile manipulation to be successful in semi-structured environments in which the robot has to perform its actions alongside people," Diligent co-founder and CEO Andrea Thomaz told us. "We think that human-robot interaction is going to be key to success, and we like to say that we focus on the suite of social intelligence software that will be needed for these dynamic human environments."
Diligent Robotics announced a USD2.1 million seed round recently too.
Reports emerged this week that the life-like humanoid robot 'Erica' created by charismatic roboticist Hiroshi Ishiguro is preparing for a new career as a TV newsreader, starting April.
Via The Daily Mail: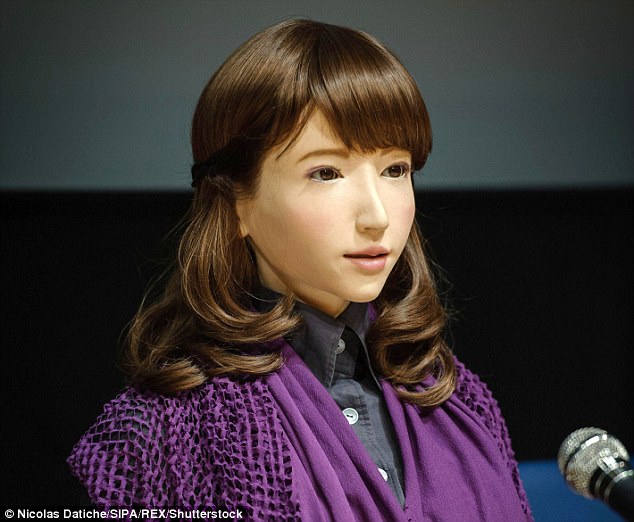 Caption: According to her creator, Erica may soon have an"independent consciousness."
Very few details have been revealed about Erica's new job, however Dr Ishiguro said she will use AI to read news put together by humans.

'We're going to replace one of the newscasters with the android,' said Dr Ishiguro, who is director of the Intelligent Robotics Laboratory at Osaka University.
Finally, Harvard University released new video of its 'HAMR' (The Harvard Ambulatory Microrobot), a cockroach-inspired robot that can "run at high speeds, jump, climb, turn sharply, carry payloads and fall from great distances without being injured"...
It's widely believed that cockroaches (and possibly tardigrades) will be the only living things to survive a nuclear apocalypse.
Not necessarily so.
Call me an optimist, but I like to think that no matter how bad things get out there, I'll be back next week with more news from the world of robotics. Until then, please enjoy these videos and links!


Innovative pharmacy sets sights on the future with Steve the robot (In Cumbria)
Military drone maker, 350 jobs coming to Oklahoma (Stars And Stripes)
Robot with AI brain learns to evolve synthetic protocells (Chemistry World)
Robots Could Descend Into Old Mines To Prevent Toxic Spills (Manufacturing.Net)
Testing robot help for stroke victims (Cosmos)
"You can send a robot" (Mining Journal)
A Silicon Valley pizza-delivery service has robots and humans working side by side (Business Insider)
The Robot Revolution: Manufacturing 2.0 | Moving Upstream (Wall Street Journal)
'Next space pioneers': Lunar robots in the works by CU Boulder undergrads (Daily Camera)
How To Fly A Drone With Your Face (IEEE Spectrum)