What's New In Robotics? 22.03.2019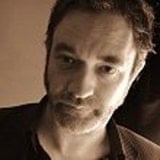 by
Emmet Cole
. Last updated on Mar 22, 2019 8:31 AM
Posted on Mar 22, 2019 7:02 AM. 9 min read time
Hi! In this week's news mix: INM unveils gecko-inspired cobot tech, new mobile, 3D-printing 'Ambots' set for launch and Automata raises Series A funding. We encounter new artificial muscles, robots inspired by plasma-producing shrimp, liquid metal and much more!
Cobots & manufacturing
Scientists at the INM - Leibniz Institute for New Materials have unveiled a gecko-inspired cobot technology with microstructured, adhesive surfaces for object handling. Very soft and without sharp corners and edges, the Gecomer technology is designed to further enhance cobot safety and will be displayed at Hannover Messe 2019 (April 1-5). (Paper: Roll-to-Roll Manufacturing of Micropatterned Adhesives by Template Compression)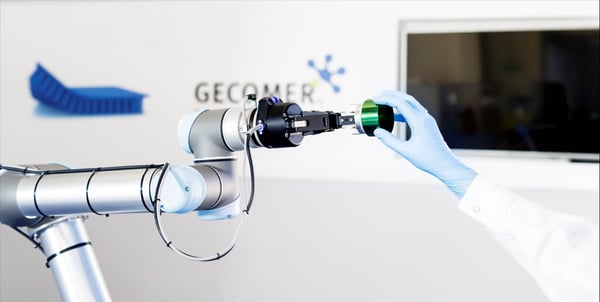 Credit: INM - Leibniz Institute for New Materials
Via AlphaGalileo:
"The gripping and detaching of objects is affected by smart surface structures. This enables us to dispense with pointed grippers or tweezers," says Eduard Arzt, Scientific Director and Head of the Functional Microstructures Program Division. As a result, objects can be transported and deposited in the production process without any risk of injury to humans or damage to the objects. The adhesive structures are particularly suitable for sensitive parts, such as devices for the automotive, semiconductor and display industries."
Meet the Ambots; mobile, collaborative 3-D printers, designed to move around factories and support human workers by providing 3-D printed pieces on demand...
Vancouver, Canada-based collaborative welding robot maker Novarc Technologies has been named to Rocket Builders' 17th annual "Ready to Rocket" list. Virtual Strategy reports:
Novarc's Spool Welding Robot (SWR) works along with the human operator to allow less-skilled welders to do the work of highly-skilled welders, by combining the cognition of a lower-skilled welder with the repeatable motion of our robot. As a result, Novarc's SWR can produce high quality welds consistently, and significantly increases welder productivity and safety.
One of the first firms in the Netherlands to adopt cobot technology, Heemskerk has been relying on Universal Robots' cobots for handling CNC machines and now has one UR5 and seven UR10s in its facility...

ABB-backed robotics startup Automata Technologies has raised US$7.4 million Series A funding for 'Eva,' its diminutive industrial robot. Selling for US$6,600 the 'desktop' cobot is designed to "replace tasks, not jobs" and comes with a reach of 600 mm (23.62 in.) and a maximum payload of 1.25 kg (2.75lb) (H/T TechCrunch).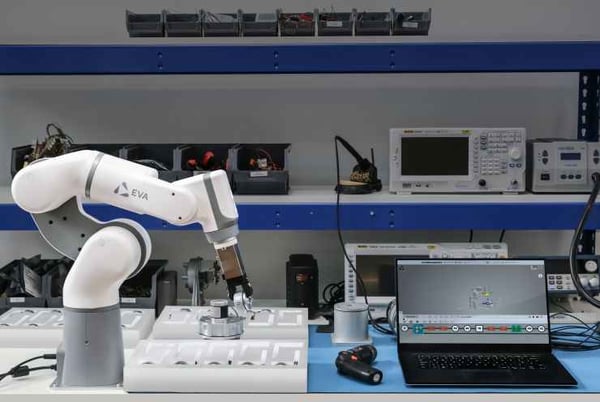 Credit: Automata Technologies
Writing in Forbes, Afshin Doust, CEO at Advanced Intelligent Systems, made an interesting distinction between 'advanced' and 'practical' robotics:
Once a practical application is identified with a big enough market, practical roboticists focus on using the technology at hand and adding more customization to create a solution for automating these tasks. Commercializing robotics helps in advancing the science of robotics. The advanced robotics engineers, without realizing it, are highly dependent on practical roboticists for their future survival.
In other cobot news:
Elsewhere...
In a busy week for bio-inspired bots, researchers unveiled a prototype, shrimp-inspired, plasma-producing underwater robot.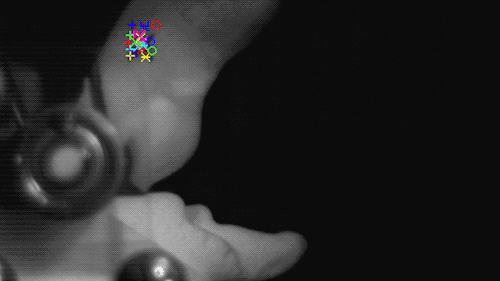 Credit: David Staack
Via Wired:
The pistol shrimp doesn't have a monopoly on underwater plasma generation. People weld underwater using plasma, known as plasma arc welding, which produces intense heat. And researchers can also make plasma in water with lasers. The problem is, those means are inefficient. Using the claw to generate plasma is 10 times more efficient than those previously explored methods [...] It will, though, require more development to scale.
Meanwhile, a research group at Saarland University have revealed artificial muscles made from shape-memory wires that "have the ability to bend in almost any direction and to wind themselves around corners."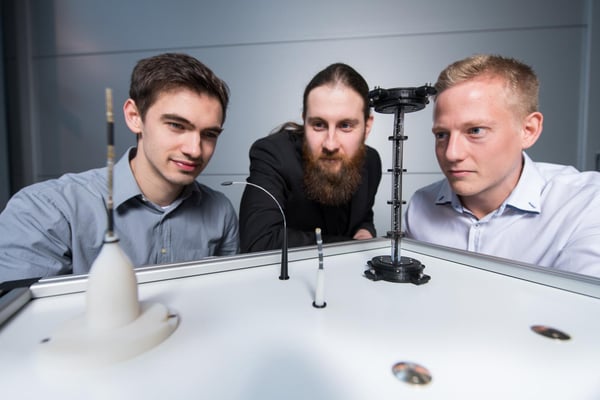 Credit: Oliver Dietze
PhysOrg reports:
The flexible arms are powered electrically and so can do without the usual pneumatic equipment or other bulky accessories. As the shape-memory alloy itself has sensor properties, the arms can be controlled without the need for additional sensors. The new technology can be used to build large robotic arms with the flexibility of an elephant's trunk or ultrafine tentacles for use in endoscopic operations.
And Jeff Bezos was spotted cavorting with one of Festo's amazing bio-inspired robot dragonflies at the MARS conference. (H/T Yahoo!)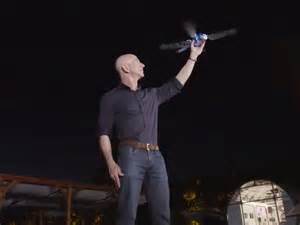 Credit: @JeffBezos
Meanwhile, in outer space, NASA's Osiris-Rex space bot discovered that the surface of its destination (the Bennu asteroid) is littered with more boulders and rubble than expected.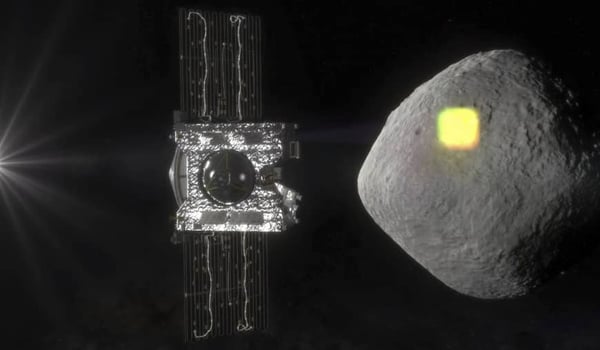 Artist's impression of OSIRIS-REx spacecraft mapping Bennu.
Credit: NASA / Goddard / University of Arizona / VIA AP
Via The Japan Times:
NASA's plan to scoop up dirt and gravel from an asteroid has hit a snag, but scientists say they can overcome it.Osiris-Rex, is scheduled to descend close to the surface in the summer of 2020. It will extend a robot arm to pick up the sample, which will be returned to Earth in 2023. The spacecraft began orbiting Bennu at the end of last year, after spending two years chasing down the space rock.
And in other news:
Come by next week for more of the latest robotics news! Until then, please enjoy..
Five vids for Friday
1. Researchers at Columbia Engineering and MIT Computer Science & Artificial Intelligence Lab have demonstrated a system that combines loosely coupled simple components (or "particles") to create functional robots. (Paper: Particle robotics based on statistical mechanics of loosely coupled components)
2. Separately, researchers have unveiled a magnetic liquid metal that could one day be used to construct robots. The potential of this technology goes way beyond the creation of "scary" Terminator-esque bots, of course. The industrial applications of teleoperated --or even collaborative-- liquid metal bots are virtually limitless. (Paper: Magnetic Liquid Metals Manipulated in the Three-Dimensional Free Space)
3. And if you think Terminator is scary, wait til you see a Tombot in action! (Also, I want one.)
4. MIT CSAIL researchers have proposed a new technique that enables robots to generalize their learning with relatively little data. The technique enables pick and place operations based on limited knowledge of the objects being handled. (Paper: kPAM: KeyPoint Affordances for Category-Level Robotic Manipulation)
5. In a development that could help usher in an era of interspecies mediation robots, researchers from the École polytechnique fédérale de Lausanne's Biorobotics Laboratory have created a system that enabled fish and bees 700 km (435 mi) apart to collaborate on decision making processes. (Paper: Robots mediating interactions between animals for interspecies collective behaviors)