What's New In Robotics? 08.03.2019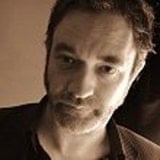 by
Emmet Cole
. Last updated on Mar 08, 2019 8:17 AM
Posted on Mar 08, 2019 7:02 AM. 10 min read time
Hi! In this week's news mix: UR announces Automate showcase, Korea unveils 'Mode Man' cobot and Rollon creates '7th axis' for UR cobots. We also watch Jibo's farewell to users, meet the trash-fighting robot 'Wasteshark', marvel at a selfie taken 37,600 km from the earth's surface and much more!
Cobots & manufacturing
Cobot manufacturer Universal Robots has announced plans to showcase four new application clusters at the Automate event in Chicago, April 8-11, 2019. Aimed at addressing tasks where manufacturing labor shortages are being felt most acutely, the application clusters are machine tending, packaging, assembly and processing. (Expect to see screwdriving and sanding cobot solutions on display too.)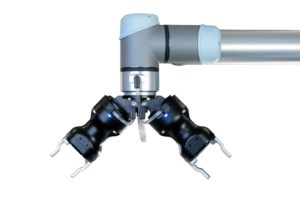 Credit: Universal Robots
One of the apps that's ready for its Automate showcase is a dual machine tending solution that features a UR5e cobot fitted with Robotiq's double HAND-E gripper tending two CNC machines in the same cycle. The HAND-E gripper is able to remove a part and insert a new part in the same handling move.
Kawasaki has been showing off its new, dual-arm 'duAro2' cobot, which offers increased vertical stroke (from 150 to 550mm (5.9-21 in)) and payload (from 4-6 kg (8.81-13.22 lb)) compared to its predecessor. In this video, a duAro2 helps pack finished products into a cardboard box...
Advanced Robotics for Manufacturing (ARM) has issued a call for proposals for new solutions that advance "robotics technology for manufacturing." ARM is a U.S.-based fededral organization dedicated to robotics and workforce innovation. This funding cycle could see ARM award up to USD5 million in eight categories, including: 'Bi-directional Communication on the Shop Floor,' 'Human-Robot Trust and Safety' and 'Methods & Tools for Successful Robotics Adoption and Expansion.'
Rollon has unveiled a seventh axis designed specifically for Universal Robots' cobots. Designed to increase the cobots' range of action, Rollon forsees various applications for the technology, from industrial machine feeding to assembly, pick and place and palletizing...
The widening skills gap in U.S. manufacturing could leave an estimated 2.4 million positions unfilled between 2018 and 2028, with a potential economic impact of USD2.5 trillion, according to a joint study by Deloitte and The Manufacturing Institute. Positions relating to digital talent, skilled production, and operational managers may be three times as difficult to fill in the next three years, Assembly Mag reported.
Abicor Binzel announced that its spool welding cobot, developed in collaboration with Novarc Technologies, will be participating in a live demo week from April 1st-5th in Houston, Texas.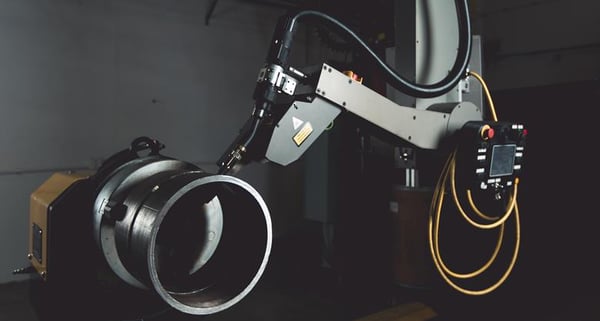 Credit: Abicor Binzel
Korean researchers have created a "Korean Transformer" cobot called 'Mode Man' that enables "users to attach industrial robot arms and hands freely for their specific application."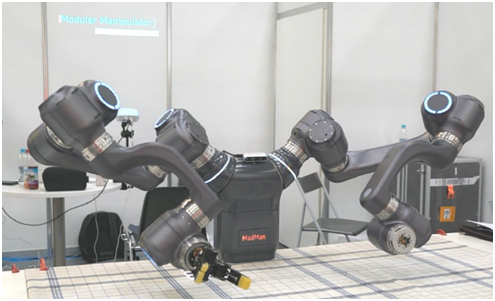 Via Business Korea:
Mode Man can have six to seven sections connectively attached on both arms. It is also possible to combine the arm and hand modules in a wide variety of ways with no distinction of front and backside. Depending on how the user combines the modules, Mode Man's movement, speed, and power change.
In an exclusive piece for The Robot Report, Steve Crowe shared the HAHN Group's plans to revive the fortunes of cobot maker Rethink Robotics. There are three main planks to emerging strategy: refurbish Rethink Robotics' inventory of Sawyer cobots; develop a new Sawyer cobot with "less noise, higher speed and better accuracy"; develop a family of Rethink robots with varying payloads and reaches. (The Robot Report has the details.)
In other cobot news:
Elsewhere...
Just when you thought it was safe to drop trash into our waterways, along comes 'Wasteshark': a new robot that hunts down litterers can scoop up more than 15 tons of waste debris in a year. Designed to gather trash before it enters the world's oceans, the bot can operate for 8 hours in a single session.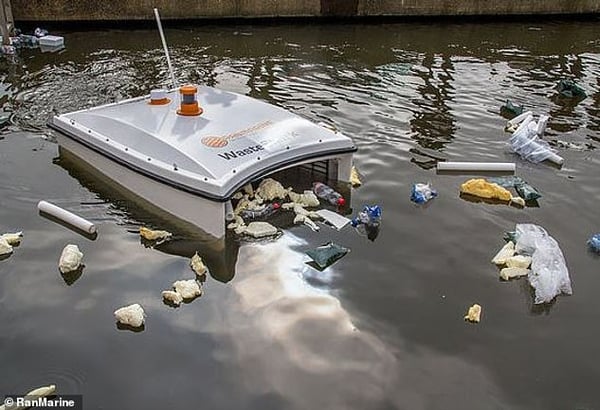 Credit: RanMarine
The Daily Mail reports:
It is programmed with GPS points to ensure that it covers hotspots where waste gathers, and its path can be programmed and monitored remotely. As well as plastic it will extract oils, other pollutants and pest plants such as types of algae. As well as plastic it will extract oils, other pollutants and pest plants such as types of algae.
U.S. companies installed more robots than ever before in 2018, with non-automotive segments showing particularly strong growth, according to new figures from the Robotic Industries Association.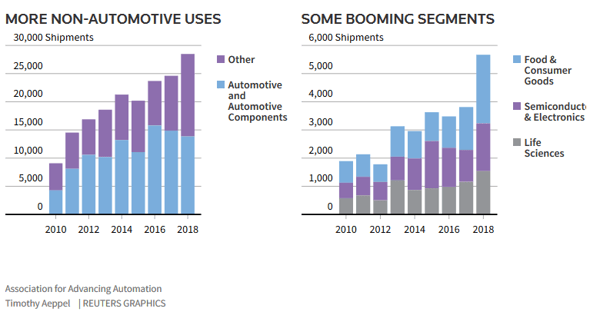 The Canadian government is planning to invest USD1.5 billion in the development of 'Canadarm3' --a robotic arm designed for use on NASA's planned Lunar Gateway space station in the 2020s. It's a move that carries a degree of risk, some analysts say, as the U.S. Congress has not yet allocated significant funds to the project. (H/T Forbes)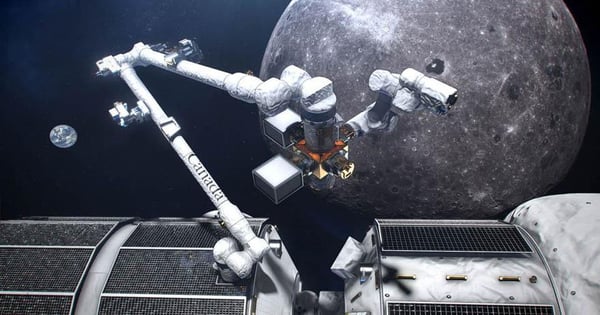 The Beresheet lunar lander was photobombed by Planet Earth this week as it captured a spectacular selfie some 37,600 kilometers (23,363.5 miles) from the surface.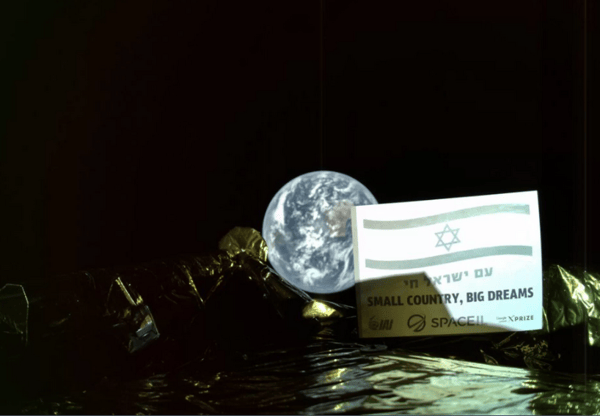 Credit: Beresheet
Meanwhile, Toyota is set to team up with the Japan Aerospace Exploration Agency on a planned mission to the moon, with the auto giant expected to develop a lunar rover, according to officials and media reports.
Via The Japan Times:
Details will be announced by JAXA and Toyota on Tuesday next week when the space agency hosts a symposium in Tokyo, the spokesman said. Toyota also confirmed plans to announce a joint project with JAXA "on mobility and a space probe" but declined to comment further.
Waymo announced that it is to start selling its short-range laser sensors, according to a report in Wired: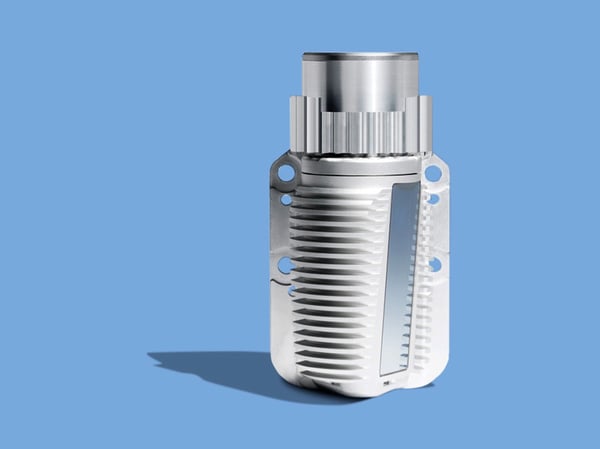 The Laser Bear Honeycomb lidar. Credit: Waymo
Laser Bear Honeycomb, is the one [Waymo] is now putting in its shop window. It's a "perimeter sensor," focused on things in its immediate vicinity. It sees 360 degrees around it, and it has a 90 degree vertical field of view. Its minimum range is zero meters, meaning it can see things right up against it. Waymo won't be selling the technology to rival self-driving outfits, instead indicating that robotics, security, and agriculture tech companies would be potential customers.
And in other news:
Come by next week for more of the latest robotics news! Until then, please enjoy..


Five vids for Friday
1. MIT researchers have created a versatile, 20 lb (9.07 kg) "Mini Cheetah" bot that's able to flip, hop, trot, pronk and run around on even and uneven terrain. As the video below shows, it's also highly adept at getting back on its feet after a fall, which is just as well with all the acrobatics going on!
2. Engineers at Georgia Institute of Technology have built an ultra low power chip for bots that is half the size and consumes one-third the power of traditional digital chips. Enhancements in logic and memory design further reduced energy consumption to the miliwatt range while retaining performance targets. The technology could help palm-sized robots to learn from experience and collaborate. (H/T Georgia Tech News Center)
3. Jibo, the domestic social bot that launched in a blaze of publicity (but ultimately failed to meet expectations) delivered a touching goodbye to its users this week. Jibo may be the first bot to announce its departure in peoples' homes in this way, but similar scenes are likely to play out again in future decades as domestic robots are retired, replaced or companies providing support close down. (The BBC has more. )
4. New video shows how robots are helping to clean up after the Fukushima Daiichi nuclear disaster. (c|net has more.)
5. Tradiebot's Repairbot project reached a major milestone this week by successfully 3D printing a replacement lug on a headlight. Using a robotic arm to precisely manipulate the headlight under a stationary 3D print head, the team were able to "print complex geometries without the need for support material."