What's New In Robotics? 08.02.2019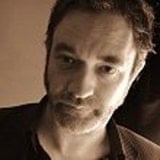 by
Emmet Cole
. Last updated on Feb 08, 2019 8:17 AM
Posted on Feb 08, 2019 7:02 AM. 9 min read time
Hi! In this week's news Fraunhofer's set to unveil a human-industrial robot gesture control system, Universal Robots announces UK Tour and the Co4Robots project reaches 2nd milestone. We also discover a new crawling robot, catch up on space bot news and watch a giant robot crush a piano.
Cobots & Manufacturing
Researchers at the Fraunhofer Institute for Machine Tools and Forming Technology have developed a system consisting of smart algorithms and 3D cameras that could enable humans and large industrial robots to work together "in an intuitive way that feels a lot like human teamwork."
The system uses gesture, face and posture recognition to help the robot interpret complex human movements. Operators can use gestures to control the robot . The technology also scans faces, which enables the robot to know, for example, that if a human turns to talk to another human it can safely ignore any gestures, until the human's attention has returned to the bot. The researchers plan to present their innovation at the Hannover Messe on April 1 -5, 2019. (H/T Robotics & Automation News)
A KUKA cobot has been helping out with anti roll bar assembly at Mini's UK manufacturing plant...
Cobot maker Universal Robots has announced a UK tour. The Cobot Automation Tour 2019 --which will also feature UR+ partners, including Robotiq-- will give visitors hands-on experience cobot programming. Industry experts will also share insights on how to best optimise production efficiency through cobots and automation. The tour starts next week in Oxford, and will travel throughout the country until mid-July, visiting Manchester, Newcastle, Birmingham, Edinburgh and Southampton. (H/T British Plastics)
Also in the UK, Scotland enjoyed its "first ever showcase of robotics and automation" this week. Highlands and Islands Enterprise organized the event, which was held to "demystify" robotics. (H/T BBC)
The European Union-funded Co4Robots project --which includes collaborative grasping on a mobile platform-- reached its second milestone recently and this weekk they released a video to showcase their work...
Universal Robots and VersaBuilt launched new cobot interface for machine tending applications this week. Dubbed the URCap, the system enables a UR cobot to execute any machining program stored on the CNC directly through the cobot's own teach pendant. (H/T Control Design)

The Mass Technology Leadership Council has announced the winners of the 5G Robotics Challenge. Launched in November, the challenge was created to speed up the development of 5G robotics technology. The successful teams include two university-based teams and five startups. For the full list, visit The Robot Report.


One of ABB's YuMi cobots in Vietnam got into the spirit of the Lunar New Year celebrations...
FBR --the Australian firm that developed bricklaying-cobot Hadrian X-- has signed a memorandum of understanding with Brickworks Building Products to "collaborate on the manufacture and certification of concrete masonry unit blocks suitable for the construction of structural walls of residential buildings in Australia."
The Construction Index reports:
Under the proposed joint venture [dubbed 'Fastbrick Australia'], Brickworks would: exclusively manufacture customised blocks for use by the Hadrian X in Australia under licence and o be granted the exclusive right to supply brick and block products for use by Hadrian X in Australia. Fastbrick Australia is to begin pilot programme operations in Western Australia straightaway.
Also this week, MSI Tech showcased a UR cobot fitted with a Robotiq gripper...
In other cobot and manufacturing news:
Elsewhere...
Researchers at the University of Maryland have developed a tiny four-legged crawling robot that measures a mere 2.5 mm x 1.6 mm x 0.7 mm (.098 in x .062 in x .027 in).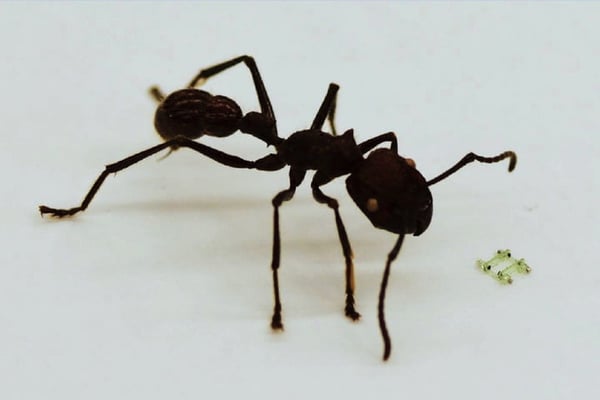 As shown, the newly developed bot is smaller than an ant's head. / Credit: University of Maryland
Digital Trends reports:
Driven by rotating magnetic fields that trigger the legs to move, the robots are capable of scurrying at speeds of 14.9 body lengths per second. They're also surprisingly resilient, being able to continue this locomotion for at least 1 million actuation cycles without suffering impaired performance.
Azur Drones has received the first approval from the French Directorate-General for Civil Aviation for its fully-automated Skeyetech drone system, the company announced this week.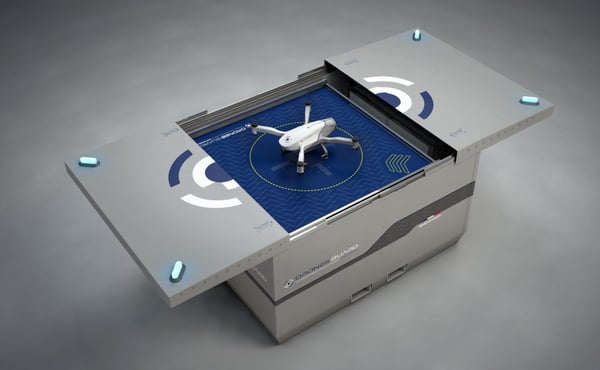 Credit: Azur Drones
Via UST:
This specific approval is unprecedented, since any authorized flight scenario in France requires a qualified pilot, and is also the first such approval granted in Europe. Skeyetech drones can fly Beyond Visual Line Of Sight (BVLOS), day or night, in urban areas, under simple supervision of a remote operator. With this unique approval, the system will be directly operated by a security guard with no pilot license.
Focusing on speculative concerns about AI will limit its development and adoption, according to a new report from ITIF:
To capture the full benefits of AI, policymakers should follow the "innovation principle," which holds that the vast majority of new innovations are beneficial and pose little risk, so government should encourage them. Instead of preemptively imposing heavy-handed regulations on AI to prevent hypothetical harms, policymakers should wait to craft targeted solutions for specific problems if they occur.
In a busy week for space bot news, NASA's Martian InSight rover carefully placed a protective cover over its seisometer setup...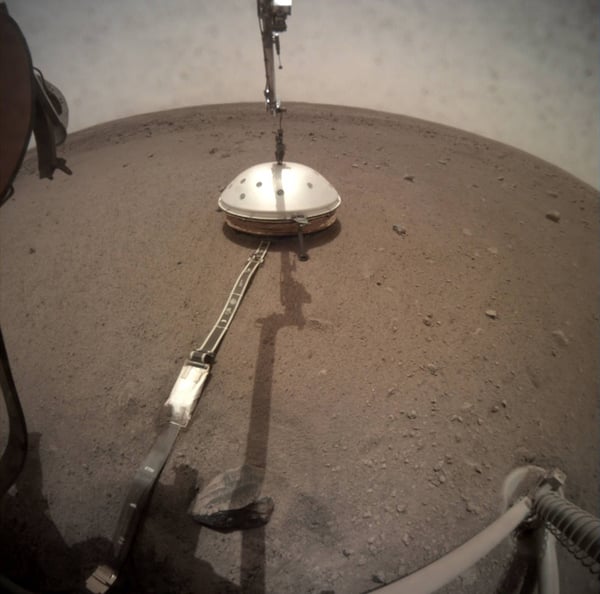 Credit: NASA
NBC News reported on NASA veteran Philip Metzger's idea for steam-powered, asteroid hopping robots...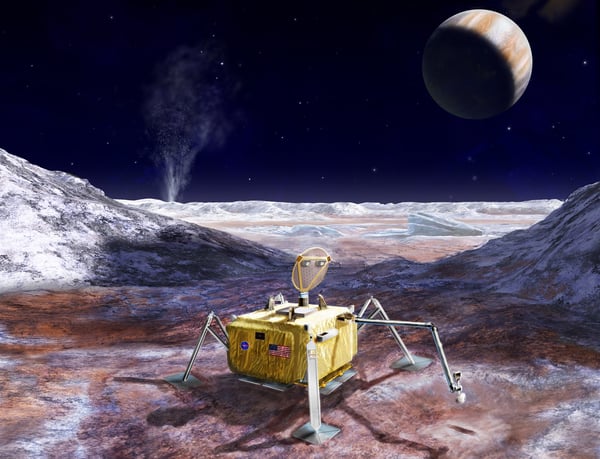 Credit: NASA/JPL-Caltech
PhysOrg reported on the European Space Agency's Hera mission concept, which involves plans to send a robotics probe to the Didymos binary asteroid system...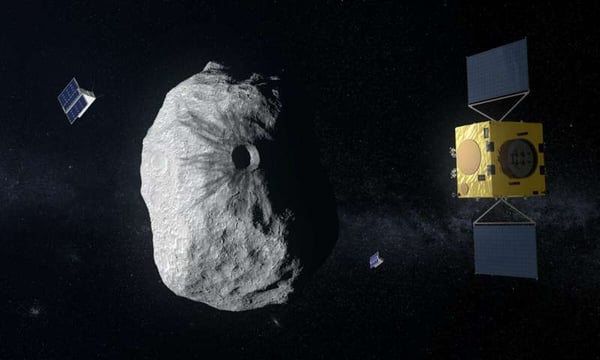 Credit: Credit: ESA–ScienceOffice.org
And it may soon be time to say goodbye to the Opportunity Rover (which hasn't called home in more than 240 days), according to The Atlantic...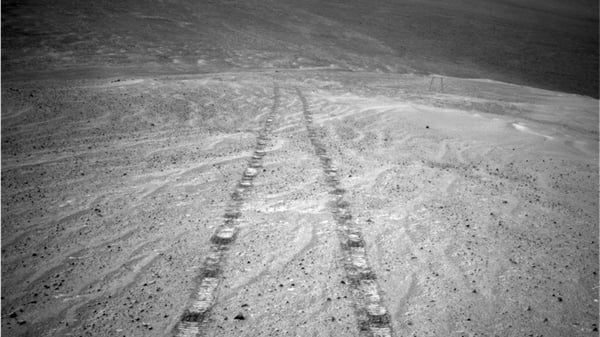 Opprtunity looks back on its Martian tracks. Credit: NASA
Meanwhile, in other news:
Hope you can join next week for another roundup of the latest robotics news! Until then, please enjoy...
Five vids for Friday
1. Germaphobes rejoice! A new robot has been unveiled that hunts down and kills "99.9 percent of bacteria, germs and dust mites" using four UV-C lamps. Weighing 220 grams (.485 pounds), the travel-sized 'CleanseBot' can be used as a handheld device or set to autonomous mode, in which it sets off on a journey between your bedsheets and does the cleaning all by itself.
2. If you watched the Superbowl on Sunday, you might have noticed that Intel's drones carried off another airborne spectacular. This wasn't like previous drone shows though as it incorporated the most drones flown indoors --where there is no GPS-- at a single time (750). Anail Nanduri VP and GM at Intel's Drone Group spoke about the project this week.
3. ETH Zurich's Computational Robotics Lab has unveiled Skaterbot --a 3D-printed robot that used clever algorithms to successfully teach itself how to ice skate.
4. Henry C. Astley from the Biomimicry Research & Innovation Center at the University of Akron, USA spoke with Computerphile about his robo-snake and the importance of control algorithms in bio-inspired robot design.
5. "We had a piano. We had a giant robot. Really only one thing left to do," explains the MegaBots team in the preamble to this video. Enough said.