What's New In Robotics? 01.02.2019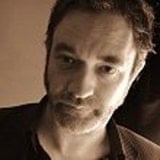 by
Emmet Cole
. Last updated on Mar 01, 2019 10:15 AM
Posted on Feb 01, 2019 7:02 AM. 10 min read time
Hi! In this week's news, MIT reveals Jenga-playing robot, UR execs call for new 'CRO' positions and FANUC sees Brexit as an opportunity for UK manufacturers. We also meet Korea's scuttling MutBug, marvel at a self-aware bot and discover why it's getting a bit like 'The Day of the Triffids' at the Instituto Italiano di Tecnologia.
Cobots & manufacturing
Engineers at MIT's MCube lab have unveiled a Jenga-playing system that combines artificial intelligence with robotics technology and could one day be used on electronics assembly lines or to separate recyclables from waste material.
Via New Atlas:
[...] within around 300 attempts using this mix of tactile and visual feedback, the robot was able to use modeling to predict which blocks would be harder to move than others, and which may cause the tower to fall. [...] The team then compared the trained robot's performance to human players and found little difference in their success at keeping the tower upright while removing the wooden blocks. They also tested it alongside machine learning algorithms playing computer simulations of the game, and found their learning curve to be more efficient.
(More: See, feel, act: Hierarchical learning for complex manipulation skills with multisensory fusion, Science Robotics)
Svaya Robotics unveiled "India's first collaborative robot" at the IMTEX2019 trade show in Bangalore this week...
At the same show, Systemantics India officially launched its 'ASYSTR 600' --a 6-axis industrial robot with a payload of 5 kg (11.01 lbs) and "the first industrial robot to be completely designed and manufactured in India."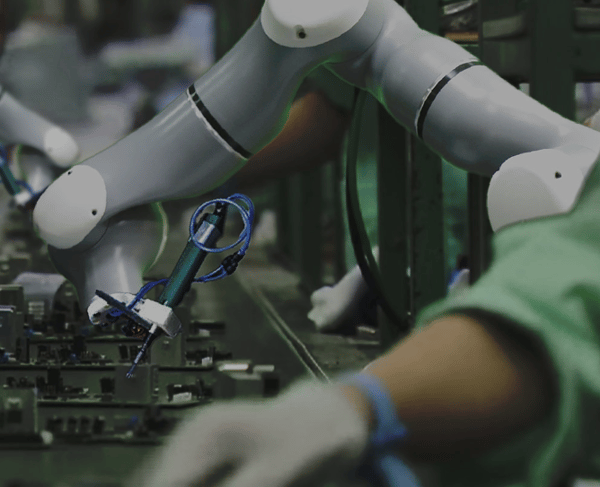 Credit: Systemantics India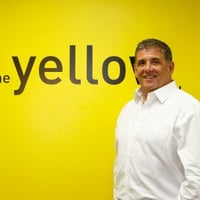 "Brexit is still the great unknown," FANUC UK's managing director, Tom Bouchier told Aerospace Manufacturing this week, but "while we expect a period of uncertainty when the UK eventually leaves the EU, we see it as an opportunity for manufacturing."
As the only country in the G7 with a robot density below the world's average, due in part to a "stigma" that connects automation to unemployment, UK manufacturers risk losing both their competitive edge and the opportunity to upskill workers. Cobots represent "a step-change in industrial robotics," Bouchier explained, a change that could alter attitudes by showing how automation can be used to enhance rather than replace human labor.
Cobots will be a "game changer" in 2019, according to ROBO Global Chief Information Officer William Studebaker, who chatted with Proactive Investors' Christine Corrado this week...
It's time to make room in the executive suite for a Chief Robot Officer (CRO), according to senior figures at Universal Robots, who issued a call for manufacturers of all sizes to identify a robotics champion who can help ensure automation success. Via Design News:
[Tim DeGrasse, business development manager at Universal Robots] pointed out that the CRO needs to understand that qualities that make up an automation project that lends itself to robot solutions. "Before you deploy robots, you have to identify a good automation project, and you have to show that it is extremely profitable," said DeGrasse. "Selecting the right projects helps the CRO generate quick wins that will deliver the ROI."
Jürgen von Hollen, president of Universal Robots spoke about challenges and opportunities in the cobot market as a preview for the forthcoming Hannover Messe trade show (April 2019)...
Advanced Robotics for Manufacturing has announced 11 grant recipients for advanced research projects designed to strengthen U.S. manufacturing and "improve the lives of American workers." The projects --which are expected to get a combined US$5.7 million in funding-- were pitched by ARM members, including individuals from the manufacturing, technology, academia and economic development sectors. (Check out the full list at Pittsburgh Business Times)
In other cobot and manufacturing news:
Elsewhere...
On Monday, Toshiba Corporation unveiled a robot designed to examine melted nuclear fuel debris inside one of the damaged reactors at Japan's tsunami-struck Fukushima nuclear plant. Fitted with a radiation dosimeter, thermometer, LED lights, camera and a pair of tongs, the 30-cm (12-inch) long, tethered robot will first dangle from a pipe inside the reactor.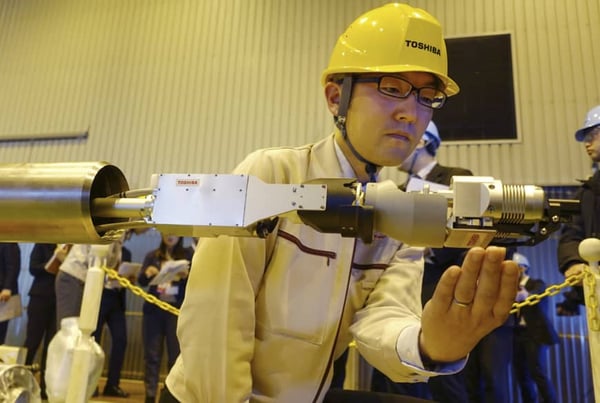 If the robot's mission is successful, experts will be better able to remove nuclear fuel debris. / Credit: AP
Then, all going well, the bot's tong-like grippers (which can handle payloads up to 8 cm (3 inches) wide and 2 kg (4.4 lbs) in weight) will examine the fuel to determine its condition and how best to handle this extremely hazardous material during the forthcoming removal process. (H/T The Japan Times)
Chowbotics (makers of food prep robot 'Sally') and French vegetable supplier Bonduelle have announced the launch of a joint 'Cabaletta' brand for deployment in Europe. Following rigorous tests in November 2018, Bonduelle has now committed to deploying several of the salad-making bots at company food service outlets, several big company offices around Lille and a self-service family restaurant, under the Cabaletta brand.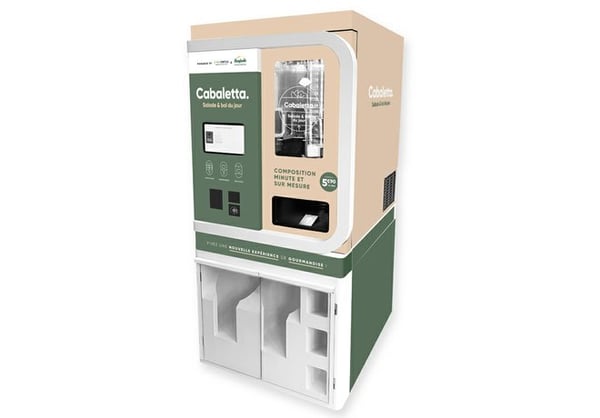 Credit: Chowbotics
Industry Europe reports:
Cabaletta is able to operate 24/7 and will offer salads custom made from a combination of 20 ingredients, as well as pre-programmed recipes from human chefs. Users can also choose to add or remove ingredients, fine-tuning their calorie total and having access to full nutritional details.
A team of researchers from Columbia University has successfully combined brain electrodes, deep-learning-based speech recognition and a voice synthesizer to create intelligible artificial speech from brain activity.


Credit: Neural Acoustic Processing Lab, Columbia University
The team temporarily placed electrodes in the brains of five people scheduled to have brain surgery for epilepsy. [...] The volunteers were asked to listen to recordings of sentences, and their brain activity was used to train deep-learning-based speech recognition software. Then they listened to 40 numbers being spoken. The AI tried to decode what they had heard on the basis of their brain activity—and then spoke the results out loud in a robotic voice. What the voice synthesizer produced was understandable as the right word 75% of the time, according to volunteers who listened to it.
(More: Towards reconstructing intelligible speech from the human auditory cortex, Scientific Reports)

In related news, IBM has built a diverse, million-face data set in an effort to reduce bias in AI research and practice (H/T TechCrunch), Salesforce CEO Marc Benioff believes AI will become the next new "human right" (H/T ZDNet) and The Verge published a bookmark-worthy AI reading list "from practical primers to sci-fi short stories" selected by AI experts from around the world.

Meanwhile, in other news:

Check in next week for more of the latest and greatest from the world of robotics! Until then, please enjoy...


Five vids for Friday
1. "'Start remote and stay remote' is our mantra," says U.S. Air Force bomb disposal expert Michael Newton in this short video from Seeker's 'Science in the Extremes' series. Enter bomb disposal bots such as the ones shown here from Endeavor Robotics, which allow humans to safely disable unexploded devices.
2. Meet MutBug -a versatile (and persistent) double-sided crawling robot developed in the Bio-inspired Design Lab at Korea's SeoulTech.
3. iRobot has announced plans to launch its Terra robot lawn mower in Germany later this year along with a beta program in the U.S. The premise is appealing: place wireless beacons around your lawn, manually drive the Terra around once so it can work out its location, then sit back and let the bot operate autonomously for ever more. (H/T The Robot Report)
4. It must feel a bit like a miniaturized, slightly-less-terrifying version of The Day of the Triffids at Italy's Instituto Italiano di Tecnologia this week with the unveiling of a tendril-inspired soft robot that's able to curl and climb like real plants. Marking the successful completion of the first stage of the European Commission-funded 'GrowBot' project, the robot's design "is based on the imitation of the natural mechanisms [osmosis] by which plants exploit water transport inside their cells, tissues, and organs to move," researcher Barbara Mazzolai told Digital Trends. (More: A variable-stiffness tendril-like soft robot based on reversible osmotic actuation, Nature)
5. Researchers at Columbia University have made "a major advance in robotics by creating a robot that learns what it is, from scratch, with zero prior knowledge of physics, geometry, or motor dynamics," UPI reported. The robot then uses that model of itself "to adapt to different situations, to handle new tasks as well as detect and repair damage in its own body." (More: Task-agnostic self-modeling machines, Science Robotics)