What to Expect at RUC 2019 - Meet Our Sponsors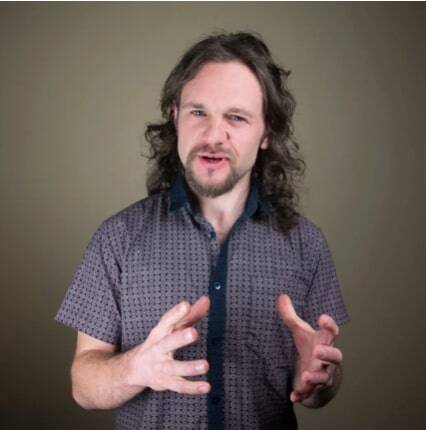 by
Alex Owen-Hill
. Last updated on Aug 21, 2019 5:41 AM
Posted on Aug 21, 2019 5:26 AM. 6 min read time
It's just a couple of weeks to go until Robotiq User Conference 2019! Our sponsors provide more than just support, they make the event possible.
The Robotiq User Conference (RUC) wouldn't be possible without our wonderful sponsors. Some of the biggest names in collaborative robots and automation are providing their support to make sure that this year's event is the best yet.
But, our sponsors provide more than just support. By getting involved, they are also helping to start conversations and set trends which will frame the world of collaborative robotics for the whole of the next year. We've got cobot manufacturers, cybersecurity experts, providers of automation accessories, and more.
Let's introduce you to our amazing sponsors.
Universal Robots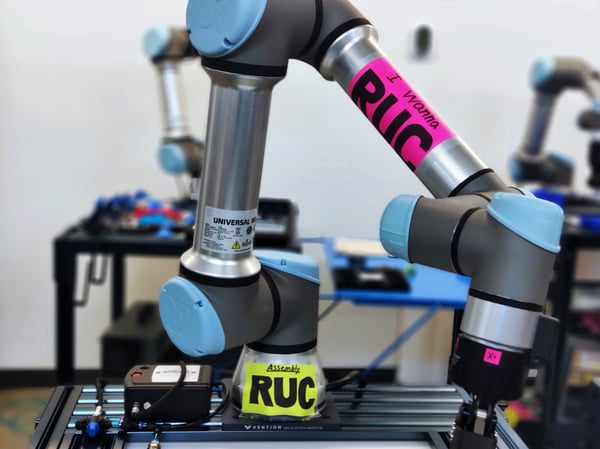 Our "platinum level" sponsor, Universal Robots has been involved in RUC since the very first event back in 2016. Amongst other contributions, they are providing us with the army of cobots that our attendees will be using during the practical sessions. This year, we've set a maximum of two people per robot so there will be tons of hands-on time.
Universal Robots is perhaps the most famous name in collaborative robotics. They are a Danish manufacturer of cobots and they basically kick-started the cobot revolution when they were founded in 2005. Last year, CEO Esben Østergaard won the prestigious Engelberger Award to mark his significant contribution to robotics.
We work closely with Universal Robots and our RUC attendees benefit greatly from their expertise and insights every year at every event. Last year, they gave attendees an in-depth look at their brand new e-Series robots, which we'll be using this year as well.
Vention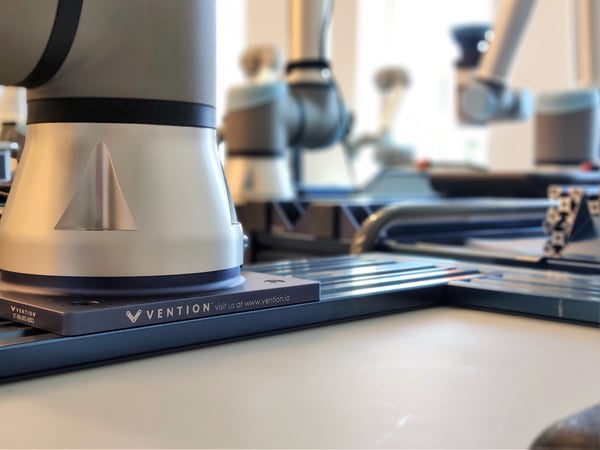 Our "gold-level" sponsor this year is the amazingly innovative Vention, a Montreal-based provider of manufacturing machines with a difference.
What is this "difference?" you may be wondering.
Vention's machines are unique. Instead of being self-contained machines — as with traditional CNC machines and other forms of automation — they are completely customizable. You can use their cloud-based 3D MachineBuilder to design your own manufacturing machine from modular components. By the next day, your custom machine has been shipped and you can be using it to produce your products in no time!
The machines use modular frames and fixings which can be arranged in pretty much any configuration you like. They have a gallery of past designs which shows just how flexible the machines can be. There are even some pictures of our own demo tables that we use for trade fairs, which we built with Vention frames.
Pendant Armor from Roboworld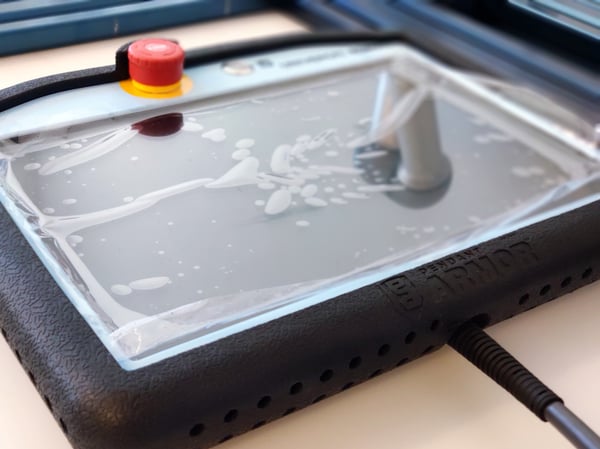 Roboworld is an Ohio-based manufacturer of protective coverings for robots. Since 1993, they have been safeguarding robots from dirt, dust, and hazardous chemicals.
This year, they are sponsoring RUC with their product Pendant Armor.
Pendant Armor is a lightweight, shock-absorbing, chemical resistant bumper for robot teach pendants. It solves a common problem that robot users have: teach pendants too easily get scratched, stained, and broken. Pendant Armor is available for a few different robot brands, including the Universal Robots that our attendees will be using at RUC 2019.
Air Vise & Workholding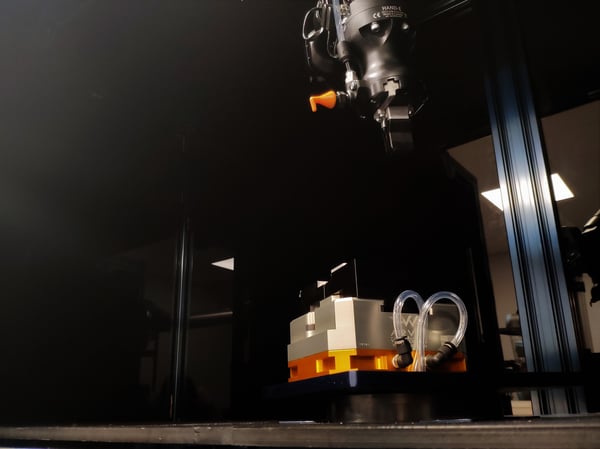 Air Vise & Workholding is an Idaho-based manufacturer of workholding solutions. They provide precise, pneumatically-operated vises which gently and securely hold workpieces in place.
Their vises come in both rotary and table variants, with a range of self-centering soft jaws. The rotary vise can be used to fix workpieces to rotating chucks, whilst the table vise is best for quick changeovers on a fixed table. The vises are designed for quick and easy integration with a small footprint. They are easily integrated into robotic systems using the electric operation kit.
QC Conveyors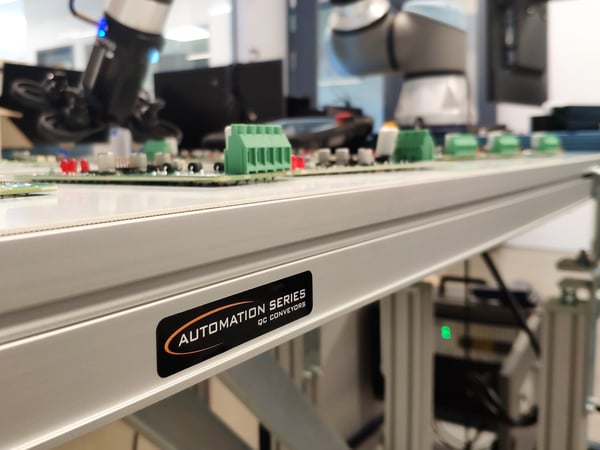 Conveyors are a vital component in many robot cells. However, as we have often discussed in the past on the Robotiq blog, conveyors can be tricky to integrate.
QC Conveyors beats this problem by having "The Ultimate User Friendly Conveyor." This Ohio-based company is part of the Duravant family and provides a series of simple-to-use conveyor solutions to suit any production line. They also have a handy Conveyor Configurator tool.
They first sponsored us back at RUC 2017 where they watched the entrants to our technical challenge trying to tackle the difficulties of integrating a robot in just 24 hours. You can read their takeaways from that challenge on their blog.
Fortinet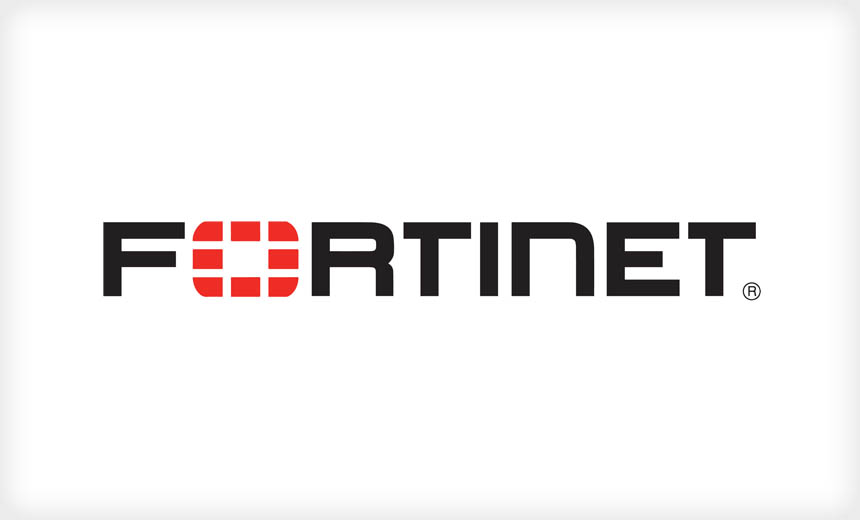 Fortinet is a cybersecurity company based in California. They provide a range of products for security-driven networking for small, medium, and enterprise businesses. These range from their flagship firewall platform Fortigate to industry-specific solutions, such as security solutions for Industrial Control.
This is a great year for Fortinet to be sponsoring the RUC as cobot cybersecurity is a hot topic this year in the world of collaborative robotics. We've already had blog articles about whether cobots can be hacked and how to protect your cobot from a security breach.
Festo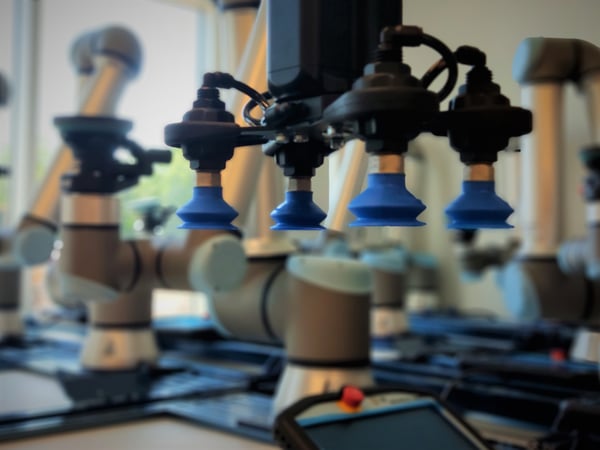 Festo is a well-known name in industrial robotic actuation and they are also sponsoring RUC 2019. As a renowned pneumatic actuation company, they have developed a range of novel robotic actuators over the years. We featured Festo's Tentacle Gripper in a recent article about innovative vacuum grippers.
Festo's huge range of products can be incorporated in almost every part of a robot cell. These range from the electromechanical drives —that can provide an extra Degree of Freedom to a cobot — right down to their proximity sensors that detect when products have arrived at the correct location in the robot cell.
Get ready for a spectacular event
Our sponsors are helping us to make sure that RUC 2019 will be a spectacular event.
With their help, the attendee's at this year's RUC will get a unique hands-on learning experience that will boost their robotics skills and set them up for a productive year with collaborative robots.
Keep on eye on #RUC2019 and subscribe to the experience.