Use Four Strategies to Fill the Manufacturing Gap With People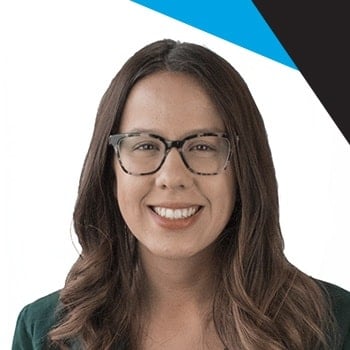 by
Amanda Lee
. Last updated on Jul 18, 2017 7:00 AM
Posted on Jul 18, 2017 7:00 AM. 4 min read time
Finding people who possess both the skills and the interest needed to work in manufacturing is a major challenge. The good news is that many people who have either the skills or the interest can move into the sweet spot—they just need a nudge in the right direction. Here's how to achieve this in your manufacturing shop.
Strategy 1: Increase Skills With Training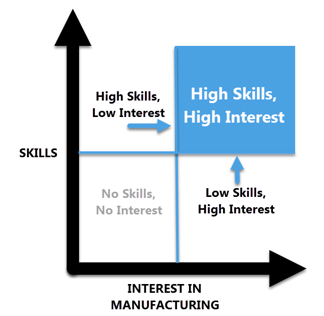 In the article "Got skills? Think manufacturing" from the Bureau of Labor Statistics, it says "Training on the job is one of the most important ways for workers to become competent at many occupations in manufacturing. This training often happens informally, as workers learn from more experienced workers."
Moreover, even if you can find workers today with exactly the right skillset, chances are those skills will be outdated in a few years. Keep in mind that people with an aptitude for learning are often more valuable over time than those with a current, but potentially soon-to-be-outdated skillset.
As Larry Fast, author of The 12 Principles of Manufacturing Excellence, stated in an Industry week article, "you are probably better off hiring a smart, trainable person who thinks and behaves the right way. We can always train-in the technical skills if the person is capable of learning and performing."


Benefits of Training
Increase loyalty
Implement standardized procedures
Maintain a flexible, adaptable workforce
For companies that are too small to provide in-house training, look for nearby training centers to recruit from. You could also form partnerships with other small and medium-sized companies to provide cost-effective training solutions.
Learn More About Robotics Training With Our eBooks: Why You Need Robotics Expertise and Build a Robotics Learning Program.


Strategy 2: Look Beyond Your Typical Sources of Talent
Do you require candidates for technical jobs to hold a four-year degree? It might be time to re-think that approach, and open your doors to people with technical certificates and non-traditional training as well. Rather than relying on a list of qualifications, have a technical person ask questions during the interview that will give a reliable indication of whether the candidate has the knowledge you need.
Ask interviewees about their hobbies, but look beyond that seemingly sacrosanct answer, "team sports." Soft skills like teamwork can be indicated by participation in clubs and social activities too.
Is a candidate spending the weekend coding, programming drones, and designing robots? That's likely the person you want—even if they've never stepped foot on a traditional college campus.


Strategy 3: Change Attitudes to Help Increase Interest in Manufacturing Jobs
If you know anyone in television production, you might want to ask them to create more shows that show off the fun side of science, technology, engineering and mathematics (STEM).
Tell your TV executive friend (or anyone who'll listen, really) this is their chance to be part of the next MythBusters®!
While you're waiting for the new show to air, you could also try the following ways to raise your company's profile.


Engage People With Social Media
For a great example of leveraging social media, take a look at how Lincoln Electric Company's ARC Magazine shares interesting, accessible, and visually appealing information about welding and metalworking.


Open Your Doors
Use open house events and plant tours to invite friends, family, students, and community members behind the scenes of your facility. People are always interested in seeing how products get made! Create opportunities to show off your modern, well-lit, and ergonomic environment.
Start with a friends and family event, and connect with local schools and training centers to make an impression on the future work force.
Whenever you win an award, introduce an innovative new product, or have something newsworthy to announce, you can create a public relations event and invite the local media to cover it.
Use Manufacturing Day as an excuse to open your doors and engage people.


Strategy 4: Appeal to Millenials
More than 50% of millennials considered a "sense of purpose" an important factor when they decided to work for their current employers.
How is your business contributing to society? Make sure that message is stated clearly, and then share it.
Provide Workplace Opportunities for Contributing to Bigger Causes
The 2017 Deloitte Millennial Survey showed that millennials who had opportunities to contribute to charities in the workplace were more loyal (staying with the company for 5 or more years), and had a positive opinion of the business's impact.


Demonstrate the Positive Side of Automation
The Deloitte Millennial Survey also revealed that while millennials share concerns about automation, they also view it as force for good: "millennials recognize the obvious potential benefits of automation in terms of productivity and economic growth; they also see it providing opportunities for value-added or creative activities, or the learning of new skills." However, a primary automation-related concern among millennials is that it will make the workplace impersonal, or less human.
If you've already implemented collaborative robots, turn those experiences into examples that show how well humans and robots are working side by side. Collaborative production cells can be an excellent way to showcase how your organization recognizes where automation can be implemented and where humans are needed.
Get the eBook exploring the skills gap, with a focus on solutions and strategies to close and fill the gap. We'll explore the answers to questions you might have right now.