The International Collaborative Robot Workshop, Cincinnati: Our Takeaways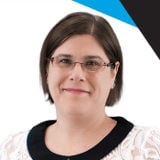 by
Karine Simard
.
Posted on Oct 26, 2016 7:00 AM. 6 min read time
2016's conference season is in full swing: with IMTS and Robobusiness in September, and now RIA's National Robot Safety Conference and International Collaborative Robot Workshop, we've been busy meeting current and future cobot users!
We attended and presented at the ICRW last week in Cincinnati. The conference was quite full, but to our surprise it was not full of robot newbies: the vast majority of the audience came from bigger manufacturers that have some experience with traditional robots.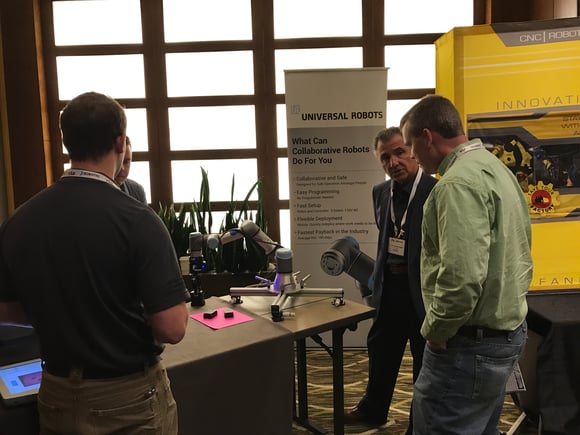 Cobot History
The day got started with the energetic Erik Nieves from Plus one Robotics, who treated us to a history of collaborative robots. Can you believe the idea of collaborative robots has been around since the late 90s, and it took until 2008 for the first models to be commercialized by Rethink and Universal Robots? Fascinating!
Erik pointed rightly that it took almost five years before a safety standard was released (ISO TS 15066 was released in February of 2016), that is a long time to have avoid on how to ensure the safety of robots designed to work alongside humans.
Now, most robot manufacturers have their own collaborative robot lines (think KUKA's IIWA and Agilus, FANUC's green series, ABB's YUMIK, and Motoman's HC-10). Still, the penetration of collaborative robots in the manufacturing sector is in its infancy: while the automotive sector is averaging 1000 robots per 10,000 workers worldwide (this includes traditional robots), the rest of the manufacturing industry (including the assembly side of automotive plants) is showing numbers of 200 robots per 10,000 workers.
While robot sales forecasts between 1 and 3 B$ by 2020, this means a 20x increase in robot sales. We agree with Nieves that this is unrealistic, even from the supply perspective: would the robot manufacturers manage to step up production of collaborative robots 20-fold in 3 years?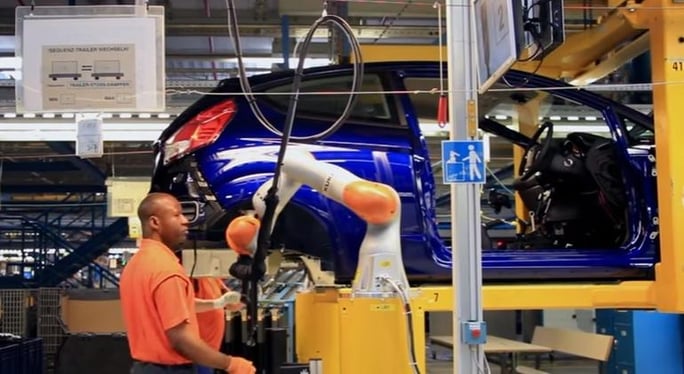 Partial Automation: The Way to Get Started?
We were treated to a few discussions of applications of collaborative robots during the day - this was a welcome change from all the safety discussions.
Boeing's Philip Freeman shared the plane builder's experience with collaborative robots. The robot is being used in projects where it's difficult and uncomfortable for a human to do the job, for example screwing nuts from inside the plane engine. Still, at Boeing the robot is doing most of the job, not all. As Freeman said, the robot does 85% of the work, and the worker comes in to do the last 15% that would be too complex to automate. The big challenge for Freeman is not the mechanical engineering aspect, but rather the coexistence of human and worker in the same space: while the robot must be able to "feel" it surroundings, react and adapt to what's happening, there is also a lot of psychology to take into account to create not just an environment that is safe, but that it also feels safe for the worker.
At Flextronics, we got the feeling that Gervasio Mutarelli is dealing with production challenges akin to SMEs, but on a much bigger scale. Flextronics makes electronics for other companies, like cell phones and other consumer goods. The challenge here is the unpredictability of demand from his customers, and being able to adapt: a contract might double production if demand for the product picks up, or cancel production altogether if the market shows no interest. In this context, cobots are attractive because they promise easy set up and reassignment to new production lines. Mutrarelli has tried different collaborative robots and shows proofs of concept videos showing an IIWA doing machine tending, a YUMI peeling off liners from parts before gluing them together, and a UR tending a SMT machine. Here again, we saw the importance of the workers feeling safe: Flextronics has to install a light curtain to separate the worker and the UR robot, not because there was a hazard to the worker, but because the worker did not feel safe working next to the robot.
Procter & Gamble's Mark Lewandowski, has been working with collaborative robots for a few years, and has identified that cobots are best suited for applications with low cycle time requirements, payloads under 10kg, and locations where there is little robotics expertise. Lewandowski also stressed that choosing processes that can be broken down in smaller, simpler tasks would help adoption of robots and automation success. The experience Procter & Gamble gained over 80 cobot installations worldwide highlights the need for clear guidance on safety (thank you, 15066!), and the adaptations one must do on the robot cell to ensure worker safety. Lewandowski stressed that impact does not happen at the end of arm tool necessarily - someone might bump into another part of the robot, so measures must be taken, including additional padding on the robots.
On his end, Honda's Todd Dickey recounts their foray in the world of collaborative robots, wanting to see if they would be accepted by the workers. Honda went the distance and built a full test bench to evaluate the force of impacts between a robot and worker, before the robot cell was implemented. This way, Dickey and his team were able to measure the hazards and figure out how to adapt robot movement and placement for optimal safety for the workers.
Cross Company's Andy Larson presented a machine tending application at Task Force Tips in Indiana, where two robots feed metal parts into respective machines. Interestingly, the challenge in this application was not communication between robots and CNCs, but rather the invisible human impact on the task: robots had to get suited to protect from particles being sprayed from the machines, and programming had to be adapted to account for the accumulation of residue in the machines' chuck.
ABB is one robot manufacturer who is dog-fooding it. They've been using their own YUMI in the manufacturing process in their factory in the Czech Republic. The scene shown was certainly closer to collaboration than most applications we've seen: while Yumi performs the part assembly, the worker visually inspects the part before sending it to the next process.


Getting Started with Cobots: Start Today!
Our CEO Samuel spoke about getting started with your first collaborative robot application.
Samuel's insight with all the robot applications we've seen over the years can be summarized in our eBook series on getting started with collaborative robots:
Essentially, Samuel recommends getting started today, focusing on a simple, high-ROI process to prove the value of collaborative robots, and involving all the stakeholders from the start.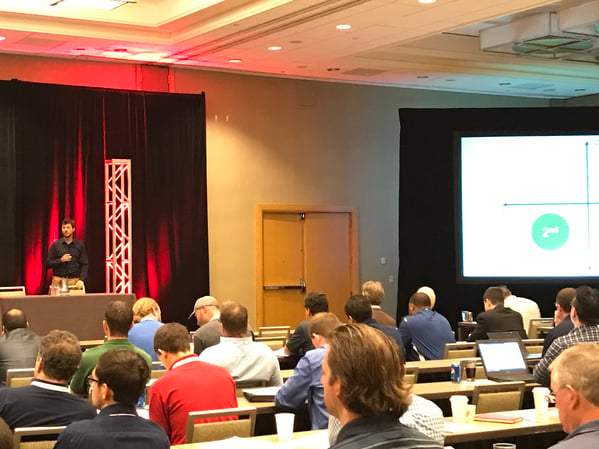 Safety: Everyone's Talking About it!
Oh, safety. So much was said on the topic during the day. Everyone stressed the importance of performing a risk assessment on the whole robotic cell, not just the robot. As Universal Robot's Roberta Shea likes to say: "It doesn't matter how safe the robot it, if it's packing knives, it's dangerous."
We found it interesting how many safety measures are being used in production, for robots that in theory don't need fencing. We saw a lot of light curtains, human presence detection, and other scanners to either slow down or stop the robot when workers were getting close.
Siemen's simulation software was interesting. Ulrich Raschke, showed how the simulation software helps understand human and robot "space used" in a collaborative cell, and explore different ways to minimize the chance of contact between the two.
Shea further called for more work to be done at the level of end effector safety. She asked, "What about end effectors? When will we have more intelligence in the end effectors for better safety?" Indeed we hear the committee that brought forward ISO TS 15066 is starting work on end effector safety for collaborative robots.
Shea ended on an interesting reflection about robot safety: For most applications that get robotized, there was a person doing this job before. Is the robot making the process safer or riskier?


We Love to Love Robots
After all that safety talk, we were treated to reflect on the human impact of collaborative robots, by Savioke's Dr. Tessa Lau. Savioke makes service robots, and Lau has always been fascinated by the attachment we form with technology in general, and robots in particular.
Lau recounted examples of people dressing up their Roombas, soldiers having funerals for their bomb-defusing robots, and a couple that asked for a hotel's service robot to be ring-bearer in their wedding ceremony. We can definitely relate to this: remember Scott Fetzer's Thelma & Louise?
In fact everywhere there are humans. Robots get named and treated as team members. People feel bad when the robot is broken, and modify them to make them more anthropomorphic.
In our manufacturing world, we've long noticed that the naming of the cobot is a sure sign of acceptance of the robot as a co-worker by the other human workers.
We wonder where this will take technology, and where technology will take this human trait?