Robotiq Ready for Automate 2019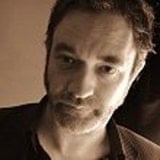 by
Emmet Cole
. Last updated on Apr 07, 2019 9:46 PM
Posted on Apr 07, 2019 8:58 PM. 3 min read time
Join us from the giant halls of McCormick Place in Chicago as Robotiq prepares for four days of robotics heaven at Automate 2019!

The Automate trade show is a truly epic event: over the next four days, more than 20,000 visitors from 80-plus countries will roam the giant halls of McCormick Place, Chicago, one of the most innovative (and sprawling) convention centers in the world.
More than 500 exhibitors are here, from robotics manufacturers and system integrators through machine vision and gripper specialists.
This year's theme is "Win The Future" and cobots are an important component of that future, explains Jeff Burnstein, A3 president:
"Automate attendees come seeking ways automation can help improve productivity and product quality, reduce costs, speed time to market and augment their workforce. Collaborative and mobile robots, along with AI, machine vision and motion control, are among the many technologies that will be showcased at Automate, all helping decision makers identify ways automation can fill workforce gaps by working alongside employees who are focused on more critical tasks."
Spread across four main buildings and several acres, Automate is a temporary city of the future packed with the latest robot technologies.


Ready to rock Automate 2019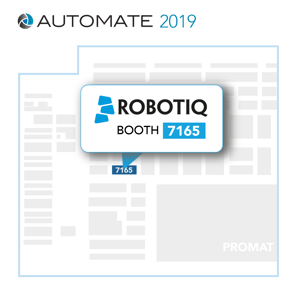 And Robotiq is here too! At Booth #7165 to be precise.
If you're attending the show, be sure to come visit us. We've got some greatness lined up this week, including exciting new product launches and demos.
And if you can't make it in person, stay tuned to our blog. We'll be bringing you the latest, the greatest, the weirdest and the most wonderful things we can find at Automate each day.
We've been busy today, transforming our booth space from this...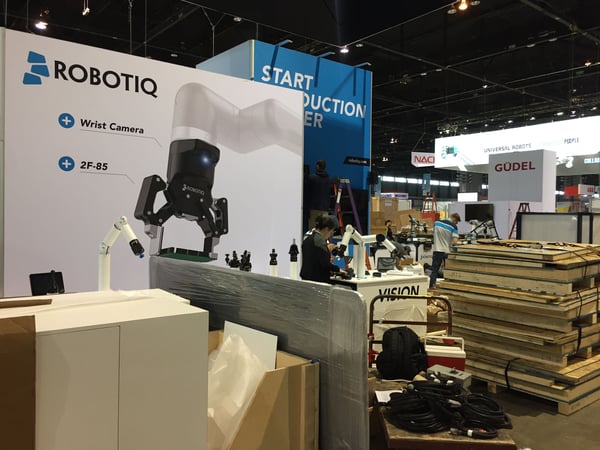 into this...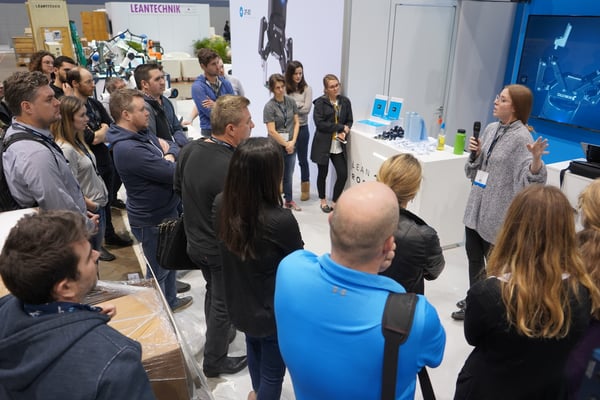 The Robotiq team prepares for Automate 2019 Credit: Robotiq
Did I mention product launches? The details will be revealed tomorrow, but we're super excited about some new additions to our product range, including to our gripper family. We've set up some marvelous demos of these new products and can't wait to share them with you over the next few days. In the meantime, here's a tiny taste of what's to come...
****
4 Things to expect @Automate 2019
The $10,000 Launch Pad Startup Competition for automation-focused companies that have launched in the last five years, generated less than USD2 million in revenue and are not affiliated with a larger group
The Engelberger Robotics Awards presented in the categories of Leadership and Education
The 51st International Symposium on Robotics-Americas, a prestigious event (fully integrated with Automate) that brings together thought leaders from around the globe to discuss the latest robotics applications and research
The unexpected(!)
****
We're on our bikes and on the way to the hotel to relax before the real action begins tomorrow morning. Hope you can join us then!
Now, where's my bicycle pump?!