Meet Our 4 Terrific Technical Workshops @ RUC 2019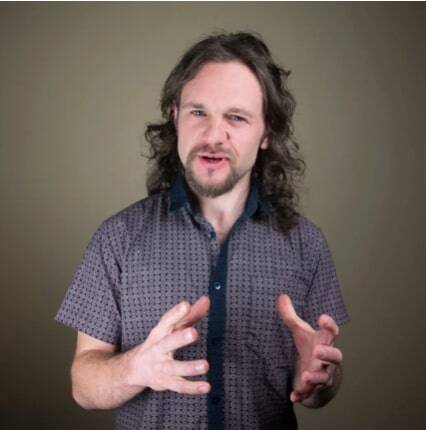 by
Alex Owen-Hill
. Last updated on Sep 18, 2019 9:53 AM
Posted on Sep 05, 2019 10:45 AM. 9 min read time
The 4 technical workshops at RUC 2019 are a crash course in useful cobot learning. Our tech track attendees are testing their skills in the silent disco.
It's a lovely morning here on Day 2 of the Robotiq User Conference 2019!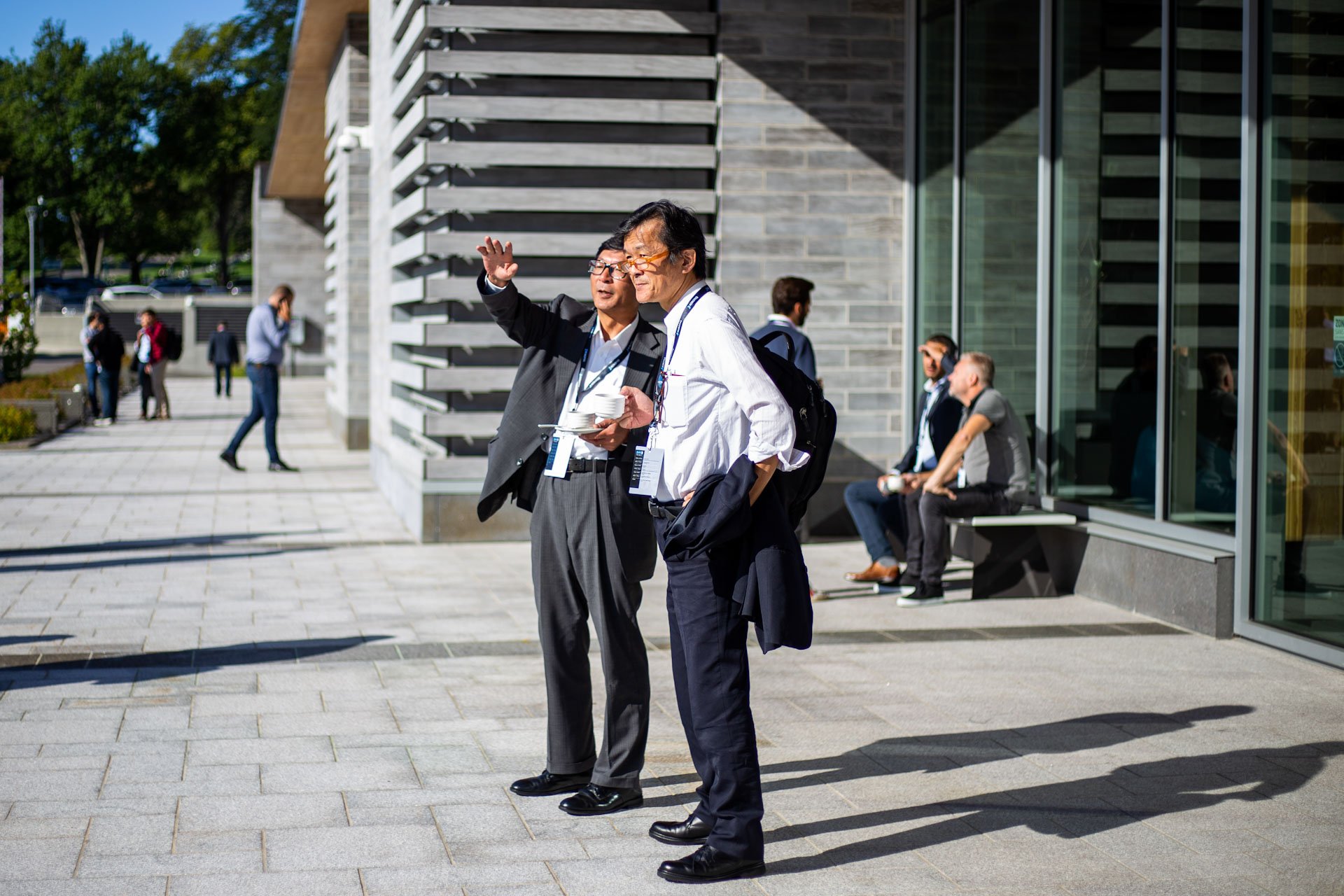 Unlike yesterday's torrential downpour, the sky was clear and blue when we made our way to the Voltigeurs de Québec Armoury for the second day of intense (but fun) robot learning.... and our online #RUC2019 social feed began to fill up...
It all kicks off for Day 2
With coffees in hand, the attendees took their seats in the J.A.R.V.I.S. hall.
Robotiq's Samuel Bouchard welcomed the attendees to Day 2.
He then welcomed Mathias Wiklund, the VP of Global Sales for UR, to the stage for the opening keynote of the day.
Mathias began:
"There has been a lot of talk about robots and cobots and Industry 4.0, but I think we've lost a bit of the human aspect. I think it's about empowering people and asking "What does business need for the future to make it successful?"

At UR we believe in making robot automation accessible and easy to use for all businesses."
We agree! Ease-of-use and accessibility are exactly what our attendees are experiencing through this year's training workshops. They are learning how to use cobots. But, they are also learning how to understand and communicate about the capabilities of cobots. In other words, how to "speak the language of cobots."
"I think that was a great example on the stage yesterday," said Mathius, referring to the Cobot Stories panel yesterday morning, "when we saw large corporations, mid-sized, and small enterprises, all talking the same language."
How our tech track training is structured this year
After the opening note, many of our attendees had only one language in mind….
"What was the French for 'Can I have a coffee please?' again?"
Un café, s'il vous plaît?
Some of the attendees were on their 3rd or 4th coffee of the day already… there were a few heavy nights at the banquet last night!
Then, the tech track attendees (identifiable by the internal dark blue line on their badges) all flooded into the R2-D2 hall to continue the learning that they had begun yesterday.
There are two learning tracks here at RUC 2019: the technical track and the sales track.
In previous years at RUC, most of the hands-on technical learning has been done in the form of the 24-Hour Technical Challenge. The challenge furnished attendees with a lot of skills problem solving a cobots deployment… but it took a long time and everyone ended up very tired.
This year, there will be a small technical challenge (which we're keeping very secret for now) but the focus is on targeted training and workshops.
Meet our 4 terrific technical workshops
The four technical workshops are all held in the "silent disco" in the R2-D2 room (see yesterday's post for an explanation of the silent disco).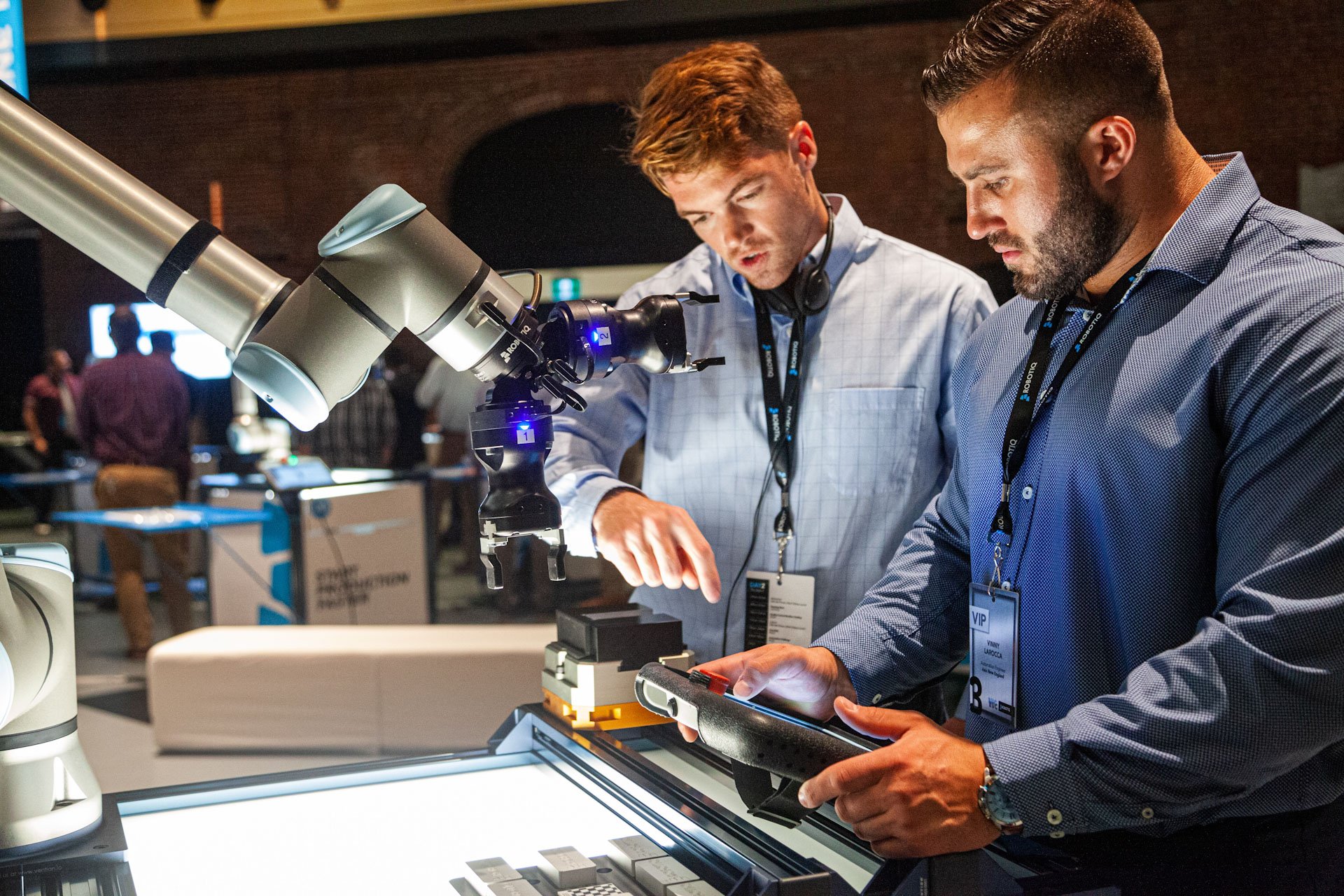 We've designed four, 2-hour workshops for specific, common cobot applications. These allow the RUC attendees (many of who are end-users) to get the skills they need to Start Production Faster with collaborative robots.
They get hands-on experience deploying the applications that are actually useful for them. They are also the first people to try the new Robotiq products, which Jean-Philippe Jobin announced yesterday.
Assembly Workshop
This workshop teaches the attendees to program an assembly task, using the Force Copilot and the 2F-85 Gripper.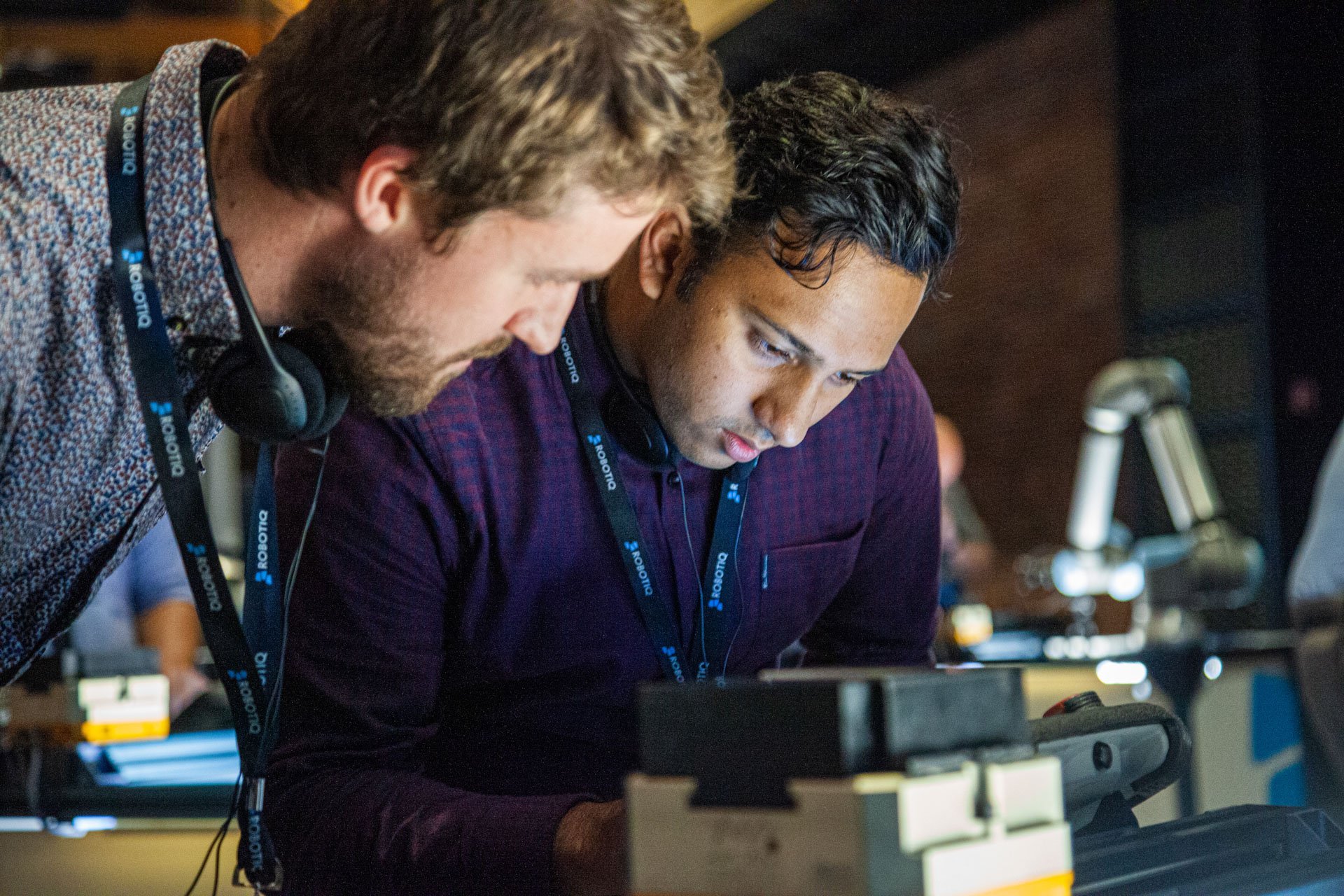 There are 4 key learnings of this workshop:
An introduction to Force Copilot, ActiveDrive, and Path.
Insertion with Force Copilot using Spiral Search and Rotation.
Force Copilot Events of Linear Search and Click Detection.
Multipoint Path (both lines and curves) with an external TCP.
The assembly workshop is being led by Marc-Antoine Lacasse, along with David Gariépy, Pierre-Étienne Germain, and Nicolas Bouchard.
Here's the video of the assembly workshop that Robotiq's David Maltais and Catherine Elie made yesterday:
Quality Control Machine Tending Workshop
In this workshop, the attendees use a lot of Robotiq products together for a task tending a quality control machine. They use the EPick Gripper, Wrist Camera, Force Copilot, and Insights.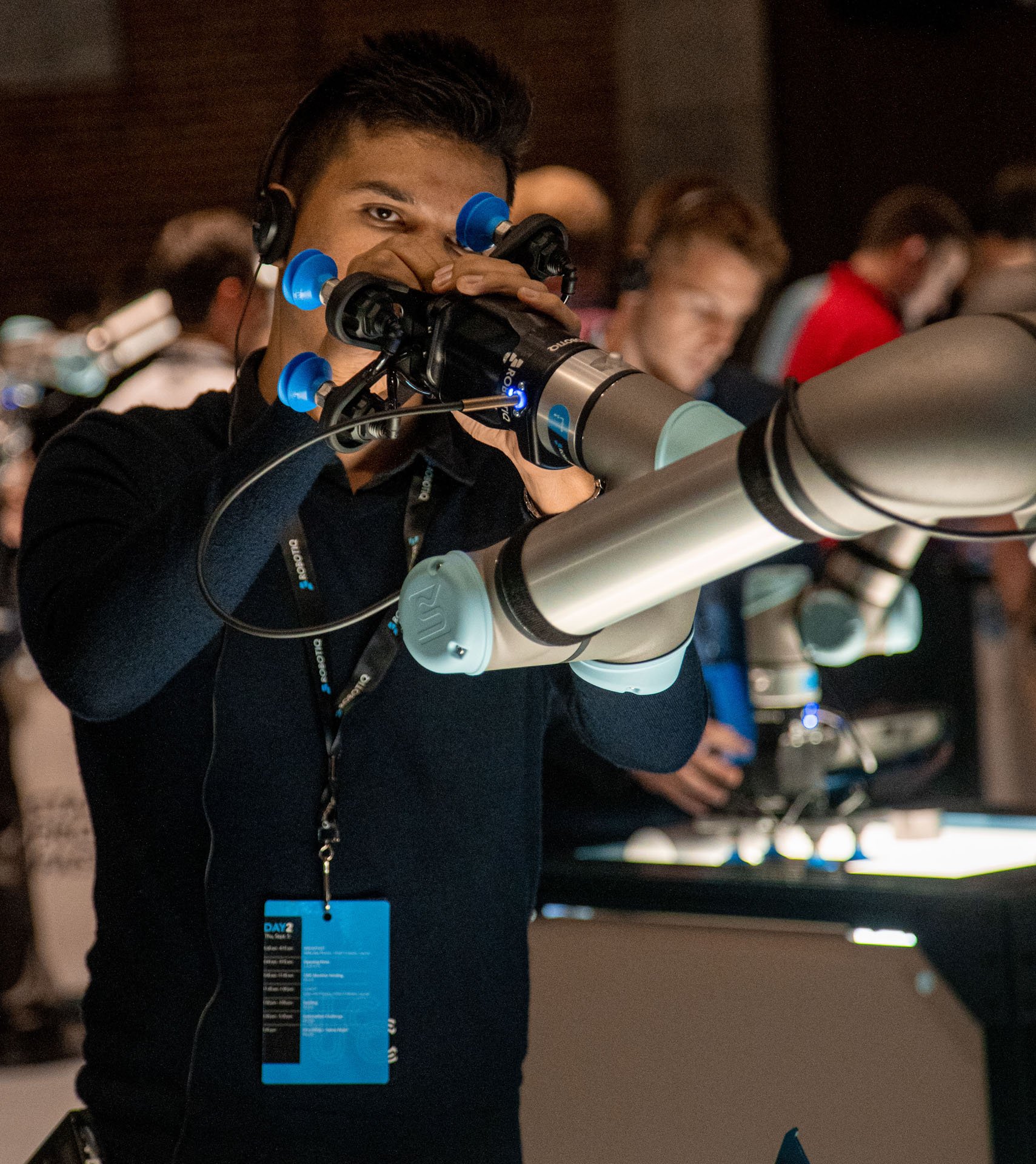 The 3 key learnings are:
Configuration of the vacuum gripper, with the vacuum source, suction cups, and URCap.
Using the new "One-Click Calibration" workplace setup and Auto-Pick features.
How to use the new Barcode Reader and Save Image features.
The QC machine tending workshop is being led by David Rochette, along with Marc-Antoine Lacasse, David Gouffé, Marc-Antoine Gauthier, and Gabriel Boucher.
Here's David and Catherine's video of the QC machine tending workshop that they made here this morning:
CNC Machine Tending Workshop
This workshop teaches attendees how to perform one of our most popular new cobot applications using the brand new CNC Machine Tending Kit.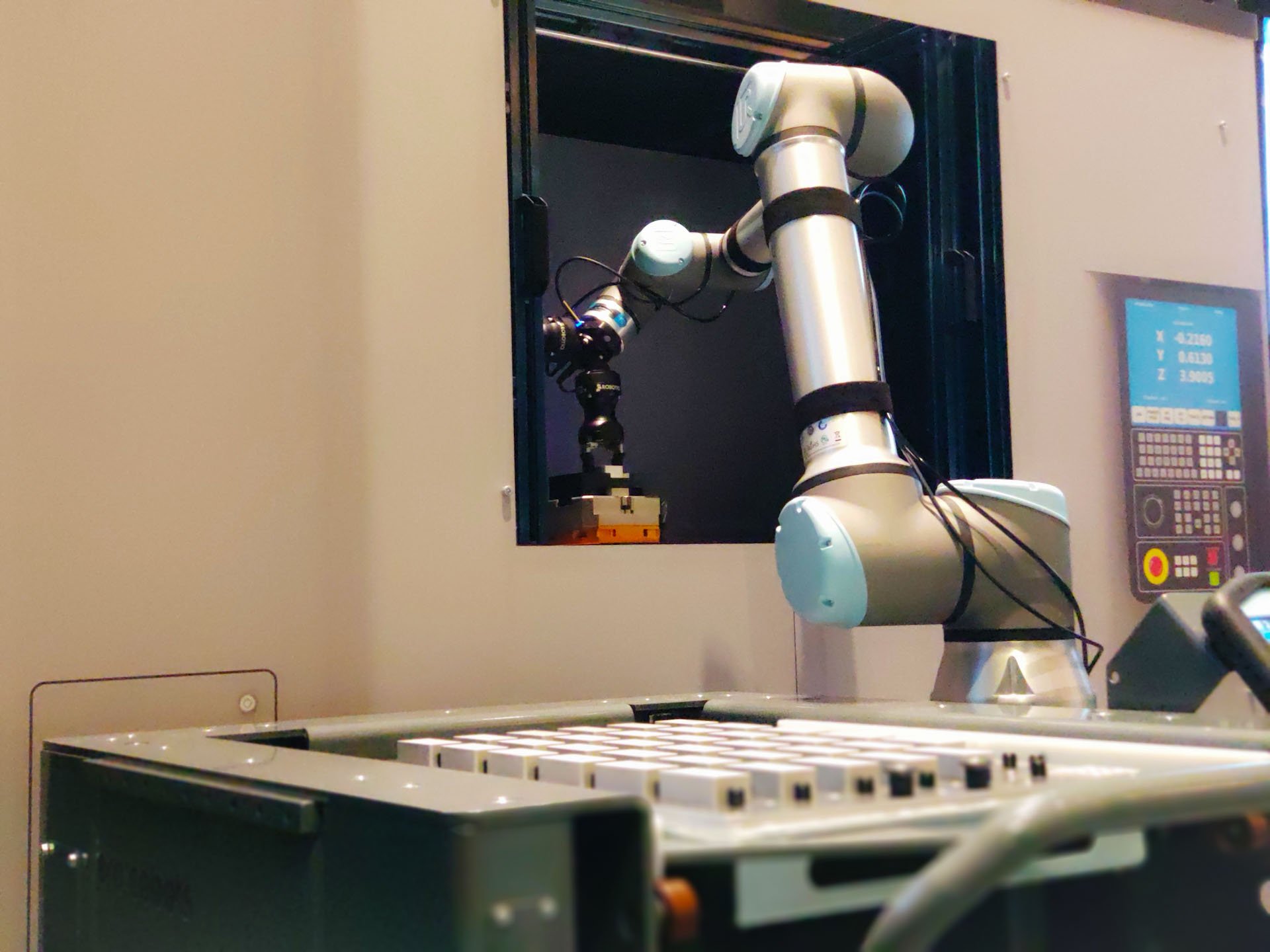 The 3 key learnings are:
How to optimize the programming of your dual gripper, using the dual Hand-E provided in the kit.
How to easily relocate your robot, using the new Contact Offset and Visual Offset functionality to automatically reposition the robot program.
How to securely insert parts into a vise using the Find Surface skill and Force Events.
The CNC machine tending workshop is being led by Mathieu Bélanger-Barrette, along with Philippe Lévesque, Nicolas David, Alain Trudel, and Nicolas Boucher.
Here's David and Catherine's video of the CNC machine tending workshop that they made here this morning:
Sanding Workshop
Finally, this workshop teaches attendees how to use our newly updated Sanding Kit, for 3 grades of finishing process (1000 grit sanding, rough compound polishing, and fine compound polishing).
It uses the brand new Finishing Copilot Contact Offset node which automatically relocates the robot program relative to a feature of the workpiece.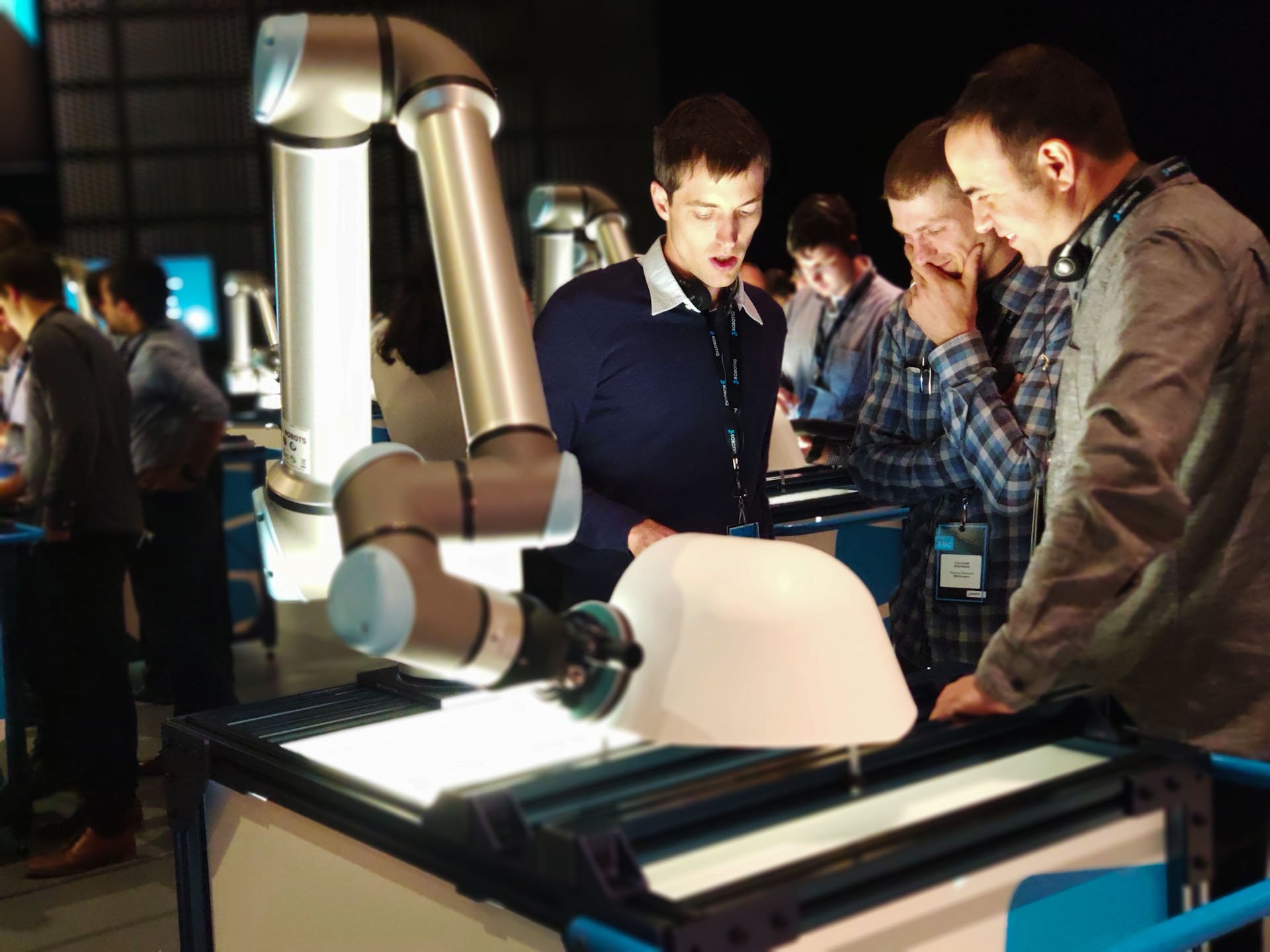 The 3 key learnings are:
Path planning across the surface and identification of surface types.
How to program the surface and deal with irregular surfaces.
How to program the complete part using the new Path Generator nodes.
The sanding workshop is being led by Louis Bergeron, along with Benoît Castets, Thomas Chambard, and Sébastien Bélanger.
Here's David and Catherine's video of the sanding workshop from yesterday:
There's more!
I think you'll agree, that's a lot of learning!
But, even when the tech track attendees have finished with these workshops, their work is not over yet…
They've still got the Assembly Challenge to come up this afternoon!
And of course, there are the sales track attendees — who we'll check out in the next post.