Machine Learning and Artificial Intelligence: Here's how they differ

by
Philip Fine
. Last updated on Nov 05, 2019 12:48 PM
Posted on Nov 05, 2019 11:33 AM. 3 min read time
Artificial intelligence and Machine Learning are increasingly used in modern factories. But do you know how to tell the two apart?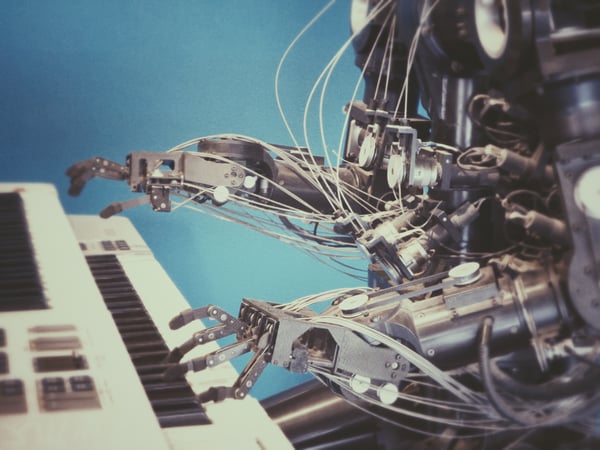 Photo credit: Franck V.
You may have used the terms Artificial Intelligence (AI) and Machine Learning (ML) interchangeably. With all due respect, we would like you to stop. After all, you wouldn't use clothing and shirt as synonyms. And while baseball is a sport, sport is certainly not baseball, as is the case for an appliance and a washing machine.
You can see where we're going: AI is a general term and ML is a more specific subset of AI. Other subsets of AI include image processing, cognitive science and neural networks.
Learning from data
ML's key role is to serve the manufacturing process, whether it's a wire that needs to be soldered to a motherboard or a palette destined for a transport container. ML trains equipment to discover things by way of matching data or zones of data. The learning part of machine comes in the form of an algorithm, which uses data to create equations in order to make predictions. The machine continually recognizes its external environment, through such things as sensors, cameras and user information. All that it records becomes data. So, knowing where on the motherboard that solder needs to be applied or where on the warehouse floor the palette needs to be placed are learned by the machine, which effectively uses its stored knowledge to make predictions.
ML tools, like robotic arms, learn from data, with the goal of maximizing the performance of their task. Today's machines take in and process disparate pieces of information, as they work to minimize error and maximize prediction likelihoods.
Assembling a car vs driving a car
So while ML can teach the equipment to become faster and more nimble than humans, AI actually looks to try and replicate human intelligence. Think of ML technology as the robot assembling a car more quickly than a human, and AI the results of understanding what the mind does when it assembles or, in fact, drives that car.
As a manufacturer looking to make your plant work more efficiently, you'll more likely be looking to ML. So, if you're transitioning to machines to scan inventory, pick products from shelves, apply paint to a car or harvest, it's ML that will be making your manufacturing process more efficient. And all these improvements in machine learning can thank that wider field of artificial intelligence.
Human intelligence will prevail
As we head toward the next industrial era, the huge quantities of data coming from the factory will be the era's gold. The question is how to use the data and how to adapt it efficiently and intelligently. That will neither involve machine learning or artificial intelligence but learning that comes from people who are applying real intelligence.
Sources:
The Difference Between Artificial Intelligence, Machine Learning, and Deep Learning
Artificial Intelligence (AI) vs. Machine Learning vs. Deep Learning
Difference between Machine learning and Artificial Intelligence
What Is The Difference Between Artificial Intelligence And Machine Learning?
Clearing the Confusion: AI vs Machine Learning vs Deep Learning Differences