Day 1 @ RUC 2019 is Over: Here Are Our Highlights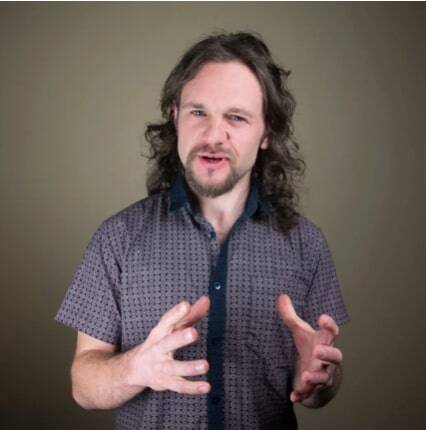 by
Alex Owen-Hill
. Last updated on Sep 18, 2019 9:53 AM
Posted on Sep 04, 2019 8:26 PM. 5 min read time
The first day of the RUC 2019 is done, but one more to go! We've learned a lot about collaborative robotics today. Here are our highlights.
Time flies when you're having fun… and plastic balls fly when you hit them with a baseball bat! (you'll have to read our earlier post to understand what on earth I mean by that).
And time has certainly flown by today. Our attendees have gained tons of new skills and knowledge that can help them to accelerate their collaborative robot deployments and "Start Production Faster."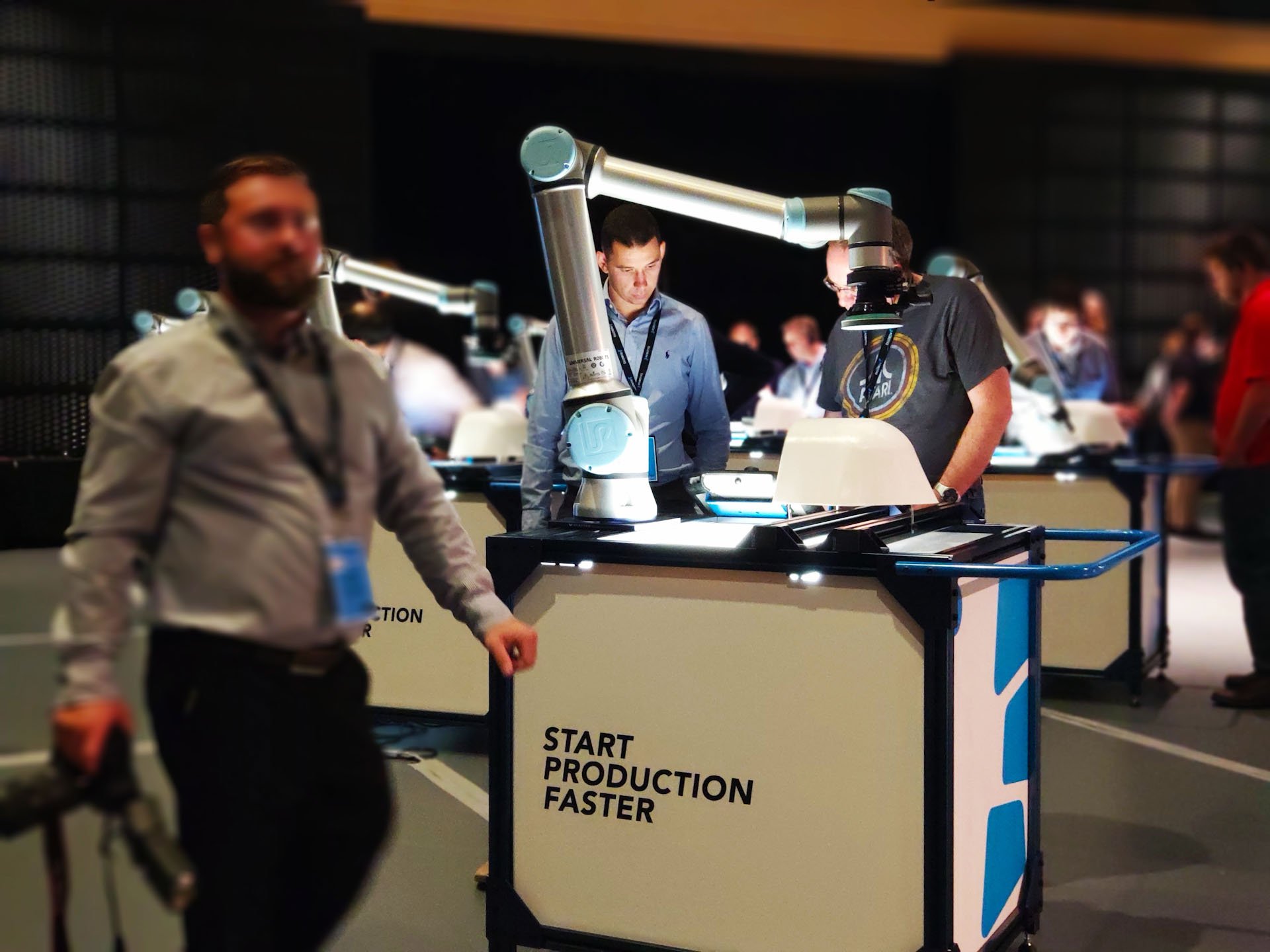 This hands-on learning is especially important this year because half of the 200 attendees are end-users who will be deploying robots in their own factories.
Here are some of our top highlights from today.
Comment ça va? We can all speak French!
We said that we would make this year's RUC the best learning experience that we could this year…well, the learning started early today!
As soon as Robotiq's Karine stepped onto the stage to announce the beginning of the RUC, she started teaching the audience something… how to speak French.
About to get a lesson in French at the Robotiq User Conference, Bonjour! #RUC2019 pic.twitter.com/JML8AuDxT0

— Samir Shaikh (@samir13k) September 4, 2019
Speaking the local language is an important skill to have, she explained. You at least want to be able to say "Hello." "How are you?" and "Coffee! Please give me coffee!"
Along with her glamorous assistant, Adam, Karine taught the attendees to have a basic conversation. She challenged everyone to say "Bonjour" where possible throughout the day, to aid good communication. When our four panelists took to the stage later on, they all welcomed Samuel Bouchard with a "Bonjour"… and then it was a very good panel discussion, so clearly it works!
Karine taught the audience how to ask for a coffee.
Then she taught them how to ask for some water.
Then she moved on to the alcohol…
How many conferences have you been to before where everyone in the audience has shouted out in unison "Can I have a beer please!?" at 9:25 am in the morning?
Not many, I would guess (usually it's at least 3 pm before the audience starts heckling the speakers with their drink orders).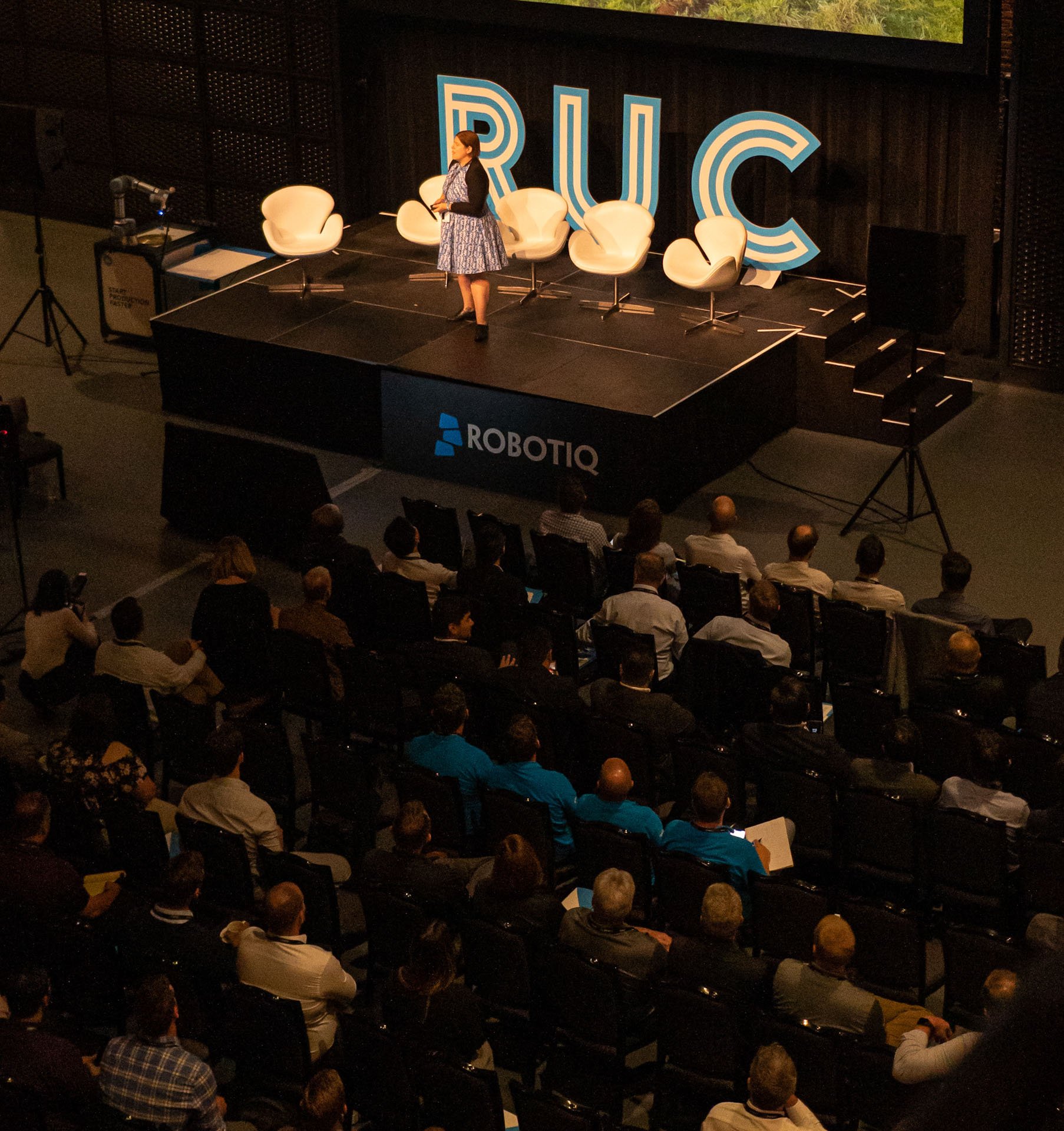 The silent disco of robot workshops
Two phrases that you probably never thought you'd see together are "silent disco" and "robot workshops"… right?
Well, here at #RUC2019 we've managed to combine the two things in a rather ingenious way.
You see, we had a problem. We knew that we were going to have four workshops going on in the same room at the same time together.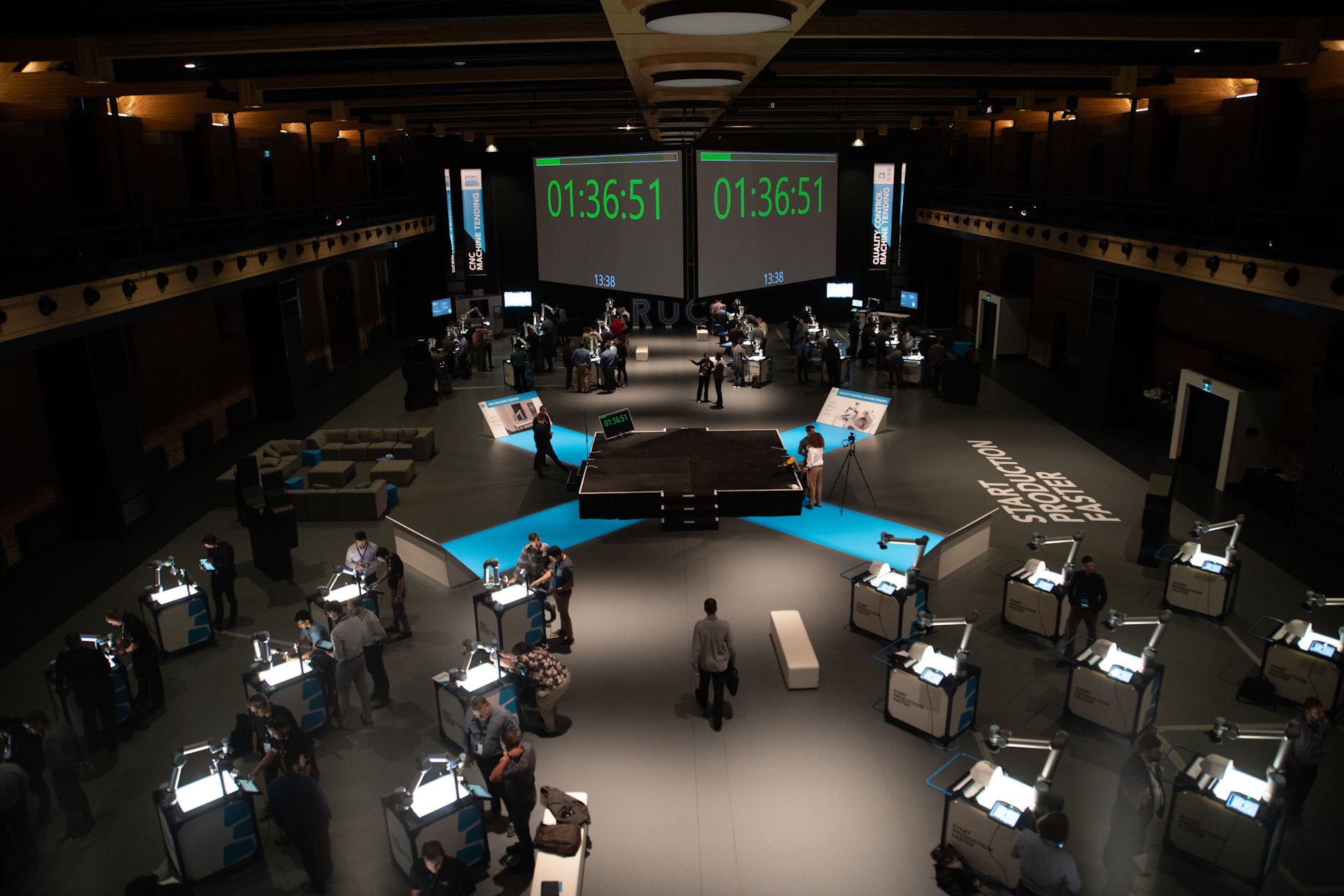 It was going to get very, very noisy in here!
But then, someone had the idea that we could use headphones… like in a silent disco.
Instead of trying to shout above the noise, our trainers all have microphones.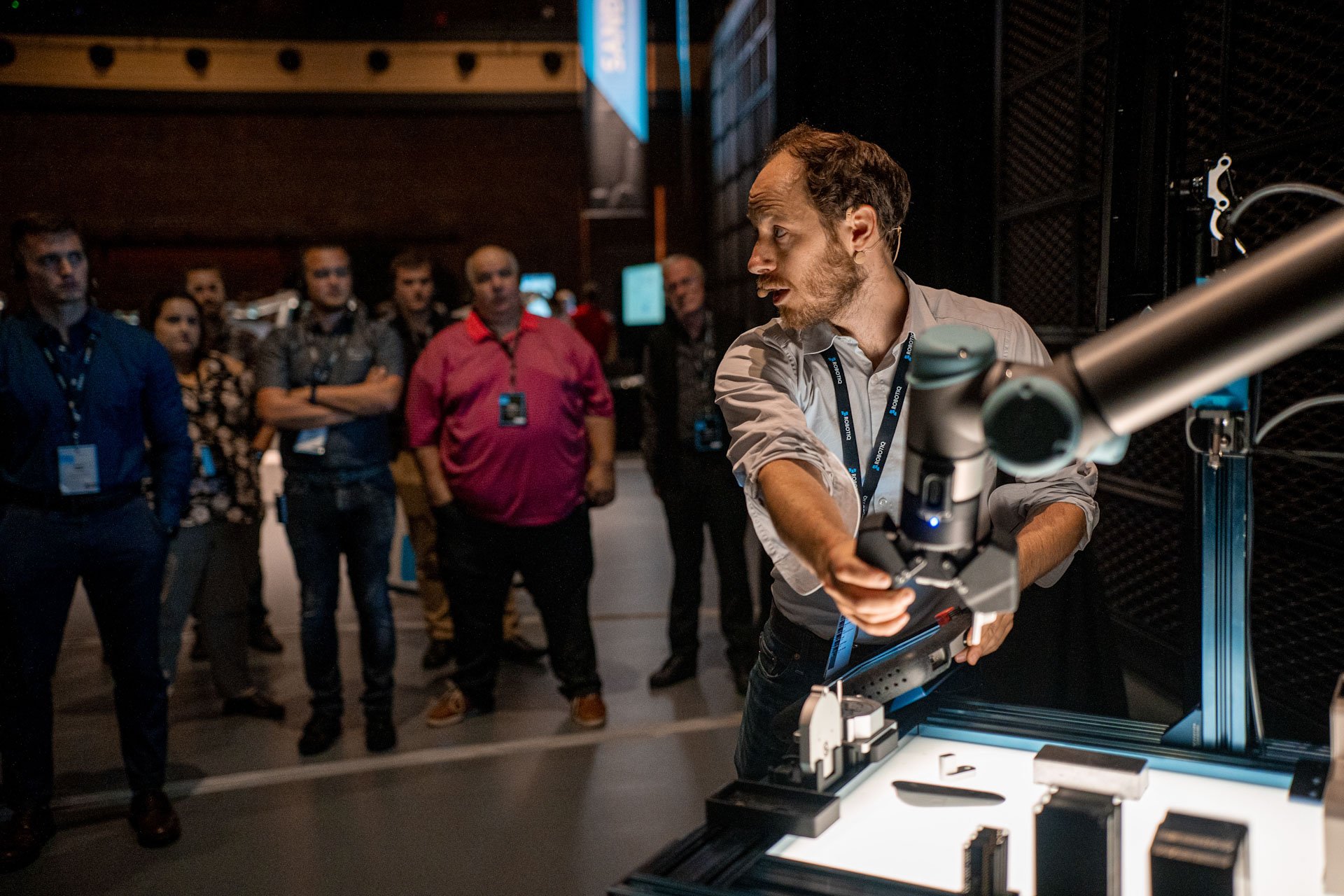 These are linked to the headphones which our attendees are wearing.

They can hear the trainer loud and clear, but they don't have to struggle to hear over the background noise.
Pretty neat idea, right?
Cobot learning galore
And what is it that our attendees are learning? They're learning how to use the Robotiq product, including the ones that Jean-Philippe announced in his entertaining presentation earlier today.
We've had the Sales track sessions. These are for those attendees who will be selling Robotiq products to their customers.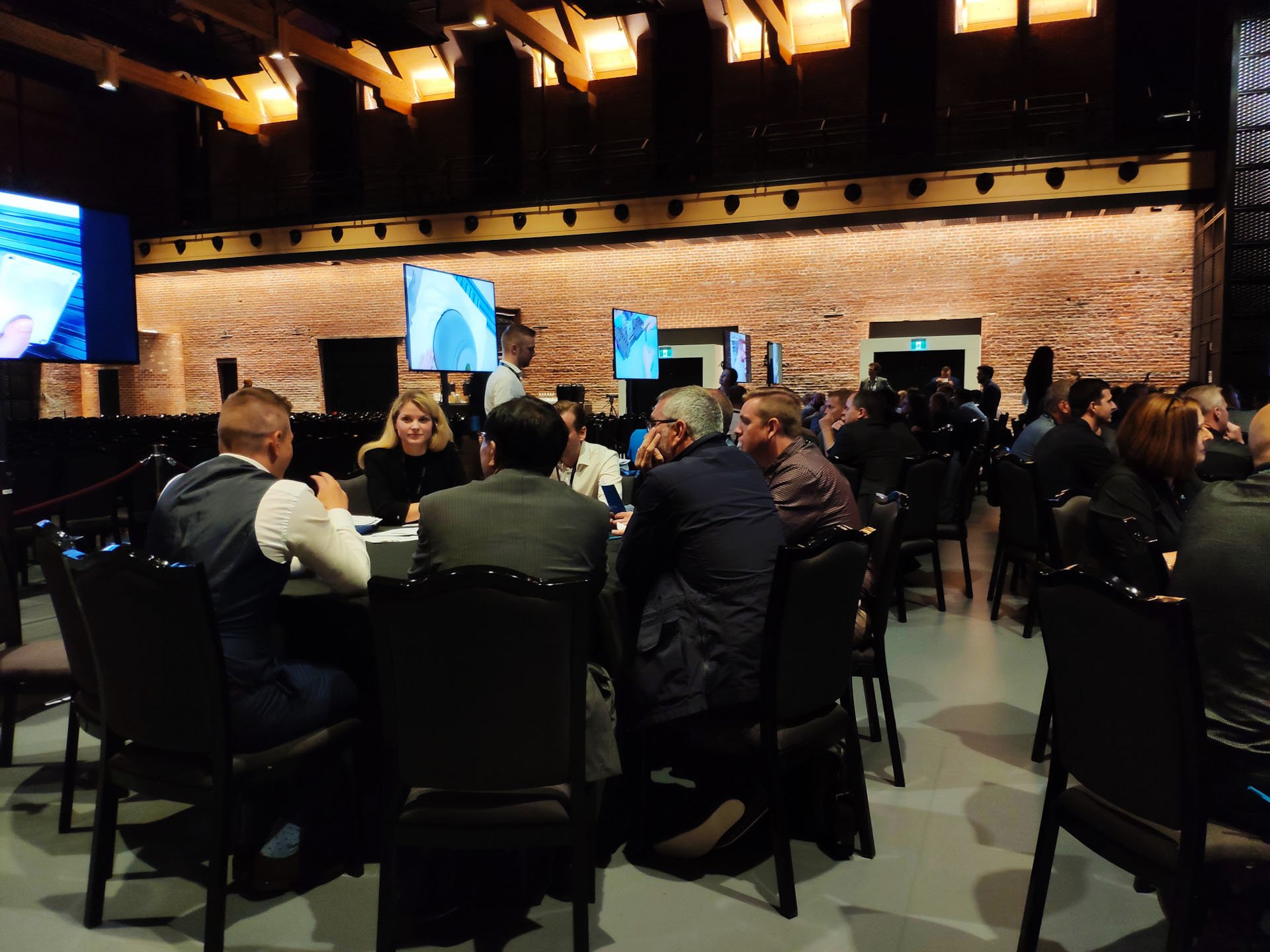 Then there are the technical track sessions (the ones with the silent disco).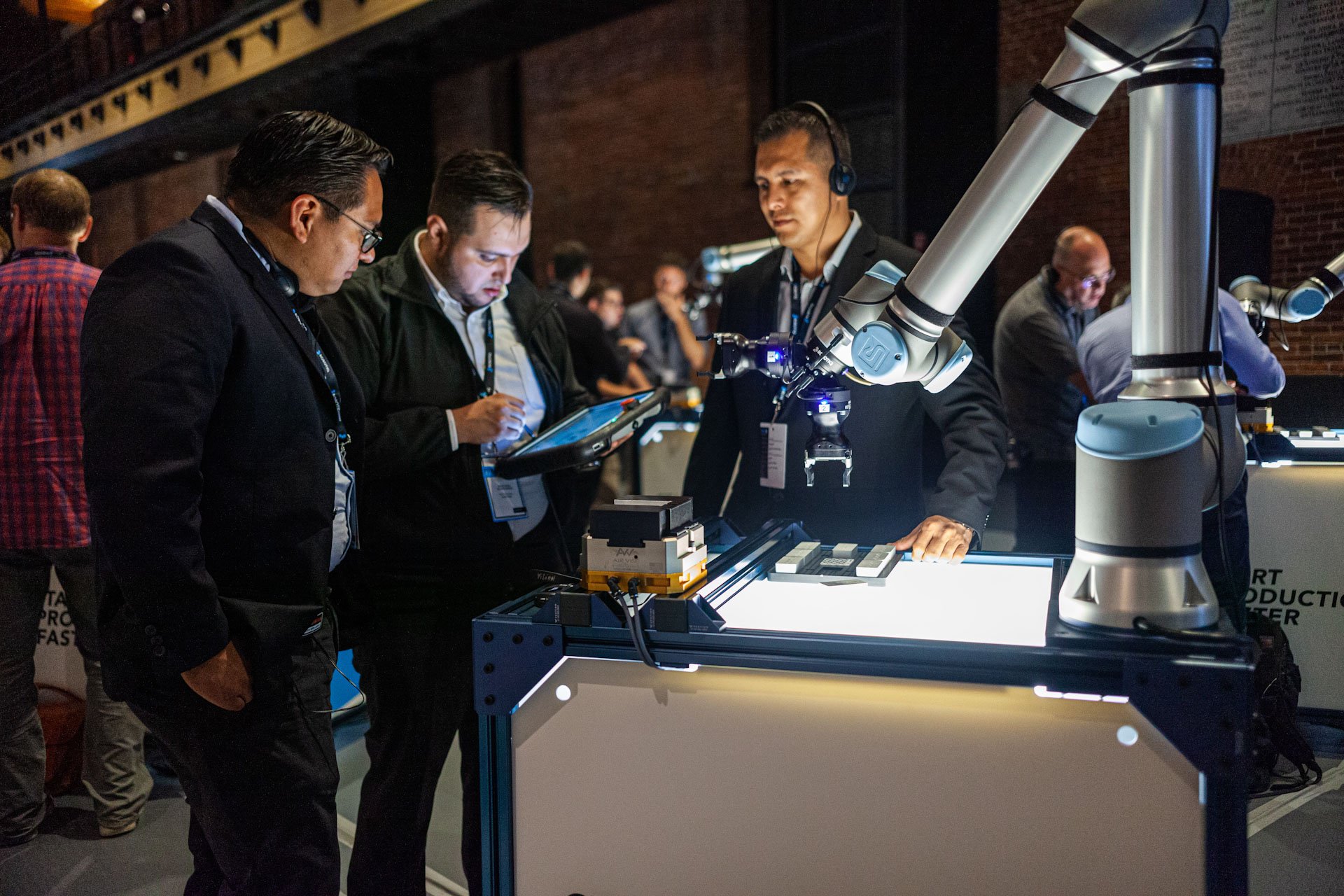 Just like our attendees, Robotiq's David Maltais and Catherine Elie have been hard at work making these videos to show you two of the things the attendees are learning in these technical sessions.
Here's the sanding workshop:
And here's the assembly workshop:
Banquet!
That's it for Day 1!
We've worked hard and met some great people.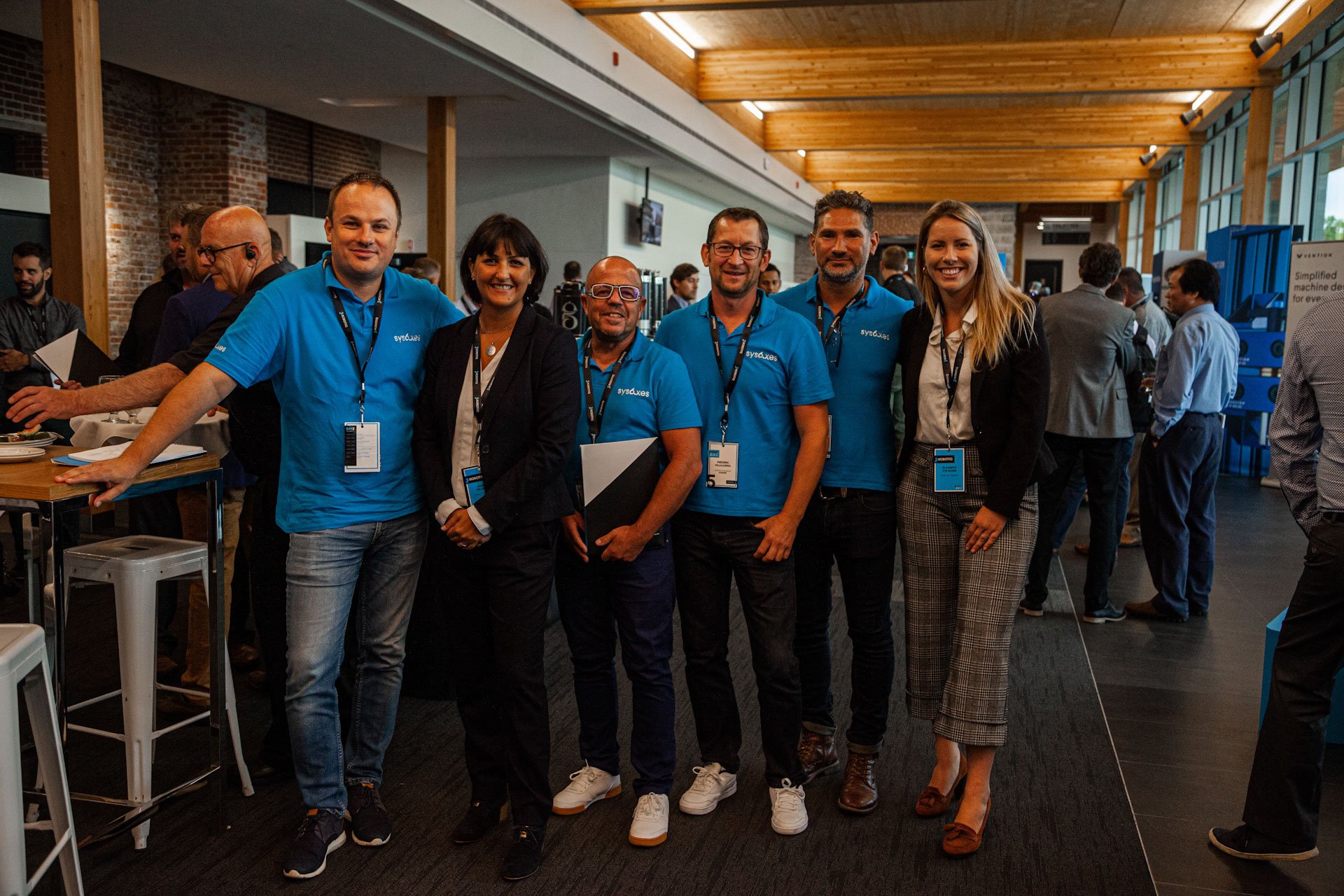 And there's a whole day tomorrow with even more to look forward to!
Now, it's time for us to relax and enjoy the Banquet…
If you're feeling left out, check out what people have been saying online.
Until tomorrow!