Cobot Stories Panel @ RUC2019: Start Simple and Copy-Paste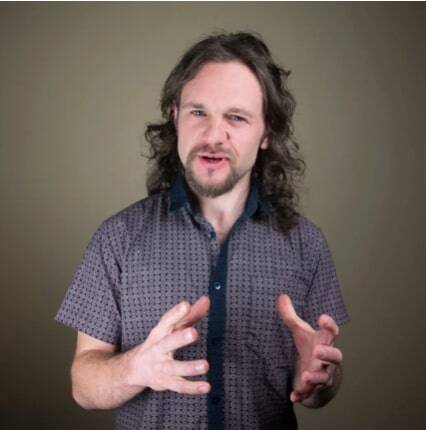 by
Alex Owen-Hill
. Last updated on Sep 18, 2019 9:54 AM
Posted on Sep 04, 2019 1:36 PM. 6 min read time
The RUC 2019 has begun! At the first panel of the day, we're already learning some valuable insights into how best to get started with cobots.
It's 9 am this morning in the here at the Voltigeurs de Québec Armoury…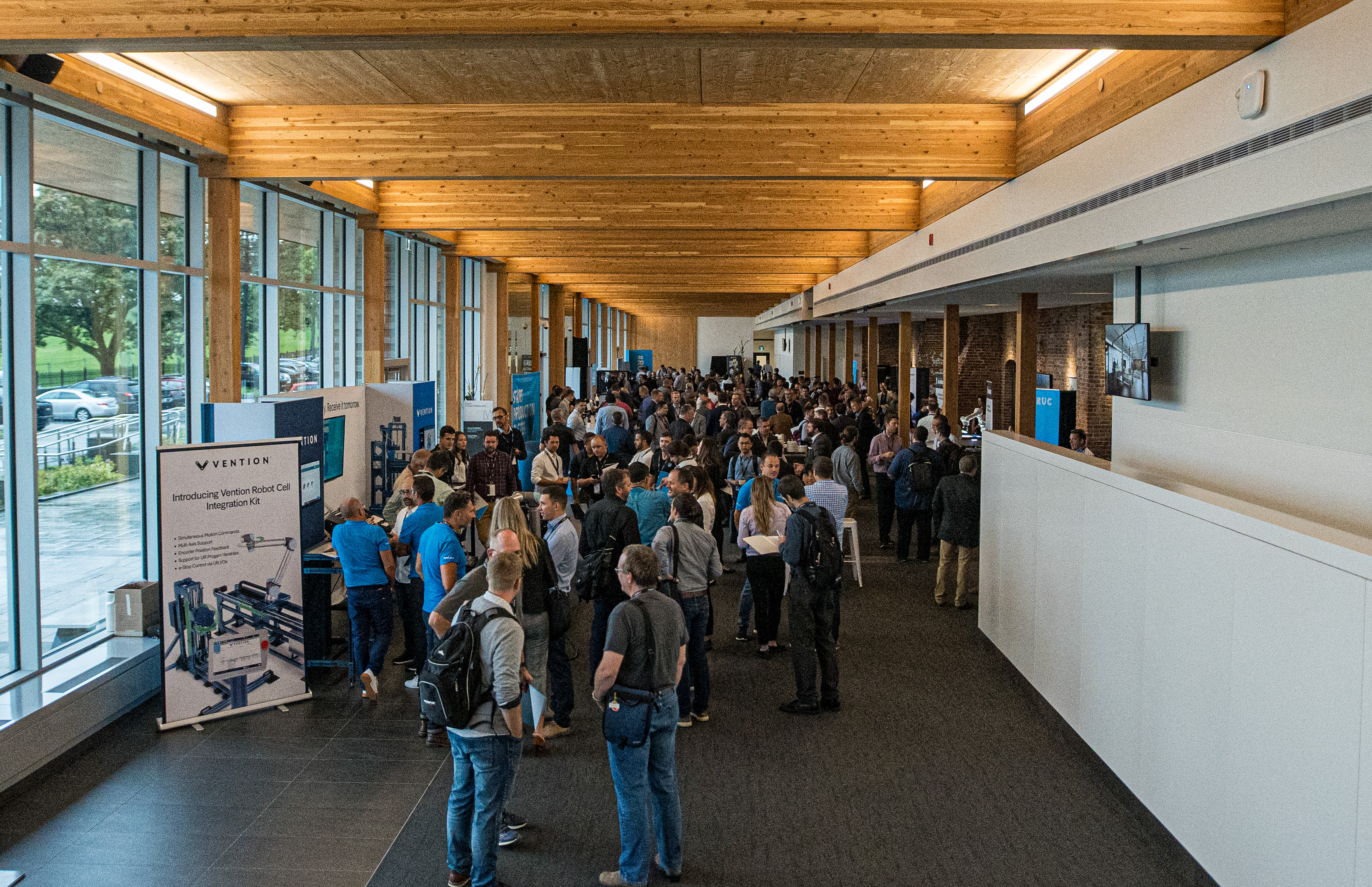 In the Jarvis room, five white chairs sit on the central stage. For the moment the chairs are empty, but the chatter of attendees above the quiet hum of music suggests what is to come…
The attendees are invited to take their seats…
Futuristic music and patterns of swirling light are blasted onto the huge screen behind the stage…
The video ends with three big letters…
… R U C
"Are you ready to Rock the RUC!?" exclaims Karine Simard as she steps onto the stage.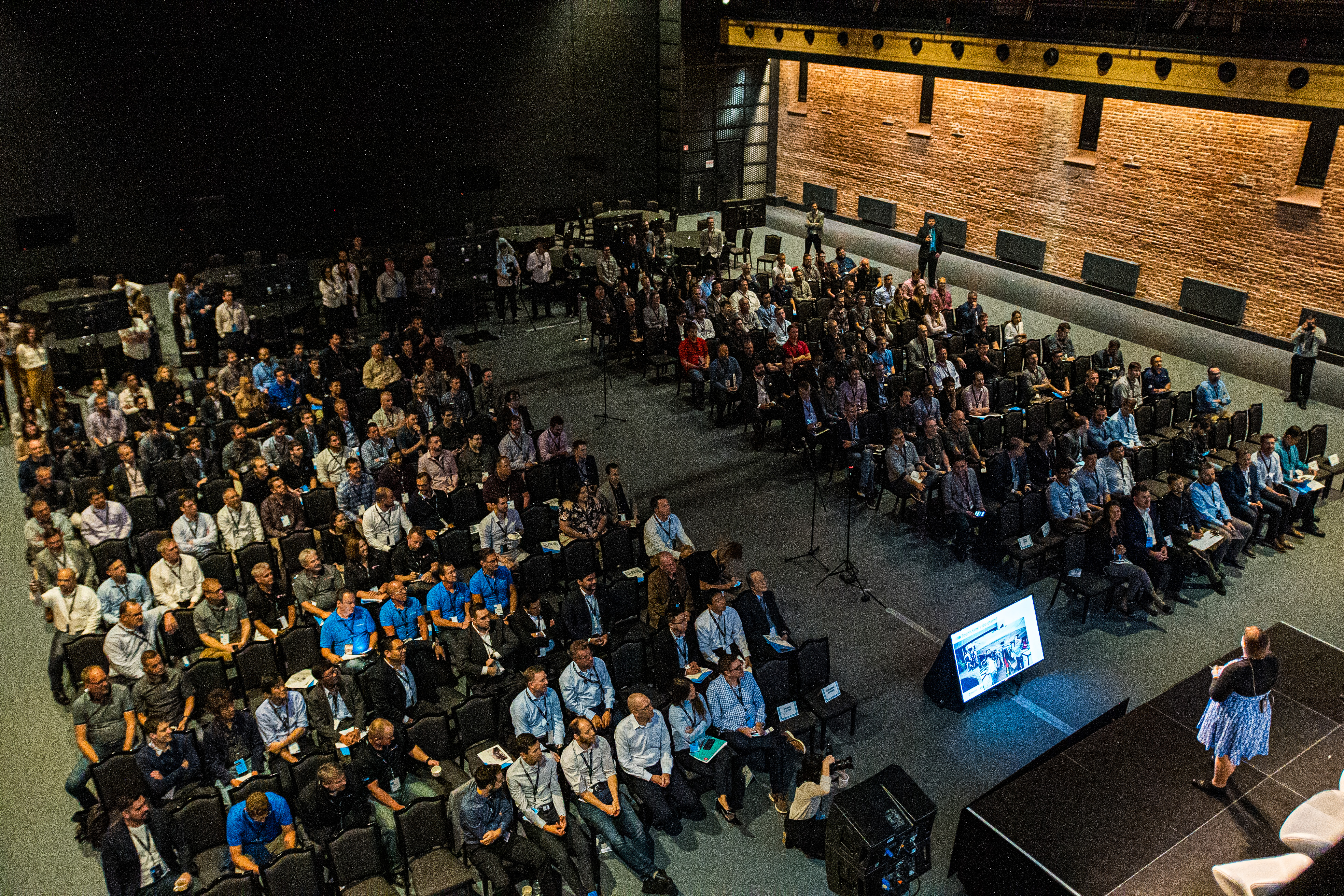 It takes a few seconds for the audience to respond (clearly their morning coffee hasn't kicked in yet), but they eventually give a rolling cheer.
The Robotiq User Conference 2019 has begun!
Our first insights @ Cobot Stories from Factories
After Karine's rousing introduction to the event, we were straight into the first panel of the day: Cobot Stories from Factories.
This panel, led by Robotiq's CEO Samuel Bouchard, brought experienced cobot users onto the stage to "pick their brains" about what it really takes to deploy collaborative robots to your business the first time.
The 4 panelists, who you can read more about in this post, started by introducing their experiences with cobots.
Carlos Han from Smith & Nephew
Carlos started by showing us some videos of two cobot applications using UR robots: one machine tending and deburring application, and one of a movable cobot with a Dual Hand-E setup. As Samuel commented, both of these are really multiple applications combined!
Carlos works in the orthopedic implants division of Smith & Nephew, but he is also trying to establish a global automation group for the entire company, as each of the company's three divisions (orthopedics, sports medicine, and advanced wound management) currently has its own group.
Jarek Hyjek from RBC Bearings
Jarek started by introducing RBC Bearings. As the company's name suggests, they make bearings, mostly for aircraft applications in the military.
The first UR robot they implemented was about 3 years ago, to automate an assembly process for ball bearings. Now, they have 8 UR robots in production and 3 more in development. Jarek's goal is to be running 20 robots by the end of 2020.
Craig Zoberis from Fusion OEM
Samuel introduced Craig by showing us the Fusion OEM video from our Case Study Library.
Craig started by explaining why the company had got started with cobots in the first place. At the time, they had 12 machinists in their team. Half of these were millennials and half were baby boomers. Although Craig was initially dubious about cobots, his team convinced him that automation would allow the younger workers to spend more time learning from their experienced colleagues before those colleagues retired and their knowledge was lost.
Craig explained how the company has recently made the move to becoming a UR Certified Systems Integrator, following their experiences with using cobots in their own business. As he explained it "We are now drinking the Kool-Aid and selling the Kool-Aid."
Jeffrey Werner from Procter & Gamble
Jeffrey began by giving an introduction to P&G. He explained that the company has over 3000 robots in operation over the globe, which they're trying to grow to 5000 in the next few years. About 150 of them are cobots, the vast majority of which are URs doing packing tasks.
For him, cobots have allowed the company to fill a gap. Previously, a lot of the processes that could be automated had already been automated. Cobots allowed them to revisit some of those slower jobs that were previously impossible to automate and find new ways to achieve them.
Top takeaways from the panel
There was a ton of great discussion during the panel and I'm sure we'll be bringing up points that were made for a long time to come. But, here are 3 of our top takeaways for now.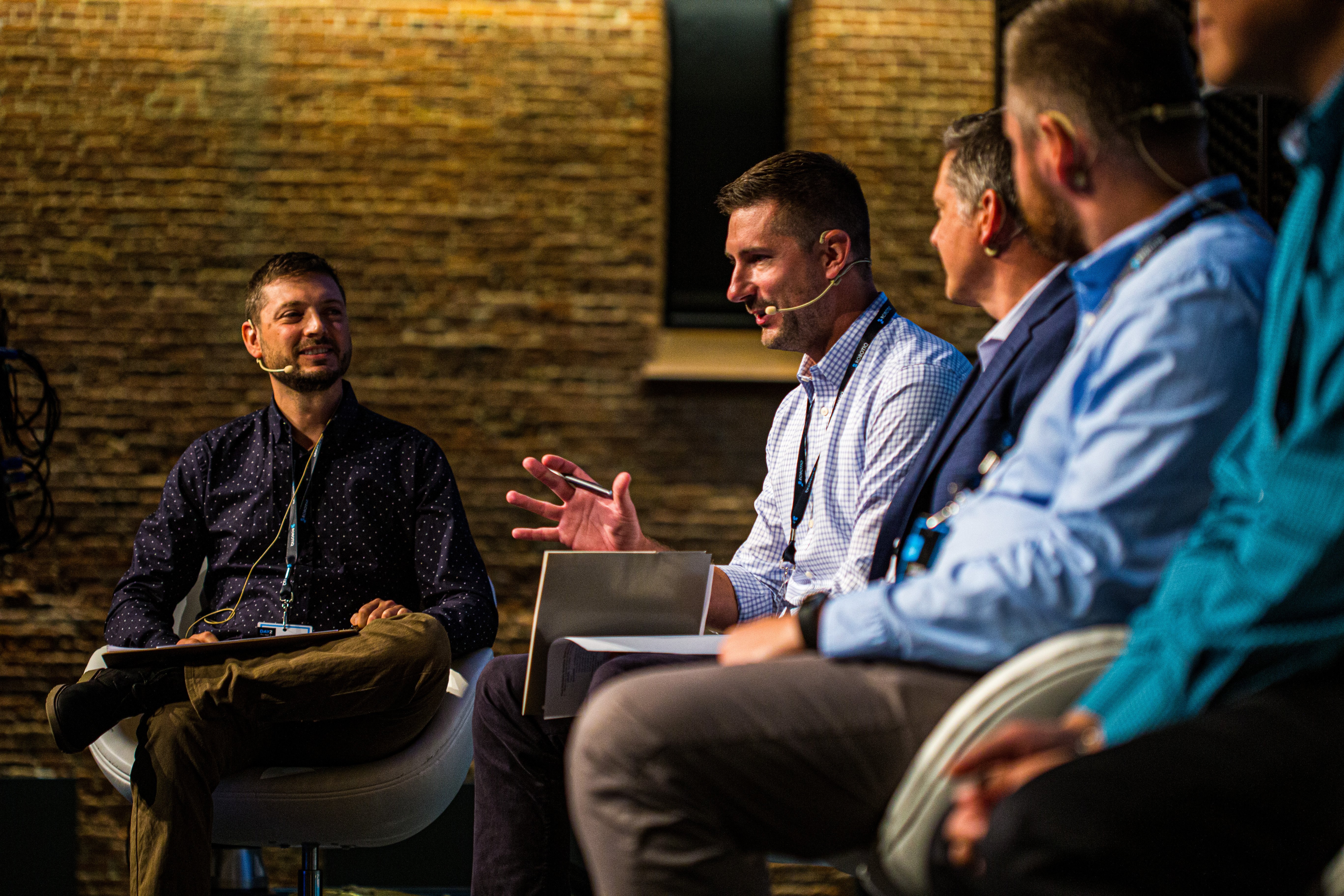 Top takeaway 1: Start small
During the discussion, there was a lot of talk about keeping things simple.
Carlos Han looked back on his first cobot application. If he did it all over again, he would go for a much simpler solution than he did.
"If you're trying to deploy a robot [for the first time], don't have blow-off, don't have a camera. Just try to simplify. If I had to do it all over again, I'd skip the camera, skip the blow-off, and just do the deburring. Start with that."
As Jeffrey Werner said:
"Starting small is very key, and staying small is key. Don't overcomplicate cobots."
Top takeaway 2: Rethink ROI
Another topic which came up several times was the idea of Return on Investment (ROI).
As Craig Zoberis explained, the sweet spot for many companies is a 10-12 month ROI, with most of his customers seeing this. One thing he didn't expect before Fusion OEM started offering integration services is how often finds himself doing ROI calculations for their customers. People often have different ideas of ROI.
This was echoed by Carlos Han because Smith & Nephew have factories in Costa Rica. There, the labor rate is very low compared to the USA and the ROI is more likely to be around 5 years compared to 12 months. You have to change the conversation and look at different ideas of return.
The best way to convince management, explained Craig Zoberis, is to have your management talk to other people who have deployed cobots already. When you talk to people who have done it, they'll talk about their journey. It's not about ROI all the time. It's important that people realize it's a process.
Top takeaway 3: Copy-paste
One of the most practical and useful takeaways from the panel was the idea of "copy-paste" (aka standardizing your cobot setups).
As Jarek Hyjek said:
"Standardization is very important. It's a huge factor to speed up our implementation of an automation. Our biggest challenge is that when we have a pretty good business case, we have a blank sheet of paper on which to design our application. We came to the conclusion 'Why not have some pre-assembled solutions? Just take them off-the-shelf and connect them like blocks.' And focus our efforts on coding, programming, and adding new parts. Having everything standardized helps us a lot."
Jeffrey Werner added:
"There's no better way to accelerate a [cobot deployement] program than through standardization. If you can come up with standard solutions, they're that much easier for sites and folks to adopt. There's no better way to grow a program."
Craig outlined a common problem for people getting into cobots which a copy-paste approach can solve:
"It's confusing right now. There are a lot of options when you want to go into the cobot ecosystem. You can spend tons of time looking at all the different products and testing all the different products. There's got to be a point where you'll have to make a decision and say 'These are the standard ones and then we're going to work around it.'
Jarek Hyjek summed it up:
"Once you implement a few applications, you start seeing the same things with every application. Why not just do a copy-paste? It's not always possible but, say, 80% of the applications might be very similar. "
Some restroom motivation for lunchtime
Let's end this session with a motivational quote from Samuel, which he put on the screen during the session.
Robotiq's Mathieu had found it in an unusual place when visiting Fusion OEM — written on a restroom mirror: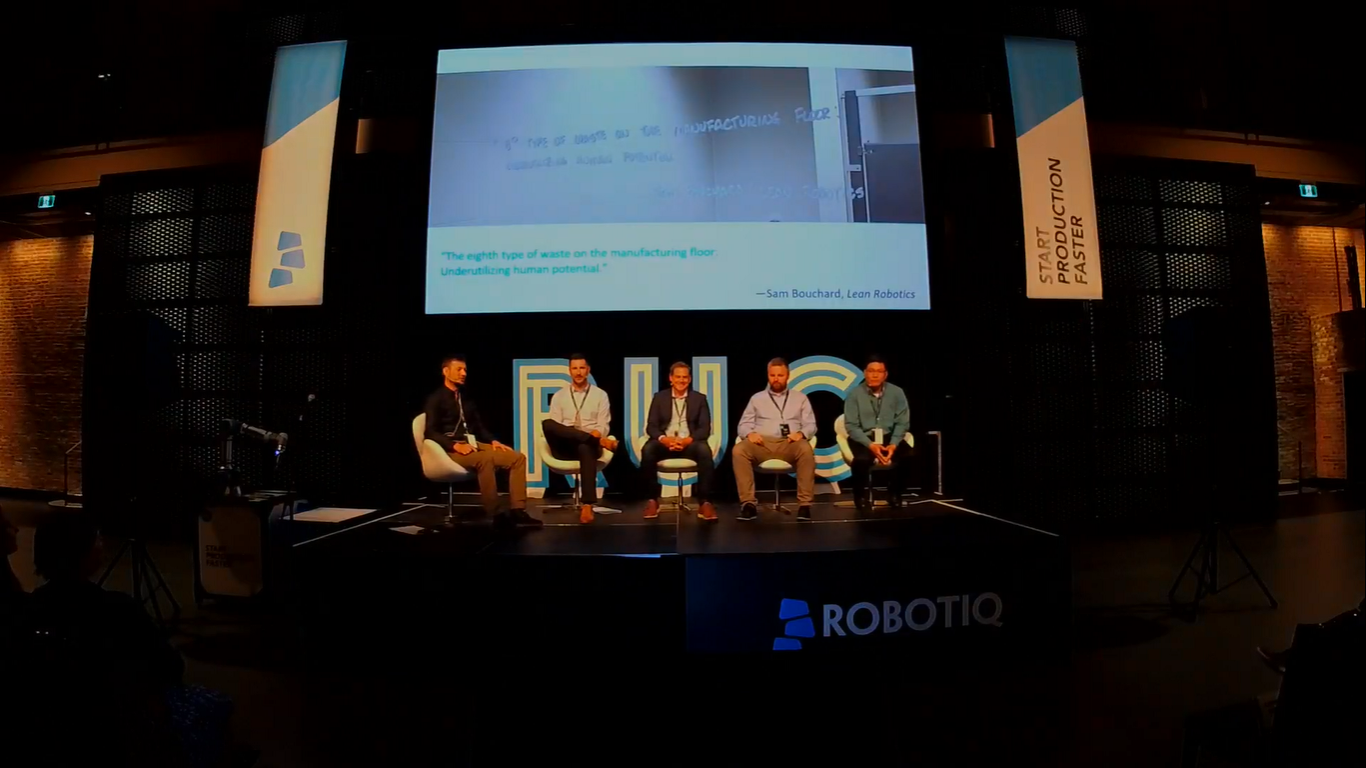 "The eighth type of waste on the manufacturing floor. Underutilizing human potential."

Sam Bouchard, Lean Robotics
Craig Zoberis from Fusion OEM explained the strange location of the quote:
"We have inspirational quotes in our restrooms. It's on the mirrors. Everything that's said around inspiration and the great leaders and innovators.

This quote from Sam means a lot to me. When I read his book this was probably the most impressive sentence.

I truly believe in the next generation of machinists and having them doing those robotic-type jobs on the production floor is a waste. We're underutilizing the human potential there."
Samuel replied:
"Absolutely! That's what this event is all about!"
Next... it's time to take a close look at the robots themselves!