Pre-engineered Robotic Welding Systems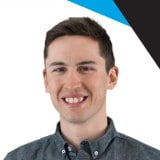 Looking at your first welding robot? Wondering about what the cost of integration will be? Maybe even considering buying the robot and doing the integration yourself? Why can't you just buy a robotic welding cell the way you would buy a CNC machine? These are all good questions. And some of the answers to them might be found in the various pre-engineered robotic welding systems offered on the market.
What's in the box?
Depending on the manufacturer, the pre-engineered robotic cells will include a welding robot, a torch, the welding power source and the safety fencing. This is basically a plug and play machine. Normally all these parts can be sold separately and you could build your own robotic cell. Although, if the pre-built welding cell does the job for your application... why not use it.
Still you have to be careful, since the cell is a single package, make sure the specifications are sufficient for your application(s). In fact, it is important to consider dimensions and power source rated output in your choice. Notice that some of these welding cells can include a table and/or turn-tables.
Examples
Here are some examples of the pre-engineered robotic welding systems offered on the market.
Yaskawa/Motoman ArcWorld
This manufacturer has a very diversified range of pre-engineered welding cells. In fact, from small shop single robot (ArcWorld C-50 Series) to high volume triple robots with external axes (ArcWorld C-6000 Series) the choice is wide and almost any application can be done with one of these cells.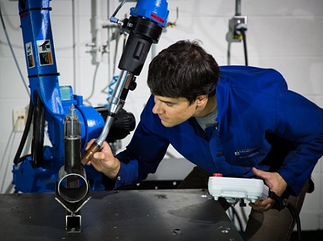 Yaskawa/Motoman also has a technology that can reduce your setup time, even if you have a very wide mix of parts they can help you set them up in a short period of time. I am talking about Kinetiq Teaching. In fact, this device allows you to hand-guide the welding robot to teach it the right path to follow. With user-friendly software, the technology makes life easier for experienced welders and workers with minimum welding experience alike.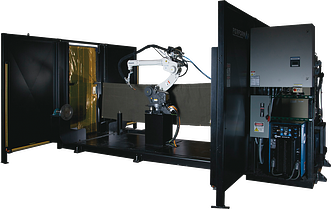 Miller - Panasonic
Miller and Panasonic have come together to build pre-engineered welding cells. Miller is specialized in welding devices such as power sources and torches, but they don't have any experience in robotics. When they joined Panasonic, they join an enterprise with a huge robotic background. Once again, they provide cells in different size and for different applications. The PerformArc is their pre-built series. They also have welding robots in smaller packages (torches and power sources) if you want to have a custom robotic welding cell or just add another robot to your existing cell. Tables, turn-tables and external axes are the norm in their work stations.
Genesis Systems
Genesis Systems is neither a robot manufacturer or a welding specialist. The company is specialized in the integration of robotic cells. They have different welding cells with all the required equipment (safety protection, robot, torch, power source). Although, you can choose between different robot manufacturers and power sources. In every proposed workcell you can use a Fanuc or Panasonic robot and choose between a Miller or Lincoln power source. This allows you to fit your pre-engineered cell with the rest of your shop. In fact, if you want a uniformed robotic park, you can fit a Fanuc robot in this cell and all your robots will be the same. The advantage of this is that you can be specialized in a certain type of robot and have one place to call if there is a problem. When you have too many different machines, it is sometimes hard to keep up with the different suppliers, upgrades and tech support.
Valk Welding
Like Genesis System, Valk Welding is a robot integrator and not a manufacturer. They provide pre-engineered cells with different configurations. Once again you have the choice between different Panasonic robots. External axes and turn-tables can be added to the system too. This is the most versatile pre-engineered workcell I've seen yet. They can propose a lot of options and possibilities available to fit your application(s).
These cells could help you step up your production and meet your lead time requirements. Make sure to get more information on the advantages of welding cells. And now that these kinds of cells exist, you can't blame integration complexity for not moving forward any longer!!!