Robobusiness Online Robotics Conference
by
JA Carette
. Last updated on May 05, 2016 4:28 PM
Posted on Aug 07, 2012 6:50 AM. 3 min read time
On July 25th Robotic Trends presented the Robobusiness Online Conference a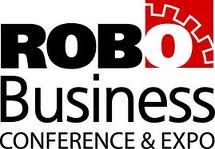 s part of the Robotic Trends Online Virtual Conference Series. One of the objectives of this business conference was to discuss the unique circumstances of the robotics industry today, which intersects with and has been inserted into many other varied industries from healthcare to transportation to defense. The conference is a way for vastly differing companies to interact and exchange information, which is not always available or visible within their normal daily business interactions. Having the chance to think about and discuss the present state of the robotics industry is essential to any industry and is especially important given the diversity available in robotics.
The Keynote speaker Dan Kara, President of Electra Studios, presented an overview of a select set of technologies that are currently driving robotics innovation. He specifically talked about the current development of hardware and software components and how these changes are feeding the explosion of robotics in many different fields, thus allowing them to be more mobile, dexterous, autonomous and omnipresent.
Other speakers included:
So all in all, you can see the diversity of the discussion and this is why I say that such broad thinking is great for robotics, as it certainly gives you plenty to mull over and plenty of new ideas to think about, regardless of your particular robotic interest.