Aliens, Electric Cars and a Great Demo at Automatica 2018 Day 2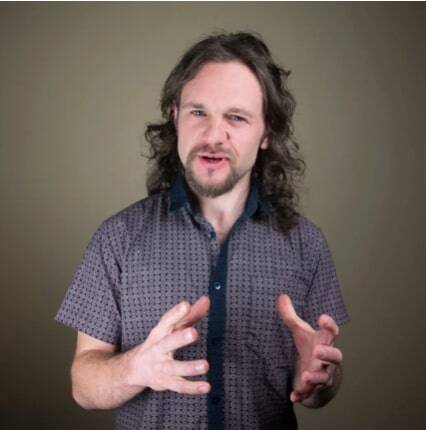 by
Alex Owen-Hill
. Last updated on Jun 20, 2018 3:06 PM
Posted on Jun 20, 2018 3:04 PM. 9 min read time
We've been going strong and fast on Day 2 of Automatica 2018 today, just like the startup Kassow Robots with their groundbreaking hyper-redundant cobots. But, is that some aliens I see!? I think so.
It's the end of the second day here at Automatica 2018 and I think we're really getting into the swing of it.
We've had some extra time today to go round and see some of the fun things being shown in the other halls. We've seen a new cobot startup, an electric box on wheels and even some aliens!
Plus, the whole team is getting very proficient at explaining all our different products and demos to the attendees.
But, here on the blog, I think that our polishing demo hasn't received the explanation it really deserves.
What's so great about that polishing demo?
Before I explain some of the amazing new products we've seen around Automatica today, I just wanted to explain a bit more about our polishing demo.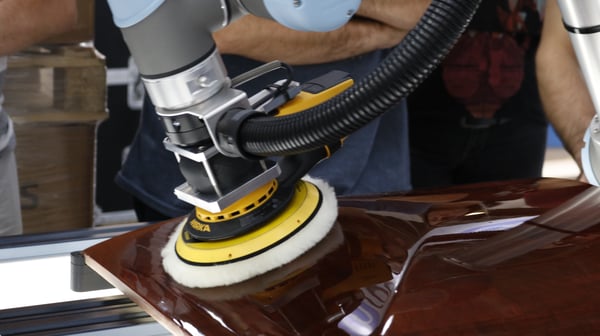 You see, it might not look as flashy as our new Hand-E with its colorful pick and place demo. However, beneath the polishing demo's apparent simplicity there lies a quite amazing new development: the new update to our force sensor software.
The update is to the URCap for the FT 300 Force Torque Sensor. For the first time ever, it means that you can use the sensor with a real force control mode with path recording. This opens up the sensor for a whole load more polishing and finishing applications, as well as allowing you to do assembly insertions with compliance.
Why the FT 300 is now perfect for polishing
Our force sensor is a great candidate for finishing applications. One of the reasons for this is that it has inherently high stiffness, which means that it won't bend much when it applies a high force to a surface.
The sensor is up to 3-5 times stiffer than other leading force sensors on the market! It achieves this with its patented capacitive sensing technology. Most force torque sensors on the market us resistance-based strain gauges, which means they cannot have very high stiffness without sacrificing accuracy. That's not a problem with our sensor. As a result, we can make it very stiff which is great for polishing!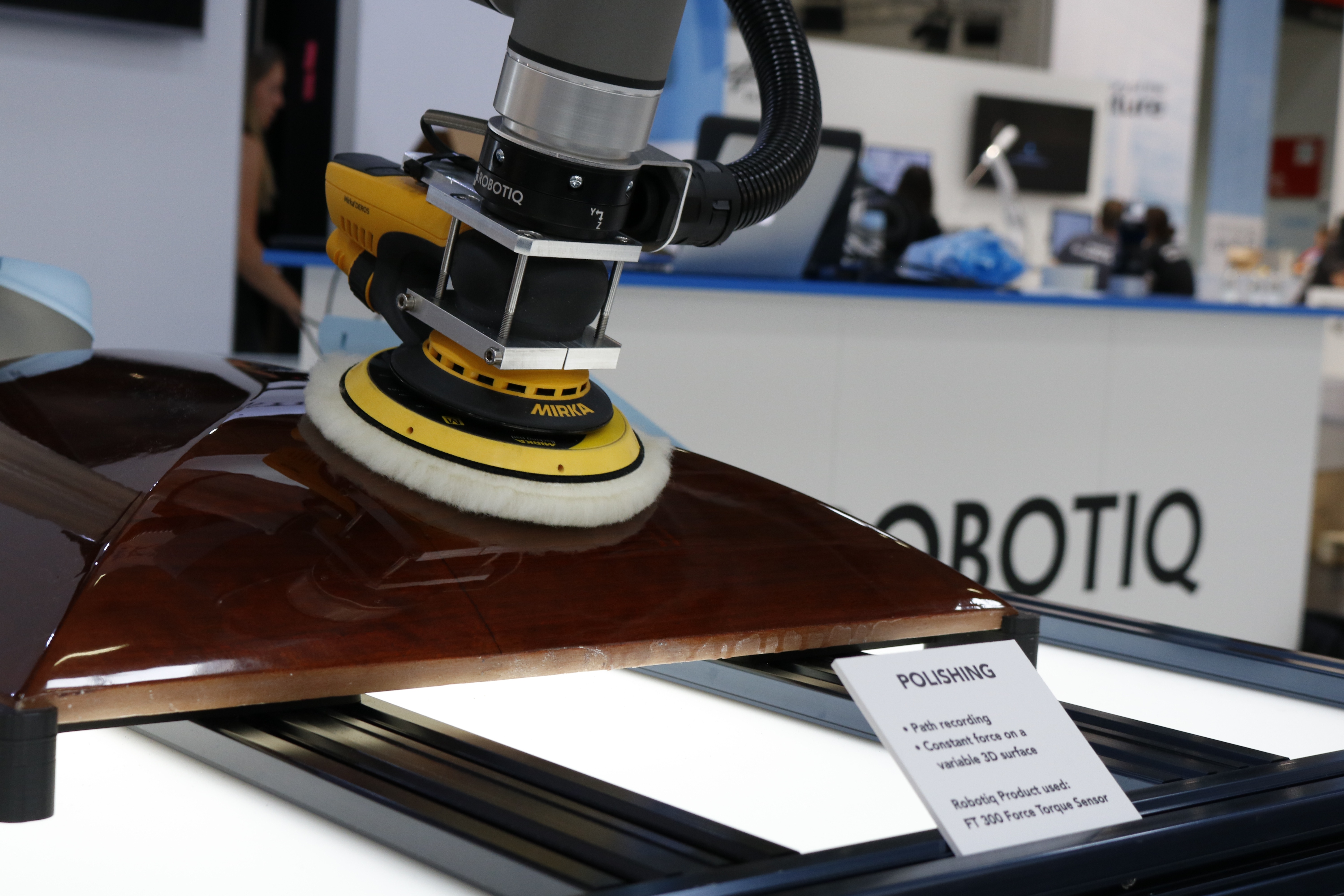 People have used the FT 300 for polishing in the past (see the Saint Gobain case study for an example) but this was only to use its ActiveDrive and path recording functionality.
Before this new update there was no precise way to apply a constant force onto a surface. Now, you can program a path using the ActiveDrive feature and the robot will apply a constant force to the workpiece along the path.
Which we think is pretty cool!
Kassow launches another groundbreaking Danish cobot company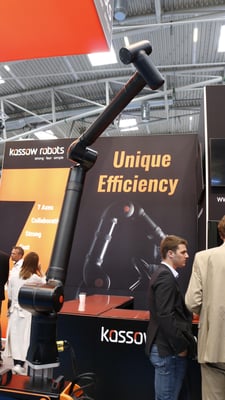 Now, onto the new technologies we've seen around Automatica 2018!
First up, three new hyper-redundant cobots.
There are already quite a few 7 DoF cobots on the market, including KUKA's iiwa, Aubo's I5 and Franka's Emika. Today, we caught up with one of the latest additions to the hyper-redundant family of robots from Kassow Robots (Hall B4 Booth 420A).
Kassow is a new Danish start-up which is launching itself into the industry here at Automatica 2018 with three models: KR810, KR1205 and KR1805.
Their motto is "strong, fast and simple" and it's clear to see why. In terms of strength, their payload capacity is at the high end of the 7 DoF cobot range. Their strongest robot (the KR810) can lift 10kg, a figure which is currently only beaten by the KUKA LBR iiwa 14 R820 with its 14kg capacity. In terms of speed, however, they beat most 7 DoF robots hands down with a maximum joint speed of 225°/s. Only the UR3 can move faster than that — its last three joints can move at 360°/s.
If you're thinking "Another groundbreaking Danish cobot company!" (Universal Robots is from Denmark), it's not just a coincidence. It was created by former UR founder Kristian Kassow.
It seems that other people were as intrigued as we were by this new arrival to the cobot world because Kassow's booth was very busy!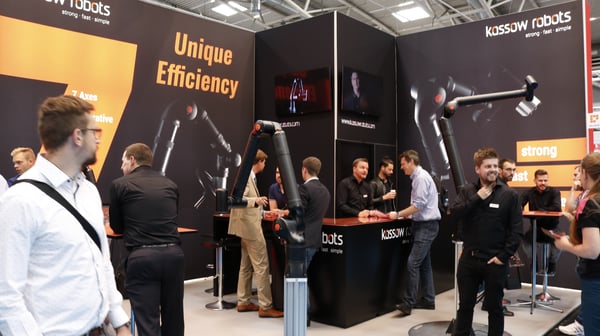 KUKA's iiwa has a new job at the gas station of the future
Volkswagen (Hall B4 Booth 302) has a booth very close to ours (we're at Booth 405). However, it was all the way over in Hall A4 that we came across the new VW SEDRIC car at the giant KUKA booth (Hall A4 Booth 221).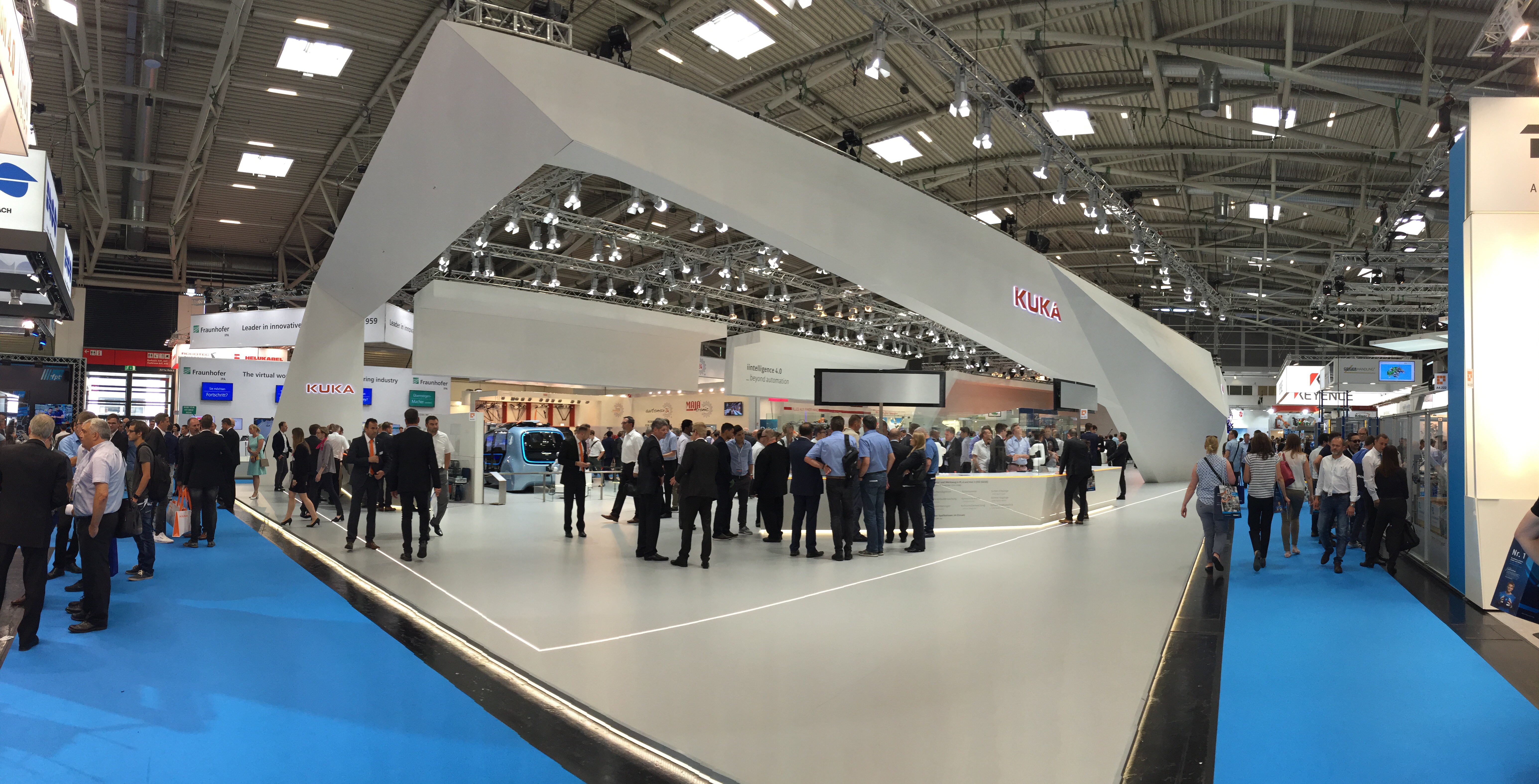 Well, I say "car." SEDRIC is hardly a car. It's a bit like a self-driving, electric box on wheels. You can see it in the middle of this photo just on the left, with luminescent strip lighting up its windscreen (Or is it the back window? It's hard to tell).
When we saw it, it was being "filled up" by a KUKA iiwa, which was giving a demonstration of what the employees might look like in the electric gas stations of the future.
You know? I just can't see electric boxes on wheels ever matching the coolness of sleek cars like this Jaguar surrounded by the Doosan robots.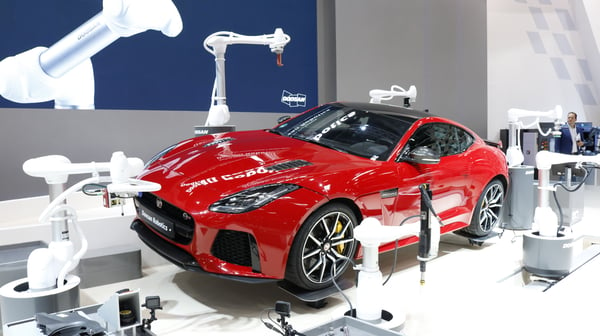 Aliens! and plastic robots!
Today, we also came across this odd machine. It's robot to sort your plastic aliens. Surely everyone needs such a machine! How else will you keep your aliens in order?
It's called Kinemagic and it's on show at the booth of Igus GmbH (Hall A4 Booth 103). It demonstrates their new Apiro plastic worm drives.
The name Apiro comes from Greek and it translates as "infinity." According to the guys from Igus, the drives are called this because there are an infinite possibility of ways to combine the new joints. This includes making them into 6 DoF robot manipulators!
Also at the Igus booth, we saw their impressively plastic e-chain chainflex drives.
It's kind of hypnotic, isn't it?
I think watching it is sending me to sleep. Perhaps it's time to bring Day 2 of Automatica to a close...
Wouldn't it be great if you didn't have any feet?
Talking to people here at Automatica is amazing. We love chatting with so many people who are as enthusiastic about robots as we are.
But you know what we don't like? Standing on our feet all day! It's very tiring.
We kind of envy this Pepper robot that we saw earlier today. Sure, it looked quite overwhelmed by all the people who were there to see it (we can understand that feeling!) But, it doesn't have to stand up because it doesn't have any feet to stand on.
We think that Pepper is lucky, because it doesn't have any feet to get sore after standing up all day! Yes our feet our pretty tired out now.
What we need is to soak them in a nice cool river. With some beers. Yes, that sounds like a great way to end Day 2 of Automatica.
As they say here in Germany "Prost!" (Cheers!)