Achieving a Personal Best for Robotic Assembly, Blog Writing and Mountain Biking: Mathieu Bélanger-Barrette's Story

by
Philip Fine
. Last updated on May 03, 2017 7:00 AM
Posted on May 03, 2017 7:00 AM. 7 min read time
Mathieu Bélanger-Barrette increases efficiency on the production line, blogs about cutting-edge robotics and competes in mountain bike races – three passions that all feed one another.

Robotiq was founded after lab-mates Samuel Bouchard, Vincent Duchaîne and Jean-Philippe Jobin decided to commercialize some of the mechatronic work they and their professor Clément Gosselin had created at Laval University in Quebec City. That was in 2008.
Today, Robotiq counts more than 50 full-time staff, and our Grippers and sensors operate in 40 different countries. We felt it was time to start telling the stories of our team members.
There are three very distinct sides to Mathieu Bélanger-Barrette's life. On one side, he's an engineer, seeking out increasingly efficient ways to produce robotic arms, on another he's a blogger and eBook writer, who gamely wades into the murky waters of emerging technology for his readers. Completing his three-dimensional life is competitive mountain biking, where the 27 year-old conducts lightning fast readings of the loose rocks, road-block-like roots and pointy branches of the courses on which he races.
Those three distinct passions work very much in concert. His engineering and R&D experience feed his intellectual curiosity, which, in turn, fuels his production engineering ideas. His mountain biking propels, in adrenaline-packed real time, his love of physics. Meanwhile, he calms his post-race buzz by sitting down and writing his next piece.
Mathieu's life is a force of perpetual energy, with his employer both recognizing the synergy and benefiting from the results.
Meet Mathieu Bélanger-Barrette: Robotiq's Junior Production Engineer and In-House Blogger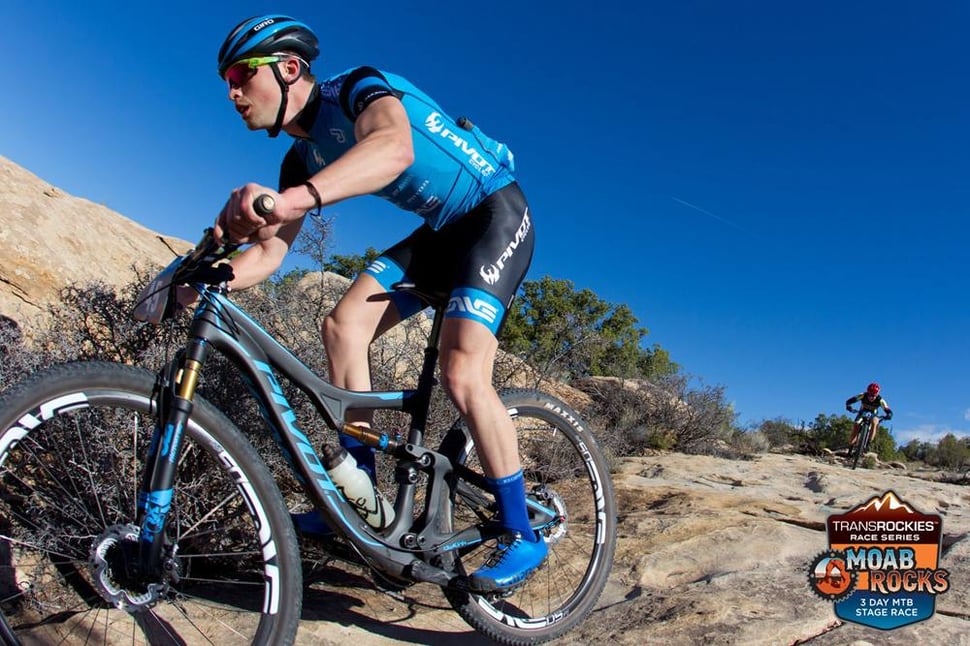 Mathieu was a toddler when he learned how to bike on the gravel roads of James Bay in northern Quebec, where his father was working in communications for Hydro Quebec's massive engineering projects. An obsession with Lego satisfied his love for some smaller-scale engineering projects.
When he was five, his parents divorced and he, his sister and mother moved away, to the outskirts of Quebec City. The inherent sadness of that time was somewhat counterweighted by the good fortune of finding himself living across the road from a small ski resort in Lac-Beauport. That time marked the beginning of his lifelong appreciation for mountains and forests. As he moved into his pre-teen and teenage years, his need to be active helped spark in Mathieu a love of cycling in the summer and snowboarding in the winter. That ski hill would also become the backdrop for some late-night sorties, where he and his buddies would take their three-ski sleds, barrel down the unoccupied slopes and do some jumps off the moguls.
At 12, he began a love affair with the bicycle. He joined a cycling club that took to the region's backwoods. There would be practice rides on Saturdays and races on Sundays, with some more riding on weeknights. He hung out at the local bike repair shop and became increasingly interested in bicycle mechanics. The shop agreed to hire him on, allowing the then 13 year-old to work part time and take on small repairs. In Grade 11, he was scoring average marks in school (though enjoying math and science courses) but he was excelling in bicycle repair. One of the shop's employees, Jean-François Simard, decided to open his own business in Beauport and hire Mathieu. Jean-François became a mentor to the young man, whose life was bike mechanics and competitive mountain biking. Mathieu recalls a simple piece of advice from his boss: "He told me 'Ride as much as you can for as long as you can.'"
It was during this time that he stepped up his game and became more serious about biking. He was a consistent competitor, not winning first spots, but finishing enough times in the top five to earn him a regular place on the podium at the end of the seasons, named best in overall standings. And that's when sponsors came on the scene, helping to convince him of his own talent. "I was like 'Do they see something that I don't see?'" he said, the self-critical reflex for his riding skills easing up a bit. "From that point, I knew that if I just continued to put in the work I could potentially be good."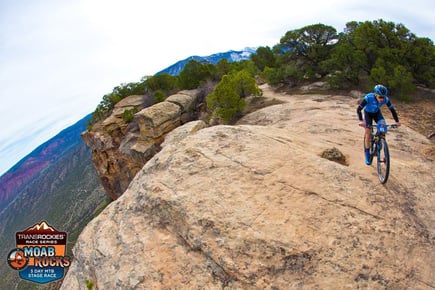 He was more than just good. In 2012, he participated in the seven-day BC Bike Race. "I rode with some of the best riders in the world," said Mathieu, who was 21 at the time. He finished in the top 12 of those 500 riders.
By this time, he had decided to enroll in engineering at Laval University. "It made sense for me to go into mechanical engineering. I was doing the fundamentals of mechanics," he said referring to repairing bikes and its relationship with science. The actual riding also became a real-world physics lesson. The basic science being taught in the university lecture halls played out for him on the mountain trail. "It all made sense to me: the forces, acceleration, deceleration, heat transfer, air compression. It was right there when I was riding my bike," he said.
Mathieu has always sought out answers to nagging everyday scientific questions, such as "If you're in a car and you're throwing a ball in the air, why does the ball not go to the back of the car?" Mathieu explained it in this interview, using a formula a teacher gave him, with z being the speed of the car, x, the passenger and, y, the ball. Perhaps, realizing he was speaking to a non-scientist, he boiled it all down to a simple answer: "You are traveling at the same speed as the ball," he said, adding that even though the ball is in the air, it's sharing the same vehicle with the passenger and moving at the same pace.
That ability to break down the complex and technical, and explain it to lay people has been a talent Mathieu has developed over the years. It served him well at APN, a Quebec City parts manufacturer, where he worked from 2011 to 2013, part-time while in school and full-time in the summers.
"I was handling aircraft parts and it was really precise and difficult to manufacture. I was the guy at the quality department and had to explain to workers what was wrong with the part," he recalls. He knew the mechanical principles and found ways for them to turn that into simple adjustments for the machinists to make. He credits that aspect of the APN job – simplifying the complex – for making him a better writer.
But, ironically, it would be his mountain biking that would help him land a gig blogging for Robotiq.
Mathieu had decided that once he completed his university studies he would leave APN, even though he knew a permanent job with the company was likely to be on offer. But he dreaded their strict hours and knew how they would negatively impact his cycling aspirations. He made a decision to quit so that he could train as a cyclist for four months in Tucson, AZ, following graduation.
And this is where the opportunity to blog comes in.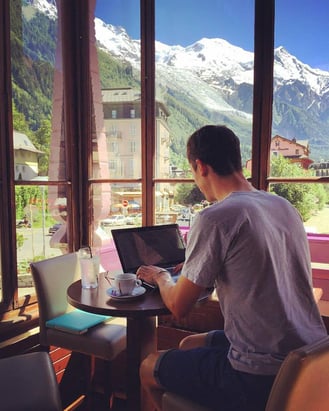 Mathieu had first met Robotiq CEO Samuel Bouchard and a mutual friend on a bike trail in Lac-Beauport. He ran into Samuel a few times after that, striking up conversations about shared interests. With his mind on the Tucson trip and the fact that he would be doing it on no income, Mathieu asked him if Robotiq might require some off-site task. Samuel thought about it and, three weeks later, he proposed that Mathieu be their first blogger.
Mathieu's test article was on robotic welding. He researched the subject, wrote the piece and Robotiq's then marketing director was happy with the final product. He was given a four-month contract to write two to three blogs a week while he trained in Tucson.
That was three years ago. Since that time, Robotiq has become a publishing juggernaut, with daily blogs, an on-line discussion space for robotics users, and over a dozen new eBooks slated for 2017. Mathieu has become one of its senior writers and a full-time engineer. He works on his blogs whenever he is away at training.
When he first began at Robotiq in 2014, it was not equipped for another full-time mechanical engineer, so half his time was spent writing and the other half in R&D.
During his time in R&D, he found a way to improve the assembly line for the three-finger Gripper. "It was a simple device that helped workers assemble the fingers." After that, colleagues would approach him to see if he could improve other parts of the production line and he would create new devices. "Little by little, I was leaving the blog side and doing more production engineering." Robotiq welcomed his contributions to production efficiency.
Today, with colleague Gabriel Larivière, he runs the production engineering department. Their team of four will soon be six. They take products from R&D and bring them to production, as well as increase the efficiency of the assembly line and then test the products on that line. "We just try to make it easy to assemble."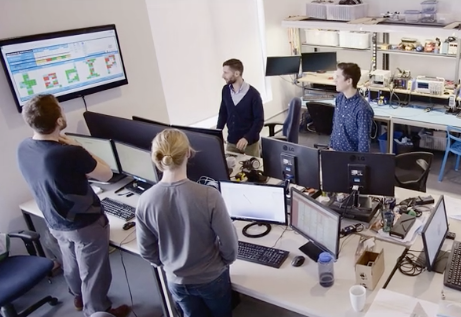 Even though he can be away at competitions for several days at a time, Robotiq appears to embrace his schedule. In fact, his bosses were the ones that suggested he write during his down time on the road. Did they know he actually writes better right after a competition? He laughs. "They'll find that out once they read this story."
While he's a competitor on the mountain, he does not let that trait bleed into the workplace. "I want my team and my personal work to be as good as they can be. I'm not trying to be better than anyone else in my department or in the company. I leave the competitiveness to the cycling side of my life."
His girlfriend, who studies chiropractic in Trois Rivières, is also very active. When she's in town, they often train together on the same trails, him on bike and her on foot. His athleticism comes honestly, with his family always having appreciated being active. Even today, his mother horseback rides and skijors (which is water or snow skiing on a line pulled by a horse), while his father regularly runs half marathons. He's thankful they never pushed him too far, like what he saw happening to some friends, who today no longer care about their sport. "They always encouraged me but they never put me under pressure to perform." He says he is performance oriented but that push to be better appears to come from within. His sister, who has found success as an entrepreneur, has also found her own inner striver.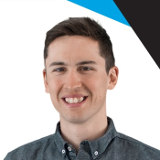 Cycling occupies much of his time now but he knows that one day he will be too old to ride mountain bike trails, with all of the sport's trademark spills. He will have time to explore other less intense passions like woodworking or music. Taking his old bike shop boss's words to heart, he's riding as much as he can for as long as he can.
As he improves his times on the trails, finds more efficiency on the production line and uncovers new story angles to the still developing field of robotics, he will continue, as they say in mountain biking, to find flow and win a top spot in the overall standings.