6 Festive Applications for Collaborative Robots [With VIDEO]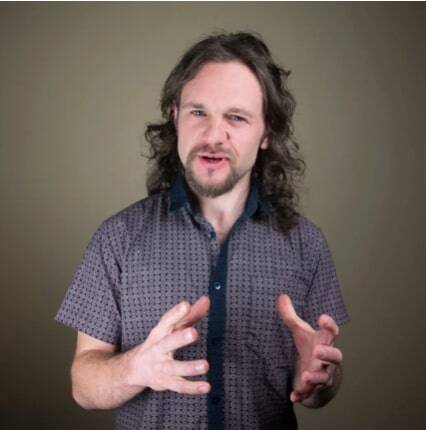 The festive season is crazy and it's easy to get overwhelmed. If only there was a way to get help with the seasonal madness. Now there is! Collaborative robots can save the day.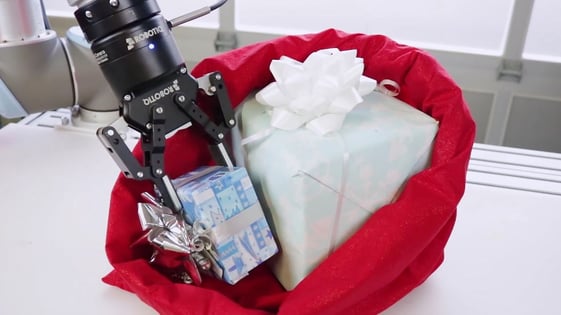 December is a busy time of year. Sure, the workload is starting to slow down, but there are so many extra tasks at home and in the office. Writing greetings cards, wrapping presents, and hiding chocolate from your sister's sugar-loaded children. I don't think of it as a "real" holiday — it's more like a temporary relocation to work in a place called "festive crazy-land."
It's around this time of year that you wish you had an extra pair of hands around the house… or even just an extra arm and a gripper?
You'll be closing up shop at work so there'll be one or two collaborative robots with nothing to do. Why not bring the robots home and program them to help around the house?
It might seem like a ridiculous idea (and it is). But anyway, here are six fun, festive applications for your collaborative robot:
1. Putting Up Decorations
It's time for the traditional unpacking of the decorations box. Pull everything out of the cupboards in search of the box, remove handfuls of tangled tinsel covered with dusty spiders, and revive grandma after she discovers the tarantula. By the time you've got the decorations laid out neatly and ready to hang up, the kids have got bored and run off to play "Call-of-Duty: North Pole Edition."
You're left to put up the decorations yourself.
Collaborative robots are great at repetitive actions, like hanging baubles, stringing up LED strips and blocking the cat from trying to pull it all back down again. Sure, it might take longer to program a robot than hanging the decorations yourself. But, you could trick a child into do it by replacing the teach pendant with an Xbox controller.
2. Wrapping Presents
When is the best time to wrap presents? I don't think that there is one. Ultra-organized people (not me) say you should wrap them months in advance. But then, inevitably, you forget who the present was for and have to unwrap it again to find out.
In my family, present-wrapping happens about 20 minutes before everyone opens them — all family members hide in a separate corner of the house, frantically chopping up wrapping paper and shouting "Don't come in!" when someone else enters the room.
Wouldn't it be great if a robot could wrap presents for us? We'd just set it up in a room and each person would drop off their presents at an alloted time, leaving us free to get on with more important tasks (like arguing).
In 2016, this dream became a reality! ABB's YuMi wrapped a gift all by itself.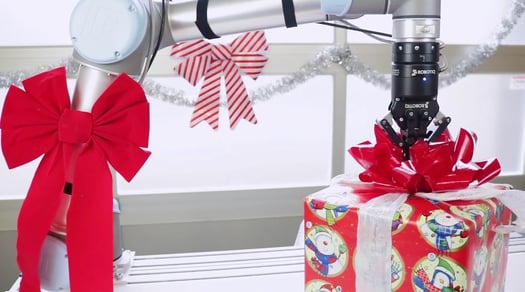 3. Machine Tending the Oven
Houses are filled with interesting smells at this time of year. Sweets, treats, and smelly feet. Your mouth waters when you walk into every room (or if not your mouth, your eyes). But, there's one festive smell which is guaranteed to attract the whole family into the kitchen, with wide eyes and gasps of amazement: a turkey, garnished with all the delicious trimmings, and completely burned to a crisp.
It's easy to forget the cooking when you're busy. Collaborative robots are perfectly suited to loading machines and unloading them when they're done, which means you don't have to worry. With robot machine tending and a robot-friendly oven glove, burnt turkeys are a thing of the past.
4. Entertaining the Kids
Even if you don't have kids, they somehow seem to appear around the festive season. I don't know where they come from. Whether they belong to your neighbors or are actually related to you, children are very excited around this time of year and need to be entertained.
Most of us have little energy left to spare for high-energy kids. But, never fear, a robot never runs out of energy (unless someone trips over the power cable).
Just set the kids up with a collaborative robot and they'll be out of your hair for hours. They could build Lego ornaments with the robot, as some of our friends did last year. What could possibly go wrong??
5. Writing Greetings Cards
It's only after signing 357 greetings cards that you understand how celebrities must feel when signing autographs. You have just written "Best Wishes" on a card to your Great Aunt Edna and her 41 cats — which she insists you mention all by name. Your hand is aching, you are in a bad mood and every time you look at the uncompleted stack of cards, it grows by three centimeters.
In early April this year (very early April) we announced the Robotiq Fast & Ideal Scribble Helper which takes all the pain out of writing. Just set it up with a pen and it will sign your greetings cards completely autonomously.
6. Meeting Essential Season's Deadlines
There's no getting past the fact that some of us have to work over the festive season. For some companies, there are more orders now than during the rest of the year. This means a huge surge of fast-turnaround jobs. Companies can quickly become overloaded.
We were contacted by a manufacturer who were struggling to keep up with an influx of festive orders. They were worried that they couldn't meet their deadlines and were unable to hire suitable temporary staff due to being based in a … rather remote location. We helped them to complete their production needs with a fleet of collaborative robots.
Check out our case study of Claus Factories Inc:
Have a great holiday!
What did the reindeer say when he saw an elf?? What do you get if you cross Santa with a duck? What do you get when you eat sparkly decorations? Tell us in the comments below or join the discussion on LinkedIn, Twitter, Facebook or the DoF professional robotics community.