Collaborative Robot Series : KUKA's New IIWA (LWR 5)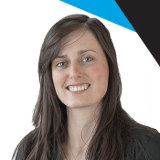 by
Catherine Bernier
. Last updated on May 05, 2016 5:10 PM
Posted on Jun 20, 2013 12:00 PM. 4 min read time
In our collaborative robot series, we featured KUKA's LWR 4+. Then after we released this article, the company had a surprise for us. At ICRA 2013, they introduced to the world the next generation of Lightweight Robot, LWR 5. The version presented on our blog was basically for research purposes, the new version is designed for industrial applications. It features the same characteristics as before and more. Let's take a look at the improvements featured in this collaborative robot.
IIWA : An introduction
KUKA's goal was to develop a lightweight robot for industrial duty. This is why this robot is also named IIWA for Intelligent Industrial Work Assistant. This flexible and sensitive robot enables new possibilities in automation. IIWA can be used to automate complex and delicate assembly tasks that presently robots cannot do.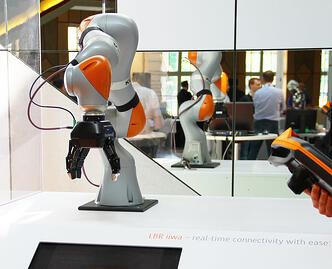 Kuka Intelligent Industrial Work Assistant
and the 3-Finger Adaptive Robot Gripper

IIWA : Key Features
Its design is based on a human arm with seven axis. It has integrated sensors at each joint that allows for control of position and sensitivity. It can fulfill delicate jobs due to its built-in-high-performance collision detection algorithms. Relatively slim and low weighted, it can work in tight spaces and it can be integrated on assembly lines quite easily. It is the first lightweight robot that can handle a payload of over 10 kg. Since IIWA is presented as a collaborative robot, no fences are needed for its implementation.
LWR 5 presents the same physical features as its previous version, but has a completely new controller architecture. This new controller is called KUKA Sunrise. Its programming paradigm is completely new and it now uses the mainstream programming language, Java. In the past, KUKA's controllers were using KRL, which is a company language. Moreover, the plugin tools of the KUKA Workbench, based on Eclipse, make it easy to integrate hardware modules such as an electric end effector.
IIWA : Capabilities

KUKA's LWR 5 showcased its capabilities at the last Hannover Mess in four different demonstrations.
Basic Functions
The first one was about showing how fluid and sensitive the arm is. Visitors could handle the arm and move it around to experiment with these features directly.
Weight
Its delicate touch was demonstrated by making the arm hold a ten kilogram weight over a scale in order to make it read only four kilograms.
Water Glass
In another exhibit, the arm was following a path and someone would place a glass of water in its way to see how it would react. The arm was able to stop without spilling a drop, due to its collision detection system. This demonstrated its sensitivity.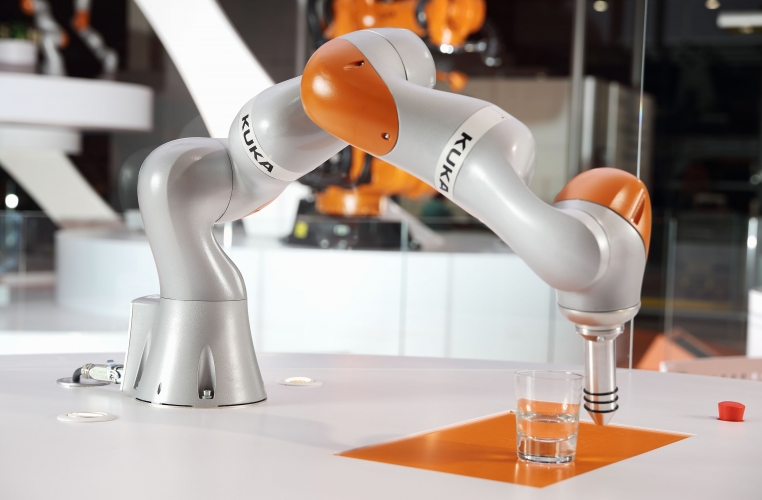 Industrial Application
In the last demonstration, visitors could see an assembly cell on a manufacturing line where IIWA had to position a piece over a pin to precisely assemble the two parts.
Through this type of robot KUKA offers a flexible solution to any shop floor. This is also the goal that Robotiq aims for, we want to make automation accessible to any company, either big or small. Since our products are synonymous with flexibility, the integration of our end effectors with the KUKA IIWA would be an all-in-one solution for companies.
Related articles : The Right Robot Gripper for the Kuka Lightweight Robot (LWR)