Collaborative Robot Series : Precise Automation's PF400 Scara Robot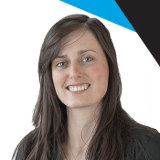 by
Catherine Bernier
. Last updated on Jan 29, 2015 10:54 AM
Posted on Jun 18, 2013 12:20 PM. 4 min read time
Let's go on with our collaborative robot series with the first collaborative SCARA robot : PF400 from Precise Automation. This article will cover an introduction to this new robot, its key features and future developments.
PF400 : Introduction
Precise Automation is a company founded in 2004 and their main goal is to help customers "automate with ease". They are interested in collaborative robots and want to develop products that could be safely integrated into work-cells. They have spotted a market where automation would be appreciated, but has not yet been developed; laboratories. In factories, it is common to see big robotic cells working behind barriers, but in a laboratory there are certain limitations. The major one is space. So, this particular market needs a robot with a small footprint. Moreover, the product needs to be safe to work around, without any barriers to allow proximity of other workers. Also, the majority of laboratory applications don't require the largest and most powerful robots. So, they designed a tabletop robot : the PF400. According to its creator, the PF400 is extremely compact and safe to use in desktop applications even without shields.
PF400 : Key features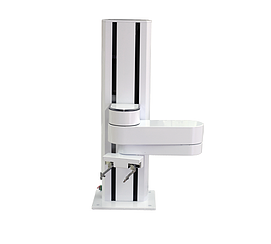 The PF400 has an intrinsic safety system, so that all the forces generated by its 4-axis are limited. Even if a full speed collision with any of its axis occurs, the robot cannot hurt anybody. Yet even with these safety features, PF400 is still powerful and fast enough to handle most laboratory applications.
Its embedded controller enables all its special features. Precise Automation designed a controller especially for science lab automation named, Guidance 1400. This device is a four-axis motion controller and has all the features of bigger and more powerful ones. However, its price, size and power profile are perfect for laboratory uses. Talking about size, it can fit in the palm of your hand. They decided to build the controller into the arm/robot in order to reduced the space required. So, no external device is needed, except for one AC power cable and an Ethernet communication cable.
Their controller also offers kinetic teaching with a gravity balance mode. Programming is made by simply moving the robot by hand from start to end position. Using a simple communication protocol, Ethernet interface (PC control via an open source TCP/IP Command server), the robot can be controlled locally with a PC, a wireless tablet or remotely from anywhere in the world.
The other features of the PF400 are :
Low-cost

Quiet

Lightweight

Can be combined with a vision system
PF400 : What next?
Precise Automation continues to add features to their PF400 family. They are looking to do another version of this sample handler and put it on a linear rail. They will also improve the software in order to make programming even easier than before. Moreover, they continue to develop the kinematic features of their controller, to reduce its size and price without losing its actual performance.
Therefore, Precise Automation has a lot of work to do, but we are looking forward to seeing their future innovations.
Learn more on collaborative robots and robot end effectors.
Related Articles: